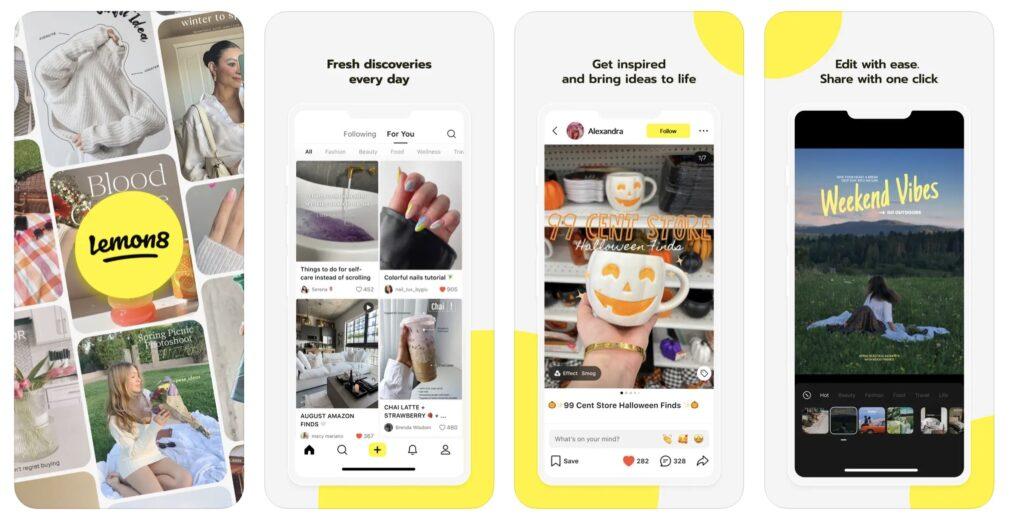 ByteDance, the parent company of TikTok, has been working to propel its Pinterest-Instagram rival, Lemon8, but their ambitions have not materialised as planned. Recent data from Appfigures, an app store market intelligence provider, reveals that since its US launch earlier this year, the Lemon8 app has accrued a mere 2.6 million total downloads.
Influencer push
This lacklustre reception is particularly perplexing given the substantial influencer marketing campaign that accompanied its introduction. Several TikTok creators enthusiastically endorsed the app to their followers, a move that coincided with speculation about a potential TikTok ban in the US. Nevertheless, Lemon8's ascent in the American social media landscape remains an elusive goal.
The strategic timing behind ByteDance's promotion of Lemon8 appears far from coincidental. With potential uncertainties surrounding TikTok's US audience, ByteDance seemed to view Lemon8 as a viable contingency plan, capitalising on TikTok's massive user base to fuel its growth.
In the first quarter of the year, influencers on TikTok enthusiastically embraced the app, painting a rosy picture of the lifestyle community it offered, using descriptors like "cute" and "aesthetically pleasing." Comparisons to a fusion of Pinterest and Instagram were also not uncommon.
Lemon8 had been available in Japan since 2020, finding success in various Eastern markets such as Thailand and Indonesia. However, it wasn't until April 2020 that the app experienced a substantial uptick in installs, going from less than a thousand per month to an impressive 13,000.

Subsequently, the app achieved its first-ever record high in monthly downloads, peaking at an impressive 292,000 in July 2021, as per Appfigures' data. The app's expansion continued into 2022, reaching another peak with a staggering 1.5 million downloads in July 2022, ultimately amassing a total of 10.6 million downloads for the entire year.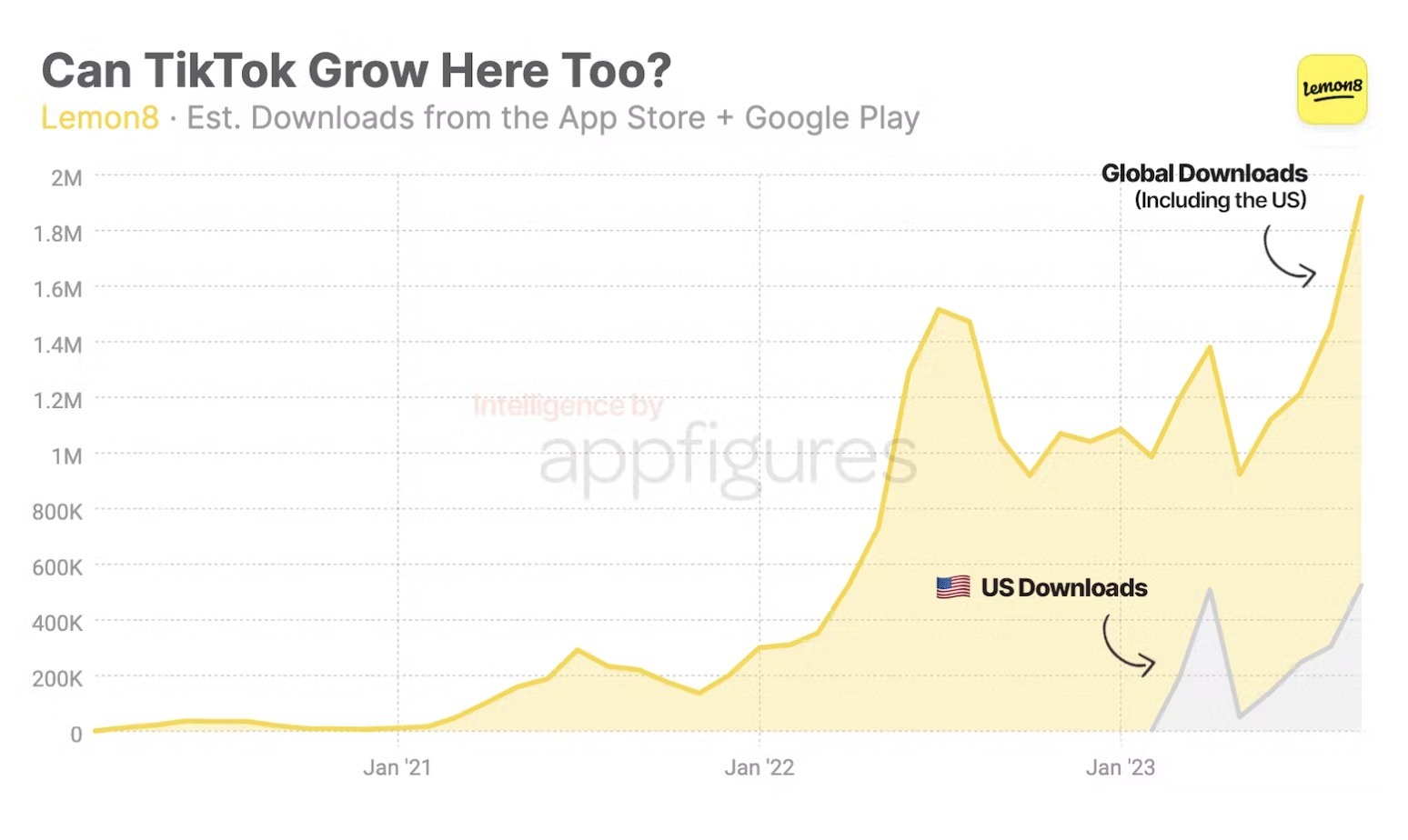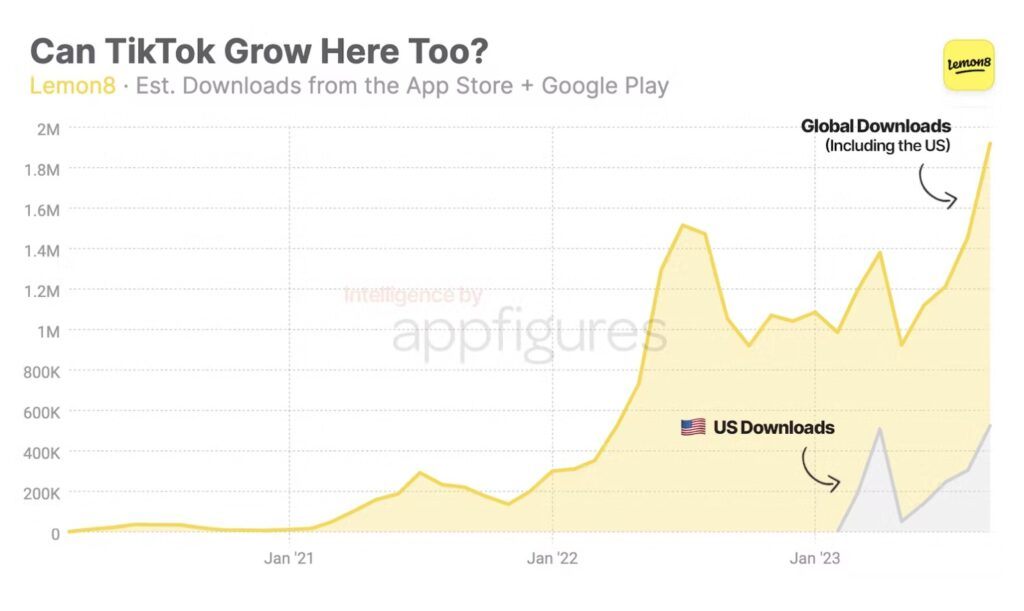 Source: Appfigures
ByteDance's marketing push
Since launching in February, ByteDance paid creators to generate Lemon8 content, fostering its US presence. The following month, TikTok creators began promoting Lemon8 in positive videos. Within 24 hours in late March, over 350 Lemon8 videos appeared on TikTok. Strikingly, none of these videos were labelled as sponsored, implying organic growth through word-of-mouth.
Despite this effort, TikTok wasn't banned in the US, except for specific cases, including Montana from January 2024 (subject to legal challenge). Even if TikTok were to face a ban or sale, Lemon8 wouldn't necessarily replace it. Most Lemon8 installs came in spikes, possibly due to TikTok's influence.
iOS dominated US downloads at 2.5 million, securing Lemon8 the second spot in the Lifestyle category on the US App Store. However, its overall ranking fluctuated, reaching No. 90 Overall during data collection and now at No. 70 on the Top Apps Chart in the US. Yet, these rankings fall short for an app positioned as a TikTok alternative.
In September 2023, Lemon8 had its peak month with 525,000 US installs, but downloads don't guarantee active users. In contrast, TikTok boasted 150 million monthly active U.S. users as of March 2023.
There's still potential for ByteDance to leverage TikTok to boost Lemon8. Watchful.ai uncovered TikTok's feature development allowing users to sync Lemon8 posts and use TikTok's editor, although TikTok hasn't commented on it.
At the time, Lemon8 had about 25 million worldwide downloads. Its biggest markets are Japan (7.6 million), Thailand (6.5 million), and the US (2.6 million). However, Lemon8 faces challenges in becoming a TikTok replacement, especially in the US.
Key takeaways
Lemon8's influencer-backed US launch with TikTok creators didn't yield expected success despite a potential TikTok ban scenario
ByteDance strategically timed Lemon8's promotion, using TikTok's user base as a growth catalyst
While successful abroad, Lemon8 faces challenges in the US market, with TikTok's shadow looming large