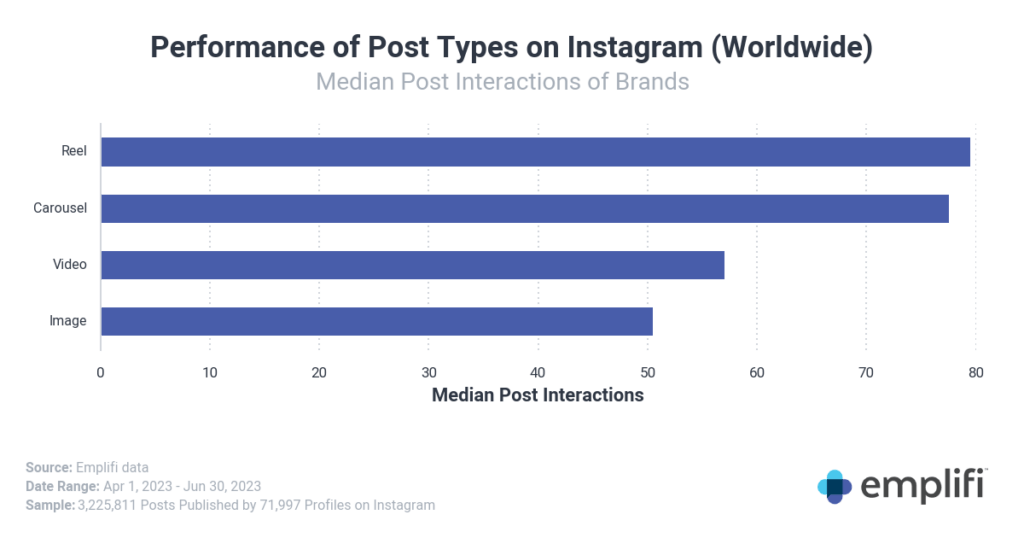 If you're still not entirely sure how to use short-form video to boost your app marketing success, Emplifi's latest research "Unleashing the Power of Video: Key Trends Driving Social Media Engagement" offers some key pointers. Let's dive right in.
Reels to the rescue
Based on an analysis of social media behaviours and ad trends in Q2 2023, the report found that Instagram Reels outperformed all other content types on social apps, generating 55% more interactions than single-image posts on the app and 29% more than standard video posts.
"Because the social media landscape is evolving and changing at such a rapid pace, it's crucial marketers have access to insights that can help them earn the biggest bang for their marketing bucks. A key insight from this report is that despite an ongoing decline in engagement on Instagram last quarter, the platform still delivers the highest engagement rates for brands compared to Facebook and Twitter," said Zarnaz Arlia, CMO at Emplifi. 
Both Reels and Instagram Carousels, known as multi-image posts, have emerged as the top-performing content for brands on the platform. During Q2, brands experienced significant success with these engaging formats, with Reels earning a median of 75 interactions per post and Carousels closely following with a median of 74 interactions per post.
Surprisingly, Instagram Reels account for only 11% of all Instagram ads. However, a whopping 87% of brands experimented with Reels placements at least once in Q2 2023, marking a notable 26% increase compared to the previous year. In fact, brands' usage of Instagram Reels soared by an impressive 86% in Q2 2023 when compared to the same period in 2022, with 90% of brands posting at least one Reel.

Nevertheless, it's crucial to acknowledge that Instagram Reels' engagement has experienced a downward trend for the past five quarters, plummeting by 30% year-over-year in Q2 2023.
With intense competition for engagement on the platform and the recent deprioritisation of Reels by Meta, Instagram's parent company, it becomes evident that brands must diversify their social content and embrace multiple channels for their video marketing endeavours.
Facebook…not so much
While Instagram Reels continue to gain immense popularity, the same cannot be said for Facebook Reels. Interestingly, Facebook Live Video takes the lead as the dominant video content on the platform, surpassing all other formats by a significant margin.
In fact, Facebook Live Video garners nearly four times the number of interactions compared to static video posts.
Facebook post type performance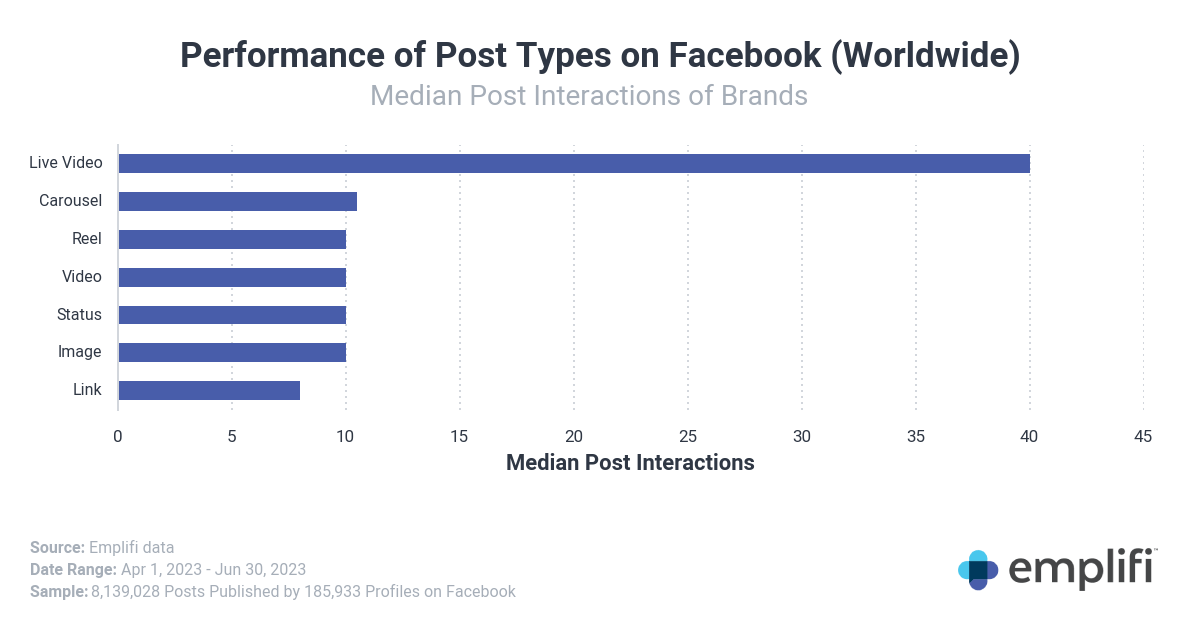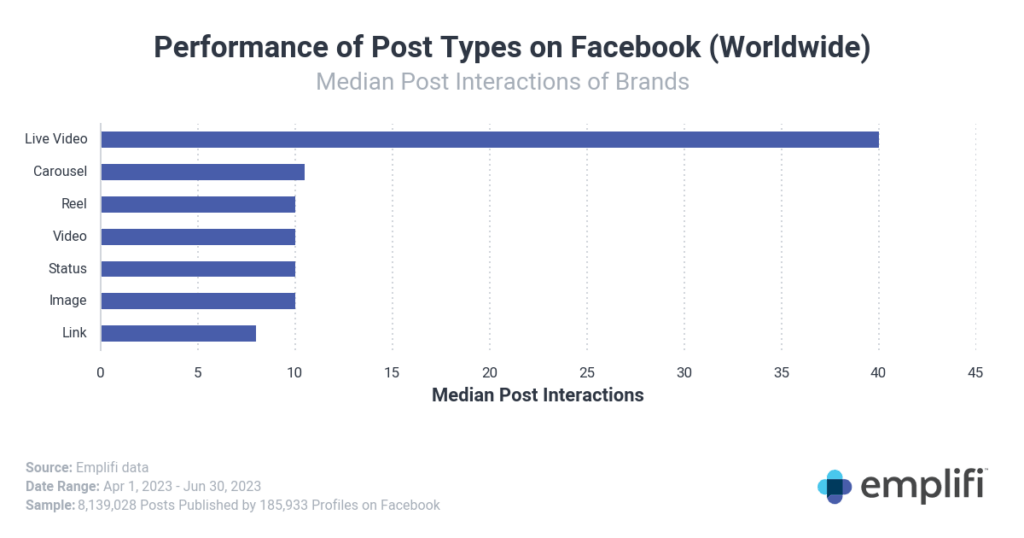 Source: Emplifi
It's important to note that Facebook Reels entered the scene two years after Instagram launched its highly successful video format. As a result, Facebook Reels are still finding their footing and haven't garnered the same level of traction as their Instagram counterpart. However, as more brands begin cross-posting their Instagram Reel content to Facebook, there is a possibility of witnessing a shift in engagement on the platform.
The data reveals that in Q2 2022, only 31% of brands utilised Facebook Reels for ad placements. Remarkably, this figure surged to an impressive 82% during the same period in 2023, representing a staggering 166% increase in usage.
What about TikTok?
It's the question that everyone's asking: so what about TikTok versus Instagram Reels?
The growth of TikTok's user base continues to skyrocket – TikTok saw a  five-fold increase in followers for the average brand during Q2 2023.
TikTok vs Instagram Reels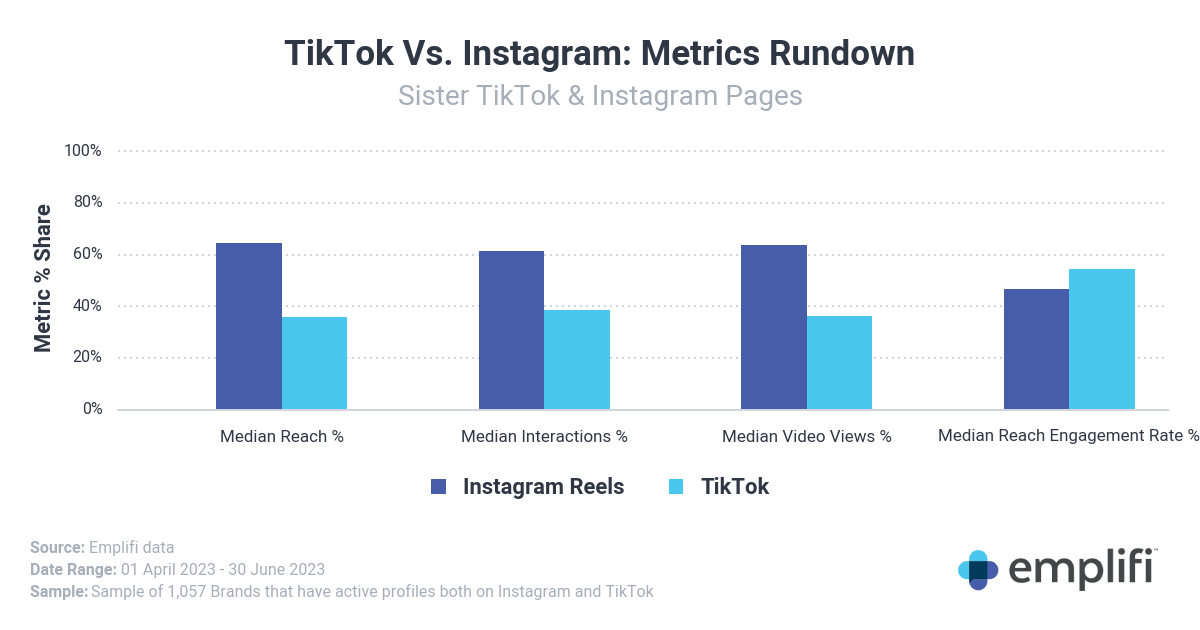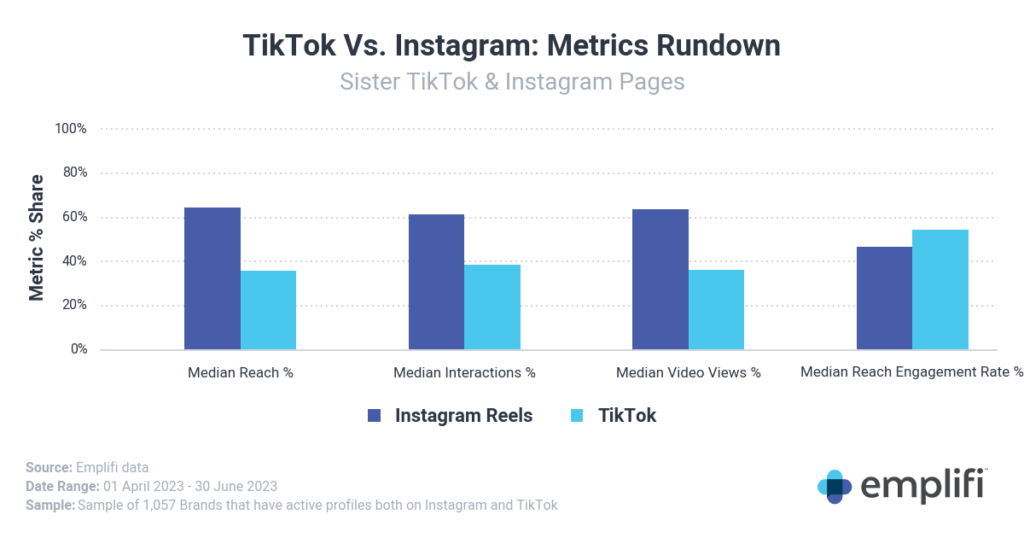 Source: Emplifi
Despite TikTok's impressive ability to attract new users, Instagram Reels still outperforms TikTok content in terms of median reach, median interactions, and median video views. However, when it comes to median engagement rates, TikTok emerges as the winner when compared to Instagram Reels.
A graph depicting blue and black lines showcases the trends.
"It is high time for marketers to fully embrace the power of video in their marketing efforts, encompassing platforms like Instagram Reels, Facebook Live Video, TikTok content, and even GIFs on Twitter," remarked Arlia. "The explosive growth of short-form video demands that brands leverage this trend to gain a significant competitive edge. As a leading customer engagement platform, we recognize that implementing a successful video strategy takes time. That's why we devote considerable effort to creating these reports and sharing valuable data. Our aim is to assist marketers by equipping them with a headstart in developing social media strategies that yield measurable impact."
Key takeaways
Instagram Reels generate 55% more interactions than single-image posts and 29% more than standard video posts
TikTok sees a five-fold increase in brand followers, but Instagram Reels surpass it in median reach and interactions
Facebook Live Video earns nearly four times the interactions compared to static video posts