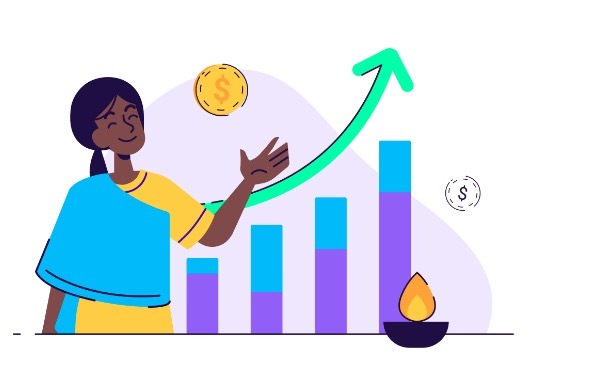 India's economic outlook for the year remains optimistic as consumer spending on in-app purchases rose during the first half of 2023. That's according to the India Festive Report for 2023, an effort between AppsFlyer and Meta Platforms which highlights signs of economic recovery. Let's take a look.
Festive season boost to IAPs
Consumer spending has been on the rise in India, leading to an impressive 71% increase in in-app purchase (IAP) revenue during the first half of 2023. This growth in IAP spending is expected to continue with the approaching festive season.
IAP revenue trend on Android
Source: AppsFlyer
"The festive season in India promises robust growth for mobile ecommerce. Projections from Redseer hint at a spectacular 18-20% growth this year, translating to an astounding GMV of INR 90,000 crores. With the surge, we anticipate nearly 140 million eager online shoppers gearing up for festive purchases. While Shopping and Food & Drink apps will undoubtedly see a spike, Gaming isn't far behind in capturing user engagement," says Aditya Maheshwari, Director of Customer Success at AppsFlyer.
India's festive season is usually a good opportunity for marketers across various app categories. App installations follow a pattern, starting in August, peaking in October, and reaching the highest point in December.
Overall install trends by category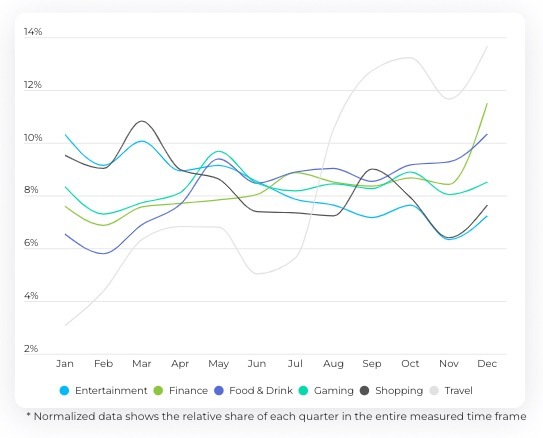 Source: AppsFlyer
September tends to see activity rise across sectors as users prepare for festivities. Marketers focus on installations and reserve later efforts for remarketing conversions. So, it's wise for marketers to start user acquisition early and increase efforts as the festive season nears. Finance, Food & Drink, and Gaming apps are popular in October.
Remarketing dominance during the festive season
Leading up to Diwali, non-organic installs (NOIs) take the spotlight, especially for Shopping apps, which see an early increase, while Travel apps begin their upward trajectory in August. Timing is crucial for NOIs, with campaigns typically kicking off three to four weeks before Diwali.
Remarketing conversions on Android
Source: AppsFlyer
Remarketing conversions shine during the festive season, outperforming non-organic installs. In the first half of 2023, these conversions showed impressive year-over-year growth, with Android conversions rising by 24%. Interestingly, Shopping apps record their highest non-organic share, indicating that consumers tend to plan their shopping activities well in advance of the festivities.
However, the festive season also sees a rise in fraudulent activities, particularly on Android apps, with a 47% year-on-year increase in fraud rates. Finance apps are particularly vulnerable, necessitating stronger anti-fraud measures.
App install fraud
Source: AppsFlyer
During this season, consumers shift their focus from online to offline activities, emphasising family time. Insights reveal that messaging and video content have become vital channels for consumer engagement, with content creators and partnership ads playing a significant role in influencing purchasing decisions.
"The festival season always brings a buoyancy in consumer demand and marketers look to tap into the same," says Arun Srinivas, Director & Head, Ads Business India at Meta. With increased digital penetration, and upbeat consumer sentiments this year, there is good scope for businesses to tap the right audience and unlock growth. Brands should focus on full funnel strategies, influencing the consumers at each stage of the funnel to take full advantage of this opportunity."
Key takeaways
India's economy shows resilience with a 71% increase in in-app purchases during H1 2023, expected to continue during the festive season
India's festive season offers a strategic window for marketers, with app installations peaking in October and early planning in September. Finance, Food & Drink, and Gaming apps are favourites
Remarketing conversions dominate during festivals, with a remarkable 24% growth in Android conversions. However, a 47% rise in fraud rates calls for stronger anti-fraud measures