Over two-thirds of gamers play on mobile devices, according to the latest Global Gamers Study 2023 from app experts Newzoo. The latest study found that 79% of gamers used their mobile devices to play and almost half (47%) played on multiple platforms.
Mobile gaming endures
The latest report examines how and why gamers play on their mobile devices. It shows that mobile gaming remains the dominant platform among gamers, with an impressive 35% exclusively playing on mobile devices.
In comparison, only 9% exclusively use consoles, and 8% opt for PC gaming.
8/10 of the total online population have engaged in gameplay

Source: Newzoo
The strength of mobile gaming can be attributed to its lower barriers of entry and enhanced accessibility compared to other platforms. This has also made mobile an enticing investment opportunity for developers. At the same time, advancements in technologies, coupled with the emergence of cloud gaming services, have further improved player experiences.
Over half of gamers are spending in-game
Some 57% of gamers have spent money on gaming. But here's an area where mobile gaming falls behind other platforms, with a play-to-pay conversion rate of 45% compared to 55% for PC and 66% for consoles.

Newzoo attributes this disparity to the widespread adoption of the free-to-play business model in mobile gaming, which places greater emphasis on in-game item purchases as a crucial revenue source. Consequently, in-game items play a vital role in generating revenue within the mobile gaming ecosystem
Players pay
Source: Newzoo
A total of 87% of players spent money on in-game items over the past six months. The top three reasons given for spending money on games were a good price, sale, or special offer (34%), extra or exclusive playable content (34%) and personalising characters or things built in-game (29%).
Top reasons for spending in-game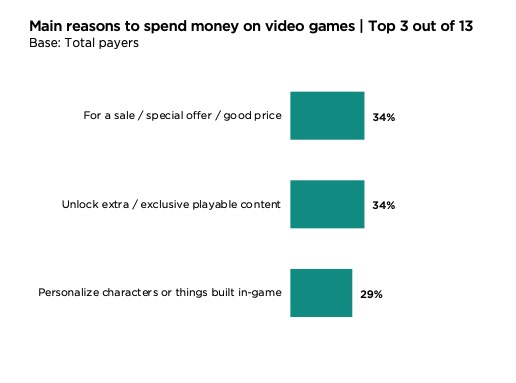 Source: Newzoo
In-game currency proved to be the most popular item for players to spend money on, at 29%, followed by expansion or content packs and in-game gear at 25% each.
Interestingly, mobile games are good ways for users to discover new brands with 50% of players agreeing. It seems gaming brings added value to advertisers and marketers while providing an array of creative options to reach consumers in a way that feels more personal, playful, and immediately actionable.
Mobile games are a great way to discover brands

Source: Newzoo
Gamers worldwide proved to be more receptive to branded content and media collaborations, having more positive attitudes towards brands in every category studied.
Key takeaways
Over two-thirds of gamers choose mobile devices, with 35% exclusively playing on mobile
Mobile gaming lags behind PC and consoles, with a 45% play-to-pay conversion rate
87% of players spend on in-game items, with in-game currency being the most popular choice