Subscription management software provides app owners with an overview of all the activities within their customers' subscriptions. It also automates billing cycles for various subscription revenue models, helping marketers boost subscription revenue, acquire more users and reduce churn rates significantly.
Platforms that manage subscriptions will do the heavy lifting for you, allowing you to pursue new business models that offer dynamic pricing and access options for your customers. Thus, subscriptions can positively contribute to user retention as well as effective app engagement solutions, with your mobile app seeing a new wave of traction.
In this guide, we will run you through the common features of a subscription management software, the reasons why this in-app purchasing concept is important, and how top subscription management platforms can help you manage your mobile app and its revenue recognition more efficiently.
What is subscription management?
Starting broad, let us define what subscription management is first and foremost. It describes the concept of managing your users' subscriptions, ensuring that it is a smooth process for the customer and for the app owner. Supporting the dynamics of signing up, purchasing and maintaining various models and packages, subscription management is a complex system that requires constant monitoring and tracking to make sure there is an efficient and accurate process in place.
Then, there is subscription pricing, which is commonly included in subscription models and the general management. Subscription pricing contributes directly to revenue generation, providing access to advanced services or products after a purchase has been made for specific billable time periods, for example, monthly, quarterly or annually.
Subscription management software example

Source: Recurly
Subscription management software: core features
Pricing models, subscription billing applications and subscription packages need to be managed constantly in order to keep users engaged and subscriptions in place. A subscription management software therefore enables a better overview of the incoming revenue, subscription sign ups and data dashboards to better analyze and track progress.
In essence, subscription management software handles the billing and sales side of things when it comes to mobile app subscriptions. So, the tool typically combines automated payment functionalities and user subscription information, and takes on the responsibility to manage and track these. And subscription management platforms ensure stored payment information is valid and purchases run smoothly.
A subscription management software provides insights into conversion rates and other performance metrics, using analytics and data dashboards. More advanced platforms are also starting to offer extended features, such as marketing and sales solutions as well as marketing campaign activities that are based on subscription progresses and levels.
Why is subscription management important?
Subscription management is an evolving concept that allows marketers and app owners to manage the additional revenue that comes from app subscriptions, including customer contracts and payment information. Subscription management platforms are therefore crucial for budget planning, managing resources and app valuation, efficiently monitoring and analyzing revenues.
While subscription management can be complex and challenging in nature, it makes the financial and accounting aspects of your mobile app a lot easier, enabling customers to manage or cancel their subscriptions at any time, which generally requires constant tracking of these actions.
These factors may seem obvious as to why subscription management is so important for the sustainability of your business. But let's dive into more detailed benefits of subscription management, how they tie into practice and what impact software has on app marketing campaigns.
Boost revenue
Subscription-based apps mainly rely on conversion data to spend their budget wisely, so subscription management software therefore helps app owners gather accurate revenue data, synchronizing with CRM, ERP and other licensing systems. They also conduct ongoing reporting to validate payment information and users' subscription accounts.
These features will also allow marketers to identify more revenue opportunities by understanding purchase patterns and trends as well as which variables are working best and converting more.
Keep track of recurring revenues
As mentioned, measuring and tracking revenues is an important success factor, as they change with every amendment in pricing models, user upgrades and so on. Customers are always managing their subscription accounts.
Subscription management solutions can monitor the lifetime-value of a large number of customers, with specialist tools to facilitate the tracking process significantly.
Foresee future business plans
Having automated processes in place, and being aware of your pricing plans and how they contribute to the contracted revenue by customers, you can make informed decisions on long term business plans that will most-likely lead to success.
A subscription management software is also great for understanding what contributes to the growth of your app, using key metrics, such as new sales, upsales and churn. With platforms allowing you to dissect and analyze revenue changes, marketers can better determine success factors, including what is working for the campaign and what features need to be eliminated.
Software management software example
Source: Purchasely
Optimize pricing models
Adding to the point of identifying success factors, subscription management solutions can help tweak and improve your pricing packages. They typically integrate systems that will automatically renew invoice amounts and review pricing plans correctly, minimizing room for error.
Getting insights into how much revenue is generated through subscriptions allows marketers to optimize their pricing strategies to keep the conversion rates steady over time.
Enhance app engagement
Understanding what is causing your revenue to grow allows you not only to optimize pricing models correctly, but also to enhance app engagement consequently.
Once users are acquired and subscribe to a plan, a subscription management software not only renews plans automatically and generates accurate invoices, but it allows app owners to keep track of how customers are managing their plans. They can then actively come up with strategies to keep them engaged in the app and its services, increasing retention more efficiently.
Subscription management solutions can simplify your workflow, gather quality data and contribute to a more enhanced automation of services, which is essential in today's evolving digitized space. Using such platforms for your app business reduces tedious management, which is highly beneficial, especially when dealing with a larger number of customers at a time.
Top Subscription Management Software
How does a subscription management software work?
Subscription management concepts are designed to make the most out of the purchases customers make, creating more opportunities for additional revenue by allocating business resources into various subscription models. So, in order to fully maximize value for the customer and app owner, subscription models need continuous monitoring and maintenance to ensure, for example, that purchases are made currently and customers are satisfied.
Moreover, dataflows must be accurate, allowing users and customer services representatives to start, modify or cancel a subscription, and enabling proper revenue recognition and consistency. Thus, a subscription management software lowers the risk of crushing a mobile app's financial health and effectively losing customer loyalty and trust.
Subscription management solutions also share CRM data across apps seamlessly, with enterprise resource planning (ERP) systems, allowing businesses to maximize customer lifetime value, enhance user experience and boost revenue, which creates more room for further innovation.
Data collection is the prime focus in subscription models, including recurring revenue that is generated by such a concept. However, subscription management platforms also offer the following staple features:
Subscription management software features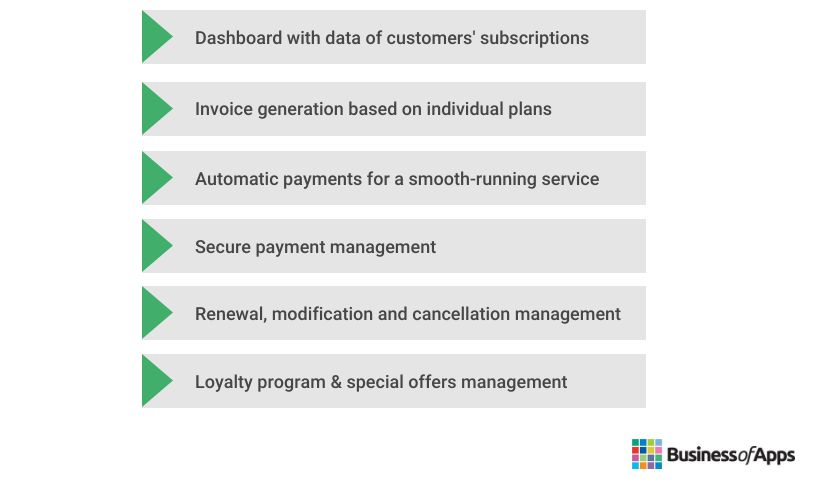 How can you benefit from subscription management software?
With the common features that we now know are vital characteristics when looking for top subscription management software for your business, let us dive into the benefits of these platforms and software.
Subscription management software example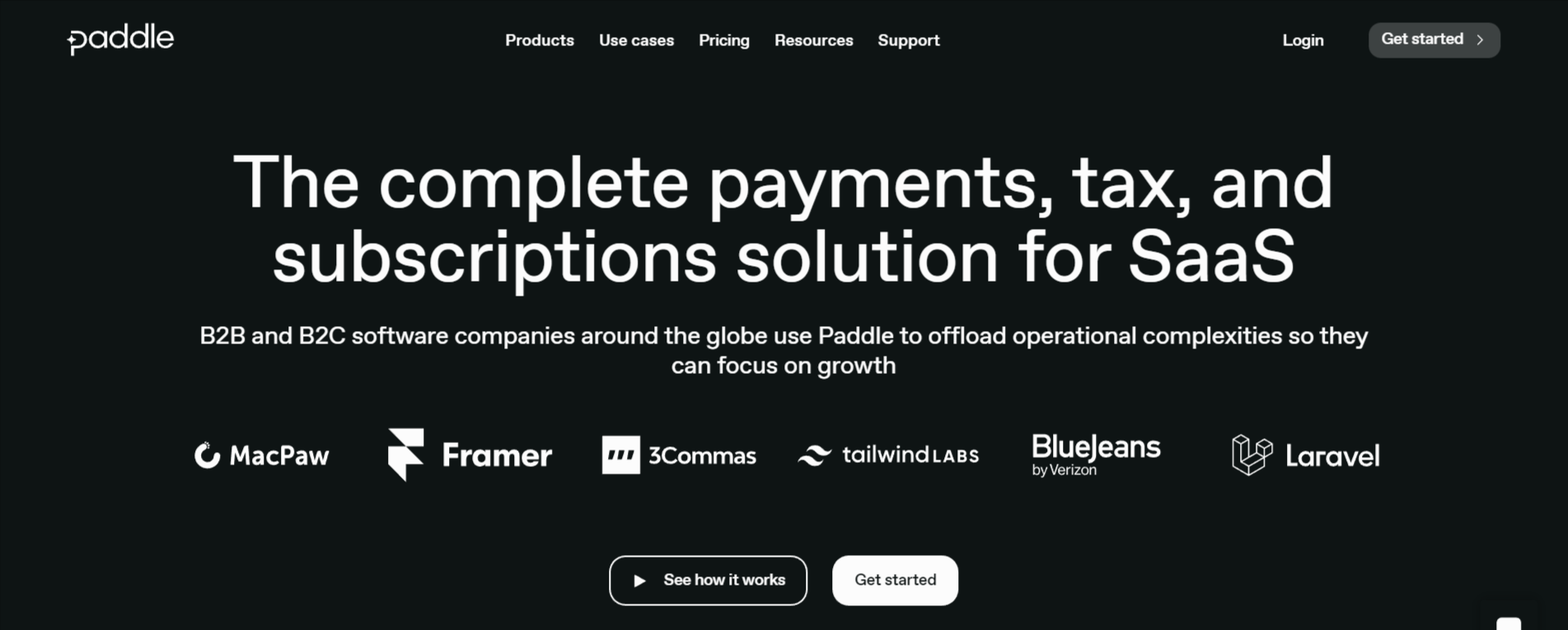 Source: Paddle
Secure payments
As mentioned earlier, when dealing with subscriptions, payment information is very sensitive and should be treated with security, especially to maintain trust with your customers. Moreover, saving these details also makes it easier for users to make their purchase and keep up with any recurring payments, each month or year.
Subscription management platforms keep payment details safe, making it also a lot easier to upgrade subscription plans too.
Less manual management
With a subscription management software, users can manage their own subscriptions as well as schedule payments, manage payment methods, and edit their account and subscription plan. Such self-service options do the heavy lifting for you, without you having to waste valuable time on, for example, manually creating invoices or verifying payment details.
Set up additional offers
If you are offering additional services on your app, like free trials, to attract more potential customers and convince them to jump on a subscription plan, management platforms can help you implement such offers easily, and also track their performance in real-time. This way you can refine any service offerings accordingly, with accurate analytics data too.
Higher user engagement
The benefits of subscription management platforms also entail increased customer retention rates. When a customer signs up for a subscription plan, this instantly boosts user engagement, as they are more likely to become a regular paying customer.
Moreover, when a user agrees to a payment plan to further interact with your mobile app, the chances they will engage more with unlocked features increases – and recurring revenue goes up as well.
Work with a top subscription management software
Subscription management platforms can significantly increase customer retention and boost conversion rates. Providing a data overview and effective management tools to have more control over your subscription plans all make a subscription management software a key contributor to the long term success of your mobile app.
There are several subscription management software available on the market. So, with the information we now have on what a good platform should offer, we have put together a list of the top subscription management software for you to choose from, with platforms to suit the unique needs of your app and align with your business goals.
List of subscription management software & platforms