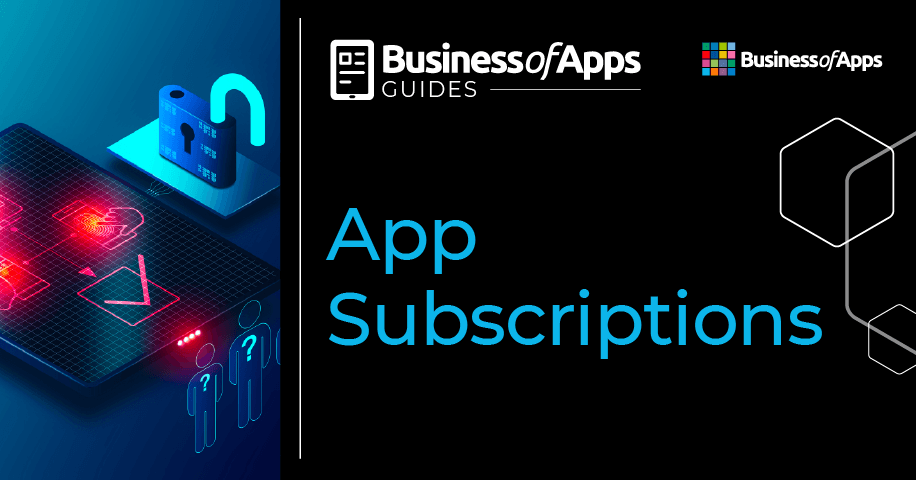 Building an app is no easy feat, but you have made it, you have your little baby… your app I mean. It was a lot of hard work and you now want to monetize it by releasing content every month and mandating subscription. And you are perfectly justified, of course. After all, you have worked hard, and a continuous source of revenue for the value you provide to users is more than well-merited. But the question still stands: how do you do it? How do you monetize your app by implementing paid subscription? How do you manage your app subscription plan after you have implemented it? What are the dos and don'ts of mobile app subscriptions? Well, fear not, for we are here with another guide to help… well, guide you through all the nitty-gritty of implementing and managing app subscriptions.
Welcome to your one-stop-shop guide to mobile app subscriptions. We will start by defining mobile app subscriptions before taking a deep dive into the benefits of implementing mobile app subscriptions, the biggest challenges to be aware of, and how to create and implement them for both iOS and Android. We will then finish with our best practices for building the ultimate app subscription plan. Lots of useful information, insightful tips, rich data, interesting examples, and handy graphs and images are on their way, so strap in, folks, it's going to be an app ride to remember.
Heads-up: (Mobile) app subscriptions are also sometimes referred to as in-app subscritpions, so don't be surprised if we use the terms interchangeably, we are still talking about the same thing.
App subscriptions key statistics
| | |
| --- | --- |
| Subscription apps installs (Jan 2021 – March 2022) | 6 million |
| Annual spending in top subscription apps worldwide (App Store) | $13.5 billion |
| Annual spending in top subscription apps worldwide (Google Play) | $4.8 billion |
| US user spending on subscription apps on the App Store (iOS) | Over $6 billion |
| US user spending on subscription apps on Google Play | Over $2.5 billion |
| Average subscription cost (August 2020) | $38.80 |
* More details in the "Some key data to wrap your head around" section
What is in-app subscription?
Tenjin defines mobile app subscriptions as recurring payments a user initiates in exchange for access to content, premium features, or services. At the end of the subscription period, that subscription generally (though not always) automatically renews until the user chooses to cancel or change it.

Apps that implement in-app subscriptions generally offer better user experience and are able to retain users for longer by providing regular content to engage users and updates that improve the app experience. Additionally, the subscription model is free of the classical issues of its counterpart, the ad model. Developers and marketing using the ad model do everything they can to keep people in the app for as long as possible to increase the chances of users' interacting with ads and in doing so, they sometimes end up sacrificing the actual value of the app. Subscription apps are free of this problem since users are already paying to use the app and are generally left to their own devices when it comes to how much time they want to spend in-app. (To illustrate this better, compare, for example, Netflix with Facebook and consider the ways users are invited to engage with in-app content.)
As such, in-app subscriptions are a great tool for mobile app retention, monetization, and boosting an app's lifetime value (LTV). They also boost profits, guarantee a steady stream of revenue, and improve the user experience, which can lead to gaining new users, who might eventually subscribe, closing this virtuous circle and guaranteeing you truly exponential growth if managed properly.
App subscriptions might seem like a golden opportunity that you shouldn't miss out on, but they are not for everyone as they are somewhat difficult to manage. They require you to provide regular content, feature updates, or other value to retain users and are certainly not easy to maintain. However, in the right hands and under the right conditions, they can be a powerful tool for app growth, and soon enough we will take a deep dive into the why and how.
Some key data to wrap your head around
Over the past decade, subscriptions have steadily subverted the classic pay-to-own model. Today, streaming and music app subscriptions are ubiquitous, and it's now possible to subscribe to almost anything – from streaming, music, and other entertainment to news, education, and productivity apps, the sky truly is the limit here. (I am pretty sure you yourself are subscirbed to at least a couple of apps. But let's not digress, we were talking data after all.)
Let's start with the basics (and probably what everyone here is most interested in): that sweet, sweet money bit. The below graph shows annual spending in top subscription apps worldwide from 2019 to 2021.
Annual spending in top subscription apps worldwide from 2019 to 2021, by platform
As you can see, the top 100 subscription apps in the Apple App Store dwarfed user spending on the top 100 subscription apps in the Google Play store. In 2021, global user spending on the leading subscription apps via the App Store amounted to 13.5 billion U.S. dollars, compared to only 4.8 billion dollars of user spending in the Google Play Store.
In terms of intalls, 28 percent of photography and health & fitness app installs were subscription-based as of the second quarter of 2020. However, only five percent of total mobile apps used a subscription model in order to monetize.
Share of subscription-based mobile app installs worldwide as of 2nd quarter of 2020, by app category (%)
On the other hand, there were 6 billion installs of apps that offer a subscription between January 2021 and March 2022. Globally, subscription apps across all categories garnered increased installs over the last 12 months with apps in the music and entertainment, health and fitness, and education categories seeing the most significant growth across most regions.
According to Zuora, the subscription economy grew by 16.2% between 2012 and 2021.
Subscription economy index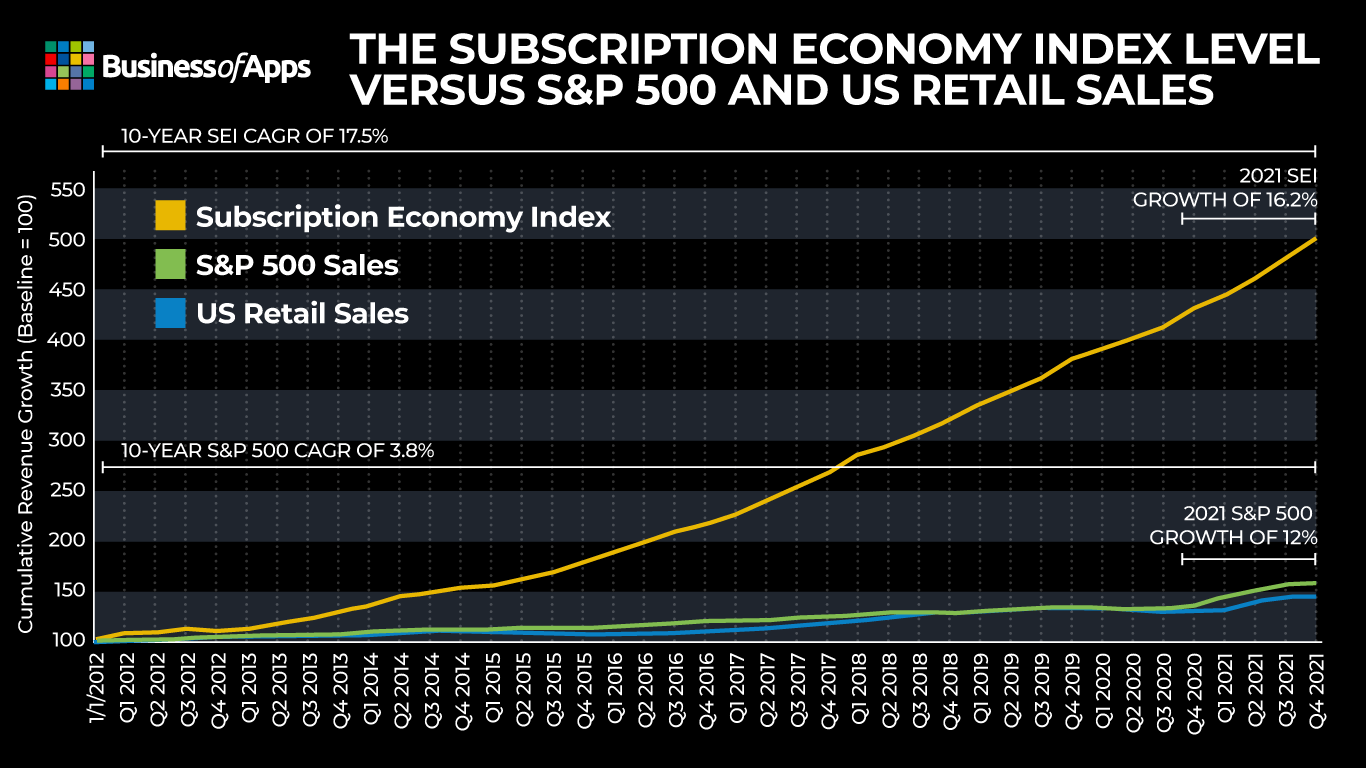 Source: Zuora
Moreover, US user spending on subscription apps on the App Store (iOS) in 2021 reached over $6 billion in revenue, a 33% surge from 2020. Google Play (Android) subscription app revenue climbed by 78%, surpassing $2.5 billion.
US annual user spending on subscription apps
Additionally, global subscription app engagement is growing. Leanplum and Liftoff's 2018 Mobile App Engagement Index, which studied 257 billion impressions across 58.4 million installs from September 2017 to August 2018, found that global subscription app engagement had jumped to 3.3%, up from 2.5% in 2017.
Global app engagement index
At the same time and contrary to so many other industries, Covid-19 didn't seem to have adverse effects on the app economy, in general, and the subscription ecosystem, in particular.
Effects of Covid-19 on app revenue
Many mobile marketers even recorded an increase in revenues and marketing spend.
Effect of Covid-19 on mobile marketing budgets
Though with overall subscription costs rising after an initial drop in 2020 due to Covid-19, the ongoing economic crisis appears to have curtailed people's commitment to pay recurring costs.
Subscription costs (2020)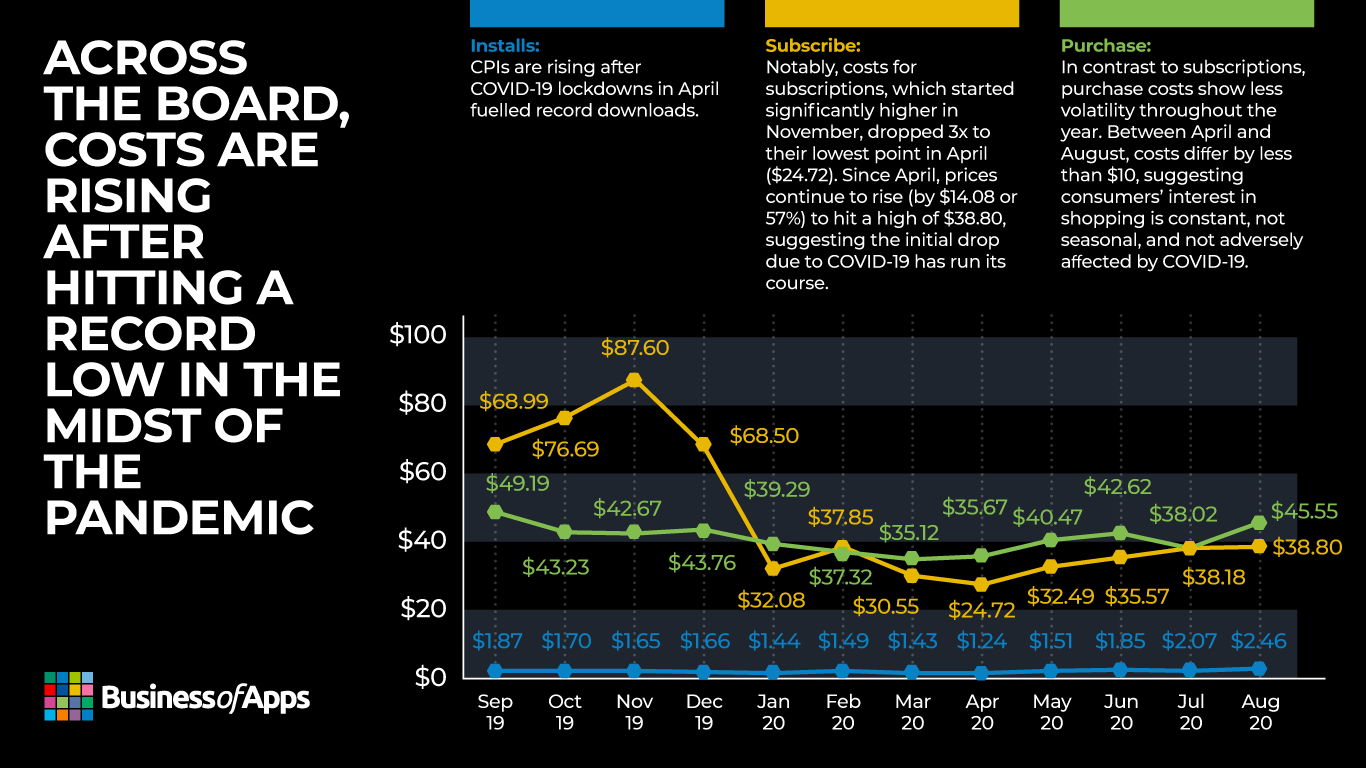 Source: Liftoff
At any rate, the subscription economy still represents a clear opportunity for marketers and developers alike despite the recent disturbances caused by an unprecedented pandemic and an unstable geopolitical and economic situation, so let's keep digging and diving even deeper.
What is the difference between in-app subscriptions and in-app purchases?
In-app purchases are any extra (generally digital) content that users buy after downloading an app. In-app purchases are one-time purchases that the user will generally always have access to no matter whether they have a freemium or premium account, aka whether they are subscribed or not.
On the other hand, in-app subscriptions mean that users pay a fixed amount to use all the app features on a monthly, weekly, bi-yearly, yearly, etc. basis. Users will lose access to the premium content once they stop subscribing.
Of course, not all apps offer in-app purchases or in-app subscriptions. Additionally, some apps may have some of their purchasable content behind a subscription wall though that is relatively rare.
To put it another way, in-app subscriptions are a type of in-app purchase with access to premium content granted only for the duration of the subscription. Once users stop subscribing, they revert back to a freemium account without any of the perks they used to benefit from.
Benefits of in-app subscription
Now that we have a clear understanding of what app subscription is and what it isn't, let's have a little bit more detailed look at the benefits of getting mobile app subscription right.
A steady revenue stream
The benefits are truly numerous, but perhaps the biggest one has got to be that sweet, sweet steady revenue stream. Nothing like a guaranteed monthly income to enable secure further growth, reliable expansion opportunities as developers can better predict future income, and financial freedom to experiment with new features and ideas. Consider for a second that 82% of revenue generated on average by non-gaming apps that offer subscriptions is driven by subscription revenue and you can easily see why implementing in-app subscription is one of the best, if not the best way, to monetize an app and guarantee its continued and sustainable growth and long-term success.
Share of subscription revenue by platform and vertical (Q1 2021)
* Average per app with subscription revenue
Subscription revenue
Subscription-based apps also tend to see higher revenue per user than apps with other business models. As an added incentive, subscription apps on the App Store receive a higher revenue share for subscription fees compared to non-subscription apps. App Store developers receive 70% of subscription revenue (standard commission on all apps), which rises to 85% after one year (but more on that later).
Higher engagement rates, better LTV, and greater exposure
Engagement is a huge challenge for most apps, but it tends to be easier for subscription apps since users are more actively invested in making sure they get as much out of their app as they can. Having a subscription app generally means having to release regular content and updates, which nurtures a positive and personalized relationship with your users and can ensure that users stay "hooked" to your app as they constantly find new and exciting things to explore every day. This, in turn, means higher levels of brand loyalty and exponentially increased chances of getting referrals. The increased number of regular users also has a direct positive effect on an app's LTV, leading to greater exposure and improved ranking on the app stores.
Ease of promotions
Implementing a subscription model for your app is also a wonderful gateway to promote the content, consumables, and other features of your app that user like the best. With timed and spiced-up offers about the most popular features, you can ensure that users are more likely to be swayed to subscribe.
Higher ATT opt-in rate for subscription gaming apps
And finally, despite subscriptions driving only 36% of revenue in gaming apps that offer a subscription model, subscription gaming apps garner an average ATT (App Tracking Transparency) opt-in rate of 54% across all regions, which is significantly higher compared to all other categories.
iOS ATT opt-in rates
The high opt-in numbers suggest that gaming app developers are developing, testing, and implementing the most successful opt-in strategies.
Biggest challenges to overcome
At the same time, we shouldn't ignore the many challenges that come with having a subscription app. Cracking the code to a successful subscription app is no easy feat, so let's have a quick look.
Regular content and updates
For a subscription app to succeed, developers need to provide regular updates and new quality content. Consistent updates and bug fixes aren't just nice-to-haves, they are must-haves. If an app cannot deliver on its promise to provide continuous value and content, the subscription model cannot and won't work. App developers need to adopt a stable and reliable schedule for updates and release of new features and content and stick to it to continue to excite paying users and guarantee that they stay loyal and subscribed.
Users have increasingly high expectations, and in an increasingly saturated market, especially in Europe and the US, subscription "fatigue", fragmentation of services, and having too many options to choose from can have adverse effects on the performance of subscription apps. The situation can become even more compounded during unprecedented events and during economic downturns as we have seen recently.
Trial periods and onboarding
Trial periods and the onboarding journey are also notoriously difficult to handle for subscription apps. For users to commit to a paid plan, they need to understand the true value of an app and the subscription service they are paying for. How trial periods and onboarding are handled can make or break an app, but there is no one-size-fits-all solution, unfortunately. Different apps choose to handle this differently. For example, Spotify offers its premium service for 99 cents for the first month, while other apps might offer the first two weeks or even the first month completely for free. Some apps offer freemiums, others don't. Experimenting to find the right footing is key for success here.
The first month is key
Subscription management service, RevenueCat has found out that monthly subscriptions had a median first renewal rate of 56%, which would increase over time. In other words, customers who didn't get value from the app would churn in the first month – an indication of how important it is to convince users of that value in their first days using your app. In subsequent months, renewals were higher – 75% or 81% for the second and third months, for instance.
Renewal rates of monthly subscriptions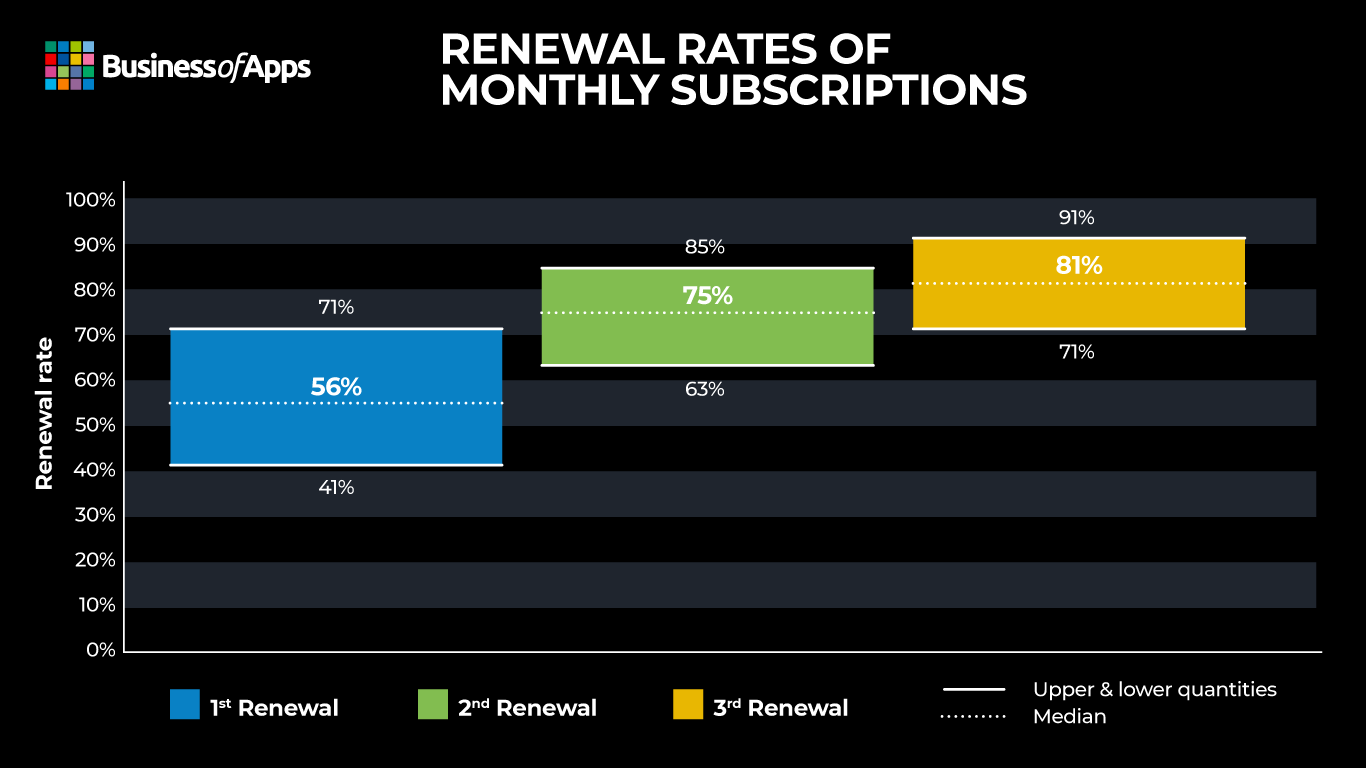 Source: RevenueCat
Support teams
Additionally, subscription apps need solid support teams as subscribed users expect at least a decent level of support service for the money they pay. However, support teams come with a high price tag, but if you want the more engaged and active users that come with a subscription model, support will be essential. At the same time, the recurring revenue from the subscription-committed users can help fund support teams. And having a great support team means that users are more likely to stick around and not churn.
Personalization and long-term retention
Subscription apps thrive when providing continuous value in the form of content and regular updates to the overall app experience and building personalized relationships with their users.
Re-engaging users and providing personalized experiences will be essential for anyone who wants to make it in the subscription jungle. For example, keep tabs on what kinds of content or which features an individual user frequents the most, then make sure to send a push notification and/or email when updates are launched that will connect with their specific interests.
Paid marketing is the key to success (especially on Andoird, it's harder on iOS since the introduction of ATT). And don't forget to always communicate the value of your app and your paid plan(s) to users. People pay for value, make sure they get it.
If you would like to learn more about long-term retention and engagement, make sure to check out our guide to mastering mobile app retention.
Switching to a subscription model
And finally, launching a subscription app is one thing, but transitioning to a paid model is a different story. So, prepare yourself for a potential backlash from existing users and for the fact that you might inevitably lose some of them. (We told you that getting in-app subscription right in no easy task. Sacrfices must be made. 😃)
Implementing in-app subscriptions for iOS
In 2016, Apple announced new incentives for developers to maintain their customers on a continuous subscription, while simultaneously introducing subscription groups, giving developers a much easier time when it comes to managing active subscribers. So, let's have a look.
Subscriptions are quite easy to set up on iOS. Simply head over to Apple Store Connect and select My Apps. Then simply select the app you want to set up a subscription for. On the main page of your app, go to the sidebar and select Manage under the In-App Purchases heading. The In-App Purchases page is where you add, manage, and maintain all your purchases, whether it's a one-time non-consumable/consumable product or an auto-renewable or non-renewing subscription. Follow all the prompts, and you are pretty much set to go. Whether it's price setting, localization, subscription duration, or subscription groups, the In-App Purchases heading is your go-to destination for all things subscription-related.
Implementing subscriptions on iOS
Source: Qonversion
But setting up in-app subscriptions is one thing, managing them on a daily basis is a whole different story. But here again, Apple has your back. Introducing subscription groups. But let's start with a quick definition.
A subscription group is a collection of subscription products that has some specific properties: access levels, prices, durations, etc. This allows people to select the option that best fits their needs, while also making developers' lives much easier. How you set up your subscription group or groups will determine your proceeds rate, as well as how people can subscribe to your content and/or services, how they move between subscriptions, and when and how they are billed.
Apple mandates that each subscription you offer must be assigned to a subscription group. Since people can only buy one subscription within a group at a time, creating a single group is the best practice for most apps as it prevents people from accidentally purchasing multiple subscriptions. If your app needs to offer the ability to buy multiple subscriptions — for example, to subscribe to more than one channel in a streaming app — you can add these subscriptions to different groups. People who buy subscriptions in multiple groups are billed separately for each subscription.
Top Tip: Keep your offerings simple and easy to understand. For each subscription, create a user-friendly, self-explanatory name that differentiates it from others in the group. Use distinct names for the app, the subscription group, and each subscription to avoid confusion.
Subscription groups solved two major user experience issues. Firstly, users can now upgrade, downgrade, or crossgrade their subscriptions without having to cancel first, wait for the expiration, ord re-purchase. Secondly, users can no longer accidentally end up with simultaneous subscriptions.
The main goal of subscription groups is to get users through to one year of continuous subscription. After this point, Apple reduces the cut of revenue from 30% to 15%. To aid in this, Apple also introduced a 60-day "grace period" following a user canceling a subscription, where, if they resubscribe, they keep their accumulated days.
As a final point, we should consider some of the limitations of subscription groups and of Apple's approach to managing in-app subscriptions on iOS, in general. Subscription groups make testing prices more difficult. Because all products in a subscription group are visible to the user via the subscription settings, developers can't just add a one-off product to a subscription group at a different price and control who sees it. If developers want to A/B test two prices for a product they will have to create two entirely parallel subscription groups.
Additionally, because free trials and introductory prices are limited to one usage per group, the group that a product belongs to is required to compute product eligibility. Apple doesn't provide this information in SKProduct, so developers need to carry around the product identifier and the subscription group if they want to be able to compute introductory price eligibility correctly.
For more detailed information and a step-by-step guide on how to set up and manage in-app subscriptions, we recommend this article by Qonversion.
Let's now take a deep dive into the world of Android app subscriptions.
Creating in-app subscriptions for Android
Configuring app subscriptions on Android can be difficult and somewhat tricky, so pay attention. (I am only kidding of course, but pay attention anyway. It's a fascinating topic.)
Much like Apple, Google has its own in-app purchase system called Google Play Billing. Have a look at Google's overview of the system to familiarize yourself with the basics.
In order to configure Google Play Billing, you need access to your app's Google Play Console. Set up your payments profile in the Google Play Developer Console. Then, open the app you want to set up in-app subscriptions for in the Console and access the in-app products section under the Store presence menu in the sidebar.
Implementing subscriptions on Android
Source: RevenueCat
There are two tabs in this section: Managed Products and Subscriptions. Managed Products are one-time purchases and Subscriptions are recurring. From there, it's simply a question of following all the prompts to create a subscription fit for purpose and meeting all your specific requirements.
It's a system quite similar to Apple's App Store Connect, though without the benefits (or burden, depending on who you ask) of subscription groups.
For more detailed information on setting up in-app subscriptions on Android, check out this great article by RevenueCat.
Which types of apps succeed at the subscription model?
While nearly any app can attempt a subscription model, they tend to be better suited for certain types of apps.
Content apps are the first and probably most obvious candidate.  Recurring subscriptions in exchange for regular new content is a tried-and-tested business method that has already been successful offline for years. Consider newspapers and magazines, for example. The strategy works well for digital content as well, whether it be news articles, music (Spotify for example), video content (YouTube to name just the most famous video platform), etc.
On the other hand, there are also service apps. This is somewhat of an umbrella term, and the category is quite vast, so let's have a specific example. Productivity or time management apps are two great cases in point. These types of apps are both specific enough to solve a particular problem allowing for an easy value proposition, while also being vast enough to grow through new features all the time, making them prime candidates for monetization through the subscription model.
You have to be wary of falling into the "service apps trap" though. You can't just release a service app, ask people to subscribe, and then update it occasionally. For service apps to succeed, developers need to constantly provide updates and add new features that can truly wow users.
Apps that are not so easy to monetize through subscriptions include single-purpose apps, shopping apps, and mobile gaming apps.
If you are only offering a small solution to a (highly) specific problem (clock apps, dictionary apps, etc.), then in-app subscriptions are probably not the way to go.
Similarly, if users are utilizing your app as a gateway to purchasing products, businesses can't really ask them to pay a monthly fee as well (unless that fee provides some additional discounts, free shipping, and/or other major bonuses).
Finally, there are mobile gaming apps. While some larger console or PC games require subscriptions, they also regularly release upgrades and additional content. However, most gaming apps prefer instead to rely on in-game micro-transactions for revenue.
Key takeaways
Well, that's pretty much it for today. I hope you've enjoyed this guide. But before I leave you, here are the key points of this guide that you might want to keep in mind going forward.
App subscriptions are recurring payments a user initiates in exchange for access to content, premium features, or services.
They are a great pricing and monetization model for many apps, though some types of apps are better set up for success (e.g., content apps or service apps).
There are many benefits of implementing in-app subscriptions but some major challenges too. Remember to consider them all before deciding if you should implement mobile app subscriptions for your app.
To make the lives of both developers and users (bust mostly that of developers, sorry users) easier, both Apple and Android have their own systems for implementing and managing mobile app subscriptions.
Implementing in-app subscriptions is no easy feat, but there are certainly some tricks that you can take advantage of to ace in-app subscriptions.