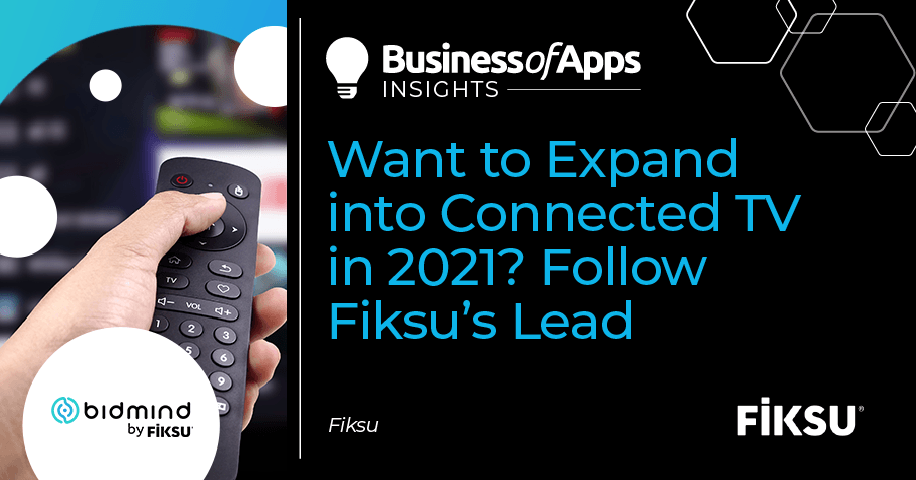 A lot of attention has been given to the growth of the connected television (CTV) market in the last year thanks to the COVID-19 pandemic, and rightly so. The industry had enjoyed soaring popularity, but it's not the only success story out there today. The mobile advertising market is also riding a wave, and both industries are cresting at the optimal time.
Companies like BidMind by Fiksu, a mobile marketing technology provider that helps app and brand marketers reach their target audiences, are leveraging their experience to enter the CTV market. The experience of Fiksu and other companies highlights the fascinating parallels between the CTV and mobile ad market industries. BidMind by Fiksu identified four key parallels between the two industries, which can provide an insight for expanding into CTV.
Rapid Growth
Both CTV and the mobile advertising market are experiencing rapid growth, and what's all the more remarkable is that this growth is relatively sustainable. This might run counter to the perceived wisdom of economic growth – anything that rises fast will fall just as quickly – but this doesn't apply here.
As both industries are predicated on smart device usage and improved connectivity, the more users that come online, the more both industries will grow. That's why they represent sustainability and the absolute vanguard of marketing development. The whole world is their oyster and it's only getting larger.
App Popularity
When the Apple Store first launched apps on its platform, there were 500 to choose from. Now there are nearly 2 million, and that number continues to grow. With users spending up to 90% of their screen time on apps, the potential is clear to experienced mobile ad marketers.
CTV may have started out as the preserve of larger developers, but that's changing, with an incredible 232% rise in programmatic supported CTV apps reported over the last 18 months. With exponentially increasing platforms for mobile ad marketers to place their content on, the opportunities increase day by day.
Monetization Methods
Utilizing technological development is great but it needs to be accompanied by a solid monetization method for it to be commercially valuable. Back in the day when apps first launched, they were invariably pay-for-use, or operated under the freemium model. App development has improved since then, and more and more apps are using the paid advertising model to generate revenue.
The great thing about this model is that it monetizes the majority of the user base, rather than the minority – as would happen under the freemium model. This also ensures that CTV based apps are more commercially viable, and with 65% of American CTV consumers stating they prefer the free-to-view-with-advertising model on CTV platforms,it's here to stay.
Data Targeting
Nowadays, everything is all about data, and this is a factor that both CTV and mobile ad marketing quickly came to grips with. Both industries are able to gather detailed information about their audiences demographics, likes, interests, locations, etc., enabling them to produce better content and more accurately targeted ads respectively.

To be sure, there are issues with data collection restrictions and legislation like the EU's GDPR, however CTV's ecosystem is rapidly finding new, innovative forms of identification and continually improving its ad infrastructure in order to counteract these benefits. As increasingly more sophisticated data gathering technology appears, expect both CTV and mobile ad marketing to improve.
Takeaways
These four parallels highlight why companies with experience of working in mobile ad marketing will likely succeed in the CTV arena. Take Fiksu's example, since launching in 2010 the company's revenue has grown by 216%, reaching a current total of $100 million, which has provided a solid bedrock for its expansion into CTV. Based on its familiarity with the aforementioned four shared parallels, it is entirely reasonable to predict that BidMind by Fiksu ongoing expansion into CTV will be achieved successfully.