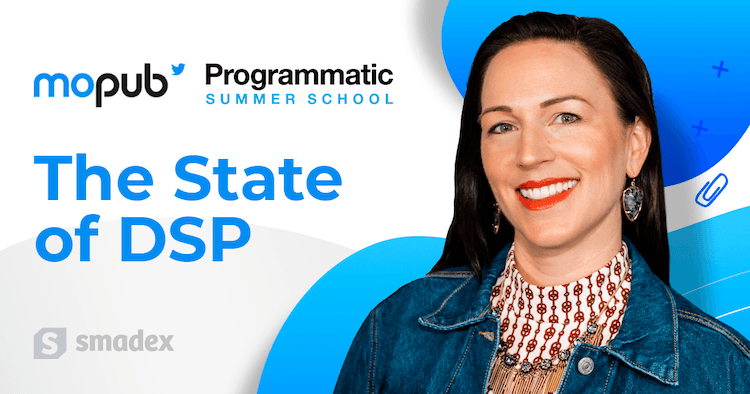 Programmatic advertising has been used by brands for many years. But for most mobile marketers, programmatic and the different Demand Side Platforms (DSPs) are the new kids on the block. RTB, Machine Learning, Ad Exchanges, dCPMs, are just a few of the new concepts that app growth marketers are bringing into their daily conversations.
In order to take the industry to the next level, MoPub is running a series of webinars called Programmatic Summer School, and on its first episode Smadex's Michele Webb, together with Liftoff's Karl Berta and Appreciate's Rachael Alter joined MoPub's Franklin Ramirez and Julia Martin to discuss the state of the DSP for Mobile User Acquisition.
You can watch the complete recorded webinar on MoPub's Programmatic Summer School page.
Here are some key takeaways for app marketers who want to learn more about programmatic and the use of DSPs.
When it comes to user acquisition, embrace the power of transparency
What seduced advertisers at the beginning of the programmatic revolution was the capacity of accessing millions of users from a centralized platform. But that benefit is undermined if there is no transparency whatsoever for the advertiser on where that campaign is running, and how each variable is affecting its performance.
The mobile industry is dominated by black boxes: You define a budget, a CPI goal, upload your assets and you take a leap of faith that your ads will be shown to the right audience and convert. That could sound risk-free, but in the long term, you are missing the opportunity of building a brand, gathering insights for your overall strategy and, of course, take control of your campaigns.
Transparency can give you control of your marketing campaigns, better insights on who your most valuable users are and where you can find them, better accountability from your partners and shed light on publishers that can be transformed into strategic partners.
Go beyond channel-level reporting to an impression-level analysis
If for you, media optimization is stopping answering emails from publishers, then there is a whole new world out there for you to discover.
With a DSP you can find out that audiences who click on your 300×50 banners on Wordscapes running on middle-level Samsung phones at midnight have 3X higher LTV than the campaign average. This way you can set direct deals with the publisher to increase the volume or even try different ad sets for that particular publisher to improve results even more.
Impression-level reporting lets you compare multiple-dimensions or macros at once: Audiences, GEO, Devices, locations, and so on. At the same time, machine learning algorithms will guide you to optimize your campaign in record time based on results (most DSP have them. But remember, not all are built the same, or perform similarly).

Align your KPI's with where you are in your business cycle
If you're a well-known brand, you can find untapped audiences with specific messages to catch their attention and bring them to your service. Or even, use retargeting, to re-engage current users to keep them interested in your app, or remind them of new offers. In this scenario, you need to define KPIs that will help you grow while don't limit your reach. Sometimes is audience coverage, other times can be Average LTV or Churn Rate.
If you are a new app, it's important to understand what kind of business you are in. If you are marketing a hyper-casual game, you could run a broad campaign, creating different targeting setups and ad versions to learn what catches. Test each strategy against its conversion rates, and focus on a CPI goal.
If, on the other hand, you are working on a new ride-sharing service, you must consider that before generating action you need to build trust. So you might see higher CPI or even CPA, in the beginning, but as you start making your value more clear and your brand is more trusted, your ad spend will become more efficient. At that point, you'll need to define other KPIs to follow the brand construction stage you are in the business lifecycle.
Know that you don't need to do it all by yourself
There is some mysticism behind programmatic advertising. So much jargon, numbers, and data, that one might think that to run a programmatic campaign you need to be a rocket scientist. Even when that's far from the truth, running a programmatic campaign does require time, deep media management knowledge, and a team to back you up.
If you don't have the resources, know that many programmatic platforms have teams dedicated to managing the campaigns for you. Sometimes you just lean on the backseat and let your vendor run the show, but if you want to make the most of your investment, you can ask for a hybrid model, where you get the campaign management support you need while having total access to impression-level reporting and the last call on how to optimize.
Get your measurement and attribution platform in place
Before spending a dime, you should have a mobile measurement platform in place. An MMP will help you attribute your campaign conversions to specific channels, and pass back the conversion to your media partner. For programmatic, this is key in the way you feed your platform with positive outcomes to optimize against.
Once you picked the right MMP for you, be sure to define the right attribution settings according to your strategy. If you are using the default out-of-the-box settings, consider talking with your MMP and different media partners for their recommendations. The type of business you run, the lifecycle stage your business is in, and your current investment in offline media can affect the way you should define your attribution settings.
Learn how mobile DSP Smadex can give you the performance you need and the transparency you crave for.