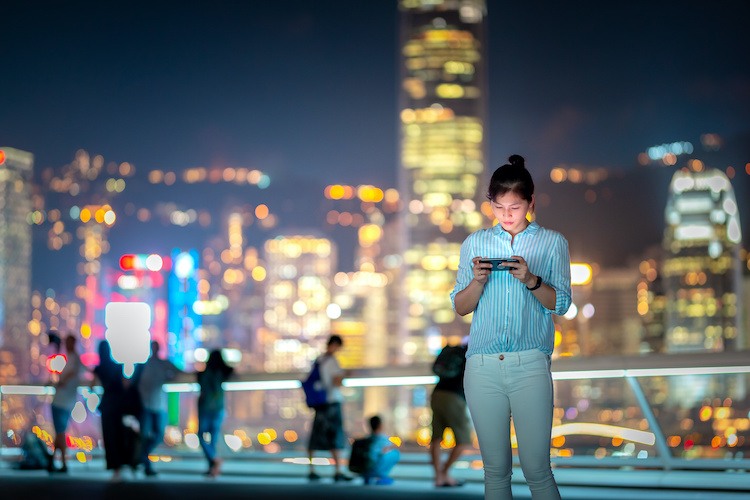 China is one of the biggest tech markets in the world, especially when it comes to mobile phones, which has driven the country's internet usage.
The Chinese company Huawei is one of the leaders in 5G smartphones, which is also boosting usage. Earlier this year, more than 800 million residents of China were accessing the internet, the majority of them using their smartphone to do so.
With so many people using the internet while on the move, China, the most populated nation in the world, is an ideal mobile market, especially for those marketing smartphone apps.
According to research from App Annie, an intelligence firm with headquarters in both Beijing and San Francisco, in 2018, nearly half of the world's app downloads were out of China, and 40 percent of the money spent on apps last year also came from China.
It's a tempting, wide-open market, and we've got the 411 on how you can take advantage of China's surging mobile market and find a place in China's tech economy, despite the nation's trade tensions with the United States.
Mobile madness
Chinese consumers spend 4.2 hours a day using mobile apps – in 2017 App Annie said the worldwide average was 2.15 hours – it is no wonder that Western app developers are eying the Chinese marketplace so eagerly.
Still, there are plenty of challenges facing those looking to enter the Chinese app market, including a strict regulatory system, technical issues and cultural challenges that might make the sale of some apps difficult without the knowledge required to make your app internationally friendly.
While we might think that Americans have the app world cornered – in 2017, the analytics firm Flurry found that we spend 5 hours a day on our mobile devices – most Chinese smartphone users have more than 50 apps downloaded, and at last 30 of them are used regularly. And according to stats, China is the biggest iOS download market worldwide.
While they may not be using Facebook, Twitter or Google – sites that are banned in China – most of China's app users are younger, born after 1995, which makes them members of Generation Z.
Gen Z members are tech-savvy because they've never known a world without technology, so they're eager for the next new thing, whether its social media, games, shopping sites or health trackers.
In 2017, the consulting firm Accenture found that China's Gen Z, which number 250 million, isn't much different. They like online shopping and boutique stores equally, but social media apps such as WeChat and Weibo are used for shopping as much as messaging friends.

The Chinese mobile market
There are many different ways to find your way into China's growing mobile market, although advertising might be easier than apps given certain restrictions.
Still, if you know your way around the international market, the opportunities are pretty endless.
Games
The most downloaded mobile game in China is the Miramar game PlayerUnknown's Battlegrounds, known as PUBG to seasoned players, suggesting that the US trend toward more action-packed video games could make inroads in China as well.
Video streaming
China is also fond of video streaming. The apps Tencent Video – China's top video streaming app – and Youku, which are the Chinese equivalent of Netflix and Hulu, have each grown more than 700 percent between 2016 and 2018.
Online shopping
Alibaba is the Chinese equivalent of Amazon and is considered one of Fortune's most successful sites. Founded in 1999, it is the world's largest internet and retail company.
According to a story that appeared in Institutional Investor, Alibaba's online sales and profits have surpassed the top US retailers combined, including Amazon, Walmart, and eBay, since 2015.
Tech
Baidu is a Chinese tech company headquartered in Beijing that specializes in internet-related products and services as well as artificial intelligence. The company is one of the largest of its kind in the world and its search engine is the fourth largest website in the world.
Tencent is one of a small number of large companies that dominate China's social media landscape. Baidu and Alibaba are the other two – together referred to as BBAT, they account for 69 percent of internet advertising revenue in China.
Some key tips:
Because of the cultural differences between the United States and China, if you're going to market apps rather than attempt to advertise within those apps, it's important to make some adjustments to your app before you try marketing it in China.
Apps and websites will be more successful if they are created in Chinese, even though Generation Z is familiar with the English language. Most Chinese people don't use English outside of school, so translating your app is one of the best ways to attract attention from this large market.
Paid apps are not as popular in China as in the U.S. Making your app one that makes money through ad sales might be most successful.
Remember that China's government regulates what its residents see. As we mentioned before, Facebook, Twitter, and Google are censored, so you want to be aware of Chinese guidelines to prevent censorship.
Most of China's young app users are female, so marketing to a female audience could be more successful than marketing to men, even with gaming apps.
Keeping an eye on trends as you build your app will make it easier for you to market it to a wider audience.
The report is packed with information about the big four, as well as case studies from companies that found a way to take advantage of China's expanding market. Ultimately, it will give you a better idea about user demographics as well as the best ways to advertise to specific audiences using specific techniques to suit different platforms.
The free report also addresses advertising, as there are a variety of different ways to integrate advertising into apps and games, such as video ads that offer rewards for players who watch, or native ads that are directly targeted toward app users based on their history, so such ads aren't seen as intrusive or distracting.
Understanding your market can help you develop a mobile market strategy that can open up the Chinese market, expanding into one of the largest global mobile markets available.