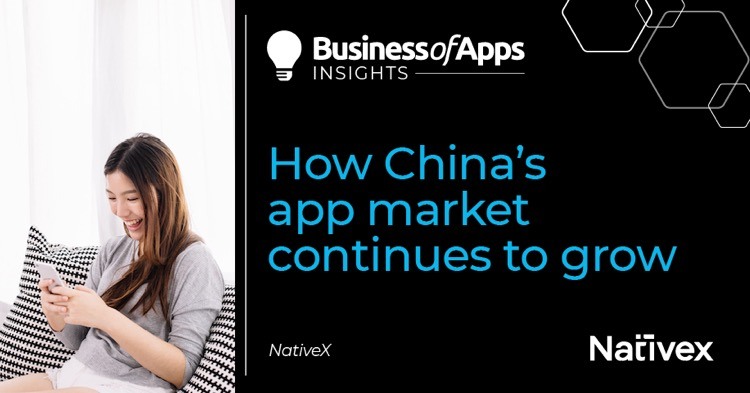 The recent upheaval surrounding China's mobile gaming market has caused quite a stir in the industry and has left publishers and advertisers with questions about the future growth of their apps. While speculation is warranted, many non-gaming advertisers underestimate the vast user pool that presents itself with non-gaming apps and the opportunities that are ripe for the taking. It's easy to overlook many of the non-gaming app genres but their popularity continues to skyrocket in China even after the recent privacy regulations and pandemic restrictions. 
China's 2020 COVID restrictions ushered in a vast array of new shopping, utility and social apps and existing apps made a point of adding additional features at an incredible pace. The growth of the non-gaming app market also increased user acquisition competitiveness and gave Western publishers a unique opportunity to continue growth in times of uncertainty with gaming apps. Contrary to popular belief, China actually has a lower barrier to entry for many non-gaming apps than a number of Western countries. However, while entering might be relatively easy, user adoption and growth still requires a good understanding of what works and what doesn't. 
According to Reyun, China's largest mobile measurement platform, there were 4,600 non-gaming apps running UA campaigns during the first half of 2021, increasing by 45% from 2020 . This is good news for advertisers, given China's predilection towards ad-monetized models for non-gaming apps. With over 2,000 new apps throughout the various app stores, it is apparent advertisers have fully regained confidence in the whole market and not just mobile gaming. 
Utility
Utility apps in particular were a real success story over the past 18 months. Data provided by Reyun saw utility apps take almost a quarter of non-gaming mobile ads. China's utility app market is overwhelmingly driven by in-app ad monetization and has become a go-to genre for brands looking to advertise related products and apps. 
Utility apps don't get much shine, perhaps due to their predictability. China, however, has looked to innovate the industry, in part due to the lack of strict regulations seen in gaming and social. Leading the charge is photo editing apps and global developers have been particularly successful here. Israeli developer, Lightricks, for instance has seen massive growth in China with its fan-favorite photo editing app, FACETUNE2. The app consistently ranks in the top 5 and is a mainstay promotional app amongst the country's top influencers. 
eCommerce and Shopping
It is also no secret that shopping apps hold significant importance to Chinese users and marketers alike. The recent bump in the user acquisition market can be, in part, due to the massive shopping holidays seen in China such as Alibaba's mid-year 6.18 festival. China's second-largest shopping festival continues to break records for sales and users and is a good sign for the continued growth of the vertical. Chinese eCommerce apps like Taobao and JD.com have seemingly broken every shopping record you could think of and the latest numbers show there are no signs of slowing down.
Many brands now have a solid footing in the Chinese market and are figuring out their strategies for success. As with other markets, the creative strategy has become increasingly more important and global brands in China have been succeeding. Data from Reyun shows that during the 6.18 shopping festival both Taobao and JD.com saw a significant increase in their advertising volume with JD placing one million creative groups daily leading up to the festival. 
The majority of these ad creatives continue to be single-image formats. It is interesting to see a somewhat outdated ad format hold its ground in the world's largest eCommerce market. Pinduoduo, a relatively new but fast-growing eCommerce app is, however, looking to break this status quo by incorporating video creatives as a vocal minority for advertisers. At 12% of total volume, video creatives have a lot of potential for shopping apps particularly for products that require tutorials or an extra push from local influencers. 
The genres with less steam
Advertisers, however, have recently been less bullish on social user acquisition. China has recently been implementing more regulations and app compliance for the burgeoning social market. Increased speculation on the future has prompted many of the social giants to focus on other app genres. It's difficult to say what the future might hold but it is safe to presume many of these developers have sights on developing a full suite of apps in order to diversify their risk. 
Perhaps the biggest loser of the non-gaming app market has been education apps. Online education has traditionally been big business in China. The first half of 2021 saw Chinese regulators recently undertook extensive regulatory efforts targeting the online education sector. As a result of the shift in policy, advertisers have shifted their budgets and the drop-off has been dramatic. 
Travel apps maintained a high growth rate, partly due to the overall recovery of China's travel industry this year. During H1 2021, the online travel industry was able to adjust its marketing strategy in time to meet users' needs. In response, the travel industry made rapid adjustments to advertise local vacations to the market, pivoting away from international travel. Advertisers began pivoting messaging and promoted Spring Festival as a time to 'celebrate the New Year locally'. 
Much has been discussed about the future of China's app market, and it'll continue to change given the continued regulatory efforts. It is clear, however, that there is a relatively stable and extremely prosperous opportunity for global non-gaming developers. The user acquisition market only continues to increase as a whole and the ability to reach them is ultimately dependent on your product and your ability to localize functionality and marketing to the domestic market.