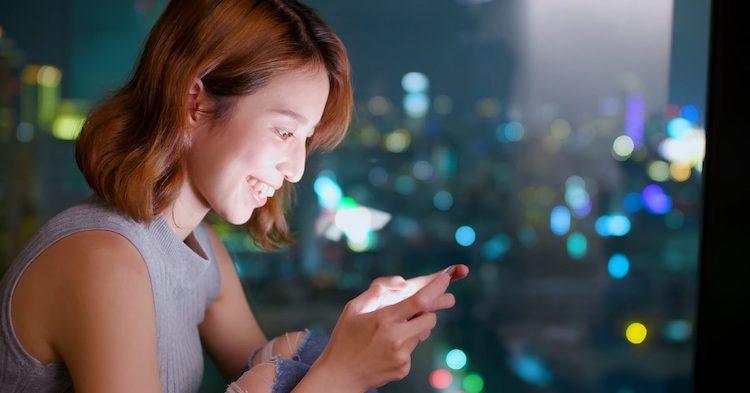 The android market in China offers the chance at success. Still, it also requires a high level of understanding of the economy. You must have a clear picture of the target audience and employ a partner that can take you where you want to go.
Did you know that the citizens of China spend 4 hours each day online? This statistic comes to us from eMarketer and shows us how China only falls second to the U.S. In comparison, China internet users go online more frequently with mobile devices, creating a ripe region for marketers and developers alike.
What's even more important is that Android is the boss in China. It accounts for more than 70% market share, based on facts from Statcounter. When you examine the fact that China has almost 800 million smartphone users, you can agree that the android market in the country is gigantic and has impressive prospects for advertisers. Still, the market isn't the same as what you are used to in the United States. Not only is Google Play banned from the country, but so are many other major players. This led to other Android stores emerging in the country.
So what are some of the most significant opportunities and challenges in the Chinese Android market? What stores remain the largest and how are they different from each other? Let's take a close look at the android market in China.
Android Market Run-Down: Challenges and Opportunities
Because the Chinese Android market is immense, it is also fragmented. The huge consumer base has access to dozens of various stores. Many of those customers open and buy their services through mobile differently.
When developers first head to China, they often face intense challenges trying to break into the Android space. Further than just dealing with Chinese administrative regulations, releasing material into the Android market faces other challenges.
Some of these include:
How do you release the title across many stores at the same time?
How do you integrate the relevant SDKs with apps or games?
What system do you use for tying apps into the digital ecosystem?
All of this is difficult to accomplish without a high-quality partner capable of showing the way to the other side. Anyone attempting to do it alone will face never-ending challenges while trying to tap into China's Android market.
The market provides immense benefits and opportunities for companies that can't be found anywhere else once the hurdle is overcome. First, the overwhelming magnitude of the market requires crafting a strategy based on the Android stores' fragmented nature, which helps you to reach users on the various platforms. What you might not know is that handset makers Huawei and Xiaomi both have their own stores. Each of them appeals to users from different ends of the scale. Huawei is found on the higher end with Xiaomi on the lower side.
There's also a significant range of social media apps and third-party stores that target a specific audience. With this, you can reach a fragmented group of people with your business, if you market correctly.

The next aspect is the flexible nature of the app economy. This offers further advantages for developers that can adapt their services and apps to the various quirks. An example of this is with mini-programs. These tiny app versions are used within WeChat and other services. They are popular in China and help users interact with stores and games. They are located outside the app store system, which allows consumers direct downloads right to their phones with APKs. Developers located out West have trouble understanding the informality of the system. If it's possible to reconceive the product to fit the new structure, you will enjoy fewer restrictions and succeed.
Lastly, the Chinese Android ecosystem benefits from homegrown brands and high-powered phones. Vivo, Oppo and Huawei provide Chinese consumers with lower-cost devices. The technology of these devices remains at the same level, or even better than the high-tech devices offered by Apple and Samsung. This leads to a prosperous market where many apps succeed. As better devices come into play, a new and improved environment is created to watch video content, play games and view rich media. This proves that Android isn't part of a lower-end market in China.
China's Android App Stores
What app stores in China should you pay attention to when it comes to Android users? It depends on what strategy you plan to implement. If you need a good starting point, you should look at some of the larger markets in this country.
Here is a fast breakdown of those markets, plus a little understanding of the differences between each.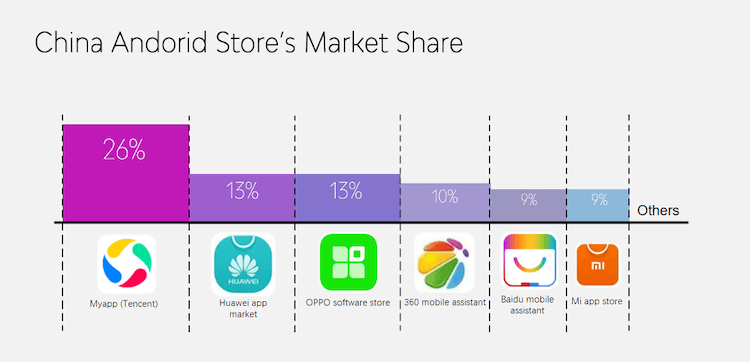 Source: Nativex
Tencent My App by Tencent
26% Market Share
My App by Tencent is considered the top app in the Chinese ecosystem. This internet giant is home to many popular apps in the country. In includes WeChat and funds many other popular mobile games.
It would be nearly impossible for this app to fail. Instead, we expect that WeChat will continue to be a primary gateway for other software, thanks to mini-programs usage.
Huawei App Market by Huawei
13% Market Share
Huawei creates the most used handset in China. The popularity in other markets isn't as big since Google removed it from the Play Store. Still, it is the second most popular option in China, just above Oppo. The appeal reaches further to the higher end demographics of the market. It is also a bridge for Western developers looking to break into the region. We expect that Huawei will fight back against the ban from Google Play in other markets and create a new store. It could easily become an Android version of the Apple App Store.
Oppo Software Store by BBK Electronics
13% Market Share
This is the official app found on Oppo devices. It's also the fourth most popular worldwide mobile brand and the second after Huawei in China. Their success is tied to the hardware market, and they are a big contender against other giants. While it does have a strong existence out West, it uses alternative branding in that region under the name OnePlus. Will it be able to rise above Huawei? We aren't sure; it depends on how global pressure in the region plays out.
360 Mobile Assistant by Qihoo 360
10% Market Share
This was once the second most popular app store. Qihoo 360 remains as an internet security company that provides a popular web browser in China. This brand is trustworthy and brings a lot of success with it. We expect it to create a larger footprint in the future.
Baidu Mobile Assistant by Baidu
9% Market Share
You can't get to Google from China, so Baidu took over and is now the biggest search engine. This company reaches 1.1 billion monthly active devices and provides users with searches, AI assistants, plus an app store.
Honorable mention: MIUI App Store by Xiaomi
9% Market Share
The Xiaomi app store is a default store that comes with all Xiaomi devices. These products aren't the same as others and feature a new style of Android operating systems referred to as MIUI. Just like the other hardware companies, the app store's success is closely tied to product sales. This company continues to focus on the consumers in China and beyond by ensuring it offers a unique, one-of-a-kind appeal.
Final Thoughts
The Android market in China offers plenty of opportunities to grow and succeed. Still, it isn't easy to break into the market without a full understanding of the local app system, a picture of the consumers you plan to find and a capable partner to take you there.
Doing it alone is tricky and poses too many challenges to navigate. The market is enormous and fragmented. With the best partner, you have the support you need to target the right market and distribute your app with complete success.