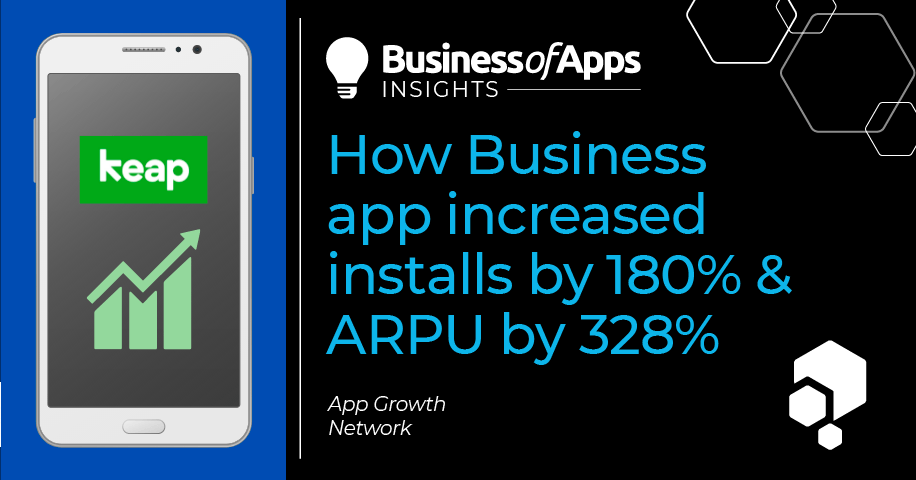 There's no doubt that business and fintech apps are growing and advancing at a phenomenal rate. As more people shifted business and everyday life to home-based solutions — mostly out of necessity during the global pandemic —mobile apps in the business categories have grown in both demand and popularity.
For apps in the business category, time spent in-app in Q4 2020 increased 275% year over year. As expected, this boom also translates into an increasingly competitive space in the business app category.
So, how can a business app stand out and make its mark?
In this case study, we'll show you how we achieved amazing results for our business app client, Keap.
If you want an extensive, in-depth look at best practices to help make apps in the business and finance categories succeed, download our free ebook, "The Ultimate App Marketing Guide for Business and Fintech Apps."
About Keap
Keap is a business line and CRM app—available in both App Store and Google Play—designed with small businesses in mind. The app helps its users keep business calls and text messages separate from personal communication while giving users the power to view customer details, take notes, set tasks, and perform other CRM functions directly from their mobile device.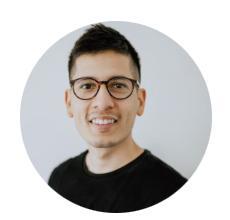 "AGN has helped us accelerate growth for our mobile app in ways that we couldn't have imagined. As a business, of course, we love the impact to our bottom line, but one thing I couldn't have predicted is how this growth has led us to 10X learnings and therefore our ability to innovate."
Dan Navarro, Sr. Product Manager at Keap
Key Results
180% increase in app installs while decreasing churn from 30% to 25%
328% increase in ARPU (average revenue per user) within 4 months
195% increase in monthly organic traffic
25.1% increase in conversion rate in App Store and Google Play
100% decrease in CPM on paid campaigns
The Challenge
Keap launched their app in 2018 and was looking for app growth marketing professionals to help them achieve their business growth objectives which included:
Increase organic installs and store conversion rate through advanced App Store Optimization techniques
Increase DAU (daily active users) through organic and paid user acquisition
Increase app user retention with optimized retention strategies
Keap partnered with App Growth Network in May of 2021 and tasked them with the challenge of producing results in all of these areas within 4-6 months.
The Solutions
1. Implementing advanced ASO techniques
Keap tasked our team with optimizing their app store page to increase their app store visibility and rankings and increase monthly installs.
To do this, we took the following steps:
Conducted an analysis of the competitive landscape, product, and branding strategy. This helped us to better understand where the app stands against competitors, its strength within the app category, identify threats and opportunities, and create an ASO strategy moving forward.
Performed extensive ASO keyword research to identify keywords that are currently bringing visibility to the app, and to find relevant and high intent keywords to optimize the metadata in order to drive traffic and installs.
Provided creative feedback on how to adjust the visual elements in order to stand out against the competition and increase click through and conversion rates.
Create frequent metadata updates to increase app store rankings and modify the ASO strategy in order to stay relevant and meet user demands.
Results: 
Grew monthly organic installs by 195% within 6 months
Increased total ranked keywords by 88%
Increased App Store and Google Play Store conversion rates by 25.1%
Visibility and rankings analysis
Source: App Growth Network
2. Optimizing Apple Search Ads & all Paid UA campaigns
The AGN team's first step in increasing Keap's app installs while maximizing ROAS was to do a thorough audit of all existing paid media campaigns (Apple Search Ads, Facebook, Google UAC) to identify areas of improvement, define goals and create a strategy to maximize success.
For example, the AGN team was tasked with optimizing Keap's current Apple Search Ads campaigns to not only increase installs but also decrease their average CPT (cost-per-tap).
To do this, we took the following steps:
Audited existing campaigns to identify strengths/weaknesses in current campaign structure.
Created an optimal campaign structure with segmented ad groups in order to target specific types of users and gain deeper insights on performance.
Frequently updated the keyword pool with relevant terms that proved to have strong ROI in discovery campaigns.
Performed weekly keyword optimizations to mitigate low tap through and conversion rates, boost impression share, and maximize ROI.
Results:
Halved blended CPM across all paid campaigns (Google UAC, ASA, Facebook)
Grew ASA installs by 226.38% within 3 months
Decreased average cost-per-tap by 26% in 3 months
Decreased average cost-per-acquisition by 16% within 3 months
Apple Ads Performance
Source: App Growth Network
3. Using tools to optimize the app funnel
In order to identify leaks in the funnel, AGN used Amplitude and Apollo (AGN's proprietary product analytics software) to map out user behavior and identify drop-offs at key points in the app user journey.
Built cohorts to drive action
AGN used Amplitude graphs to help them identify key metrics to measure. In the two graphs below, you can see us checking if the users are engaging in the app by making or receiving calls. Using the tool, we were able to see the current data and set up a target goal to achieve. We were then able to implement changes that helped us move from the baseline numbers seen on the bottom of the graphs.
Engagement rate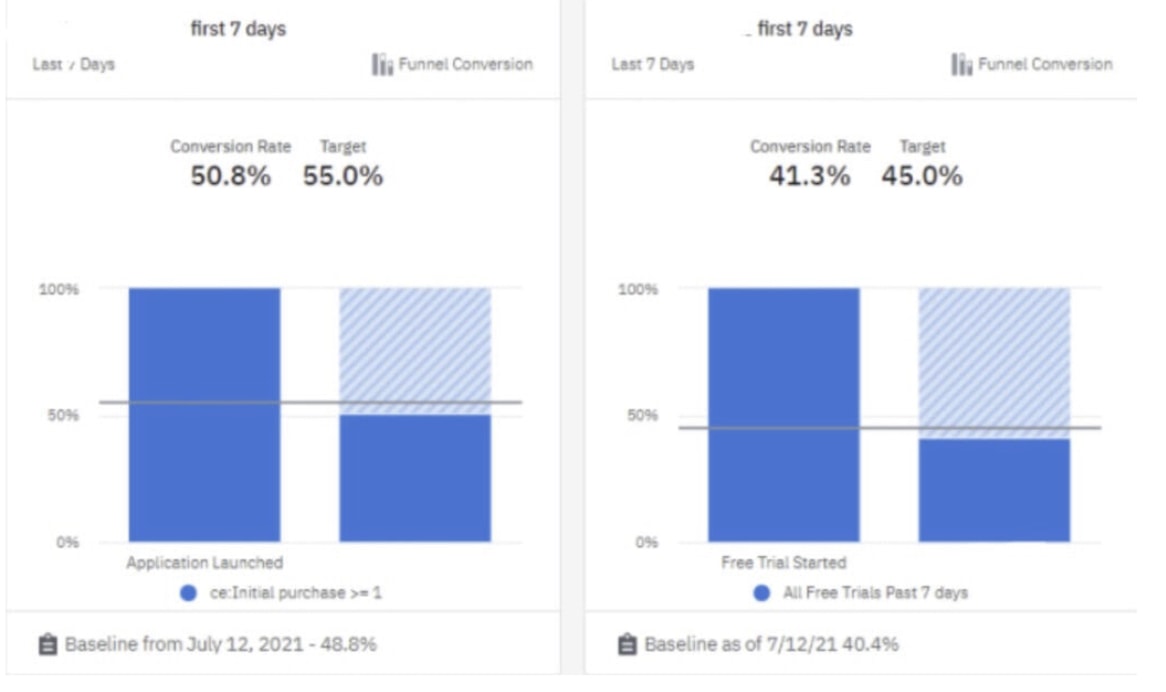 Source: App Growth Network
Optimized the onboarding process
During the sign-up process, Keap asks users to identify whether they are planning to use the software for business or personal reasons. The company realized that spam senders and other undesirable users more frequently select "personal reasons" and Keap wanted a means to screen them out earlier in the sign-up process.
In Keap's case, the objective was to decrease the number of personal accounts that continued moving forward in the onboarding process (though typically the reverse is true—you want this number to go up!) But since we were trying to deter personal account formation, we used the following strategy: present the pricing screen earlier in the onboarding process.
With this approach—and by analyzing the data—we found that this worked within the first month of implementing this tactic. As seen below, the percentage of users in this category continues dropping, which was the goal.
User percentage

Source: App Growth Network
Results:
Increase conversion rate 15.1% within the first month
Decreased user churn from 30% to 25%
In Summary
Keap is a growing app in the business category that wanted to start seeing improvement in their business KPIs within a rather short time frame. From increasing app installs and ARPU to decreasing churn, they had lofty goals for AGN to tackle.
By working closely with the client and doing the proper initial research—and implementing customized strategies in ASO, paid UA, user engagement, and app funnel conversion—AGN was able to deliver positive results in all areas within the 4-6 month time frame requested by the client.
For a free app audit to see how your app fares among the competition and app marketing strategy steps you can take to achieve your app growth goals, please don't hesitate to contact AGN's team of app growth experts!