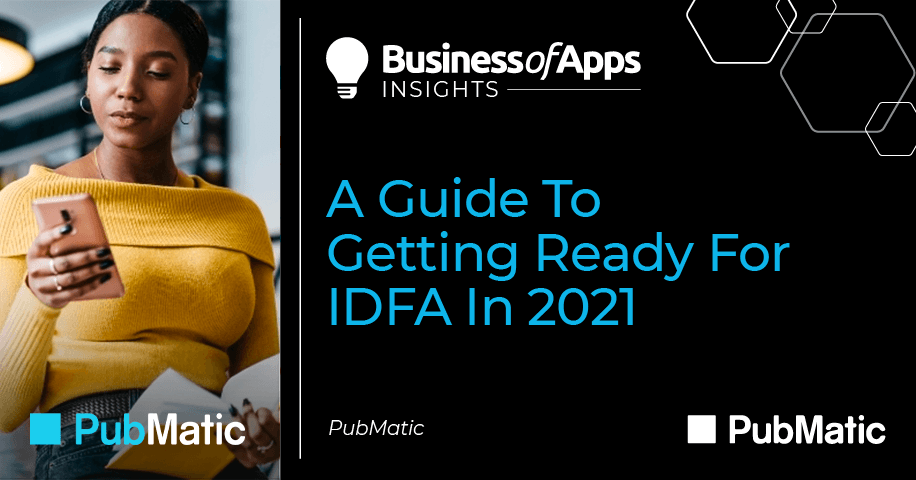 The previous year has brought many changes, not least of which are new consumer behaviors occurring amid a new data privacy landscape. While traditional ad spending may have had declines in 2020, Magna predicts that global programmatic ad spending will grow at a CAGR of 9% from $128 billion in 2020 to $199 billion by 2025. What's more, Magna also predicts that mobile programmatic spend will grow even faster, from $102 billion this year to $175 billion in 2025.
Understandably, the mobile world was thrown for a loop when, in this unprecedented year, Apple announced upcoming privacy-setting changes for iOS14. To this point, all iPhone users have been automatically opted-in to Apple's Identifier for Advertisers (IDFA), a random identifier assigned by Apple to a user's device. In 2021, all iOS14 users will be automatically opted-out of IDFA.
Given the potential impact to publisher yield, especially for cost-per-install (CPI) campaigns, it's important for publishers and app developers to prepare for Apple's enforcement in the coming year. The suggestions below can serve as a quick guide to counter the Apple IDFA changes.
Pass as many parameters as possible in the bid stream (such as app bundle, app store URL, etc). Extra information included in the ad request will make your inventory more desirable through non-IDFA signals.
Adopt Apple's SKAdNetwork framework to support app-install campaigns. The potential absence of IDFA in the iOS environment will make it challenging for performance advertisers to track app installs. Apple is providing the SKAdNetwork framework for advertisers to measure the effectiveness of app-install campaigns without the ability to track individual users.
Plan to regularly update your app monetization SDKs. We expect that mobile app monetization SDKs will make a series of updates in reaction to this change. Keeping your SDKs up to date should help you get the best yield. SDKs with cloud-side demand integrations will help reduce the number of updates that need to be made on the app.
Explore more revenue opportunities to attract brand dollars, as opposed to focusing solely on CPI campaigns. One of the most immediate impacts of IDFA restrictions will be a declining number of iPhones that can be identified by app-attribution companies. Marketers rely on such platforms to measure the effectiveness of their CPI campaigns using a consistent methodology to deduplicate and attribute a download to the correct media partner. Since brand campaigns don't involve a passback to the App Store, they are less complicated by the IDFA restrictions and are still measured in traditional methods like cost-per-click.
Optimize and test steps 1-4 now before IDFA restrictions are enforced.
While running a self-assessment of the above best practices will improve your programmatic opportunities, it's also important to have ad tech partners that will help you determine the best path forward for your specific situation. To learn more about PubMatic's mobile solutions for developers, contact us or find relevant content and insights here.