No doubts – today Youtube has become for video watching what Google became for search years ago. In fact, Youtube is now the world's 2nd biggest search engine for more than 1,8 billion people registered on the site to check it daily to watch 5 billion videos. For the last 13 years since it was launched back in 2005, it has come a really long way. It's morphed from a website to upload your amateur video footage to the place where you can watch content of much more types that modern TV is capable to offer. Every 60 seconds more than 300 hours of HD quality video being uploaded to YouTube to contribute to already massive collection of 1,300,000,000 videos.
For a generation of cord-cutters, people who abandoned traditional TV or in the process of doing so, YouTube has earned a reputation of the media that brings up video content that is relevant to their interests and it allows them to consume it in time when it makes sense to them. There are several rivals that compete with YouTube for people's attention, such as Netflix, Hulu and recently Facebook has been building its video content muscle to join the party.
In this guide we want to talk about a number of YouTube stats that will help us to provide you a complete picture of what the biggest video content source in the world looks like. We're going to talk about Youtube revenue, YouTube user statistics and touch upon YouTube channels stats – highlighting the most popular users and videos.
YouTube iOS app interface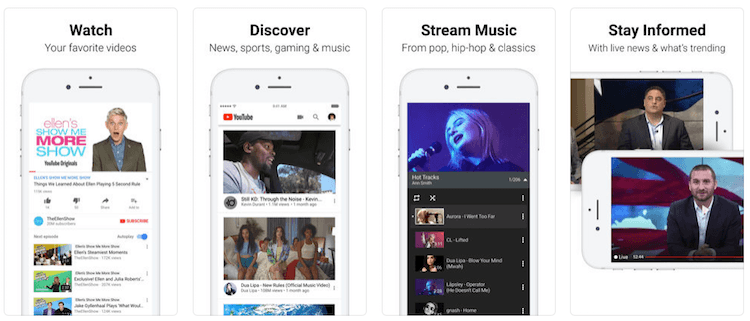 Source: iTunes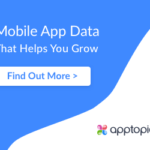 YouTube is the app that has become a part of daily lives for so many people on the planet that at this point  it's become actually hard to grasp its scale. But we're going to do exactly that via Youtube statistics data points that cover the app usage, users demographics and YouTube ad revenue.
Table of contents
Unlike many other popular apps, YouTube should be characterized with data points that not only describe the platform but its users and here they are.
YouTube Key Data Points
Total number of YouTube monthly viewers worldwide – 149 million (Statista)
Total number of YouTube daily viewers worldwide – 63 million (YouTube stats)
Hours of video watched daily – more than 1 billion (YouTube)
More than 50% of YouTube views are coming from mobile devices (YouTube stats)
Total number of YouTube users logged on – 1.8 billion (Recode)
Hours of Video Uploaded to YouTube per minute – 300+ (Om Malik)
Hours spent on YouTube per month – 19 (Business Insider)
YouTube top channel – T-series with 2.2 million views / month (Source: Statista)
YouTube top celebrity – PewDiePie with 54 million subscribers (Source: Business Insider)
YouTube top video – Despacito with 5.12 billion views (Source: Wikipedia)
YouTube estimated revenue in 2015 – $8 billion
YouTube top-earning star revenue in 2015 – $12 million
Average YouTube CPV – $0.044 / view
Let's start with a number of graphs that bring up data that describes how people are using YouTube.
YouTube Usage Statistics
First up in the multi-facet picture of YouTube usage stats is the platform's number of monthly active users – one of the core metrics any social media or content platform is measured. According to the following graph from TechCrunch, the only major platform, that is above YouTube, is Facebook with 1.5 billion and 2 billion MAU respectively. If we focus only on video content platforms, (the ones that provide free content, meaning we are not factoring in companies like Netflix and Hulu), we see that Facebook and Snapchat (255 million monthly active users) are the only real competitors that YouTube needs to be worry about. With Facebook, even though its video content feature got a great start, is in beta and it is yet to be placed front and featured to be in a position to rival YouTube that has a decade of a head-start. As to Snapchat, it appeals to more narrow demographics – Gen Z and hence YouTube simply can't have both – a great appeal to Generation Z and to Millennials and Generation X.
YouTube monthly worldwide active users vs. top social platforms, in millions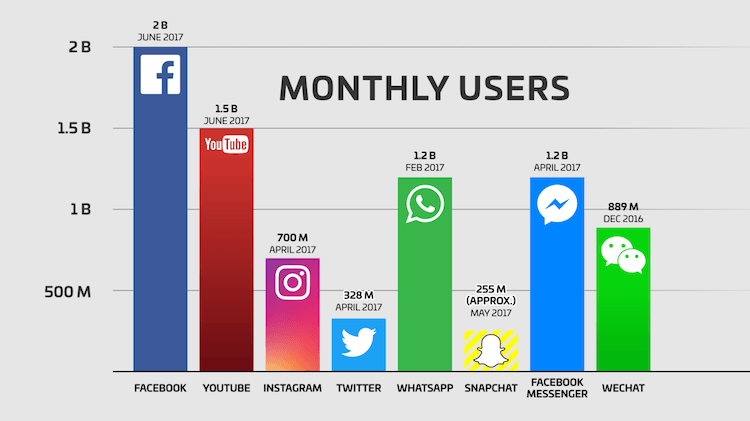 Source: TechCrunch
When we look at all major free video content platforms Americans are watching videos and movies on, we see Google sites (the bulk of which is obviously YouTube) being number one with 149 million viewers a month. Oath (former Yahoo) holds the next position with 74 million, Facebook is number three with 68 million and all the rest hold holding much more modest positions with less than 50 million monthly viewers.
YouTube monthly US unique viewers number vs. other top video content platforms, in millions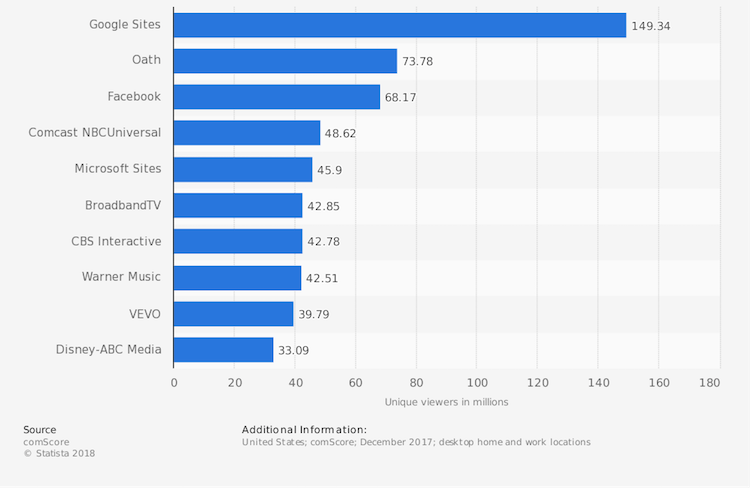 Source: Statista
Being launched initially in US, YouTube have gone worldwide long time ago and by 2016 it got a significant foothold among internet users in countries all over the world. On the following graph we see in millions number of people watching YouTube, with US holding the leading position 167 million (note: the following graph and the previous one present data for different time periods and taken from data sources, hence the discrepancy). About 70 million of Brazilians open YouTube on their smartphone, tablets and computers at least several times a month to be the platform monthly active users. Russia comes on the third place with only 47 millions, Japan is number four with about 47 million MAU and India has 41 million people watching YouTube monthly.
YouTube monthly active users number by country, in millions
Source: Statista.com
One of the main reasons for such phenomenal number of active users the YouTube video content sharing platform has is the sheer volume of content that is being uploaded all the time, with stunning 300 hours of HD video content being uploaded every minute. This number increased 37x from 2007 to 2015 and continues to increase.
Hours of Video Uploaded to YouTube per minute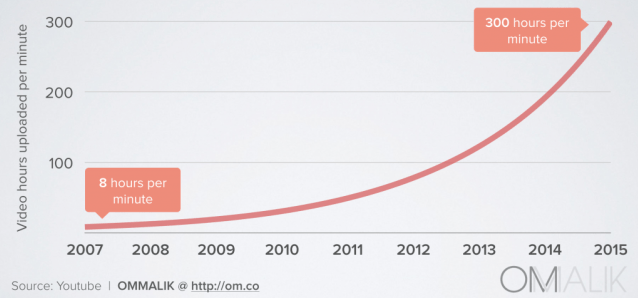 Source: Om Malik
Next up is the metric that illustrates how much time do all these million users spend on YouTube. According to VAB data for 2017, 1163 minute or 19 hours a month people spend watching various videos. It's worth to note that it's still way less that 90 hours that people are OK to spend on watching TV but twice as much as how much time people spend on watching video content on Facebook (12 hours / month), Instagram and Netflix have roughly the same time spent – 8.6 hours, Hulu – only 4 hours, Amazon – about 2 hours.
Minutes spent on YouTube per month vs other platforms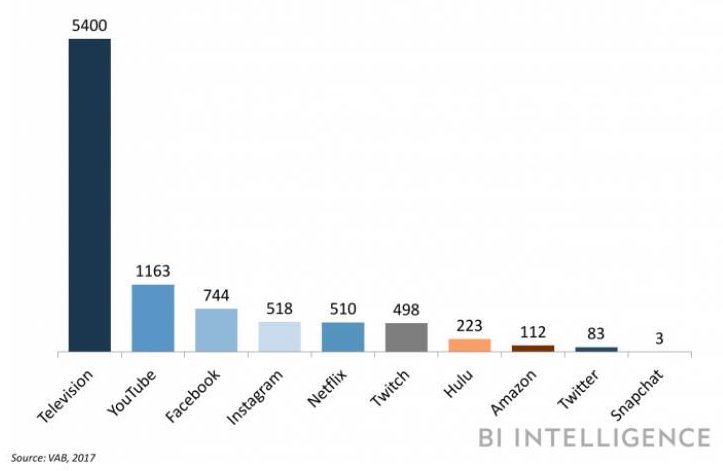 Source: Business Insider
The major structure unit that YouTube is built on is a channel, among hundreds of thousands channels some acquire very few subscribers and some are leading the pack with millions. According to combined data from YouTube itself and Social Blade, in March 2018 the top YouTube channels were the following – T-Series with 2.2 million subscribers, SET India – 1 million, Ryan ToysReview – 970 thousand, zeetv – 866 thousand subscribers, Canal KondZilla – 842 thousand, WWE – 740 thousand, Wave Music – 712 thousand, nets muzak – about 700 thousand, Movieclips – 667 thousand and Ch3 Thailand is closing the list with 639 thousand.
Top YouTube channels by monthly views, in millions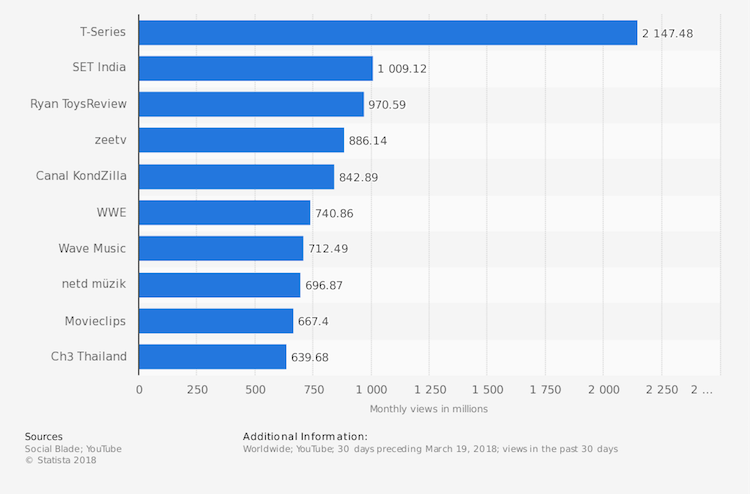 Source: Statista

YouTube User Statistics
Now what about demographics of the YouTube audience, what do we know about these people? Let's look at the numbers for US, according to comScore data, the biggest age group YouTube viewers belong to is 25-34 years old – 400k viewers, with following 35-44 – about 350k viewers, 45-54 – about the same number and the youngest age group (given their known preference to Snapchat it's not a surprise) – only 300k.
YouTube viewers monthly age distribution
Source: Digiday
One of the most interesting surveys conducted to reveal people preference to mobile apps was conducted by comScore in 2017. People were asked "What are the apps they can't go without?". On the following graph we see Amazon being number one with 35% and YouTube is almost exactly in the middle with 16%, which is 5% up from what Instagram and WhatsApp can be proud of.
The most essential mobile apps among 18 to 34 years old generation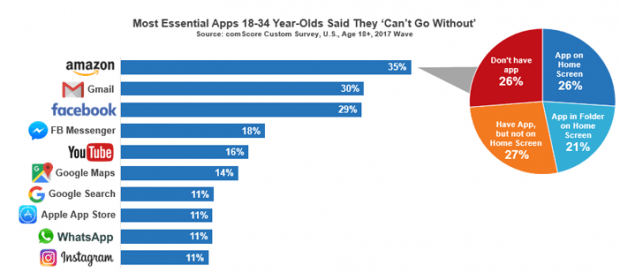 Source: Hootsuite
If there is one unique feature that really sets YouTube apart from other video content sharing platforms is YouTube celebrity phenomena. Among other platforms only Instagram has the same phenomena attached to it, but its major focus still photos and video content volume can't compete with YouTube. The following table presents this year the top 10 celebrities list, with number 1 celebrity has more than 54 million subscribers and number 10 – 17 million.
YouTube Top 10 celebrities
| | | |
| --- | --- | --- |
| number | channel name | subscriber number, in millions |
| 1 | PewDiePie | 54.1 |
| 2 | HolaSoyGerman | 31.2 |
| 3 | ElRubiusOMG | 23.5 |
| 4 | Smoosh | 22.6 |
| 5 | VanossGaming | 20.2 |
| 6 | Fernanfloo | 20 |
| 7 | NigaHiga | 19.3 |
| 8 | Yuya | 17.8 |
| 9 | Whinderssonnunes | 17.7 |
| 10 | Vegetta777 | 17.3 |
Source: Business Insider
Of course not only people on YouTube can and do become celebrities but video content published can follow the same path. Such music videos as Despacito has stunning 5.12 billion views, See You Again – 3.55 billion, Shape of You – 3.5 billion, the famous South Korean Gangnam Style – 3.15 billion.
YouTube Top viewed videos
| | | |
| --- | --- | --- |
| 1 | video name | views in billions |
| 2 | Despacito | 5.12 |
| 3 | See You Again | 3.55 |
| 4 | Shape of You | 3.49 |
| 5 | Gangnam Style | 3.15 |
| 6 | Masha and the Bear: Recipe for Disaster | 3.05 |
| 7 | Uptown Funk | 3.05 |
| 8 | Sorry | 2.93 |
| 9 | Sugar | 2.58 |
| 10 | Shake it off | 2.56 |
Source: Wikipedia
Today we live in the age when content streaming has become the norm, people in millions prefer not to buy video content on any physical / electronic medium but to stream. The major YouTube rivals in this space are Netflix with 40% of the market and Hulu with 14%. YouTube has 18% of the video streaming market. But it's actually hard to compare these companies, given the difference in types of content – Netflix hosts movies and TV series only, YouTube hosts amateur video footage, TV shows, movie episodes and everything in between. And there is one more contender that has been picking up the steam – Amazon Prime that currently holds 7% of the market.
Share in percent of total over-the-top of video content streaming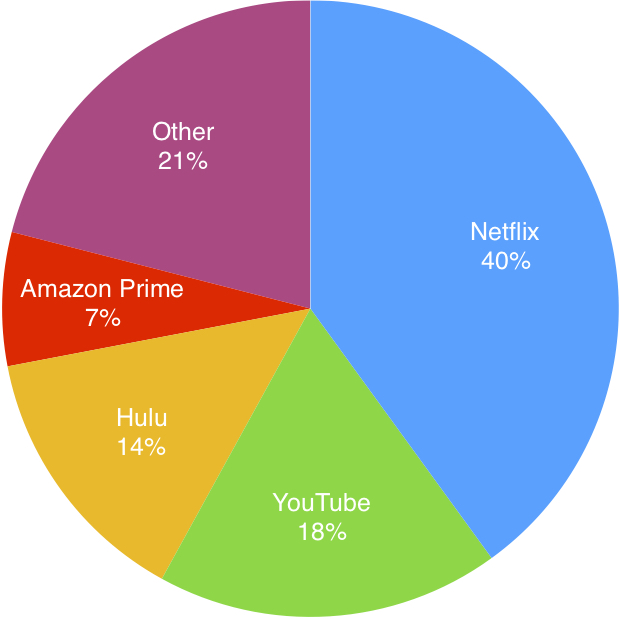 Source: MarketingProfs.com

YouTube Revenue
YouTube is owned by Alphabet, the Google's parent company, which doesn't reveal advertising revenue that it's been generating with advertising YouTube. But according to third party estimates like this one you can see below from Business Insider, as of 2015 YouTube was generating $8 billion, 8x jump from 2010 when the company's annual advertising revenue estimate was only $1 billion.
Estimated YouTube Ad Revenue, by year, in billions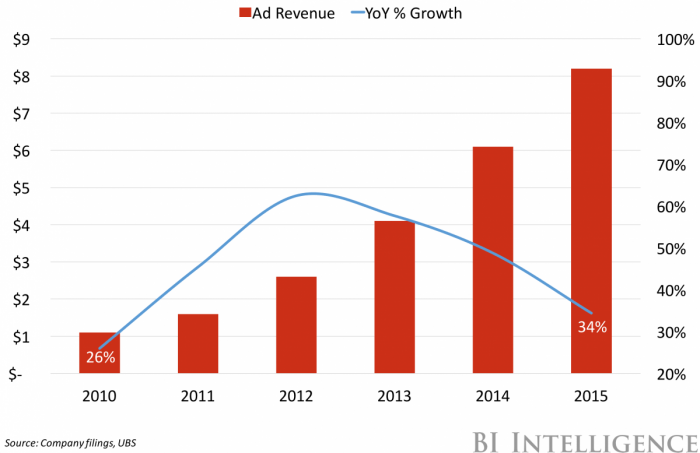 Source: Business Insider
From revenue generated by the platform to YouTube users earnings. One of the facets of Youtube celebrity phenomena is that a big number of subscribers and engagement level with their audience, allow so-called youtubers to monetize a gigantic volume of traffic their video content generates. According to Forbes data, in 2015 YouTube celebrity PewDiePie could generate $12 million, Smosh and Fine Brothers – both $8.5 million, and several other people managed to pass $1 million annual advertising revenue mark.
YouTube top-earning stars, revenue in millions $ in 2015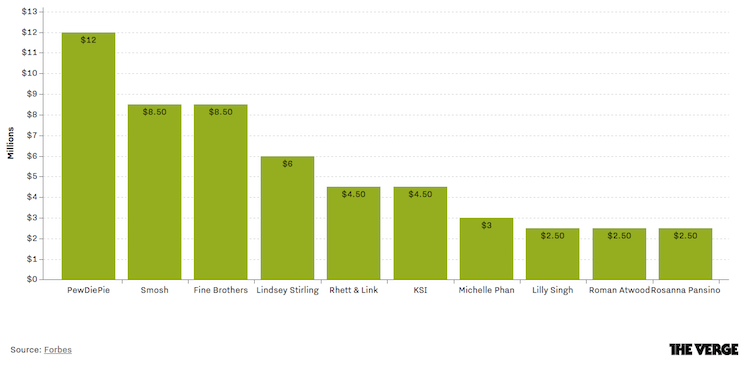 Source: Influence Marketing Hub
The next metric for Youtube revenue to tackle is how much YouTube revenue per view is possible to generate. To address this question, let's see what are average costs per view on YouTube for audience of a different age. The recent data from StrikeSocial reveals that from a publisher's perspective the most lucrative YouTube views come from 55-64 years old age group. Note the Unknown group in the table, it's not a glitch, the research brought up a segment that it was impossible to get age associated with it and this audience is actually is the cheapest amongst other groups.
YouTube revenue per view, by age group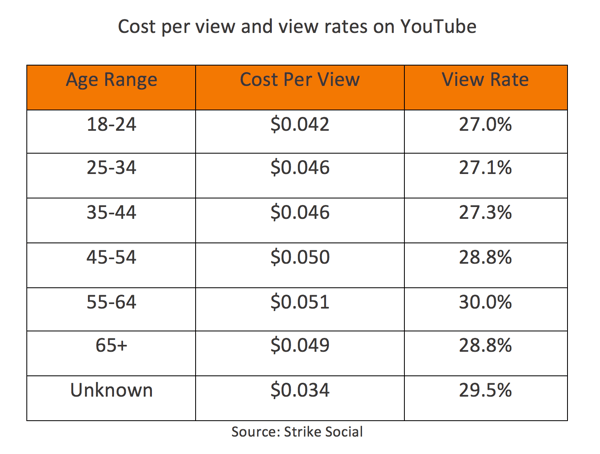 Source: SocialMediaExaminer 
YouTube content is divided between a number of verticals, let's look at top 25 verticals on YouTube to see what is a cost-per-view for each of those. By looking at the dataset gathered by StrikeSocial team, we see that on average cost-per-view on YouTube is $0.044 or 4 cents per view. The most expensive vertical is Home & Garden and Healthcare & Insurance and the cheapest one is the Health & Beauty.
YouTube revenue per 1000 views, by vertical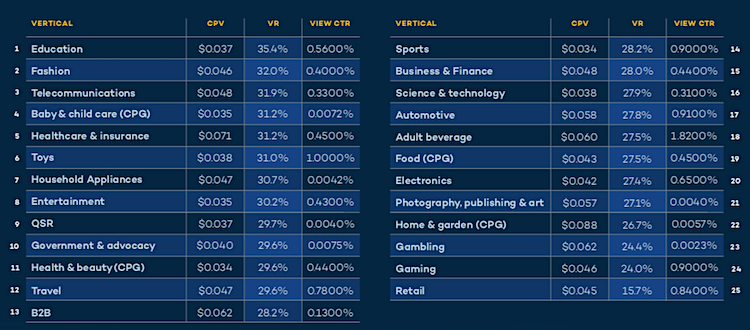 Source: StrikeSocial
To get an estimation for YouTube earnings would be reasonable to account on, you can use one of YouTube Revenue Estimators / Calculators. First of all, you need to realize that this tool and other similar ones are only capable to give you an estimation and hence they shouldn't be taken for granted but as a ballpark for a publisher to estimate how much earnings she may generate on Youtube, given specific number of views her or his YouTube channel is getting daily and its average engagement rate (click-through rate, meaning how engaged is an audience she or he has on her or his channel).
YouTube Earnings estimator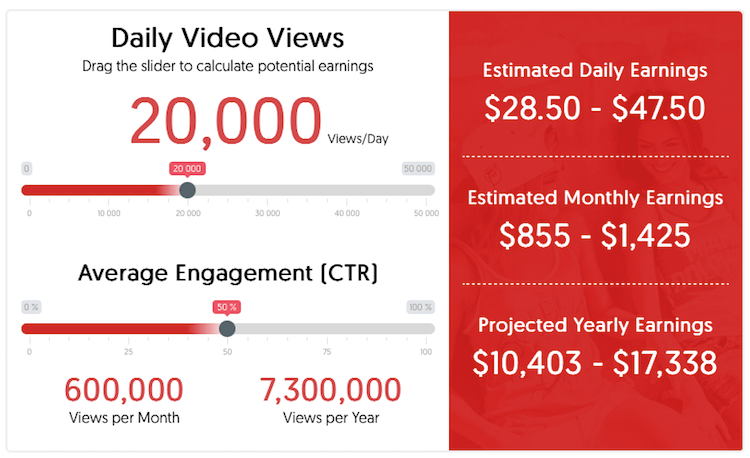 Source: InfluenceMarketingClub
Final Thoughts
Since 2005 YouTube has come through a remarkable transformation, from the website to host amateur videos to an actual TV equivalent. With more than 1.5 billion users and more than 300 hours of high quality video content being uploaded on the site, it's become the most popular in the world video content website and the app for both major mobile platforms. The the launch of paid streaming subscription service YouTube Red, YouTube has stepped into a direct competition with video streaming services such as Netflix and Hulu. The major challenge that YouTube is facing on this frontier is to make the case that people actually perceive it as the place to pay for movies, TV series and so on and not just the website to watch short format videos as as clips for various shows, movies, news, video blogs and, podcasts so on.
Another big challenge is to actually retain control over video content that is being uploaded on YouTube every single second, multiple occasions when big brands videos were displayed next to radical extremists content lead to those brands boycotting the platform. Finally, YouTube has been used as a propaganda mouthpiece by state actors to sway elections and it's yet another problem that YouTube team desperately needs to address to fulfill its social responsibility.