This guide will cover everything from how being a Forex affiliate works, how you benefit from getting involved, and how to choose the best Forex affiliate programs available today. It will also feature the top Forex affiliate networks in the industry.
Top Forex Affiliate Networks
Affiliate networks and their offers reward successful referrals to online forex brokers, traders, and platforms. Forex affiliate networks connect publishers with specific services on a CPA, revenue share, CPC or other business models.
Forex stands for foreign currency and exchange and is a portmanteau of both: Foreign Exchange. The foreign exchange–also known as FX–is a global marketplace for exchanging national currencies.
With the worldwide reach of finance, commerce, and trade, forex markets are some of the largest and most profitable in the world–the forex market has the highest notional value of daily trading, providing excellent liquidity.
Those who use the market can diversify their portfolios, hedge against interest rate risk, and more.
Forex affiliate networks are particularly beneficial for those with a large and growing social media presence or another online platform.
Whether it's a blog, an up-and-coming YouTube channel with a healthy number of subscribers, a trading portal, or some other widespread online presence, they allow you to generate a passive income.
In other words, a revenue stream that you don't have to put a great deal of time and effort into to see results.
One thing's for sure: if you specialize in creating great content, you can monetize your efforts and do well if you are persistent and determined enough.
What is a Forex affiliate?
A Forex affiliate is a marketer who promotes a specific product or service offered by someone else. The marketer earns a commission if the promotion or referral they generated results in a purchase.
In context, forex affiliate marketing is where you direct traffic and other traders to an external broker's site and trading platform.
Specifically, this occurs if the customer clicks through the provided link, signs up, and then funds a new account in the process.
There's no doubt affiliate marketing is a crucial tool to engage consumers with products, and the demand is growing.
Top Forex Affiliate Networks
Below you'll find the primary pros and cons of Forex affiliate marketing:
Pros
Forex affiliate marketing is a vast industry, and it's prospering, so there are a lot of opportunities.

There are very few barriers to entry, and it's easy to get started. Signing up for a program is quick, and anyone with a social presence can be highly influential.

Learning the art of marketing takes time, but you don't need a wealth of experience to start Forex affiliate marketing. Optimizing and improving your content 

is 

your experience, and it only grows.

You don't need to quit your job and can make passive income throughout the day. The first few months may even lead to a full-time job.
Cons
You don't control the Forex affiliate marketing programs; you are dependent on the merchant's rules and must respect their unique conditions.

Establishing a customer base is impossible as a repeat customer won't purchase from you again; the affiliate vendor can reap the rewards.

The hijacking of affiliate links is possible–this is where a fraudster gets your commission and runs away with it, although keep in mind this isn't an everyday occurrence.
Top Forex Affiliate Networks
How does it work?
Affiliate marketing works when a customer signs up via a directly promoted link. However, the promotion can be across multiple platforms, from blog posts to YouTube videos, Twitter and even Facebook.
The general perception is that you can't make "real" money from Forex affiliate marketing–that isn't the case and typically comes from people who haven't tried it and don't intend to do so.
Those that keep going and upgrading their skills can potentially quit their day job with enough practice.
Orbex website screenshot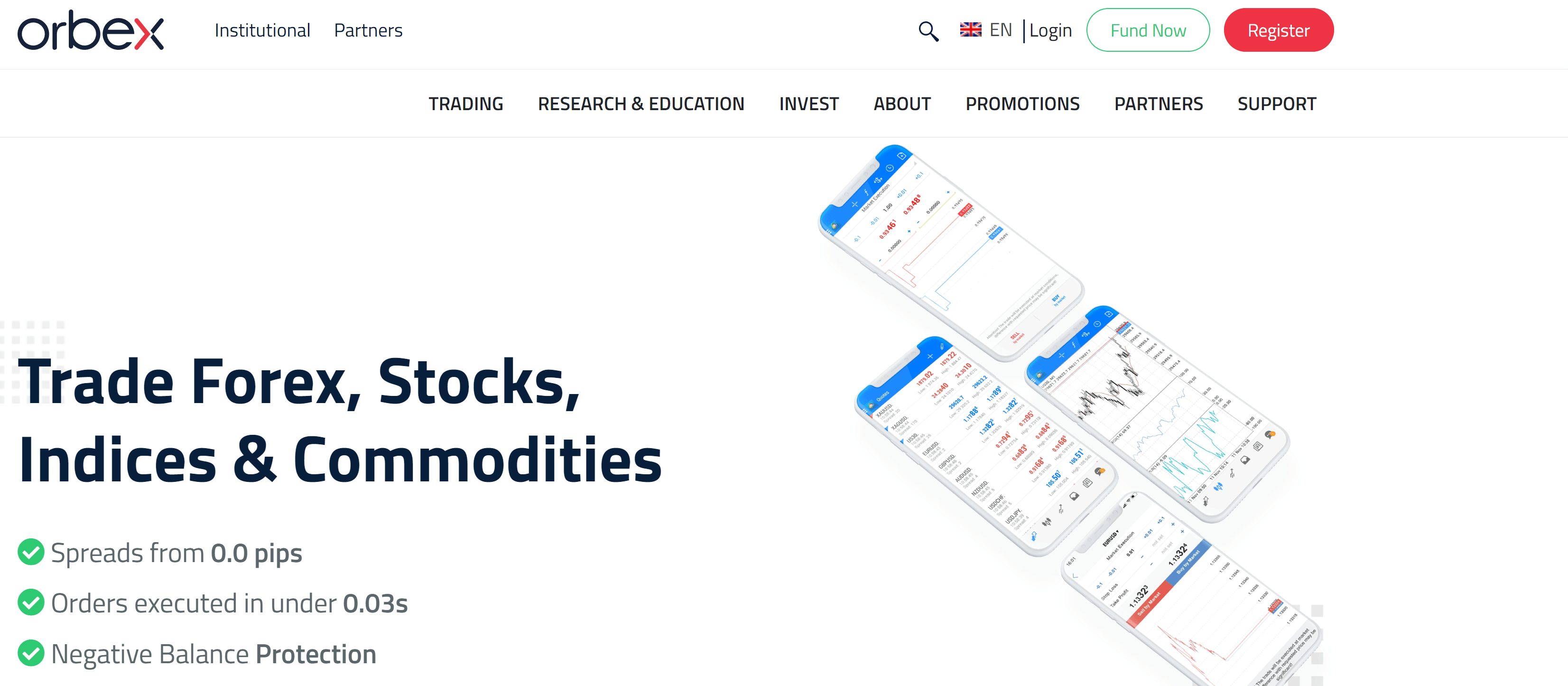 Source: Orbex
Orbex is an example of a Forex affiliate program and is one of the best available.
As a licensed and regulated Forex broker in business for more than 10 years, it's a trading platform that allows you to do business on your smartphone or tablet.
You can be sure deposited funds are also safe, and the people you refer are more likely to start their accounts as a result.
You can earn up to $1,500 per sale, and while that won't happen overnight, the potential is clear.
Support is available 24/7 on the platform and is multilingual; the average order speed is an impressive 0.03 seconds. You can even try it out with a free demo to see if it's for you.
How can you benefit from Forex affiliate networks?
There are many ways you can benefit, from the ease of earning passive income to the flexibility and growth potential.
The Forex affiliate marketer has almost endless opportunities for marketing because there are so many types of investors and traders out there that you can target.
For example, "CFDs", known as contracts for difference, give you powerful leverage, and with a small investment, you can profit to a large degree.
Using CFDs and the affiliate programs available, you can refer traders or investors that will keep active trading accounts.
A CFD broker allows you to use a sole broker to trade and leverage across various financial markets, from bitcoin to commodities.
Even with regular Forex affiliate programs, you can track your performance, receive fast payouts, and receive free marketing and training tools.
Not all networks offer free marketing tools and other promotional material, but they are easier to find than you might think.
You'll benefit from highly flexible commission structures from CPA and RevShare to hybrid deals and white-label solutions.
Perhaps best of all is that with the right broker, you're not alone. The best brokers available through Forex marketing programs will provide you with a dedicated account manager just by signing up to the platform.
There's support available across multiple languages and sometimes 24/7 to increase your chances of success.
Of course, the most innovative trading platforms and apps can take things even further and supercharge commissions.
How to choose the best Forex affiliate?
With so many Forex trading affiliate programs available and the list growing each day, how do you choose the right one for you? We've detailed some key areas to help you arrive at the best forex affiliate network.
For a start, the type of Forex broker affiliate programs will dictate what you're capable of earning more than anything. Let's have a look at each of them.
Standard Forex affiliate programs
These are ideal for a well-established individual with a significant social media presence or another online platform, one that's related to trading and has authority in the area.
The authority could be via a blog, a YouTube channel, or a finance-related media portal. These networks also appeal to site publishers, mobile marketers, and media buyers.
White label partnerships
These partnerships have banks and investment companies in mind, and they offer day-trading services without the need to develop their platform.
They work because the bank will pay to put their branding on a Forex platform; affiliates can then sell it to their customers as if it was their brand.
Referral programs
Referral programs are all about bringing new clients to a Forex trading partner.
You receive a commission based on the value of the sign-up–partners are usually agents and entrepreneurs, but they can also be experienced traders who made their way to the top.
These partners are already creating content on the subject of trading and will be an authority on the issue themselves.
You'll sometimes have access to promotional tools and content packages to help you along.
Other considerations
Here are some other points to think about before committing to Forex affiliate marketing, as follows:
1. Ensure they're the right partner and find out how it works
You need to know if there is a transparent and flexible payment process and how much help the Forex company gives.
For example, do they provide quality marketing materials and support in your native language? Ideally, they will do this, so be sure to take some time before going in with just anyone.
2. Your referees need to match your partner
Is the place you're sending your referees the type of place you would be happy to use?
Also, consider if the broker is fully regulated and has a worldwide reach. The trading platform needs to be easy to use and accessible on all sorts of devices, including tablets and mobiles.
3. Determine whether clients trade with the latest platforms and apps
Technology is constantly advancing, so you can't expect clients to trade with previous generation tools.
Be sure to pick a forex affiliate program that provides innovative tech, such as "MetaTrader 4" and "MetaTrader 5". They'll also want to see a platform that offers money back on lost trades.
CPAs and commissions in this vertical are typically higher than average due to the large payouts that can be generated.
In our directory, we have a number of top Forex affiliate networks out there for your mobile marketing strategy.
Forex affiliate network example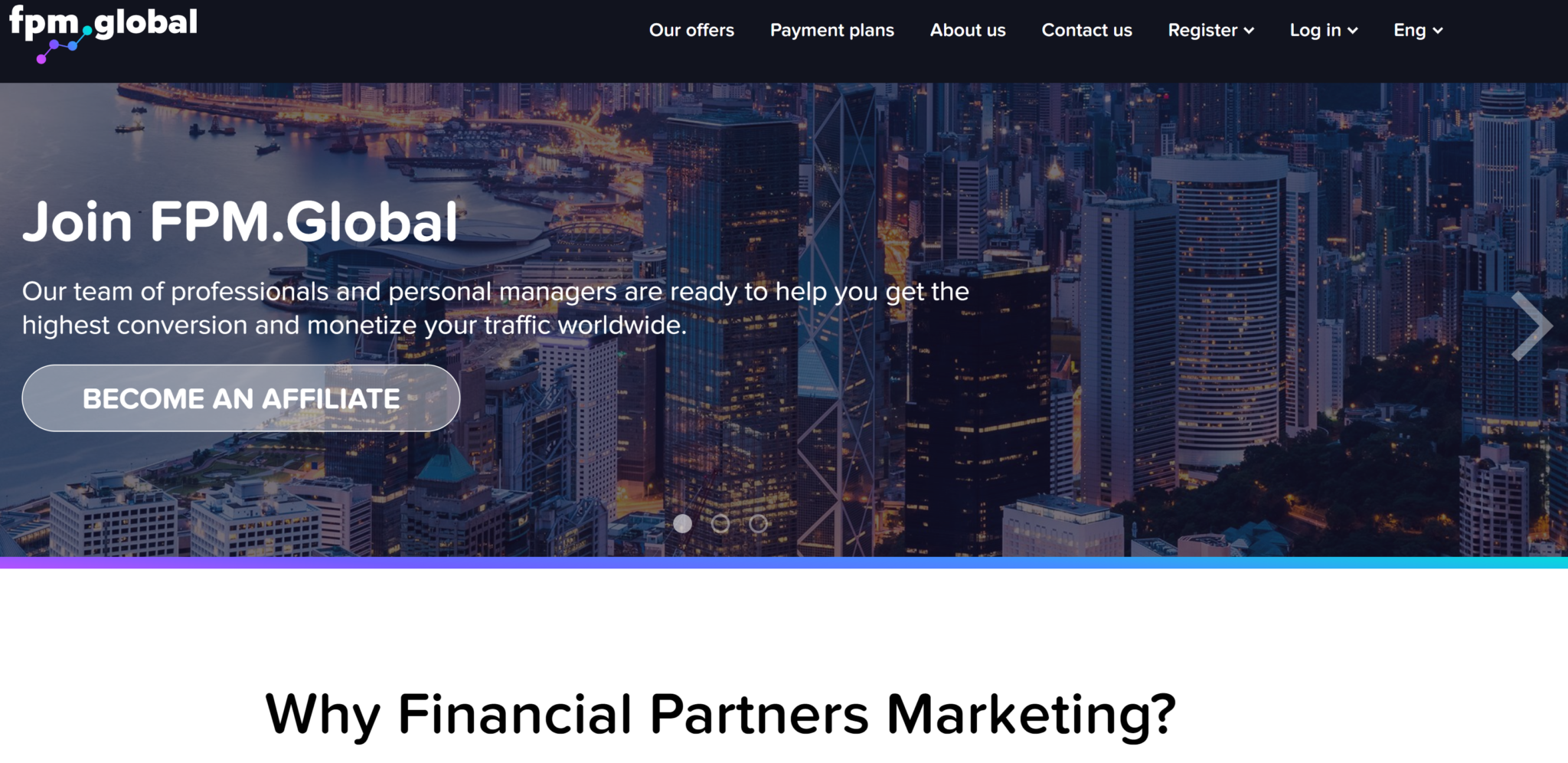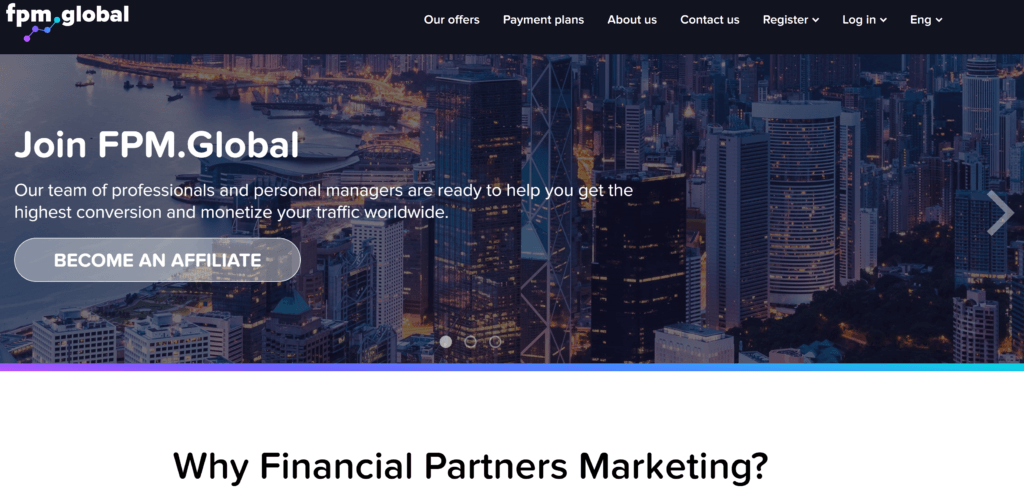 Source: FPM Global
Forex affiliate offers can be very profitable. With names such as Ticker Tocker and Orbex offering great affiliate programs, there's a lot of potential for affiliate marketers and brands.
Forex Affiliate Offers And Payouts
Here are some of the biggest Forex affiliate offers along with their platform in the table below.
| | | |
| --- | --- | --- |
| Platform/Company | Affiliate Offer | Payout Data |
| Orbex | Up to $1,500 per sale | Monthly payments |
| Ticker Tocker | 30% commission per sale | Monthly payments |
| BlackBull | Up to $600 per sale | Choice of payments |
| Forex Mentor | 30% per sale | Monthly payments |
| AVA Trade | Varies on sale | 30-day payments |
Here we've put together for you the best Forex affiliate networks and programs that cover offers for all major mobile operating systems.
List of Forex affiliate programs and networks