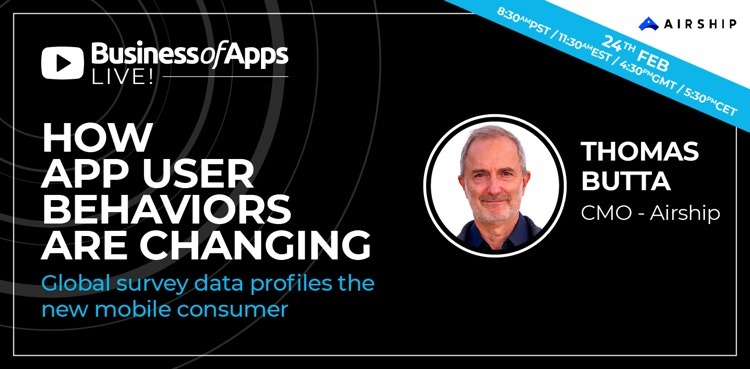 Today we're living in the moment when mobile advertising is going through a radical shift. Powered by the user controls from Apple and Google and empowered by privacy regulations, people become more selective about what brands to allow to track their personal information. No doubt – it has a significant impact on mobile ad campaigns targeting precision.
On February 24th join the Business of Apps webinar to hear from one of the leaders in the mobile space – Airship's Chief Strategy & Marketing Officer, Thomas Butta, reveal insights from Airship's latest global consumer survey report, "The Mobile Customer Imperative."
The Airship's report brings up information gathered from 9,000 respondents from all corners of the world. It shows unequivocally that apps quickly become the number one destination for transparent and functional value exchange with brands, including preferences for how they wish to gain greater value from their mobile app experiences.
Joining the webinar you will learn:
The reasons consumers opt-in or out of brand communications

Consumer preferences for the timing and frequency of receiving brand messages

The personal information consumers are willing to share with brands, and for what reasons

Why and how consumers are increasingly ignoring emails from brands

Consumer demand to integrate digital and physical experiences
Leverage the report's insight to adapt your business to the new mobile customer imperative.
DATE: Thursday, 24th February 2022
TIME:  USA – 8:30am PST/11:30am EST. UK/Europe – 4:30pm GMT / 5:30pm CET
SPEAKER: Thomas Butta, Chief Strategy & Marketing Officer, Airship

If you can't join the webinar in time, don't worry – just register anyway and we'll send you the recording.