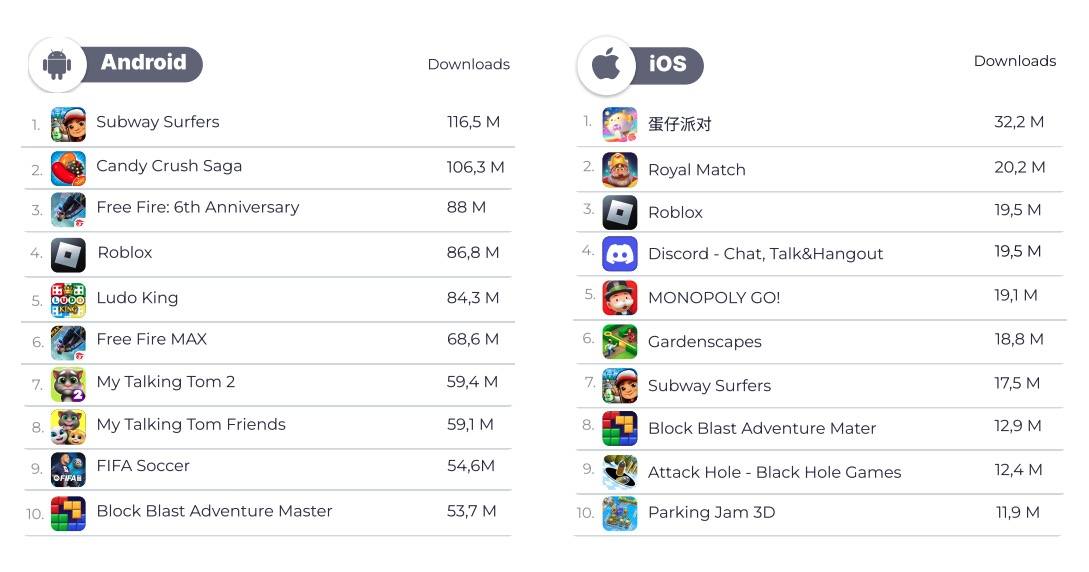 India's mobile gaming market is growing at a rapid pace with 4.32 billion game downloads in 2023, or 15.3% of the global total. That's according to the latest report from app experts Apptica which finds that the country is now even surpassing leading players such as the US and Brazil. Let's take a closer look.
A near 1% increase over 2022
The rise in game app downloads represents a notable 0.9% increase compared to the same period in 2022. In comparison, Brazil ranked second with 2.99 billion downloads (10.59%), followed closely by the US with 2.57 billion downloads (9.08%). The figures demonstrate India's significant presence and influence in the mobile gaming industry, suggesting that its position in the market is likely to continue ascending.
Gaming app downloads in the top 15 countries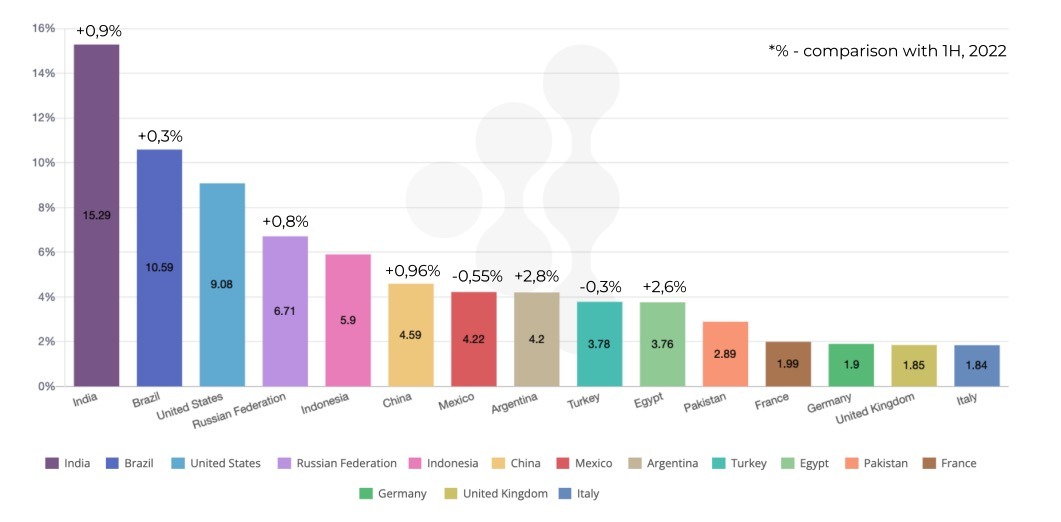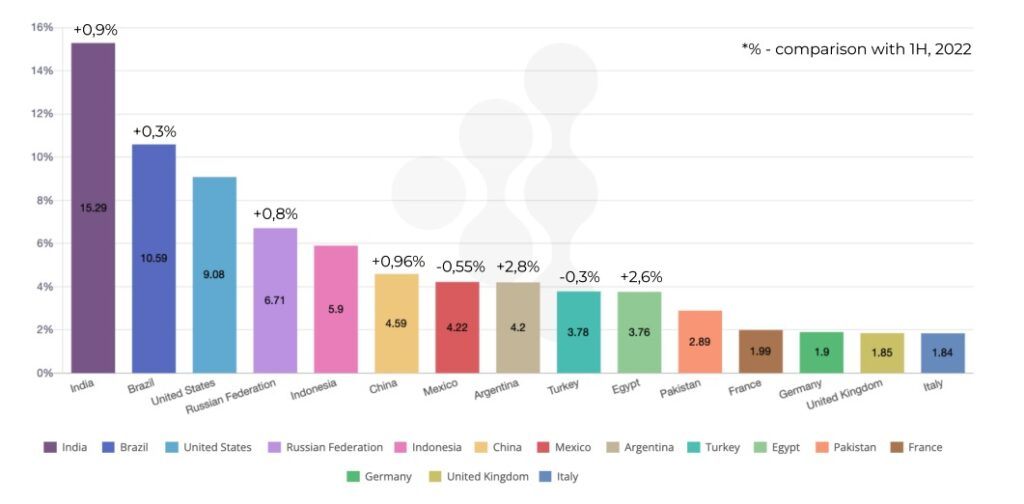 Source: Apptica
China, known for being the largest mobile-first gaming market globally, surprisingly ranked sixth in terms of total game downloads with 1.3 billion, representing 4.59% of the overall downloads.
But revenues leave much room for improvement
However, revenues in India remain low. The country didn't even rank among the top 15 markets for revenue generation from gaming apps.
The US led at a revenue of $5.71 billion, claiming a market share of 26.61%, which is an increase from 22.61% in the same period of 2022. Japan followed closely with $4.17 billion in revenue (19.43%), and China secured the third position with $3.32 billion (15.05%).
Comparison of gaming app revenues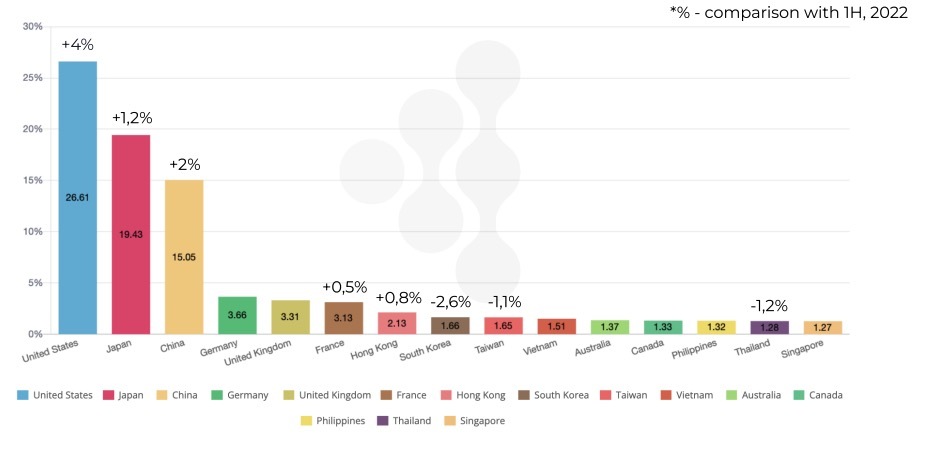 Source: Apptica
Google vs Apple
Google Play emerged as the dominant platform for game downloads, accounting for a significant 88.63% of the market, leaving the App Store with just 11.37%.
Top platforms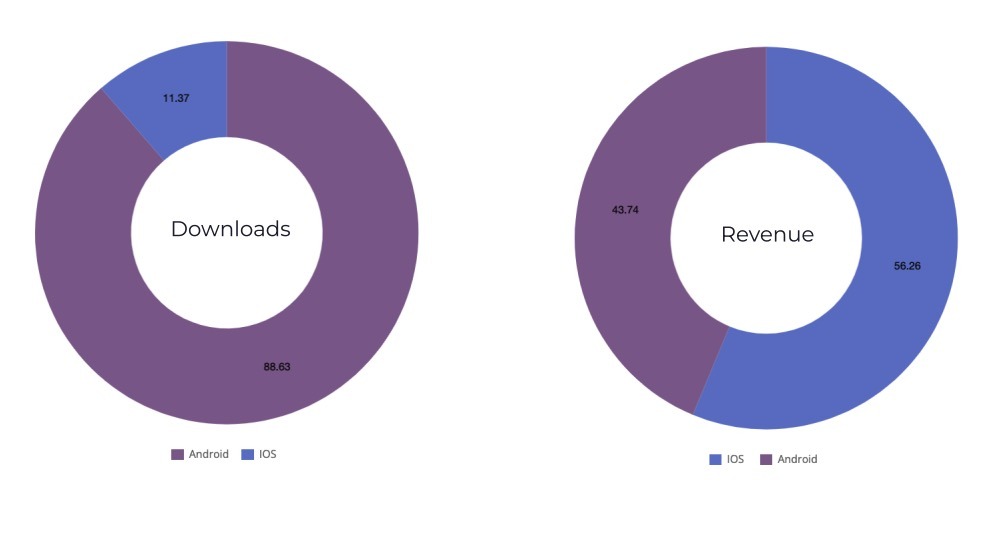 Source: Apptica
However, in terms of revenue, the App Store pulled ahead, claiming 56.26%, while Google Play accounted for 43.74%. This suggests that although Android and iOS platforms come close to each other in terms of revenue, iOS users spend significantly more on average than Android users.
Genre by genre
In H1 2023, most genres experienced declines in downloads compared to the same period in 2022. Casual games took the lead in terms of downloads with 4.15 billion, slightly lower than the 4.25 billion in the first six months of 2022. But its market share rose by 0.62%.
The second most popular genre during this period was Action, but it experienced a decrease in market share, dropping from 4.29 billion to 3.9 billion downloads, resulting in a reduction of 0.18%. Simulation games secured the third spot with 3.27 billion downloads.
Download share by gaming app subcategories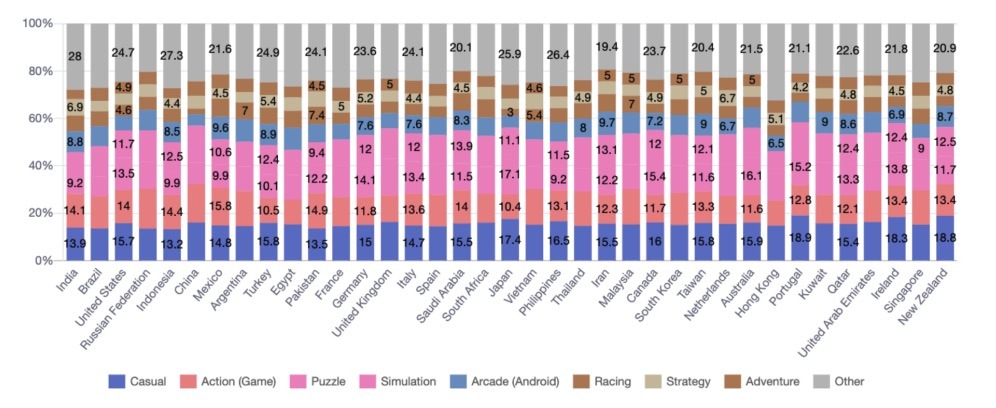 Source: Apptica
As for revenue, all genres faced year-on-year declines, marking an ongoing trend of normalisation in the market after the surge during the "Covid boom."
In terms of highest-earning genres, the top three remained unchanged from H1 2022.
Subway Surfers had a strong showing as the most downloaded Android title with 116.5 million downloads and ranked seventh on the iOS charts. Eggy Party claimed the top spot on the iOS charts with 32.2 million downloads. On the revenue side, Coin Master led on Android with $228 million, while Honour of Kings dominated on iOS with a staggering $766 million.
Key takeaways
India sees 4.32 billion in gaming app downloads (15.3% global) in H1 2023, outpacing US and Brazil, but low revenue ranking
Google Play leads downloads (88.63%), App Store dominates revenue (56.26%) in H1 2023
Casual games lead with 4.15 billion downloads, Action declines to 3.9 billion, all genres face revenue declines