Fitness and health apps saw some of the worst adoption on both app stores in Q4 2022 since the beginning of 2020. That's according to a new report from performance marketing agency AdQuantum based on SensorTower data. Let's take a look at the changing fitness app market, emerging trends and best-performing strategies.
Why did fitness and health app adoption slow in 2022?
The decline in fitness app uptake in recent years needs to be considered in the context of strong growth during the COVID-19 pandemic as lockdowns and social distancing measures prevented people from accessing in-person fitness activities. This led to increased demand for indoor entertainment options. Additionally, cancelled classes and gym memberships freed up budgets for alternative fitness solutions.
Following the peak growth in the second quarter of 2020, the growth rate gradually decelerated with fluctuations. This decline in growth can be attributed to the resumption of in-person activities as restrictions eased.
Quarterly downloads by app store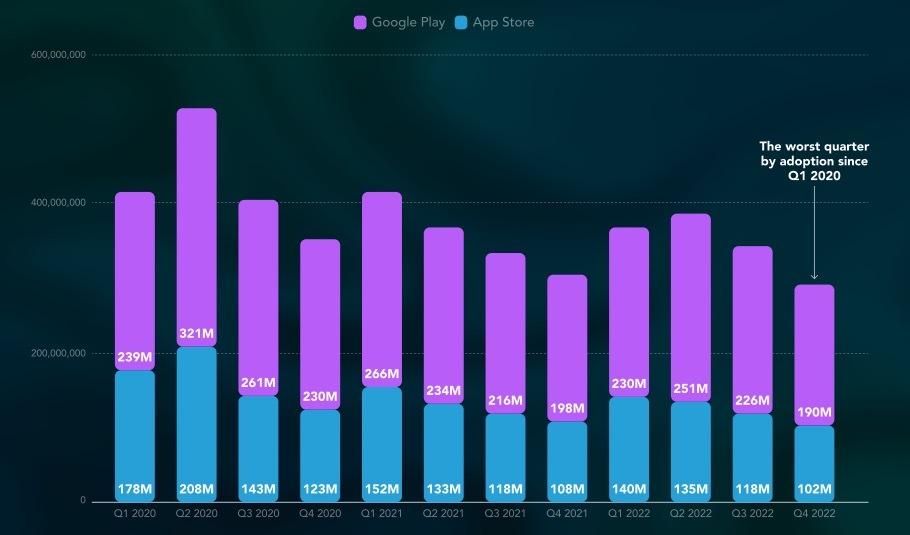 Source: AdQuantum 
But session numbers are still up
Despite the drop in app installs, there are positive indicators when examining user sessions. Session numbers remained consistent and even increased by around 1%. in 2023. This suggests that a significant portion of users acquired during the peak install period have been retained, and the current user acquisitions are more active and likely to have higher lifetime value (LTV).
Day 1 retention rates showed an increase from 25% in Q3 2021 to 35% in Q3 2022, and from 21% in Q4 2021 to 38% in Q4 2022. These metrics highlight that volume alone is not the sole determinant of success.

Health & Fitness App retention rates H2 2021 vs. H2 2022 (Global)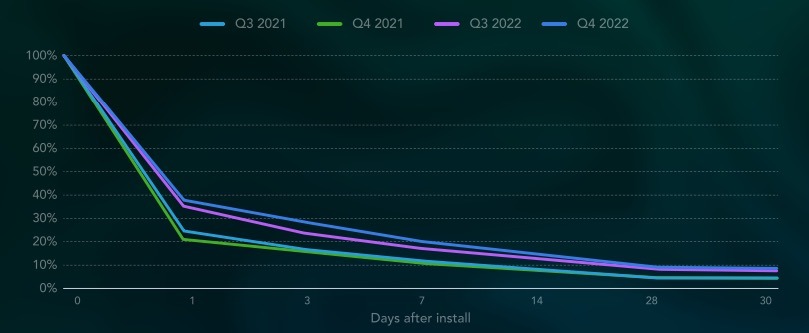 Source: AdQuantum 
Median stickiness rates for health and fitness apps rose from 15% and 14% in Q3 and Q4 2021, respectively, to 20% in Q3 2022 and 21% in Q4 2022. In other words, users are still actively engaging with fitness apps.
It's not surprising that higher-income countries also see higher conversation rates of free trials and paid subscriptions. Prices of weekly plans tripled in Q4 of 2022 and monthly subscriptions followed that trend at a slower pace.
Total revenue in the Health & Fitness category by country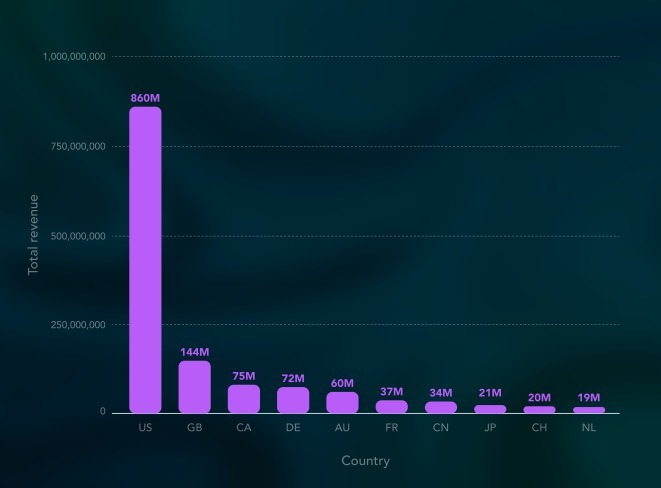 Source: AdQuantum 
Optimising your benchmarks
It's crucial for marketers and developers in the health and fitness app industry, as well as the mobile marketing industry as a whole, to adapt to the evolving needs of their users. By understanding the specific experiences users seek within their respective markets and regions, better user acquisition campaigns and retention initiatives can be developed to attract the right users and provide them with the experiences that drive LTV.
In 2022, user-generated content style ad creatives were preferred by users of health and fitness apps. Three effective marketing approaches emerged: demonstrating simple exercises, incorporating gamification, and featuring real people in good shape.
To cater to the evolving needs of fitness enthusiasts, health and fitness app developers must prioritise creating an enhanced user experience. This includes developing apps that facilitate seamless management of activities with a high level of customisation and compatibility with wearable technologies.
Key takeaways
Fitness and health app growth declined in Q4 2022, the worst adoption since the beginning of 2020
User session numbers remained consistent and increased by around 1% in 2023
Retention rates improved significantly, with Day 1 retention rates reaching 35% in Q3 2022 and 38% in Q4 2022