In the US App Store, many apps are experiencing a drop in downloads, even as the overall revenue generated from the App Store continues to rise. Data from app intelligence firm Appfigures reveals that some of the most prominent apps are gradually losing their appeal in the face of intensifying competition, which is contributing to an overall decline in app installations. So what exactly is happening?
Slowdown in sight
Based on US App Store and Appfigures' Mobile Market Index, which tracks the top 25 apps' downloads and revenues in each category and country, app installs stood at 91.87 last year, indicating a slight decline from 2018 but not a significant one. However, by August 31, 2023, the Index had dropped to 83.59, marking an 8.28-point decrease, equivalent to a 9% decline from the initial figure. This suggests a worsening trend.
Downloads on the US Apple App Store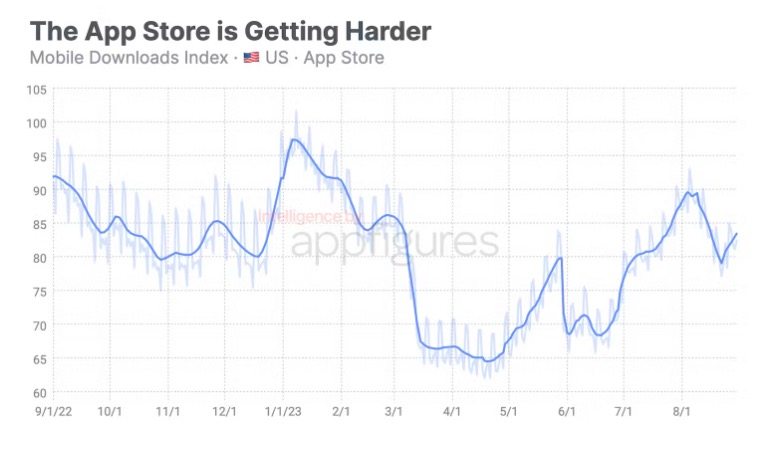 Source: Appfigures
Throughout the past year, the Download Index experienced fluctuations, with a temporary surge in December 2022, a typical peak month for new app installs due to holiday season device activations and increased user leisure time. However, these gains diminished by April, with the Index plummeting to as low as 64.50 points.
While this decline isn't drastic enough to dethrone dominant apps like Facebook, it does signify a notable slowdown.
Not all apps are declining equally
But not all app categories are affected by this decline. Categories like sports streaming, medical, business, education, shopping, travel, and productivity apps continue to exhibit growth or stability. Conversely, news, games, entertainment apps, and several others have experienced significant double-digit declines, likely due to market saturation. In summary, a substantial number of apps across various categories are witnessing declines instead of growth.
A factor contributing to the decline seems to be that established apps are losing their appeal as new entrants enter the market. Although App Tracking Transparency has made user acquisition more challenging, it's not a primary driver of this trend.
Mobile app revenues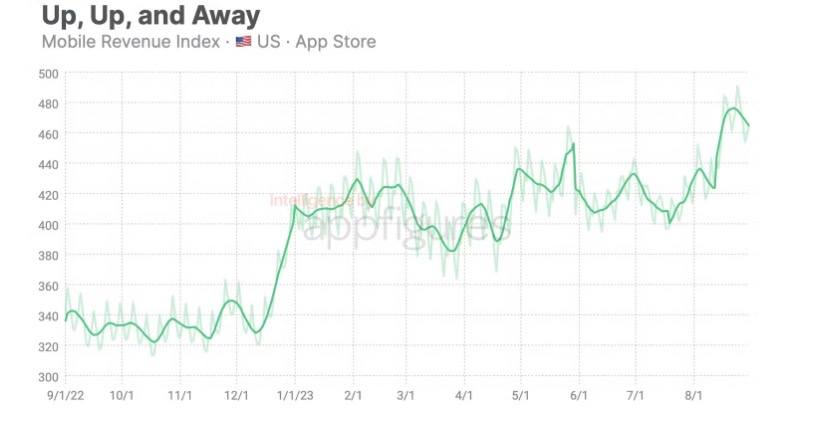 Source: Appfigures
While recent months have seen shifts in the top ranks of the App Store, with Meta's dominance diminishing and apps like TikTok, CapCut, Temu, and Shein ascending, the app economy isn't entirely gloomy. As of now, Meta's Threads is the sole non-gaming app in the US App Store's top 10 free apps, holding the second position.
Despite declining installations, US app revenue is flourishing as developers prioritize monetization. Last year, the Mobile Revenue Index soared to 363.13, significantly surpassing 2018 figures. By August 31st, it surged to 458.3, marking a 36.4% increase.
Productivity apps stood out with a remarkable 69.3% revenue growth, while Board games in the games category saw a staggering 584.9% increase. Only four US App Store game categories – Sports, Racing, Music, and Action – reported revenue declines.
So while US App Store app downloads may be decreasing, the app economy thrives with revenue-focused developers and substantial growth in various categories.
Key takeaways
App installs in the US App Store have dropped by 9% from January 1, 2018, to August 31, 2023
While some app categories decline due to market saturation, others, like productivity and board games, experience significant growth
Established apps are losing appeal to newcomers, a trend influenced but not solely driven by App Tracking Transparency