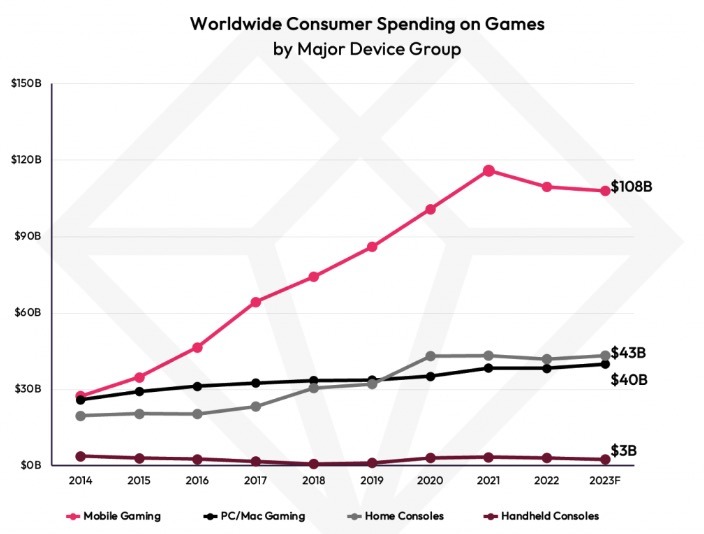 Consumers globally are expected to allocate $108 billion towards mobile gaming in 2023, as per a new report by mobile analytics firm data.ai. The projection underscores the enduring popularity of mobile gaming, which is anticipated to account for over 56% of total global consumer spending within the gaming sector for 2023. In contrast, console game revenue is predicted to make up just 22% of the market share.
Competitive Strategy Games up their share of the market
The latest data points to a significant shift in the allocation of global hours, with Competitive Strategy Games (CSG) on smartphones and tablets projected to capture a 26% share this year, a significant rise from the 16% recorded in 2019.
The trend bodes well for CSG programmers forecasted to reach $3.8 billion in consumer spending this year, an increase of over 50% compared to the revenue achieved in the previous year.
Top games by download score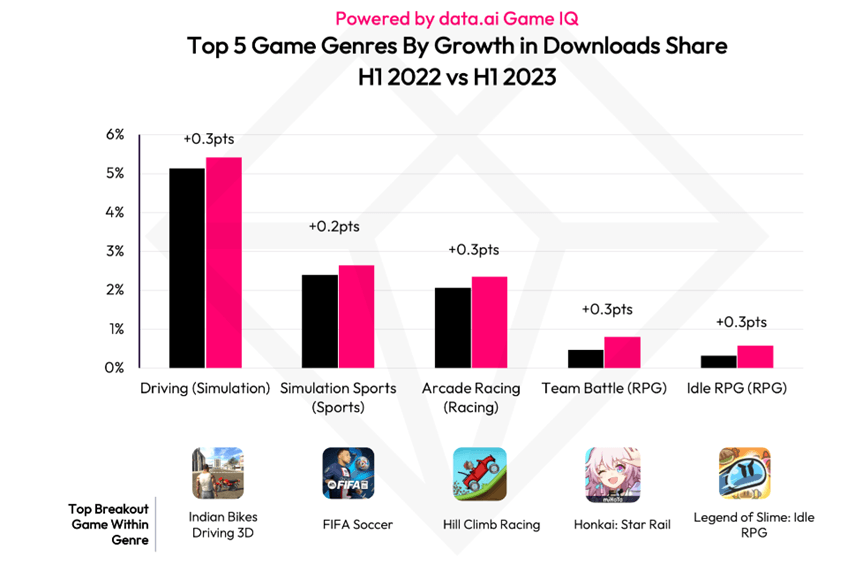 Source: data.ai
Amid these dynamic changes, the global Monthly Active User (MAU) base is predicted to surpass 60 million this year, underscoring the escalating global interest in mobile gaming.
Another interesting development mentioned in the report is the recent announcement by streaming giant Netflix, signalling its entry into the cloud-streamed gaming sector. This strategic move has the potential to catalyse further growth within the genre, potentially paving the way for noteworthy expansion.
Noteworthy gaming successes in 2023
Within the competitive gaming landscape, two titles have particularly stood out, capturing the attention of players. Monopoly GO garnered an impressive 45 million downloads, consistently ranking at the top for daily downloads within the first 60 days since its launch in Italy and the UK. This achievement has translated into a substantial $232 million in global consumer spending.
Top games for consumer spending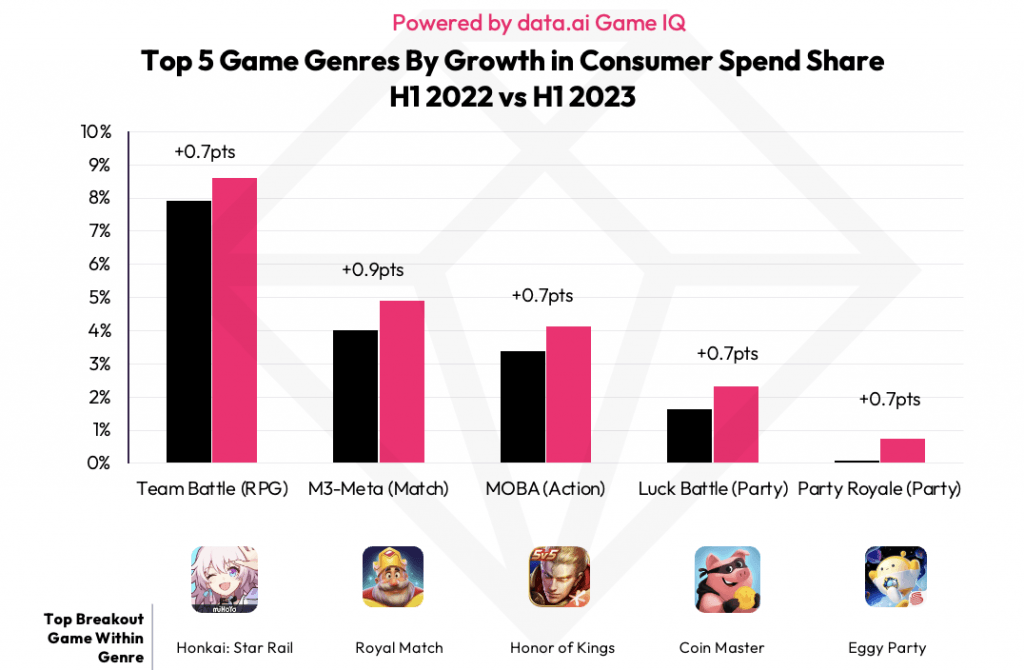 Source: data.ai
Similarly, the heightened excitement surrounding the 2022 World Cup bolstered the popularity of FIFA Soccer, resulting in a remarkable 135% increase in downloads compared to the previous year. During the first half of 2023, the game ascended to the 8th position for global downloads and the 12th position for breakout consumer spending. The total consumer spending on this title has now reached an impressive $992 million since its debut.
Reflecting the prevailing trend, simulation gaming experienced a notable surge in downloads during the initial half of 2023, while Team Battle Role-Playing Games (RPGs) have expanded their share of consumer expenditure.
Key takeaways
Consumers set to spend $108B on mobile gaming in 2023, reflecting enduring global appeal
Competitive Strategy Games (CSG) share rises to 26%, predicted to generate $3.8B consumer spending this year
Monthly Active Users (MAU) exceed 60 million, underscoring escalating worldwide interest in mobile gaming