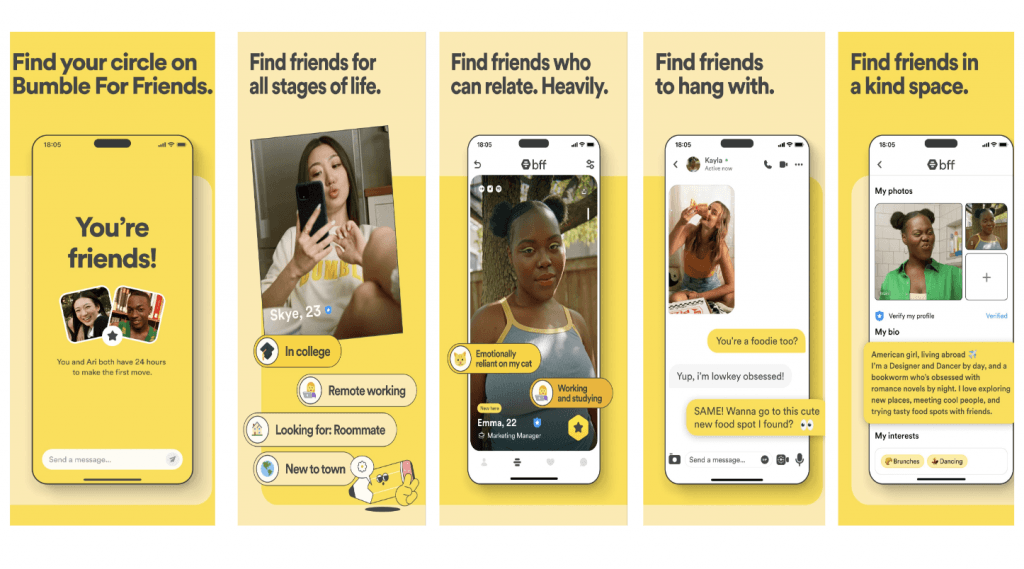 Popular dating app Bumble has crossed the $2 billion spending mark by users worldwide, becoming the second dating app to achieve this feat. The latest report comes from data.ai, the mobile analytics company, which studied Bumble's success in the dating app market.
What this means for Bumble?
Data.ai's analysis reveals that Bumble has joined a small group of just 52 mobile apps and games that have reached the $2 billion milestone. This group includes big gaming names like Clash of Kings, Brawl Stars, and Bingo Blitz.
The app's growth has been notable in key markets including the UK, US, Australia, and Canada.
Among dating apps, Bumble follows only Tinder in terms of user spending. It took Bumble just 19 months to double its spending after hitting the $1 billion mark in 2021.
Recent data also shows that Bumble was the second most downloaded dating app globally in the last year, up to June 2023.
Tinder remains the only other dating app to have hit the $2 billion mark in app store spending.
Bumble's journey
Since starting in 2014, Bumble has gained over 125 million users globally. In the past year alone, the app was downloaded 31.8 million times, with the most downloads happening in the US. In terms of earnings, the US led with $400 million over the year, followed by the UK with $54 million.
Bumble's journey continued with the launch of its second app, Bumble for Friends. Introduced in July, the new app quickly became popular, ranking among the top 150 downloaded and top 100 grossing iPhone Lifestyle apps in the US.
Bumble for Friends rankings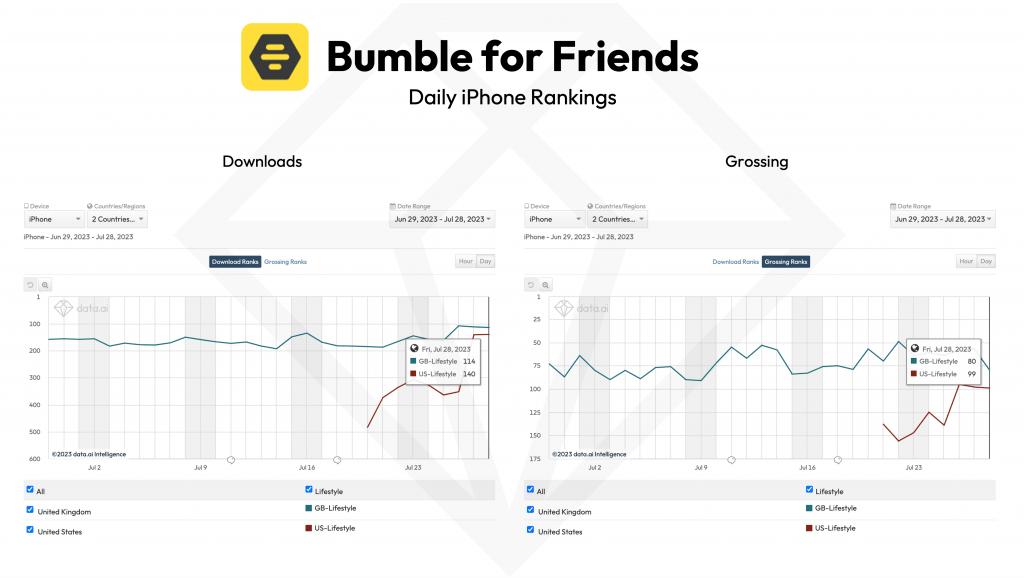 Source: data.ai
In the UK, it performed even better, ranking in the top 120 downloaded and top 90 grossing Lifestyle apps.
Bumble's steady rise, seen through the $2 billion milestone and its expansion into new areas, highlights its role as a leader in the tech-driven dating scene. The extension through Bumble for Friends signifies not only the app's success but also its strategic expansion to encompass a broader user base.
Key takeaways
Bumble hits $2B spending, second dating app to do so, reflects strong growth and market influence
This means, the app doubled spending in 19 months, ranking second in global dating app downloads
Bumble's expansion, including Bumble for Friends, cements its role as a tech-driven dating leader