Appranking is an all-in-one data analytics platform for improving app visibility and leveling up app marketing performance. Our variety of smart insights tools can help app marketers who need the following service: ASO intelligence, ASA intelligence, Market intelligence, Keyword research, Competitor research, and so on.
Whether you are an app developer, app operator, or app marketer, Appranking provides premium bits of intelligence and reliable customer support in Google Play & iOS app market.
For more information about Appranking, please visit the website: appranking.com and start your free trial.
Why Appranking?
➢All-in-one Platform: Data analysis and app marketing performance management solution. Fuel your apps and games growth, maximize global traffic, boost conversion, lower install cost, and level up competitiveness
➢Cost-Effective: We offer affordable prices and professional services to help you quickly make your app promotion decisions smarter, faster, and more measurable. Appranking provides you with a super cost-effective experience.
➢Easy-To-Use: We pursue the simplest mode of operation. It can meet the needs of companies and teams of different sizes, and for improving the app growth results you can get the most information with the least amount of action.
Appranking's Main Features
Market Intelligence: Actionable app market intelligence to get your up-to-date markets crucial metrics, and growth insights by monitoring top-ranked apps' strategies in your category. Global market analysis, new trends detection, and segment performance metrics monitor accelerate valuable insights into greater app economy.
ASA Intelligence: Turn insights into actions to drive your paid traffic acquisition progress, simplifies complex data, and empower you with a unified view of ASA campaign performance. Deep into top bidding apps' ads strategies in your industry, allowing your ads campaigns for maximum results.
Metadata Insights: Analyze data changes of metadata under different versions of your app and see exactly how the competitor has made a metadata update to compare the content of your application title, subtitle, description, and keyword fields for creating effective metadata and driving traffic.
Keyword Tools: From keyword discovery to subsequent tracking, Appranking has a variety of keyword tools to assist you, which include Keyword Suggestions, Keyword Research, Keyword Optimization, Keyword Monitoring, etc. Maximize the global reach in App Store search results and enlarge app discoverability with these keyword optimization tools.
Competitor Analysis: Add your competitors' apps, then easily spy on the traffic performance and keyword distribution of their apps in real time for uncovering competitors' targeting strategies. Appranking also provides Aso Report through your choice which will present the comparison between your app and your competitors in all aspects.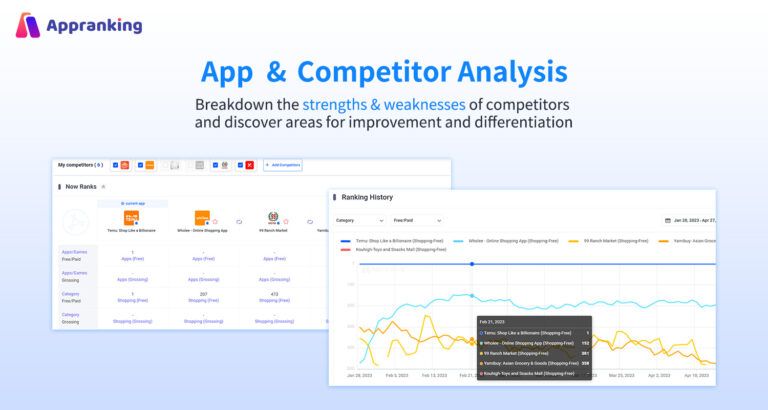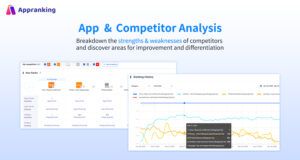 Ratings & Reviews: Monitor your app's ratings and reviews within a set time period and the latest and most comprehensive professional data analysis will be presented according to the different iterations of your app and countries, providing you with an integrated tool to manage your app's ratings and reviews.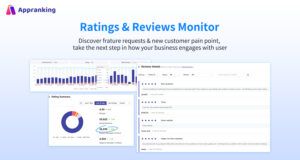 Key Features
Keyword Explore
Appranking recommends keywords for your app from several different dimensions based on your choices.
You can discover keywords based on competitors. First select multiple competitors, appranking can use its own algorithm to generate self-suggesting keywords. There is also information about the keywords, you can view the keywords for a single competitor, or duplicate keywords for multiple competitors.
You can discover keywords based on keywords. Enter your intended keywords and choose keywords in four directions: top app keywords, category keywords, associated keywords and similar keywords.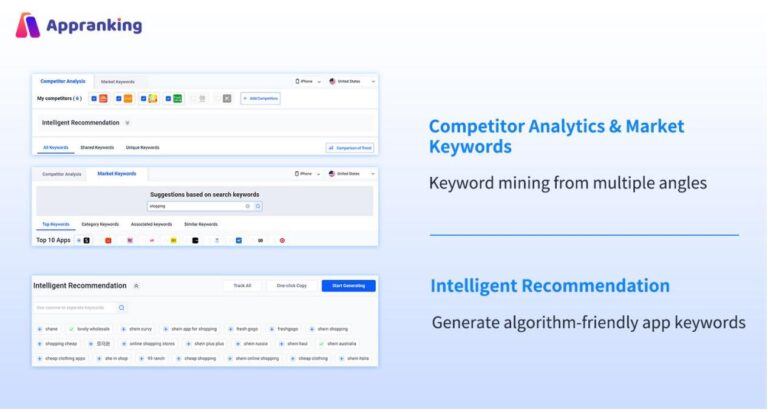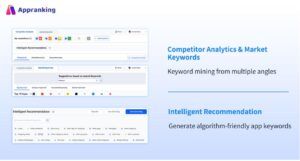 Apple Search Ads
Appranking also offers a dedicated platform to improve the advertising performance of apple search ads.
Ads Manager: Create and manage your apple search ads campaigns.
Automation Rules: Optimize your account automatically based on your settings.
Keywords Planner: Find quality keywords from different dimensions.
Smart Campaign: Quickly generate Apple Search Ads campaigns based on your choices.
Attribution Partner: Combine data in Apple Search Ads and In-app events from MMP.
Bulk Operation: Batch operations to avoid trivial operations and save time.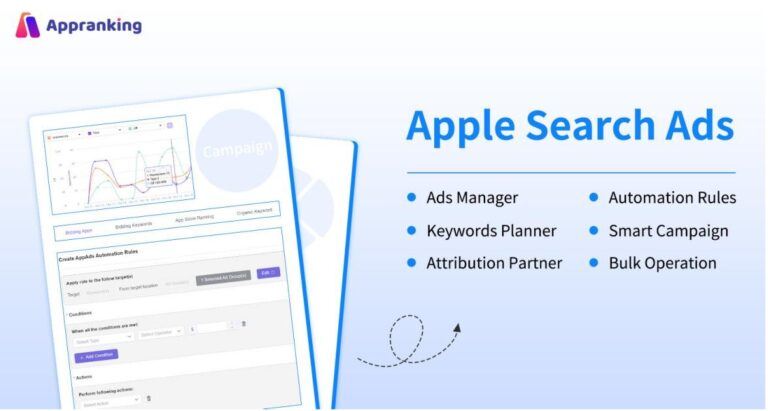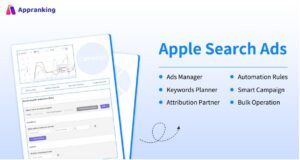 ASO Report
See clearly how your app compares to competitors in the store in terms of product title, description, screenshots, ratings and reviews, etc. You can view it online or choose to download it directly.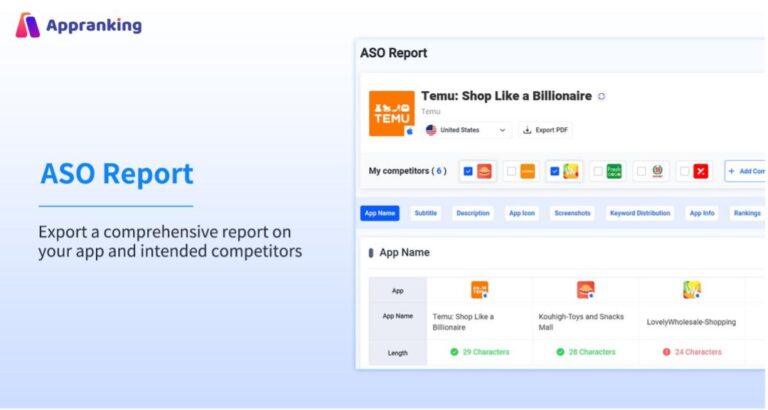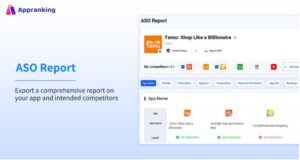 Pricing
Appranking offers four Business Plans
Free ($0/month):
Let you track 2 apps, 50 keywords, 4 competitors, and 50 replies to reviews.
Startup ($59/month):
Let you track 5 apps, 300 keywords, 20 competitors, and 200 replies to reviews.
Growth ($199/month):
Let you track 20 apps, 1500 keywords, 100 competitors, and 500 replies to reviews.
Pro ($399/month):
Let you track 40 apps, 4000 keywords, 400 competitors, and 1000 replies to reviews.
Compare plans and features!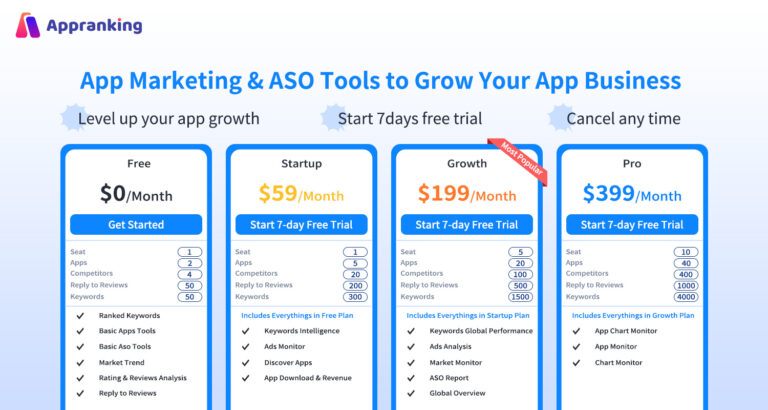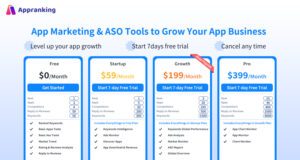 Check out Appranking for more information, Start 7-day Free Trial now!
Awards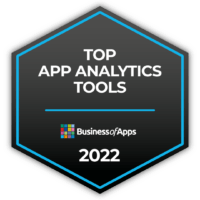 Appranking Features
ASA Intelligence
Metadata Insights
Competitor Analysis
Market Intelligence
Keyword Tools
Office Location
3F Block A East Sun Industrial Centre No.16
Shing Yip Street KL
Hong Kong & 999077
Appranking Data
| | |
| --- | --- |
| Founded: | 2014 |
| Employees: | 101 - 200 |
Sources: Company Data, Press Reports, Linkedin, Twitter, Owler, SimilarWeb
Appranking Info
Appranking Insights