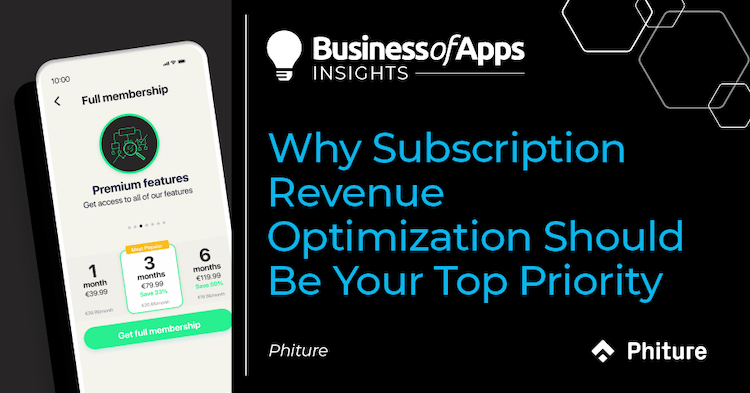 Subscription has – in a few short years – become the dominant revenue model for mobile apps.  As ever more apps compete for recurring subscription revenue, users are faced with tough choices about which apps they are willing to pay for and app publishers face ever-increasing competition as they fight for wallet-share among their target audience.
The phenomenon of App Subscription Fatigue is real:  many users can't or won't fork out for ever more subscriptions, even if they like the apps in question. So how can mobile app publishers compete in this new world where every app offers subscriptions?
The Solution: Holistic Subscription Revenue Optimization
At Phiture, we help many of the world's leading app publishers (including Blinkist, VSCO, SoundCloud and Adobe) to achieve sustained, holistic growth for their apps. Increasingly, this involves Subscription Revenue Optimization: optimizing all elements of the growth strategy — from acquisition through to subscription conversion, subscriber retention and re-activation of subscribers who have lapsed.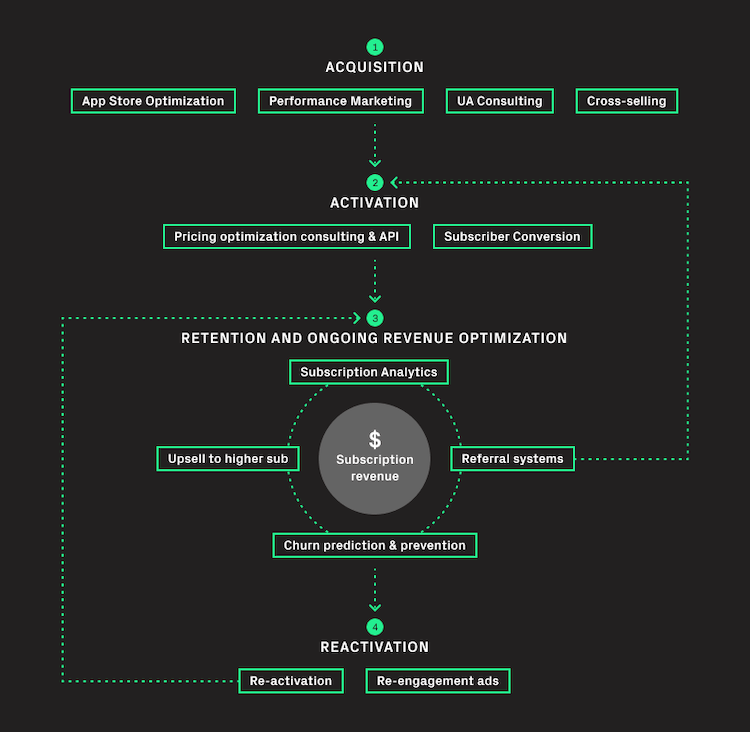 Growth is a holistic system and it's only by tackling it holistically, using frameworks such as Phiture's Mobile Growth Stack that publishers can build an end-to-end approach for systematically increasing user LTV from subscriptions.
All too often, we see companies focusing too heavily on one part of the funnel: usually, this means they're putting all their efforts into acquiring subscribers through advertising or spending a lot of time A/B testing their paywalls (i.e. optimizing for subscription conversion).
Paywall Optimization is a valuable piece of the subscription optimization puzzle
Source: Phiture
While these activities should form part of a balanced approach to subscription optimization, this focus often comes at the expense of things such as proper subscription analytics (understanding user revenue and subscription status in real-time) and subscriber onboarding and retention efforts that would increase average subscription lifetime.
By building a comprehensive data view of the full user funnel, it's possible to regularly calibrate growth efforts to optimize in the places where the most upside exists.
Phiture's team of experts can assist app teams to develop this data model, as well as to tackle optimization challenges across all areas of the subscriber lifecycle.  
If you're looking to turbo-charge your subscription business, get in touch with Phiture today for a free consultation from our Subscription Revenue Optimization team.