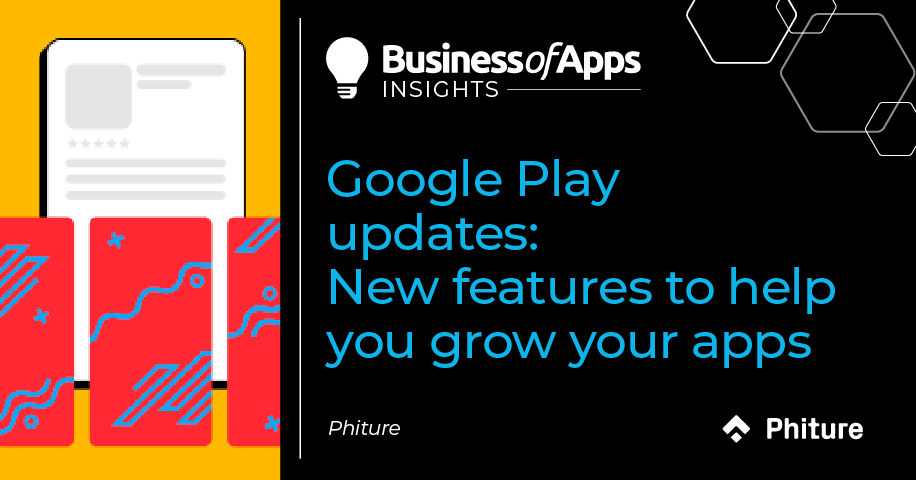 Google Play has shared exciting news for mobile marketers, introducing new tools and capabilities that will affect the user journey. Google has shared a variety of new updates, but the ones that interest us the most as marketers and ASO practitioners are those that affect user acquisition and engagement. These updates include enhanced store listing experiments, custom store listings and LiveOps. In this article we give an overview of these new releases, their importance, and how they can help developers grow their app or game. You can find a complete list of updates that Google announced here.
This article was first published on phiture.com.
Updates that enhance user acquisition
Store Listing Experiments
The updates that affect user acquisition introduce new and enhanced store listing experiments. Google Play's store listing page is one of the main assets you have to lay out your unique offering to users. That's why running tests and improving your store listing is extremely important.
For more successful tests Google has provided marketers with more control and transparency when it comes to experiment analyses and result reliability. The new finer controls include confidence level, minimum detectable effect and time needed for test completion.
Confidence level shows how well the confidence interval reflects the true performance of the store listing. Increasing the confidence level will decrease the likelihood of a false positive. Previously we had a maximum of 90% confidence interval that was not modifiable, but now Google Play has improved this value to 95%, decreasing the possibility of a wrong result to 5%. This is ideal for user behavior tests, allowing the developer to interpret results with confidence.
Minimum detectable effect is the minimum difference between testing and control variants required to declare which one performs better. If the difference is less than this value, your experiment will be considered a draw. You can make decisions about the previous two metrics depending on your goal and how relevant you want your test to be. Sometimes you just need to run a quick test to decide which direction you want to take. In that case, you can set a lower confidence level and higher minimum effect. On the other hand, if you need more accurate results to decide on fundamental changes, then you would need a higher confidence level to make sure the changes will have the desired impact.
You can see the time needed to complete the test. Based on the confidence level and the minimum detectable effect, Google Play now predicts how long an experiment will run. Experiments are recommended to run for at least one week, to account for fluctuations in weekday and weekend traffic.
The new update enables faster results and continuous monitoring. To learn more about new Google Play experiments take a look at our technical deep dive.
Custom Store Listings
Another update that affects user acquisition includes custom store listing pages. As we already mentioned, a strong store listing is your biggest asset in acquiring new users and with custom store listings you can target specific tailored audiences instead of solely relying on the main store listing. In this update the number of custom store listings was increased from 5 to 50, each one with analytics and deep links.
With the increase in competition on the App Stores and more developers spending a lot of time (and money) to get more visibility, the chances of users experiencing brand or marketing fatigue are higher. To avoid this and to stand out from your competitors, your communication needs to be personalized, localized, and of high quality. In 2019, Google introduced custom store listings to target specific languages in specific countries. This allows developers and marketers to have localized store listings across different markets. After the new update, the number of custom store listings has gone from 5 to 50.
If you're new to the Google Play Console Custom Store Listings, you can follow these steps to create a custom store listing adapted to specific messages that resonate most with each user.
To get started, navigate to the custom store listing page, under Store Presence.
Create a new custom store listing.
In the targeting section, add a unique URL parameter, and submit for review.
Similar to main store listing experiments, the test goes live automatically as soon as it's approved.
A few days ago, Google introduced deep links targeting as well. These links enable you to show a specific store listing to users who visit via a unique deep link. This provides developers with the flexibility to further personalize user experience in the Play Store and create greater impact for their app or game. If you want to promote news features or optimize for seasonality unique to Brazil for example, you can create a specific store listing for each group, and drive the users to the relevant page using deep linking.
Google Ads campaign targeting is also a new update given to developers to run native app install campaign targeting – similar to ASA/CPP connection on the App Store.
Listing & app details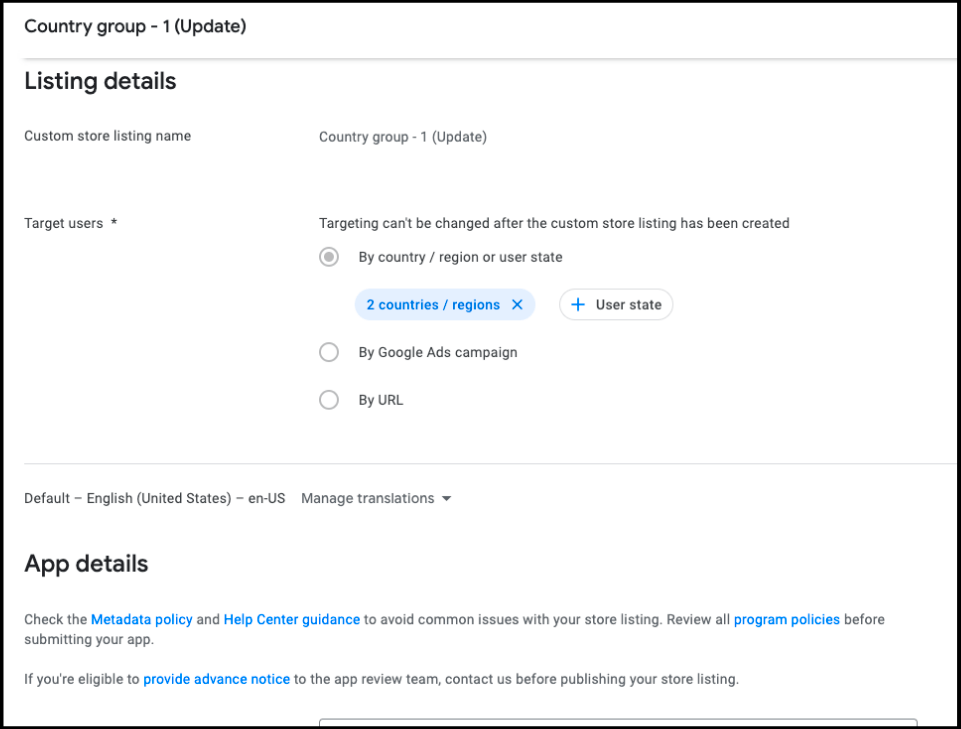 Source: Phiture
Updates that enhance engagement
The next step is to keep users engaged by optimizing your offerings. The console is providing marketers with more tools to engage users in the form of LiveOps.
This feature allows you to showcase in-app content, real-time events, offers, and key updates to users across the Play Store to drive user engagement and sales. It is a beta program and is only available to selected developers. For developers who have access to this feature, with the new update you can promote events or updates that target specific groups and countries to have more visibility on the Play Store.
Side note: LiveOps drive 5% more 28 day active users and 4% higher revenue for developers using this feature compared to those who are not, according to Android Developers.
If you are lucky enough to have access to this feature, we consider it quite a low hanging fruit and a very impactful element to increase both visibility and engagement. If you'd like to join the Android Developers' beta program, you can learn more and express your interest here.
Google Play Console

Source: Phiture
The new update introduces "offers," a new type of LiveOps. This new feature presents a big opportunity for developers to connect their promotional content with users. You can use this to promote any exclusive discounts such as subscription trials or deals, or even rewards such as free shipping.
Creating an event (1)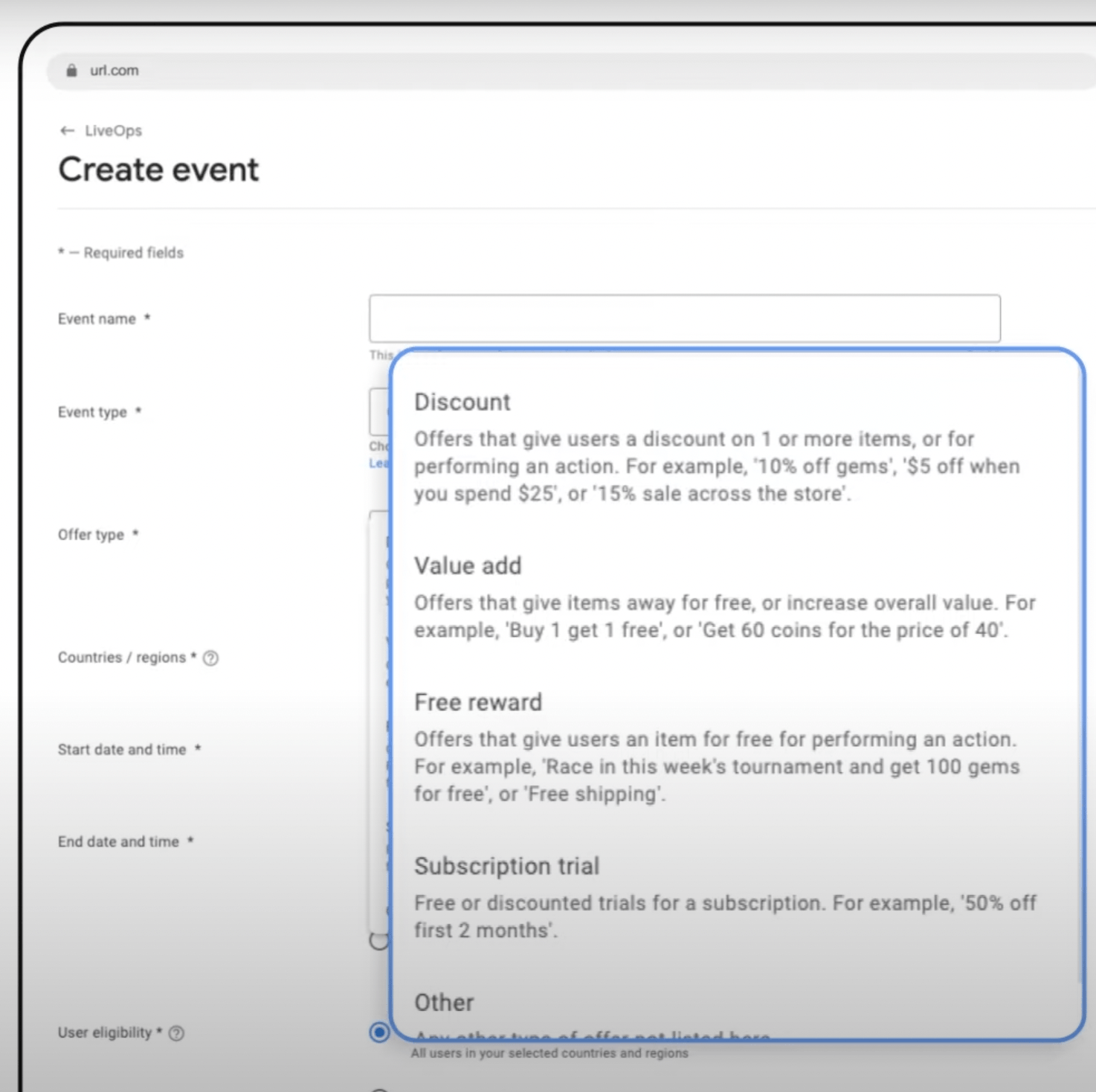 Source: Phiture
This feature also comes with a deep link space that allows marketers to forward users to any desired part of the app or game. By limiting the amount of clicks a user has to make to go from the App Store Offer event to the in-app offer, higher conversions and a better user experience are guaranteed.
Creating an event (2)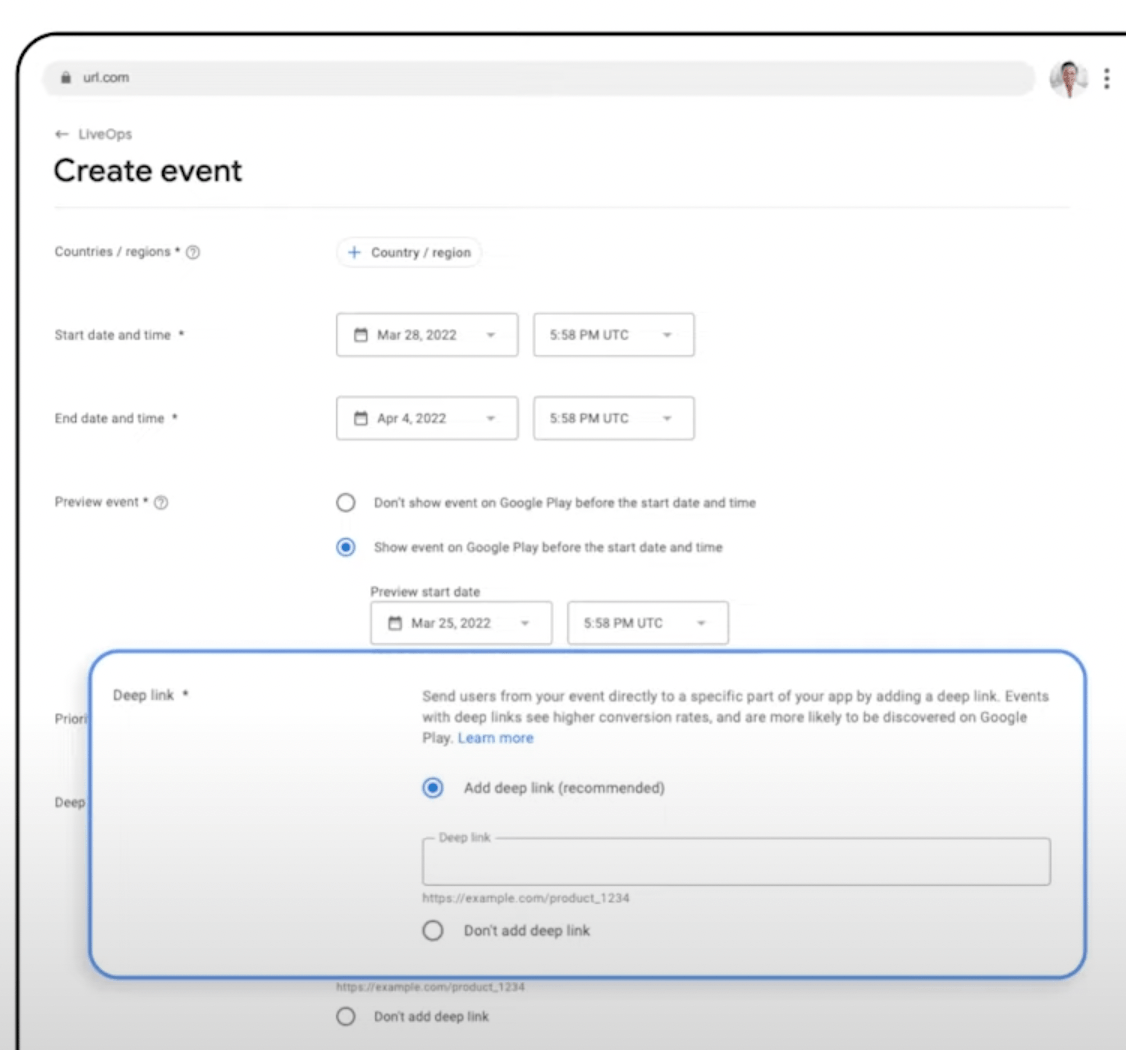 Source: Phiture
Being able to analyze the impact of your efforts is the most important and exciting part of these updates. Google is promising a granular view of the performance metrics, showing event views and conversions, and even specifying if it's a new acquisition, an app-open, or an app-update. More insights will be provided by Google in the next months on how to improve LiveOps quality, and that includes recommendations on taglines, descriptions and images submitted for these events or offers.
With Google Play Store new updates, developers have more opportunities to personalize and customize their app offerings and store listings to fit the diverse and local needs of the market. With tools that will not only help with user acquisition through more reliable test results and additional custom store listing features that allow specific targeting, but also introduce different new elements on the Play Store to give quick access to users to the in-app content and increase their engagement. Developers are now able to better understand user behavior, and thus can offer a better user experience.

Before you go
After acquiring a strong base of engaged users, it's a good time to think about how to convert them to buyers. Google introduced additional updates related to monetization. Google Play's commerce platform provides access to global buyers and tools that allow developers to grow and optimize a monetization strategy of their choice. You can find more information about this topic here, or watch this official video from Android developers about the update.
Google implemented new privacy and security initiatives to keep the ecosystem safe for users and developers, such as the new Google Play SDK index that helps you choose right SDKs for your app, Play App Signing, Play Integrity API and more. You can read more about it here.
As part of the new security initiatives, if you haven't yet, please complete your Data safety form by July 20th. The Data safety form is available on the App content page in Play Console. Check out our Help Center article for more information.
We have already started testing some of the new features, so stay tuned for a more detailed deep-dive article that will be posted soon on our blog where we will share insights on the new updates and of course our best recommendations for best practices which can be applied to your app or game.