Many people have the ability to develop an app in today's competitive tech landscape. But creating an app, and creating a successful app are two very different things. The amount of work and expertise that goes into producing a technology that becomes a staple in the lives of consumers everywhere is not for the faint of heart. After you have designed, engineered, and pitched your app, the real work begins. Launching your technology to the masses in hopes of achieving your goal, and attaining the #1 trending app in the market, won't happen simply by designing a great piece of technology. Your strategy with how to bring it to the market has a profound effect on its success. 
The Challenge
"PlayerUnknown Battle Ground", or PUBG as it's more affectionately known, is a popular battle-royale game that is recognized worldwide. Last year, it was re-developed into a mobile gaming application by Tencent Games and quickly created mass fandom in the eastern hemisphere.
From the moment it was released, the PUBG Mobile North American app launch was the envy of its peers, drawing major attention in the overcrowded gaming apps market. By strategically utilizing effective influencer marketing, top-notch execution, and a unique creative strategy, the app launch was able to exceed its original goal (by over 120% to be specific), resulting in a jaw-dropping 78.8 million total impressions.  
Tencent Games enlisted the services of Viral Nation, an award-winning influencer marketing agency to develop and execute a massive online marketing campaign surrounding the rollout of their app across North America. Tasked with the goal of driving brand awareness, game installs and social platform growth, Viral Nation began planning Tencent's first social and influencer marketing campaign for one of the most anticipated mobile app rollouts of 2018. 
The Strategy
Building an effective campaign strategy is a collective effort between both the agency and the brand. The PUBG Mobile Launch was no different. The campaign strategy was built on the foundation of four key components; "Let's Play", cosplay, viral memes, and a live-streamed cooking show. It was a multi-platform strategy that employed several highly-successful tactics that surpassed both the campaigns targets and the brand's own expectations. Viral Nation was able to seamlessly activate a total of 38 influencers and 20 Instagram theme pages across multiple verticals in order to shatter campaign projections.
The campaign began by partnering with some of the largest and most influential YouTube content creators in the world. Heavy hitters like "Pewdiepie", "Mr. Beast", "UnBoxTherapy" and others produced five-minute "Let's Play" videos. These gameplay videos were created with the purpose of showcasing PUBG Mobile's features, maps and various tactical missions across each creator's YouTube accounts. The use of highly prominent YouTube gamers proved to be an effective tactic to build the hype surrounding the app's features. Youtube verticals alone achieved an astounding 16,700,000 total views and 169,000 total clicks to install. 
Following the successful YouTube activation, Viral Nation on-boarded multiple Instagram cosplayers and female gamers to promote the game on their Instagram feeds and stories. Though women are not traditionally the target demographic of this mobile gaming app, the idea behind this approach was to engage female gamer's male audience members. Their male followers took a strong interest in the mobile game and the potential opportunity to play alongside their favorite models, gamers, and cosplayers. This portion of the campaign was an equally great success, achieving 10,650,000 total views and 87,100 total clicks to install.  
Next, Viral Nation's in-house content team created over 30 pieces of original content in the form of funny viral memes. Highlighting the humor within the PUBG Mobile community while engaging new players through comments and shares, the memes poked fun at in-game misplays and viral moments that were distributed across our vast network of social publishers. The utilization of viral meme content resulted in 53,040,000 total views and 191,000 total clicks to install, proving gamers sure enjoy a good joke. 
To wrap up the campaign, Viral Nation tied together in-game themes with three different influencer verticals in order to proliferate brand awareness for PUBG Mobile within new and diverse audiences. Creatively playing off the game's slogan "Winner Winner Chicken Dinner", the agency developed the concept of a cooking show to be live streamed on PUBG Mobile's YouTube and Twitch accounts, and then produced it all in-house. Viral Nation activated three of the most popular gaming and lifestyle influencers – Mia Khalifa, Taylor Alesia, and Alinity Divine – to host the show. The influencers were joined by Top Chef Canada celebrity chef Danny Smiles to cook an actual gourmet chicken dinner.  This activation tested the influencers' cooking and mobile gaming skills as viewers watched each host attempt to cook a quality meal and play PUBG Mobile simultaneously. This unique combination of talent, humor, cooking, and gaming attracted a massive audience, with 100,000 live views for the 'Winner Winner Chicken Dinner" livestream.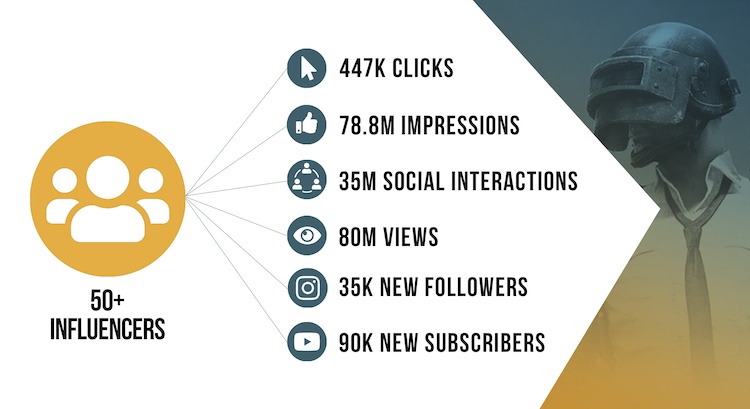 The Results
By utilizing multiple social platforms with targeted content, Viral Nation drove major brand awareness, game installs and social platform growth for the PUBG Mobile brand. 

Not only did this activation produce jaw-dropping amounts of views and clicks, it effectively grew PUBG Mobile's social platforms with over 90,000 new subscribers on YouTube and 35,000 new followers on Instagram. As a whole, the North American launch resulted in 80,400,000 total views and 447,100 total clicks to download the app.  
With the help of Viral Nation, PUBG Mobile was able to go from startup to success in less than 30 days, guiding the brand's path to the top of the app store charts later in the year. PUBG Mobile went on to win several gaming awards in 2018, and by choosing to partner with a leading agency like Viral Nation, your app could be next on that prestigious list. 
Contact Viral Nation today to arrange a discovery call with a talented social media strategists.