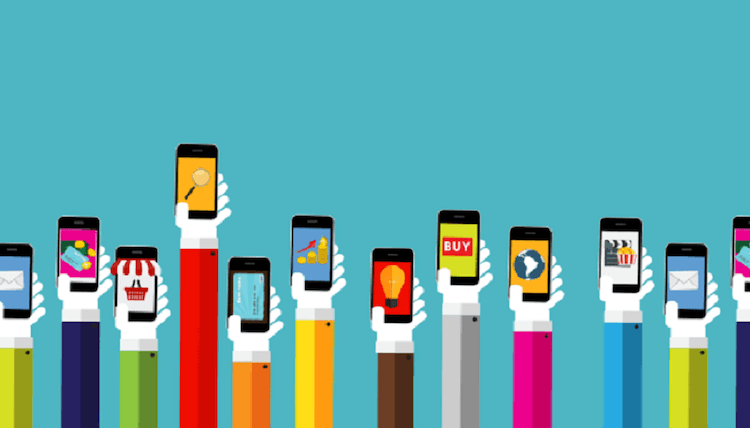 So you and your development partners have created a mobile app, one you hope will turn out to be a smash hit on Google Play and the Apple App Store. You've done your homework and discovered your target audience. You've created a well-thought-out onboarding experience. You feel as if your app is finally ready to launch. So what's next?
It is now time to create demand for your app. Driving downloads is not easy for new apps in the market. Many developers, including the now-infamous "appreneurs", seem to think that mobile marketing the likes of in-app ads is the best and only way to build an audience. However, there are additional (and better!) ways to drive app demand.
There are millions of apps on each store. In today's ultra-competitive market, you must find creative ways to break through the noise with your digital content creation. One amazing way is to do so? Utilize social media!
Here are some tips and tricks on how to push your mobile app on social media and maximize your marketing efforts.
Step 1: Start By Planning Ahead
Proper planning is the most vital part of your app marketing with social media. There are some important questions you should ask yourself to start building out your plan, such as…
What content do I want my audience to see and read?
Which platform (Facebook, Twitter, Etc.) is best to promote this content?
The answers to these questions should keep your audience preferences and profile in mind. Knowing who your target audience is on a deep and meaningful level will greatly assist you in making the best decisions with your social media marketing.
Step 2: Create Value-Based Content
Your brand should look to produce unique, informative and high-quality social content for your social media campaign in order to bring visibility to your app. Developing content that is engrossing and entertaining will keep your target audience engaged. So let's say you are marketing your brand's cooking app, for example. Writing posts on tips from the world's best chefs would be an ideal way to connect with your target audience, and create conversations that engage them.
Additionally, creating cool, fun videos that describe your app can also be a great way to promote it!
Step 3. Use Social Media To Humanize Your Content
Users on social platforms respond more favorably to updates that feel human in their tone, instead of a choreographed, tailored marketing approach. It's a vital factor in your efforts that translates to the masses the passion a developer has for their app.
Ask your audience for feedback, and engage in conversation with your users. This is a great opportunity to acknowledge mistakes, surprise users with new features, and even endear yourself to your audience as a brand that truly cares about the needs and concerns of its consumers.
Step 4. Reward Users For Downloading Your App
If you really want your app to take off, you must find ways to reward your users. There are methods for motivating users to refer your app to their friends, relatives or colleagues. This is not only a great way to increase your app downloads, but also your app referrals. Additionally, it assists you in monitoring your user experience and tracking how more downloads are being generated.
Promoting On Each Social Media Platform
Facebook
With over a billion users, Facebook is a key social media platform to promote your app. Your brand should have already set up a Facebook page for your app, providing you a presence in the social media world. This is a great way to gain credibility, create a buzz, and receive feedback about your app. Include lots of details within the page about your app, and include a call to action within the header image will make your business app visible and help boost conversions.
Instagram
Instagram is at the forefront of the social world today and is arguably the most relevant platform of the moment. As a brand, having a business profile on Instagram is paramount when it comes to promoting your mobile app on this network. There are 4 key benefits of having a business profile on Instagram:
The ability to add contact buttons for your customers to reach you (call, email, and even directions)
Access to the basic Instagram analytics so you can see how your content is performing
The ability to run Instagram ads, which enables you to promote your posts
The option to add links to your Instagram Stories, giving you ample opportunity to leverage swipe up in your content strategy
This is also where the services of an influencer marketing company can have an immensely positive impact on your app marketing. Ask us how!
Twitter
Hundreds of millions of users across the world access Twitter every day. Even better, about 85% of them do so from their mobile devices. Mobile app marketing allows you to target these users and drive app installs. Additionally, Twitter gives you the ability to reach out to influencers by tagging them in your tweets.
Final Thoughts
Social media platforms help you in marketing or promoting your business app, this is undeniable. If you follow the tips mentioned above, you'll be well on your way to increasing downloads. As is the case with any marketing endeavor, you must still continually optimize your campaigns and test new ideas to generate increased app downloads, boosted conversions, and to cut down on your customer acquisition costs. Keep this in mind while you are managing your campaign in real-time, and you are sure to see positive results.
Get Started On A Social Media Campaign For Your Brand's New App