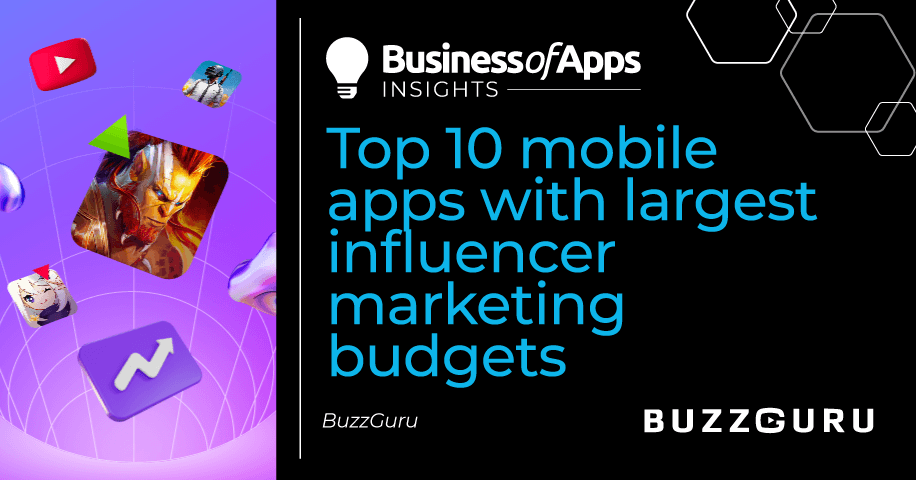 Influencer marketing is getting stronger than ever – and the industry attracts more and more money. Experts predict that in 2023, the industry will reach $17.4B. What's also pretty impressive is that its average annual growth rate was 46.9% from 2016 to 2022.
Influencer marketing industry growth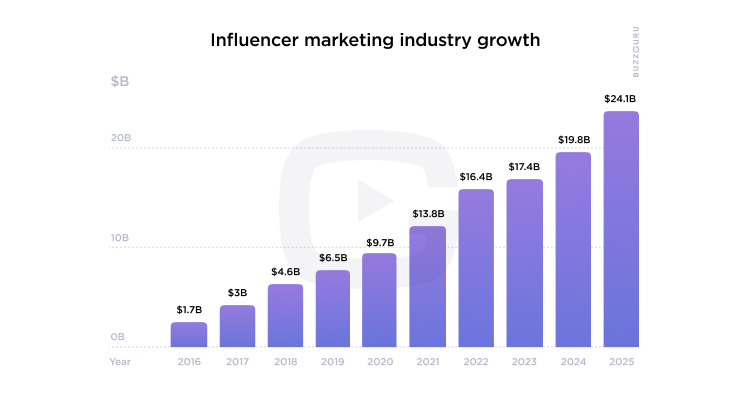 Source: BuzzGuru
But who pays and earns? What brands are the biggest contributors? BuzzGuru has analyzed the influencer marketing landscape, gathered the data of the most popular mobile apps mentioned by influencers on YouTube, and is ready to share the results of the research with you. We also have found some curious insight, care to see?
So, here are the top 10 mobile apps that spent the most money on YouTube to promote with the help of influencers in 2022.
Mobile apps with the largest influencer marketing budgets on YouTube in 2022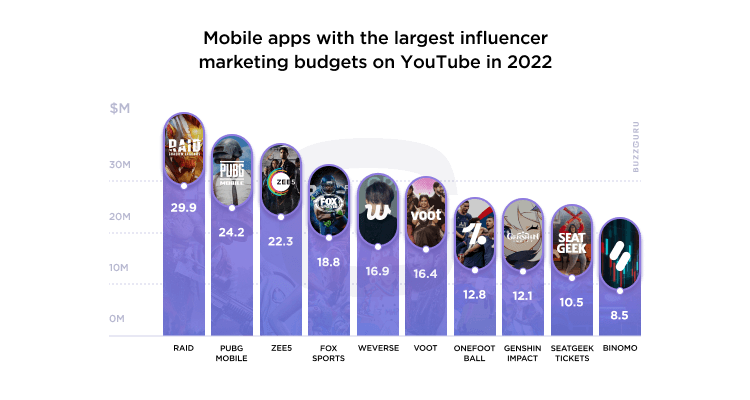 Source: BuzzGuru
Binomo
Our list starts with an app from a category that can be named one of the most trending. Although some experts say that cryptocurrencies and the hype around them have died in 2022, Binomo is a trading platform that definitely thinks otherwise and invests in influencer marketing on YouTube generously. Although the app allows not only crypto, but other assets too.
2331 YouTube channels mentioned the app, which resulted in 6726 mentions – almost all of them promoted the trading platform. It cost Binomo 8.5 million dollars in 2022. Let's see if such type of an app will make it through 2023 with the same or larger budget. It will be an indicator that might tell whether trading is really that profitable.
SeatGeek Tickets
Fan communities are the ones that simply have to be targeted by marketers. We all know how invested and engaged fans can be. And in addition to it, it seems like fans had really had enough of all the COVID lockdowns. They want to see shows and games live, and SeatGeek Tickets is the app that decided to help them.
SeatGeek Tickets is basically an event ticket search engine. It was mentioned on YouTube 1256 times in 2022 – almost all the mentions were promotional. The app had to spend 10.5 million dollars to achieve such numbers.
Genshin Impact
Genshin Impact is a fantasy RPG game which also appears to be gacha – this is its monetization strategy. The app is already well-known and loved in the gaming community, although there were a few scandals around it.
Perhaps it's unavoidable and comes along with popularity. And perhaps the scandals got Genshin Impact a bunch of mentions on YouTube among the overall 2838 it got in 2022. Only 1516 of them were ad ones, so it's clear that the app gets a lot of free attention on social media. Or is it really completely free? Considering Genshin Impact spent 12.1 million dollars on YouTube influencer marketing, it just had to repay.
Onefootball
Football (the English one) is one of the most popular sports on YouTube, according to BuzzGuru's research. And Onefootball is not simply an app to watch the game and read the news about it. Onefootball also provides its users with some data and statistics of 200 different football leagues that can be useful for those betting on sports. Although betting promotion is prohibited on YouTube, the data cannot be!
The app was mentioned 41447 times on 635 YouTube channels in 2022. The overall budget was estimated to reach 12.8 million dollars.
Voot
An Indian video and streaming service simply had to appear on the top list (spoiler: it's not the only one here) as the majority of YouTube users are from India. It has 467 million active users, which is almost twice as many as there are in the US.
Top 10 countries by number of active YouTube users
Source: BuzzGuru
In 2022, Voot got 37474 mentions on YouTube channels, and almost all of them – 37468! – were ad mentions. Well, this is how it always goes with social media: first, you have to pay, and then the users will repay you with their attention and engagement. Voot decided to spend 16.4 million dollars on YouTube in 2022. We'll see where it gets the app in 2023.
Weverse
Surprised to see a Chinese app while YouTube is officially banned in China? Well, it seems like the ban can't stop the fans – and the brands that want to promote where their target audience is. Weverse spent almost 17 million dollars on influencer marketing on YouTube in 2022.
Weverse is a kind of social network, a space for fan communities. It's only logical it appeared on our list as fan communities are on the rise recently: experts even distinguish a separate marketing direction – fan-based marketing. And Chinese fans are a real power: they influenced the pop industry and celebrities so much that the Chinese government even had to ban celebrity-ranking to save the idols!
FOX Sports
YouTube users love sports – well, at least they love to watch them – and FOX Sports decided to make use of this love: it got 5654 mentions.
According to BuzzGuru research, YouTubers are mostly keen on wrestling, MMA, and basketball. English football comes next. FOX Sports is a comprehensive sports resource that covers multiple sports, which makes it attractive for YouTube users. Although it's not the sports resource that had the most mentions in 2022 (ESPN had 57.2 thousand mentions), it's the one that spent the most money – the estimated budget was 18.8 million dollars.
ZEE5
Another Indian video and streaming service that we have foreshadowed earlier on the list. ZEE5 was mentioned on YouTube 32048 times, and 29227 of the mentions were for promotion. The app spent approximately 22.3 million dollars to get such numbers.
If you'd make a list of the most mentioned apps on YouTube, ZEE5 would definitely be on it, too. Indian brands know where their target audience is, and YouTube is one of the crowded places, good for advertising. As time go by, we might see even more competitors like this spending more money on influencer marketing on YouTube, as the number of its users in India only grows.
PUBG MOBILE
An ever-popular Battle Royale game that keeps users engaged. PUBG MOBILE was mentioned on 846 YouTube channels, which is approximately twice as many as in 2021.
It may seem that the number of channels is not that big, but the influencers are definitely loyal to the game, as it has 9266 mentions, 8383 of which are ad ones. This indicates that PUBG MOBILE is more likely to work with tested influencers who have already performed well and build long-term relationships with them.
RAID: Shadow Legends
The absolute winner, this year, the "RAID: Shadow Legends" mobile app managed to defend the championship title on our list. In 2021, the game was also the #1 with the largest influencer marketing budget on YouTube. In 2022, it spent almost 30 million dollars on influencer marketing.
RAID was mentioned on 2560 YouTube channels. The overall mention count was 9036, and 8149 of them were ad mentions. According to BuzzGuru's AI, it's the best score among the apps in 2022, and also RAID managed to beat its own record of 2021. Seems like gamers stay pretty keen on gacha and really appreciate the fantasy setting of the game.
Want to learn more insights about influencer marketing, top brands promoted on Twitch, benchmarks and trends for the upcoming year? Download the full Ultimate Influencer Marketing report for free.