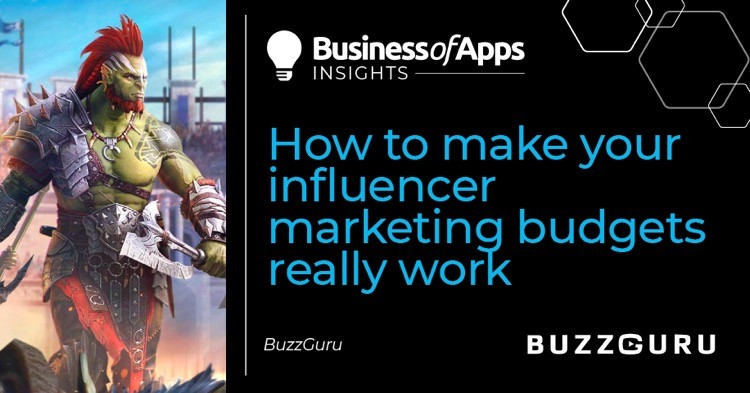 Not sure whether to set a long-term ad campaign with a large budget for your game on YouTube? Here's the case that will dispel your doubts.
Meet "RAID: Shadow Legends" – a turn-based MMORPG and a gotcha game that constantly gets to different lists of top apps. Being the top-spending on influencer marketing mobile game according to BuzzGuru marketing intelligence, RAID is also named one of the top-grossing games according to AppAnnie. The game is not only profitable for its developer and publisher Plarium but also is highly recognizable and well-known among gamers and adjacent audiences.  
Yes, you've noticed the game on YouTube: some creators make exclusive videos, some show short ads. But how does it all influence the game's performance and what has been done to achieve such a level of popularity? Let's dive deeper into analytics data using BuzzGuru, the influencer marketing intelligence to discover relevant content creators and analyze competitor's campaigns.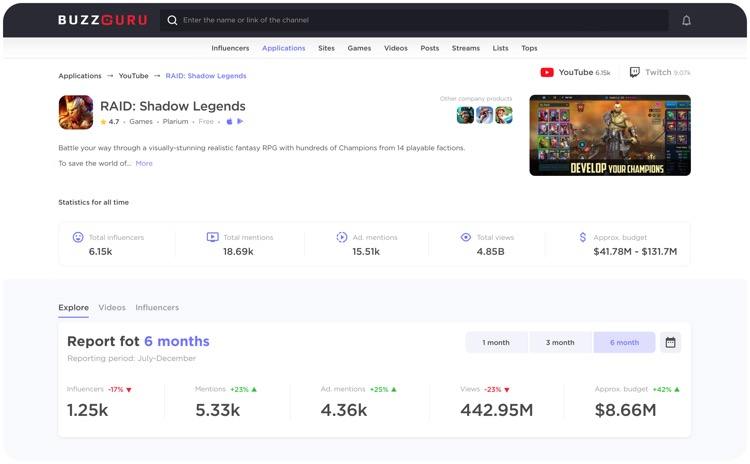 The budget, the CPM, the influencers
Without any doubt, Plarium is quite generous about "RAID: Shadow Legends": according to BuzzGuru Analytics, the game's approximate advertising budget was $8.66 M for the last 6 months. See who's definitely not afraid to plan serious ad campaigns here. It's "go big or go home". This approach is actually relevant to any company that wants to make a big difference and needs its product to become a real banger. This money brought the game 442.95M views, so we can count: the CPM of this 6-month campaign is approximately $19.55. 
The game has got 5.33K mentions, and 4.36K of them are sponsored (81.8%). "RAID: Shadow Legends" was mentioned by 1.25K influencers. The company preferred to spend advertising budget on YouTube rather than on Twitch – 94% of the influencer marketing budget was allocated on YouTube for the last six months.
Is $19,55 too much? Let's look at the counties and the influencer categories were chosen by Plarium, as these metrics have the most important impact on the CPM level. They are defined mostly by the solvency of the audiences.
Analysis of geographics and YouTube categories
Russia has 23% of ad mentions; the United States follows with 22%; 9% goes to the United Kingdom, and Germany and Canada are closing this list, both countries have 6%. The USA, the UK, Germany, and Canada all belong to the so-called Tier-1 countries, which means they have the highest CPM as well as the most solvent audiences. Russia belongs to Tier-2, the audience there may not be as wealthy and prosperous as in the US, but it's solidly solvent and large, so Plarium made a good bet having the flow directed to the Russian community as well.
Now moving to the influencer categories. "Gaming" is the first one, which is logical and expectable – Plarium gave gaming creators 53% of its advertising budget. The "Entertainment" category gets 15%; the "People and Blogs" one has 6%; "Film and Animation" and "Sports" both have 4%. All these categories are viewed by adults who a) can pay and b) can be interested in video games.
"Entertainment" may have been an exception as it has a large audience of underages, but we need to analyze the influencers chosen for the campaign themselves: entertainment channels can also be aimed at adults only, and an experienced influencer marketer would recommend exactly such channels to the customer with a product like "RAID: Shadow Legends". For example, WatchMojo.com (Canada) can be considered as such an adult-entertaining channel as it uses topics like (real) crimes, horrors, (fictional) murders, and so on. The channel has also done ads for "RAID: Shadow Legends" – there are 17 mentions of the game in its videos.
So, is the approximate CPM of $19.55 too much for "RAID: Shadow Legends"? Considering the chosen geography and categories, we'd say the CPM perfectly fits the campaign's goals.
And what's with other numbers? Over the last 6 months, almost 6 thousand YouTube channels have made ad videos for "RAID". BuzzGuru Analytics considers all the videos on YouTube that have ad mentions of the game, specifically including those with relevant links in the description.
Singling out the most relevant audiences
Even when advertising video games among gamers you have to be specific. RPG players will probably not be interested in your revolutionary chess simulator simply because the difference between the genres is vast.
BuzzGuru Analytics allows us to look closely at all the influencers who've made ads for a product. For example, we see that Darth Microtransaction – one of the creators who's mentioned "RAID: Shadow Legends" the most (more than 400 times) – is focused on gotcha games, and gotcha is one of the "RAID"'s main genres. Then there is IncredibleJohn with more than 300 mentions of the game, and the creator is typically invested in turn-based games, which also makes him and his audience relevant for "RAID".
Long term relationships with creators VS single launches
Despite 68.4% of ad mentions being single, it seems that Plarium chose to build strong connections with the best performing creators and launch at least a few ad integrations per channel – a strategy that guarantees recognizability among certain chosen audiences and warming them up constantly.
 According to the BuzzGuru Analytics data, a lot of the influencers published at least 2 videos with the "RAID" ads; also many creators made 5-20 ad integrations.
Here's a fact: the most-watched video among those with "RAID" ads was made by the Internet Historian channel: it has almost 17 million views on YouTube. What's interesting here is that the channel has made only 2 videos in terms of the "RAID" ad campaign. Both of them are popular (the second one made it to 14 million views), but Plarium has chosen not to promote its game on the channel anymore. Probably the videos that were not connected to video games directly didn't get "RAID" a lot of new players. 
Most profitable ad format
What does work better for promoting "RAID" then?
 See what Darth Microtransaction (who has made more than 400 videos for "RAID" as shown above) is doing. His videos are exclusive, focused on the game itself, its features, events, characters, on the news from Plarium itself, etc. Also, his engagement rate tends to 9% which is quite high for YouTube.
Same for the Hell Hades channel with its 425 "RAID" campaign videos.
So the answer is simple: the most profitable for the campaign influencers are those who are deeply engaged and interested in the product themselves. Their enthusiasm is contagious to their audiences.
When and where to launch game ad campaigns
The geography strongly depends on what region you're eager to conquer. For "RAID", it's the US, Europe, and CIS (specifically, Russia). The US seems to already be loyal to "RAID": generally, most mentions of the game are made there.
At the same time, "RAID" is still struggling to make a bigger fuss in Russia as most ad mentions are made there.
As for the best time to demand creators post their videos – it's better to ask for their own statistics, as some creators have strict schedules, for example, and their audiences are used to it, so there's no reason to crush their expectations. 
As "RAID"'s campaign is one of the largest among all games on YouTube, the game is mentioned every day, no exceptions, according to BuzzGuru Analytics.
Also, Friday seems to be the top day for posting videos.
The ad mention rate is higher on Friday, as well as the number of mentions generally, including those without ads.
Other Plarium ad campaigns
Is Plarium always that generous? Or is "RAID" the only favorite child in terms of advertising? BuzzGuru Analytics allows to see what's going on with other company's games.
Compared to other Plarium's products (Vikings: War of Clans, Lost Island: Blast Adventure and Mech Arena: Robot Showdown), 90.75% of all the budget allocated to influencer marketing on YouTube went to promoting "RAID: Shadow Legends". However, "Merch Arena: Robot Showdowns" shows the fastest-growing spending with 197% M-o-M growth, while RAID's influencer marketing spending dropped by 64%.
To be sure your ad budget will come back in hundreds with new clients, customers, buyers, dedicated gamers, you have to be attentive when choosing influencers for advertising. BuzzGuru Analytics is the tool that allows you to perform the most accurate research for influencer marketing campaigns even if it's your first time working with creators.