The mobile app market is growing at an extremely fast pace: consumers of top mobile markets, including the USA, Indonesia, South Korea, and Brazil, spend over 5 hours per day using apps. In the pursuit of catching consumers' attention and getting more installs, app marketers constantly test new channels. As a leading influencer marketing agency specializing in app promotion, the Famesters team observes a growing demand for campaigns with content creators as well as interest in more and more creative approaches to brands' marketing and advertising campaigns.
Influencer marketing now runs the show. Why? Let's have a look at the figures. The industry's expenditures reached $16.4 billion in 2022. This year they are expected to grow to $17.4B, experts say. 
Influencer marketing is a powerful tool for app developers and marketers that involves working with influencers who have an engaged audience. This approach helps reach a large number of potential users who are likely to be interested in the app, build brand awareness and trust, and increase downloads. According to the BuzzGuru research, 71% of marketers agree that the quality of traffic from influencer marketing collaborations is better than from other sources.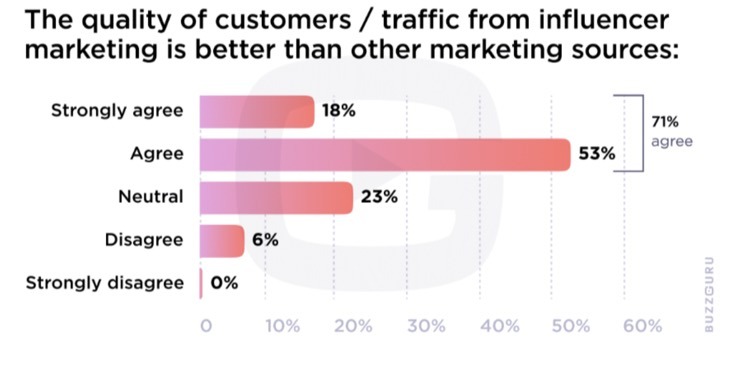 Influencer marketing helps spread your advertising message in an authentic way in comparison to traditional advertising methods such as Facebook Ads, Google Ads, or Video Networks (Applovin, SDK, AppLike, API, and others). Why? An influencer's audience considers the creator as an old buddy and, that's not a secret, people trust other people more than simple advertising. In this article, we will consider essential steps you need to take to successfully leverage the power of influencers to drive your app installs. 
Influencer marketing: in-house or outsourcing?
The very first thing, to begin with, is to make a decision about the contractor for your launch. There are two ways of implementing the campaign: hiring the agency or running your launch in-house taking all the responsibilities and communication with influencers by yourself. 
To make a choice, consider how many employees could be involved in running the campaign. If having one or two, it is better to apply to the agency. In this case, the agency is a one-stop shop that has the potential to communicate with dozens of creators, reach wider (or absolutely new to you) geos, make integrations worth thousands of dollars at a time, and get a wider reach for your app. Usually, companies come to Famesters for various reasons: lack of a dedicated team or experience, budget increase, interest in remote or new geos, or time-sensitive launches. 
Launching influencer marketing campaigns in-house suits you perfectly in case you already have experience in this channel and your own department. The obvious pros here are that you save the budget on the agency's commission, contact creators directly (for example, in case something urgent suddenly happens and you need to change the brief at the last minute), and take all the KPIs responsibilities on yourself. 
Platform and format. How to choose the right one?
To promote the mobile app, in most cases, the best choice would be YouTube, Instagram, and TikTok social media platforms. 
As for YouTube, there are 868.4M users worldwide, while 122M of them access it every day. It is a perfect platform for complex products because its format of integration allows you to explain the overall value of your app in detail. Additionally, you could get new users for months and even years after the integration: your ad video remains on a YouTube channel, and when new users surf creators' videos they definitely see your app. 
Every year brands allocate budgets on influencer collaborations, for example, to promote "RAID: Shadow Legends", a turn-based MMORPG and one of the top apps, its developers spent almost $30M on influencer marketing in 2022 on YouTube only.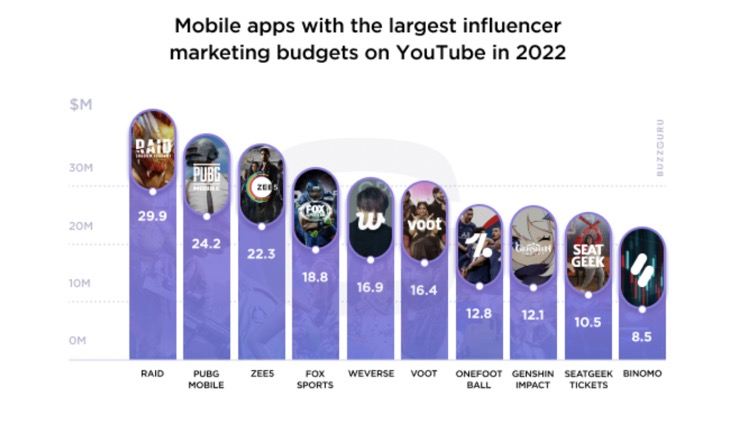 At our agency, we have expertise in successfully launching apps both on TikTok and Instagram, but the best choice of platform to promote this vertical is YouTube. Just take a look at how Famesters helped Babbel to increase the number of paid subscription purchases. 
As for formats, the choice here depends on goals you set for your campaign. They usually are: 
Pre-roll, mid-roll, and post-roll – short ad integrations in influencers' videos in the beginning, middle or in the end of their video. In most cases, people are already prepared to see such ads and may skip your integration.
Shoutout – the most popular format of 60-90 sec native ad integration in the creator's video. Here, a creator tells about their own experience using your app, highlighting its values and influencing people to install it.

 

Dedicated video is an integration with a clear overview of your app. This is the best choice if you want a comprehensive overview of your app.
Choosing influencers to collaborate with
Prior to selecting the influencers for your app promotion, identify your target audience first – create a clear image of those who might be interested in your app. For sure, before you started developing the app, you have already considered your target audience. But take some time to stop here and think them over again. Who are the people you'd love to target? Try to describe them as clearly as possible: mention age, gender, location, occupation, interests, devices, and others. It is clear that different app types target different audiences. For example, a business app may target a solvent mature audience interested in boosting their productivity, while a mobile game, let's say Subway Surfers, targets "younger audiences having smartphones". Having a clear picture of those you'd love to target will help you facilitate the choice of influencers.  
Typically, there are two ways of discovering influencers: manual search and the use of analytical tools. Manual search requires a lot of time and effort. That is why most companies use AI tools, like BuzzGuru, to identify the best influencers to collaborate with and get their real account statistics in a few clicks. 
When choosing influencers manually, keep in mind that a number of subscribers tell not so much: do not make your decisions based on this information only. Do your own additional research to outline engagement of their audience by checking out the comments and seeing their reaction to sponsored content. Have a look into videos in the last few months, analyze which topic gains more views, and try to choose the type of video content that gets more engagement. For example, the influencer observes some related topics, at the same time their video about iPhones gets about a million of views while the content covering Android gets half of a million. Integrate your app promotion into the first type of content that potentially will get more views. 
Selecting The Campaign type
Make a choice on when you would love to get your integrations released.
A one-time launch – the release of all your ad videos in one day. This brings a large number of app installs at once, at the same time allows you to grow the organic traffic, and go to the top in a region of your launch. As a result, this approach positively affects your project's metrics.

 

Choosing ongoing campaigns means the release of your integration without fixing a specific date. You simply agree on any day within the period while influencers decide by themselves the date and time to release your integration–some creators prefer to post the content on a certain day of the week or time.

 
Besides, influencers may turn into your brand ambassadors and regularly mention your app in their videos. For example, while an influencer's audience positively perceives the ads, the creator could outline new features or events in your app. In most cases, having a brand ambassador leads to the free promotion of smaller influencers – they could mention your app in order to enhance their content and make it more valuable.
Measuring results
Even if your influencer marketing campaign seems to be successful, make sure the numbers prove your feelings. Get a clear picture of campaign outcomes by tracking the most important metrics:
The Install rate – an increased number of downloads means that the main goal of your influencer marketing campaign is achieved.
The retention rate indicates the number of users who continue using your app after downloading it. This metric is usually indicated with a DAU/MAU ratio that shows the percentage of users who remain active on your app after installation. It is calculated by dividing the number of daily active users by the total monthly active users. For example, if your app has 3,000 daily active users and 10,000 monthly active users, the DAU/MAU ratio would be 30%. This metric can be a useful indicator of how well an influencer is communicating app features and updates, as well as how effectively your app can engage its users.
The churn rate helps track the growth of your app as it shows the percentage of users who stop using the app after downloading it. This metric is measured after the 1st, 7th, and 30th day after the first download.

 
Also remember to measure the organic traffic, click-through rate, cost per install, cost per click, and conversion rate to get a clear picture of your influencer marketing campaign outcomes.
The best time to implement influencer marketing strategies to attract new users is now. To reveal your influencer marketing potential, contact Famesters agency and entrust this task to our experts who have 6+ years of experience in promoting apps, games, software, and other complex products. We are always happy to assist you in acquiring new users and reaching new heights in your business.