According to a Cisco study, by 2022, 82% of all online content will be video content. This clearly shows how important it is to start utilizing video content to stay relevant in the social media domain. In the near future, videos will dominate social media. Audiences are more receptive to content that quickly communicates the message and grabs attention or, in other words, that which provides instant gratification. This has led to the evolution of video consumption trends – specifically a shift towards short-form video. Even now both long-form and short-form videos are among the most-shared content on social media. There will be an emphasis on creative, engaging storytelling that captures user attention in seconds.
TikTok as a marketing tool
The emphasis on video means that video-driven platforms such as TikTok will continue to grow in popularity. TikTok marketing campaigns are relative newcomers to the marketing industry. Chinese owners ByteDance introduced the platform to the US back in 2017, before acquiring and then merging it with the popular Musical.ly app in August of 2018, creating a larger video community, with existing accounts and data consolidated into one app, keeping the title TikTok. 
Currently, it is the leading destination for short-form mobile video and video-sharing social networking services. It is used to create short dance, lip-sync, comedy, and talent videos, and is extremely real, bold, fun and lighthearted. TikTok's audience isn't overly concerned about obtaining the perfect shot. Rather, be your authentic self and embrace your flaws while finding a community that does the same. A famous trend now is to post videos around "I used to be so beautiful, now look at me" topic, where people show how "beautiful" they actually look like when they hang out home alone, no makeup, no filters.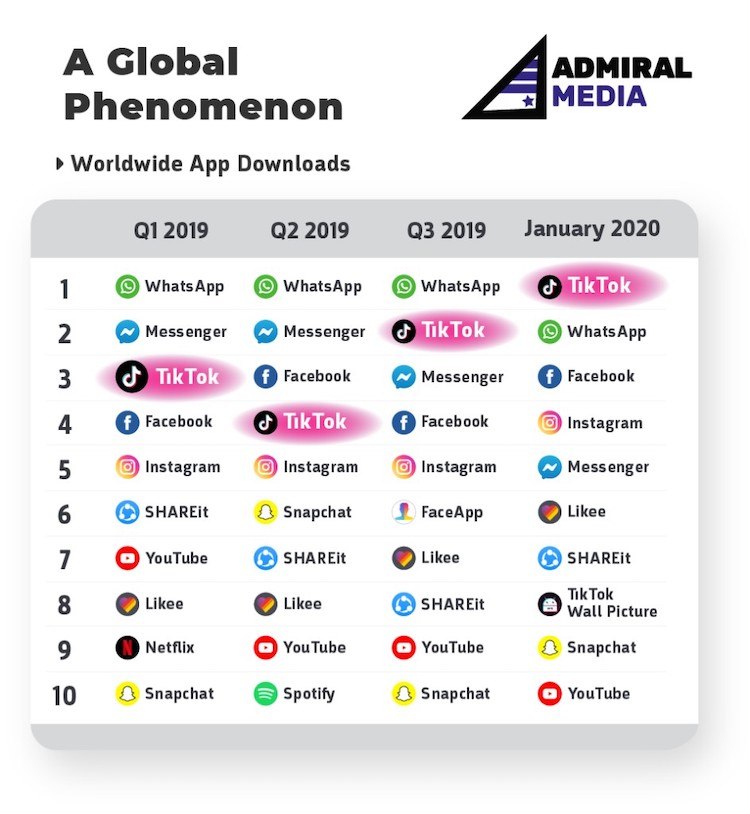 Although TikTok is social media's newest kid on the block, the app has had an astronomical rise to the top. Reports in October 2019 indicated that TikTok has so far 450M monthly active users, making it one of the most popular platforms in the world.

Now, with brands and influencers feeling more and more comfortable on the platform, it has truly begun to demonstrate its real potential as a marketing tool. And before you think: the current TikTok audience does not match your actual app audience, please have a look at the demographics split. It is a false belief that TikTok is a new thing for kids only! Your audience is active on TikTok – maybe not so much as content producers but as consumers.
While in the beginning it was labeled as the app for teenagers, and even though the app is still more popular among them, the latest figures actually show a shift away from this trend, older generations are joining TikTok and they also want to be part of the fun! 
Everyone is using TikTok now
As the world is facing an indefinite period of social distancing, not only teenagers on TikTok are bringing people together with memes about coping during the coronavirus pandemic. Registered nurses are doing choreographed dance performances involving a lot of hand motions as facts about Covid-19 flash on the screen, such as how long the virus stays on different surfaces or demonstrating proper handwashing. More and more doctors as well as creating TikTok accounts intending to reach the younger demographic with health education information and aiming to share relevant information from trusted sources. Videos using the hashtag #coronavirus are up to 57.7bn total views on the app. 
Parents and grandparents also tend to join the conversation and as another side effect of social distancing, while spending their time at home, completely isolated from the world, also discovering the enjoyable fun parts of TikTok. The parents are following the trends and even making fun together with their kids being on TikTok. This results in the popularity of hashtags like #dadsoftiktok, #daddycool, or #granniesoftiktok.
For this change in demographics, of course, marketers started to react. While during the early stage of TikTok advertising the focus was always on capturing younger audiences, now even giant brands, like ESPN or Apple Music, widen their communication to their more mature fan base and consistently sharing engaging content, like old game replays, music selection from the 60s and 70s – but in line with the latest trends – synched with funny narration, or up-to-date beats, this way keeping both millennials and earlier generations entertained at the same time.
Not to mention those creators that did the most dance-based videos in China are users born in the 60s, as a simple result of the fact that the 'smartphone native' internet users in China extend beyond GenZs and Millennials. Those born in the 60s, 70s and 80s in China are intimately familiar with smartphones and apps. Therefore, it's not so surprising that social apps, even Douyin, aka TikTok in mainland China, are not for the young-only.

Download our MMP Buyers Guide
Having a trusted partner for accurate, unbiased, indisputable data and real-time insights is no longer a nice-to-have, it's a must-have. Download our guide to help choose your next MMP provider.
DOWNLOAD
MarketingCharts TikTok data (March 2019) finds over 50% of TikTok users in the US are aged 18-34. While at the same time, we still find a quarter of US TikTok users are aged 45-64. Its appeal, therefore, is not simply limited to kids, and if we think and check from an income perspective, we find a preponderance of usage among those with household income in excess of $100K plus (37% of users).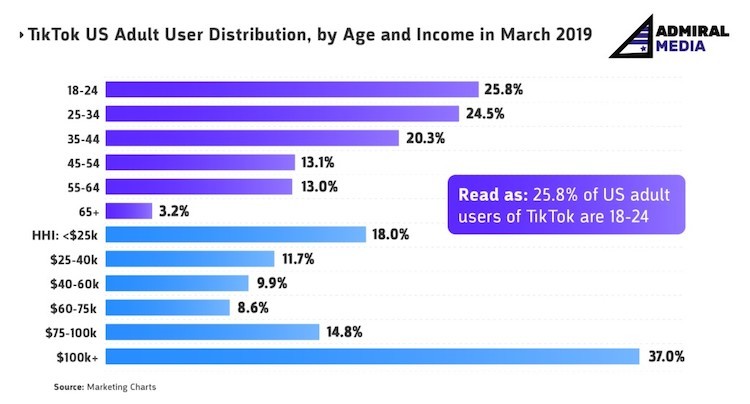 Let's look into the real numbers
You can look at some results we achieved for some of our clients in the last 60 days and see for yourself: reduced CPI by 50% at scale, 90% cheaper CPMs and so on. So, if you have not been paying attention to TikTok yet, you may want to get started.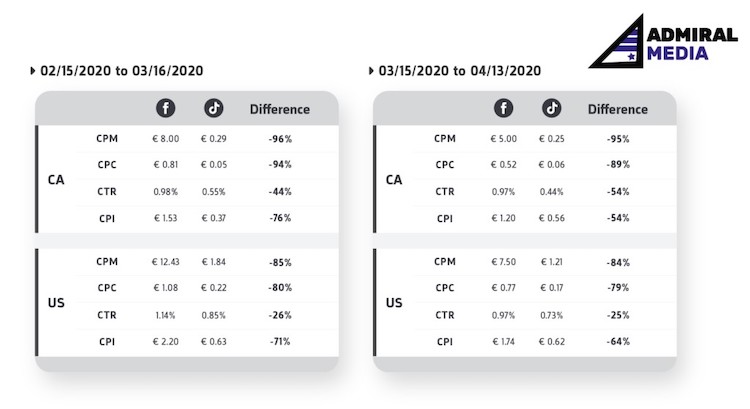 We have analyzed the demographics data from the last 30 days for some of our clients, too. From our reports, we can see that we were able to achieve similar demographic results on TikTok, like on Facebook.
The age split is very interesting. While we obviously assumed that TikTok would be the absolute winner among the younger target audience, we can also see a significant difference and double ratio in terms of the 55+ range for TikTok! Keep in mind that we excluded people below 18 years as all our current clients were interested in adults only.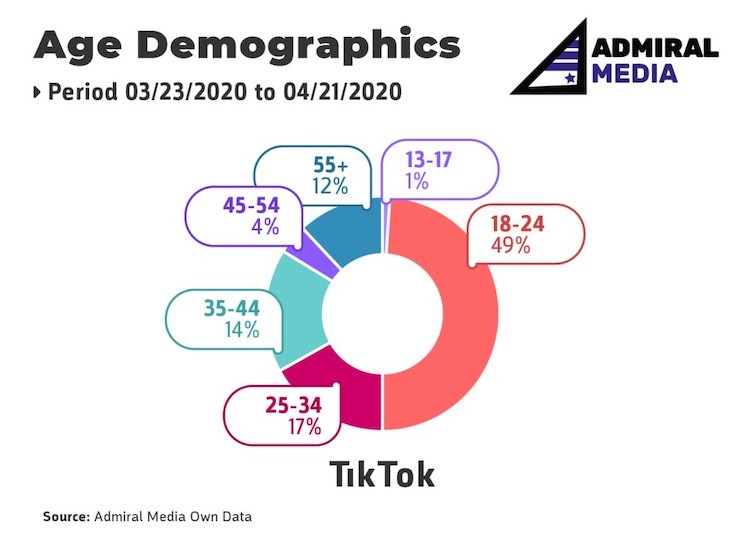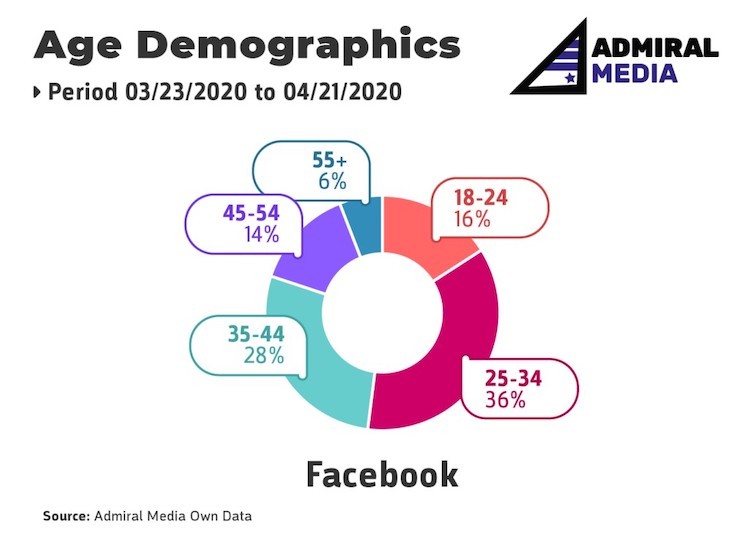 Reach your target audience with us
Are you running TikTok Ads already? We are happy to help you getting started or improving your current efforts. If you want to get more information from past clients, just have a look at our Clutch profile or reach out to some of our clients. We are happy to make you an intro for a reference check. Here is a short description of all available ad products on TikTok which you can easily book with Admiral Media. Just contact us and we will guide you through all the opportunities.
In-Feed Video: Ads appear in the native news feed of TikTok on the 'For You' page. If you enjoy Instagram stories in full-screen mode and feel how good they help in advertising, then TikTok 'In-feed native ads' are just the tool for you. These have options for adding website links and order now buttons on the ad itself, which helps users to land on the page directly. These are skippable ads and have multiple options for designing the overall ad. The usage of the ad can be traced by click-through rates, impressions, total views, video viewing time, and the engagements received.    
Brand Takeover: Ad appears when TikTok users open the app and completely take over the screen for a few seconds before turning into an 'In-Feed Video ad'.
Hashtag Challenge: Ad appears on the 'Discovery' page. It encourages users to participate in user content creation challenges. These can include a shoppable component for retailers. The most popular Twitter-inspired activity that gathers audiences and spreads the brand message organically. The hashtag challenge campaigns are mostly non-sponsored, and with the right content, they can make any marketing strategy popular amongst the users and consumers. Hashtag challenges by influencers are more achievable for their extensive reach, thus making it a far-flung accepted ad concept. Additionally, it garners a considerable number of organic engagements. In this type of advertising the user gets to see a specific banner ad that will take the user to the page of instructions and rules of the featuring challenge. The banner is put up on the 'Discovery' page and depends on user content. It can be measured with insights that include banner views, clicks, number of user-generated content, number of views, engagement, and trending slot.
Branded AR Content: Ad appears as branded lenses, stickers, and other 2D/3D/AR content for TikTok users to use in their videos. These are category exclusives, and hence only a single brand can take up a category per day. Reach can be measured by impressions, click rates, and unique reaches. The brand takeover ads are effective because TikTok marketing tools are simple, user-friendly techniques that have got great effects on branding a product or service.
Custom Influencer Package: Ad appears as part of sponsored content created by a TikTok user with influence in your market.
Your own branded account: Besides sponsored content, advertisers can also open a branded account to have a strong brand presence here. It is useful to reach out to millions of potential TikTok customers, manage day-to-day communication, nurture more leads & organic conversions and build brand loyalty. After making your brand debut on TikTok, developing an organic TikTok content strategy will help you achieve your goals with greater speed and efficiency. They developed a simple model that can be easily understood and quickly applied to your brand. Once set up, the content strategy model can be adjusted to your needs whenever needed. Besides the regular content function, advertisers can bring together all branded content while customizing the page with a purchase link and pin-to-top videos, while also being able to analyze follower distribution & monitor content performance on a data-management platform.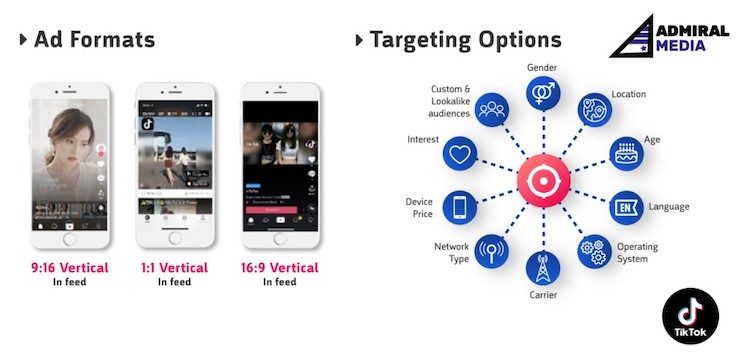 Net-net, TikTok marketing strategy now has set trends, has popularity, and reach capabilities which are increasing with each month passing by, and marketers must consider giving it a try this time if they have not yet done so. Now, since TikTok allows first advertisers to use their platform and promote products and apps, we at Admiral Media were one of the first performance marketing agencies to jump on that opportunity and run some campaigns for a few selected clients. If you are interested to start running UA on TikTok just get in touch. 
We, Admiral Media, are a highly specialized performance marketing agency for apps. For more than 10 years we consult mobile app publishers and help them to grow their user base. We successfully manage their global performance marketing campaigns across all digital marketing channels. Most of our clients are specialized in developing great apps but often they need fresh ideas and insights from other industries and apps that might be doing something different. We run app advertising campaigns on a global scale and have the ability to replicate such insights for your own business.
In order to get in touch, you can reach us here.