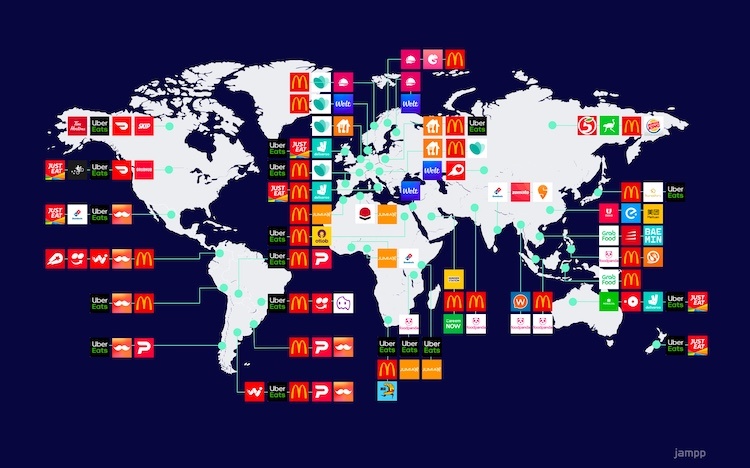 Most apps are facing more demanding growth goals than ever. In the Food Delivery industry alone, investments over the past years surpassed $9.6B, and Latin America doesn't fall far behind.
Brazil has been experiencing fast growth as regards technology penetration. With a smartphone adoption rate of 81% expected to reach 88% by 20251, this increase in mobile usage has brought the Brazilian market under the spotlight. After all, with a population of 212M, we can see 212M reasons why taking a chance on Brazil is worth it.
In this market, mobile users make up over 93% of total internet users2, and they represent 34% of mobile app sessions in Latin America. And when it comes to ordering food… Brazil is king 👑. Last year, a report by the Brazilian Association of Bars and Restaurants (Abrasel) stated that online food delivery had grown by 80% in 2018, and that by 2024 it would have completely replaced traditional food delivery. Most of those orders are now going in-app ➡️.
Some insights about App User Acquisition and App Retargeting for Food Delivery apps…
In 2018, Brazil was ranked as the 4th-largest market in app downloads—reaching a total of 7.3B new installs3. In 2019, according to AppsFlyer data, Brazilian apps reported a 50% YoY growth, and Jampp further registered a total 246.4%4 YoY growth of Food Delivery apps in Brazil during the same period.
The following infographic features key insights based on internal data from the last six months. Read on to learn more about the complete Food Delivery app user lifecycle, from discovery to re-engagement.
What does this mean today? A note on COVID-19
The rapid growth this vertical has seen over the past years has certainly made it easier for the industry to help supply essential services for the population. According to a Google mobility report, since February, people in Brazil have visited groceries and pharmacies and gone to workplaces 35% and 34% with less frequency, respectively5.
Within users surveyed, an extra 17% are now staying at home. And the more people stay at home, the more they rely on Food Delivery apps. Coronavirus turned into the final push for people in Brazil to fully start using these services in their everyday lives. iFood, one of Brazil's major Food Delivery apps, reported a 400% increase in demand, mainly in products such as hand sanitizer and food such as rice and beans6.
Balancing Supply & Demand
Sudden surges in demand can often bring their own challenges. However, as online Food Delivery keeps gaining momentum, app marketers are finding new ways of matching both sides of their business. For example, Geolocated Ads allow advertisers to leverage users' geographic location to promote the restaurants and stores offering delivery in their area, ensuring they only show ads in areas where there is enough supply and delivery people. Furthermore, since these ads are integrated with the app's product feed, creatives are automatically updated according to restaurant availability.
Wrapping up
Mobile users stuck indoors continue to rely on in-app food orders and develop new consumer habits, which marketers hope will translate into long-term customers. As the traditional user behavior gives way to new habits, programmatic technology will play an even bigger role in making App User Acquisition and retention more efficient.
1. "The Mobile Economy: Latin America & the Caribbean," GSMA, 2019.
2. "From Food Delivery To Fintech, The New App Convergence In Brazil," Forbes, 2019.
3. Appsflyer Data Q2 2019.
4. Jampp internal data, 2019.
5. "See how your community is moving around differently due to COVID-19," Google, 2020.
6. "Brazil delivery app iFood sees job applications double after coronavirus," Yahoo Finance, 2020.