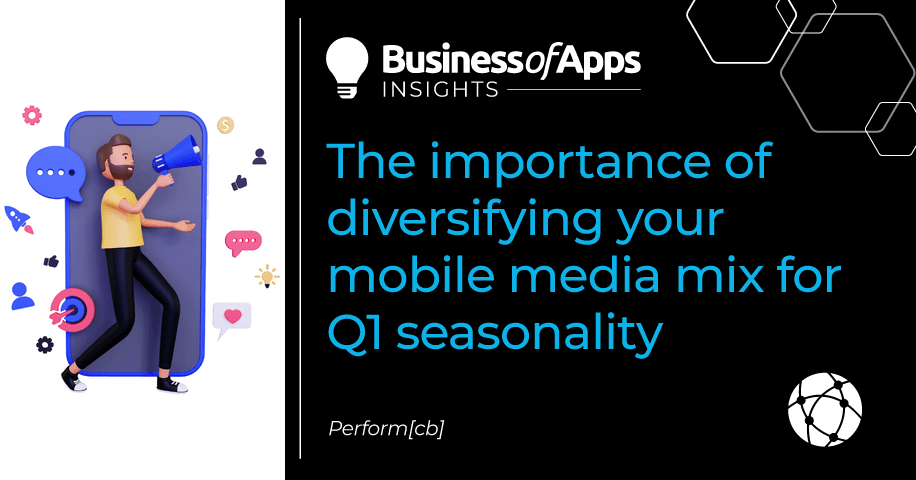 Users across the world continue to shift more and more attention from their big flat screens to small phone screens. With the average person spending at least 3 hours a day on their mobile devices, if not more, this creates ample opportunity for mobile app marketers.
With every new year comes new opportunities, trends, and channels for mobile marketers to diversify their app's omnichannel marketing strategy. While Q4 tends to be labeled as the biggest user spending time of the year, apps in top verticals including food delivery, e-learning services, and finance know that Q1 is a close second in driving record-high monetization. Let's hone in on how to maximize ROI for your mobile app in the new year.
Connecting with users through video
Mobile video consumption continues to increase by 100% every year. Who wouldn't want to watch a quick video rather than read lengthy fine print? By incorporating video throughout your media mix in Q1, app marketers can build a sense of connection with potential users, further drive engagement, and motivate a qualified install. Don't be afraid to test video creative across various high-performing media channels, such as social, OTT, and native. This could entail product reviews on TikTok, short promotional videos through Apple TV or HBO, and eye-catching video animation ads.
It's essential for mobile marketers to test and optimize around different messaging, video creatives, CPI payouts, and time of day to learn what drives the highest engagement from their desired users. Perform[cb]'s proprietary technology delivers advanced capabilities to A/B test various campaign deliverables, analyze what drives higher conversion rates, and automate offers to only use the top performing creatives moving forward in the app campaign. Reach out to our team of user acquisition experts to learn more about how you can reach untapped audiences through video in the next year.
Increase installs through social media
Did you know over 50% of users across the globe scroll through social media on their mobile phones in search of new products, services, and apps, and 40% of Gen Z look to the channel for brand research over Google? Mobile marketers must not ignore the surplus of user acquisition potential during the "New Year, New You" months. From Facebook and Instagram to LinkedIn and Twitter, and the latest advertising holy grail, TikTok, social media is one of the top distribution channels to drive increased user acquisition and post-install activity for app marketers.
By proactively testing ads across various social channels ahead of Q1, app marketers can accurately plan KPIs with plenty of time to make optimizations for maximum ROI. Popular marketers with Q1 seasonality, including E-learning and language learning apps, see huge conversion spikes in the new year as consumers look to learn a new language or pick up a new skill. Learn how the world's first language learning app, Babbel, saw a 130% increase in orders YoY with top-performing publishers, including social, ahead of Q1 with Perform[cb].
Whether you're an app in the e-learning, health and wellness, or financial services vertical, Q1 will be here before we know it. Learn how you can prepare your user acquisition strategy to stand out from the New Year crowd.
Unlock untapped inventory with iOS and Android
While, in general, iOS generates more revenue and user engagement, Android has a greater market share, so it's crucial mobile marketers target both traffic channels to scale user acquisition throughout Q1. Push notifications are essential in retaining qualified iOS and Android users and encouraging them to make post-install engagements. Enable push notifications to share valuable information with users, such as promotions, new services or features, purchase and subscription notifications, and more. Q1 is the time when consumers re-evaluate their subscription services, so offering competitive promotions and information through notifications is vital in the new year. Discover how a leading entertainment app saw a massive increase in untapped Android users just one week after running a push notification campaign with Perform[cb].
It's important for marketers to utilize Apple's tracking solution, SKAN 4.0, to avoid missing out on untapped iOS inventory ahead of Q1 seasonality. SKAN 4.0 provides improved granularity in campaign dimension reporting, making it far easier for marketers to identify sources and have greater insights into conversion values. In order to remain compliant with Apple's ATT while driving iOS traffic to your mobile app, mobile marketers should consider working with a trusted media partner, such as Perform[cb]. Learn how Perform[cb] proprietary technology optimizations delivered additional tracking capabilities to its mobile clients amid increased SKAN traffic, providing incremental installs and growth.
3, 2, 1… Happy New Year!
Whether you're looking to acquire qualified installs or drive increased post-install engagement, diversifying your media mix and partnering with the right outcome-based marketing partner is paramount to Q1 campaign success and user acquisition at massive scale.
Ready to scale your mobile app with our team of user acquisition experts? Let's get started.