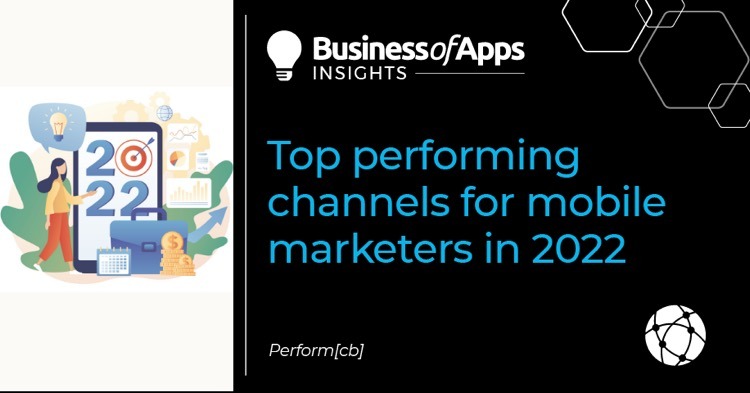 With every new year comes the perfect opportunity for mobile marketers to reconnect with users and re-evaluate their acquisition strategy for that little extra push – let's get 2022 off to a strong start. 
Are you a mobile marketer in search of a change to your current user acquisition strategy? Looking to drive new users and re-engage those who went dormant? It's time to explore the opportunities that new distribution channels may have, and how you can utilize these channels to reach users across the apps they're using most. Yes, standard digital channels such as Google and Facebook are still great. However, if you're not open to investing in other marketing channels, you may be missing out on untapped ROI. As changes to user privacy show no sign of slowing down, it is up to app marketers to consider new channels to increase engagement while maintaining personalization. 
Increase engagement with SMS and Video
Does the word "engagement" seem to be on a loop, or is that just us? Across the mobile landscape, it seems as though users want two things: privacy and to be engaged. For mobile marketers, we realize achieving both simultaneously is a difficult task – but it's not impossible. By incorporating video into your SMS marketing, app marketers can further create a sense of connection between users that drives engagement and motivates them to take action. Only those who have opted-in to receive your messages can be targeted through SMS, ensuring that marketers still respect user privacy standards. 
With less than a 5% opt-out rate, SMS will continue to be a winning distribution channel for many as it has the power to drive personalized messaging despite privacy regulations. Smartphone users check their phones up to 160 times a day, or once every 9 minutes. With consumers being more reliant on their phones than ever before, it would be a shame for app marketers to push SMS marketing off to the side. When reflecting on the previous year, 75% of consumers stated that they'd prefer to be contacted by a brand through SMS. 
In addition to the growing success of SMS, mobile marketers who have yet to consider video marketing are missing out. According to Statista, revenue driven by video ads will reach $35 billion by 2024. Everyone and their mothers have heard of the popular video marketing app, TikTok, by now. Being that it is one of the highest-ranked apps when it comes to consumer spending, it's no surprise that the platform will continue to dominate the mobile ecosystem in 2022. 69% of consumers prefer to learn about what a brand offers through video, so why not send a quick intro video when a user opts into your SMS marketing? 
Navigating 2022's privacy restrictions
To be able to create personalized content and drive user acquisition, marketers must rely on data – easier said than done. Mobile advertising in 2021 was dominated by Apple's App Tracking Transparency (ATT) privacy policy. App marketers knew from the beginning that ATT would significantly hinder ad performance and disrupt the dynamics of the mobile ecosystem. Although Apple continues to release updates that provide app developers with data using its SKAdNetwork, attribution is minimal and user data is essentially anonymous. In an effort to increase new user acquisition and navigate Apple's new SKAN environment, many mobile marketers have found success using native display. 
Simply put, display advertisements are among the most visually engaging ads available to mobile advertisers. Strong visuals create a better user experience, which in turn can lead to an increase in conversion rates of up to 400%. When running native display, these ads are meant to "natively" fit into the media in which the ad is shown, rather than using third-party data to target the user. At Perform[cb], a popular banking app saw a 233% increase in new users in just one month after investing in native display traffic. Download our 2022 Digital Trends Guide to gain exclusive access to learn how this finance marketer went from 150 installs per day to 500. 
Achieve privacy-first targeting with contextual advertising
When a customer engages with a brand on their mobile device and clicks on an ad, they want to quickly be taken to the correct landing page. If that expectation isn't met, or worse, if the landing page is unrelated to the content that made them click through, bounce rates will be high. According to a recent Statista study, over 51% of marketers remain reliant on third-party cookie data for their digital advertising efforts. However, with the extinction of third-party cookies expected in 2023, mobile marketers need to begin adopting new methods for tracking user activity now. 
User privacy must be respected in order for marketers' campaigns to prevail, which is where contextual advertising comes into play. For those who may be unfamiliar, contextual advertising is a targeted advertising technique that leverages the contents of a page to reach and advertise to relevant users. A recent study found that 69% of users were more likely to engage with contextually relevant ads over behaviorally-targeted ads. Additionally, mobile advertisers can still access data such as the location of the user's mobile device, time of day, and the person's interests to achieve privacy-first targeting. As a result, 70% of marketers say context has become more important in their marketing strategy, with many expected to increase their spending in the channel through 2022. Learn more about how to navigate this year's user privacy and data compliance shifts in Perform[cb]'s 2022 Digital Trends Guide. 
Dive into ROI success in 2022
As a mobile marketer, you need to be quick to adapt. From a nearly two-year-long global pandemic to user privacy regulations that seem to constrict by the day, we've seen marketers like you handle just about anything, so long as there's a thoughtfully-crafted strategy in place. To outperform competitors in today's mobile app ecosystem, it is crucial for advertisers to be innovative in their approach and stay ahead of trending channels.

Interested in learning more about the top strategies to increase new user acquisition and scale post-install engagements throughout 2022? Download Perform[cb]'s 2022 Digital Trends Guide to unlock the knowledge necessary to develop and execute a successful user acquisition strategy this year. Reach out to our team of mobile experts to learn more about how we can maximize your ROI and scale your mobile offers across new digital channels in 2022.