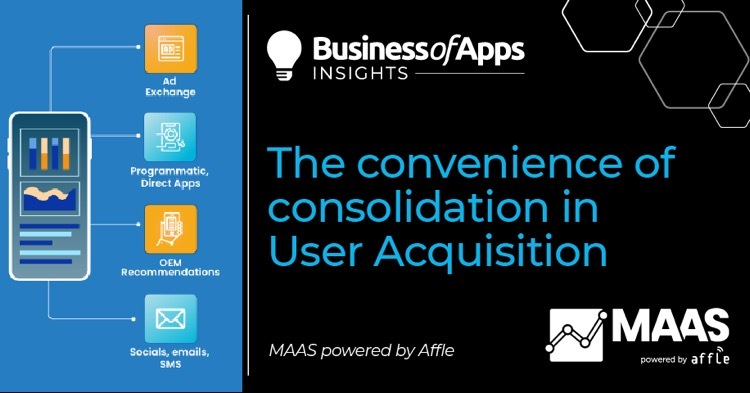 Quite recently Gojek and Tokopedia made news in southeast Asia with their merger to create the landmark GoTo group. Ever since, the discussion around superapps has heightened and consolidation has become a buzzword in the global app ecosystem. GoTo group president, Patrick Cao, in his public statements focuses on why consolidation is the next big trend in the app marketing space – it's set to drive diversity, stability and sustainability. App fatigue in users juggling across multiple apps primed the ecosystem to further popularize superapps. WeChat, Careem, PayTm, Rappi, Kakao all started out with a core service like messaging, ride-hailing or simple P2P money transfer to eventually diversify their offerings to gain more users. 
As smartphones house more superapps over single service ones, the user data bank also becomes complex. A single user displays affinities for different kinds of services – ride hailing, doorstep deliveries, online transactions, etc. Additionally, the user journey from installation to final retention has several data points to consider to optimize acquisition strategies. Hence, apps evolving to become a unified platform to cater to a user's everyday needs, insists on user acquisition models that meet amplified demands of high ROI and lower UA costs. This is where consolidation of channels to create a super platform for every UA requirement becomes the need of the hour.
Does what drive the demand for consolidation in User Acquisition?
The global smartphone penetration rate is approximately 90%. This vast user base comes with its own share of challenges in terms of marketing mobile apps. Let's take a brief look on what is driving the consolidation discussion in the UA space.
Audience overlaps : User acquisition channels traditionally work in silos and do not converse with each other on audience targeting. The same user is served ads across multiple UA channels irrespective of their desire to convert. As a result, precious marketing dollars are misspent instead of diversifying the budget to target a larger prospect pool. 
Underutilization of data : UA platforms focusing on certain types of ads or specific channels lose out on creating a deep data bank. For any AI or ML based technology to perform at its complete potential, data is the fuel. The smaller the data pool, the lesser chances of accuracy in terms of targeting prospects. A campaign spread too thin, especially when budget is a serious element to consider, does not gather enough data for machine language algorithms to provide useful and actionable insights. A consolidated platform can provide data not just in terms of possible reach but also user behaviors post install, in-app engagement, interaction of prospects with ad creatives, etc. The multiple layers of the data analyzed is imperative to selecting the right audience group that shows a high affinity for conversions.
Scope of analysis and optimization : A user acquisition campaign spread out across multiple channels requires an in-depth performance analysis. Comparison of channel performance at a granular level becomes unwieldy when the dashboards are not in sync with each other. It prevents the marketer from getting a truly transparent view of their campaign performance affecting optimization efforts.
The value in UA consolidation
A great user acquisition strategy takes into account certain key factors – reach, optimization, returns on marketing spends. A consolidated user acquisition platform is designed to deliver KPI based sustainable scale.
Campaign distribution
The days of spray and pray campaigns are long gone. Mobile marketing today is all about precision. On a consolidated platform, marketers have the option to choose the perfect mix of channels to target users with a higher lifetime value (LTV). Channel unification allows marketers to analyze where the different cohorts of their prospect audience spend most of their time facilitating precision targeting. The campaign is not spread too thinly across and is evenly distributed on a palette of high performing channels. In this case, channels are no longer working in silos, reducing the chances of overlapping audiences. This is especially helpful when brands have a mixed target audience who show affinity to convert on a variety of channels.

Experiment, analyze & optimize
The greatest benefit of a consolidated UA platform is analysis. Apart from the usual campaign performance metrics, the single dashboard of unified platforms provides valuable comparative insights. It gives a transparent view of how channels are performing against each other – which channels are drawing in higher conversions? What kind of creatives are working for each channel? What is the rate of audience overlap of the overall campaign? A unified dashboard will ideally break down the analysis in the following parts – an overview of impressions, taps, clicks, installs, registrations, transactions or purchases with CR, TTR, average CPA and CPT; frauds and their sources; reports on publisher performances and monetization activities; performances and placements of creatives; and device, region, demography, social media based campaign performance reports.
This granular awareness empowers the app marketer to decide on budget distribution geared towards higher returns. It also helps them to hone their creative strategies to form a better connection to their audience. The data based analysis improves precision levels, targeting and converting users who are set to retain for a longer period of time.
Sustainable & diverse scale
A sustainable mobile app scaling strategy requires hunting out new audience pools. A consolidated UA platform sifts through billions of device data to understand user behavior and affinities. The extensive data drawn from various channels gives an opportunity to create audience look-alikes enabling discovery of new cohorts. With all user acquisition needs met on one platform, campaigns can focus on improving down the funnel metrics leading to long term growth sustainability. 
Improved returns for advertisers
Reduction of audience overlaps, performance based budget distribution, live campaign optimization, complete transparency of overall campaign, quality user acquisitions driving higher retention – the multiple benefits of a consolidated platform combine to ultimately provide advertisers value for their money.
The conversation of consolidation in user acquisition is just getting exciting. The benefits of a one-stop shop for user acquisition needs have simplified the intimidating UA maze for app marketers. Contextual ads, the next version of iOS 14.5, phase out of third party cookies – the upcoming year is all about challenges in the mobile marketing space. A unified UA platform makes it easier to circumvent the challenges. Whether it's creative level insights, install vs. post-install metrics, a unified platform's transparent scrutiny gets marketers to drive their budgets quicker and more efficiently.