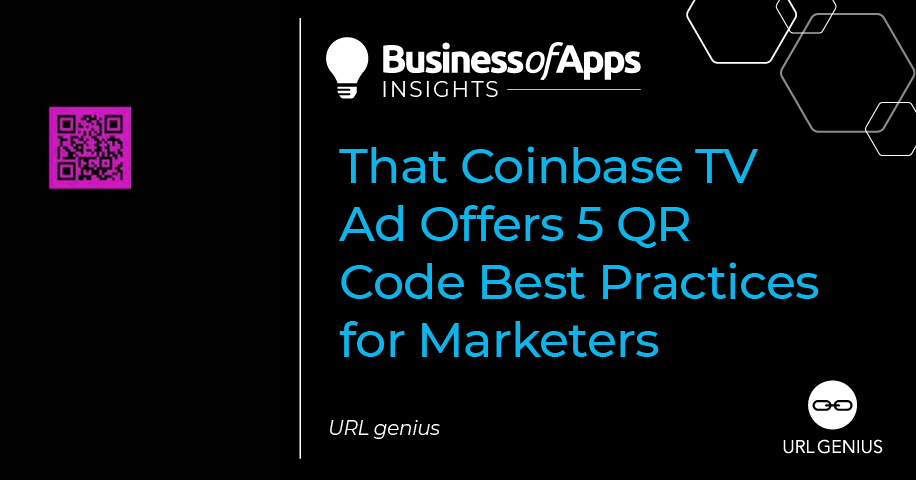 Who would have thought a few years ago that QR codes would be making headlines all over the world? With 20 million scans and counting, that Coinbase Super Bowl ad with the bouncing Atari-like QR is still making waves in the world of advertising. No longer an afterthought, marketers and agencies are now rushing to implement strategic QR campaigns that transform the customer journey.
Despite being around for a while, the technology behind QR codes is not widely understood — especially when it comes to app marketing. That makes them prone to error leaving marketing teams aghast when the QR code doesn't scan at campaign launch.
The Coinbase team, however, showed the world how to get QR codes right and how they can be used at scale to reach millions of consumers. App marketers take note because the QR is more than a shortcut, it has officially arrived as key tactic for increasing app installs and engagement. Consumers are not only willing to scan, but they are expecting to scan – and to be delighted by the offer or experience.
As you and your team embark your app's QR strategy, here are 5 best practices from that Coinbase QR TV ad that will help shine a bright light on your app: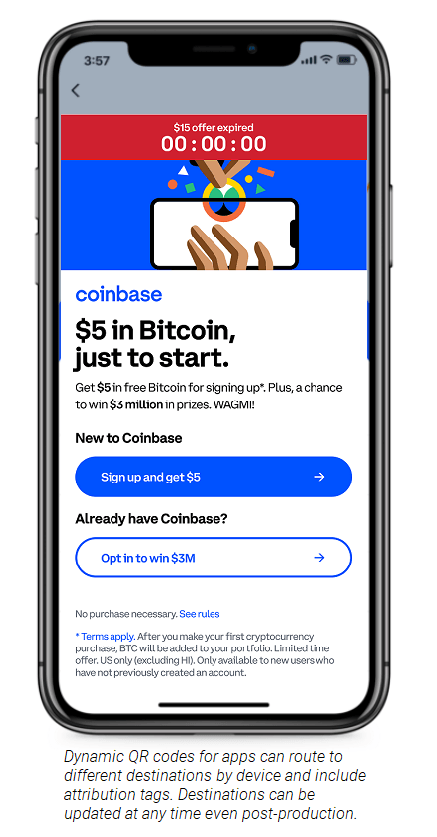 The QR code for your app should accommodate all audiences
If you scanned the Coinbase QR and already had the app your phone, notice you went to a landing page where you could open the app from there. That extra step wasn't required. The QR could have just opened the app to the right screen. Granted, the purpose of the ad was to attract new customers. Even so, millions of existing customers likely engaged the Coinbase QR experience, and they should have been routed into the app to a relevant screen and offer designed just for them. Consider each audience that could possibly scan the QR code and make sure you can route them to the right place whether it's a web page, a certain screen in the app, or the right app store. An advanced QR code can do it all.
Attribute scans back to TV or any other marketing channel
The link behind the Coinbase QR code appended the tag '?qr' at the end of the URL. This allowed the website to attribute online activity directly back to that TV ad. The marketing team not only wanted impressions but to count scans and attribute that engagement back to the ad. Yes you heard that right, lo-and-behold, the industry now has attribution for TV. QR codes give you that powerful insight. Be warned, a common mistake is adding too many tracking parameters which bloats your QR into a high-density code that is unscannable for users.
Establish trust by using your brand's domain in the QR link
We've all seen unfamiliar URLs when scanning QR codes, but the Coinbase QR showed "coinbase.com" in most camera QR scanners. This is a smart move that inspires trust with consumers. Coinbase basically inserted their brand into the experience – context that was not seen in the TV ad itself. Encoding their own URL as the QR code versus using an unfamiliar domain or potentially harmful link shortener domain provided a signal boost that helped drive 20 million users to their site.
Low-density codes and simple designs are more easily scanned
If your marketing team is just starting to use QR codes you might hear comments like "that QR code is ugly and not on brand". So, what does a marketer do? You send your agency off to get creative with color, shape, and logo designs. The problem with getting too creative is that the QR may not scan. Consumers are now accustomed to basic QR codes with a logo in the center at most. A simple, low-density code will deliver more scans and the Coinbase team got that right. The result was an immediate, spectacular boost in the ranking of the Coinbase app from #184 to #2 in their category. Now that's a QR designed for maximum scanning!
Is your audience on the couch or in the store? Get scanning distance right.
QR codes look like simple 2D boxes. But a third dimension – distance – is one variable you need to optimize for success. The Coinbase ad reached us when we were all on our couches 10-15 feet away from our screen. Being scannable from that range requires significant screen real estate dedicated the QR code display size. Coinbase displayed their QR large enough on screen to be scannable for most viewers regardless of TV or phone. To free up that space they boldly made the QR the center of attention – avoiding any competing visual element.
Coinbase's Super Bowl ad demonstrated that QR codes have moved to the forefront of marketing technology stacks for driving installs and engagement. The ad was immediately credited with rocketing Coinbase's app to the top of the iOS app store.
Need help implementing QR codes into your marketing strategies and campaigns? Check out these additional resources.