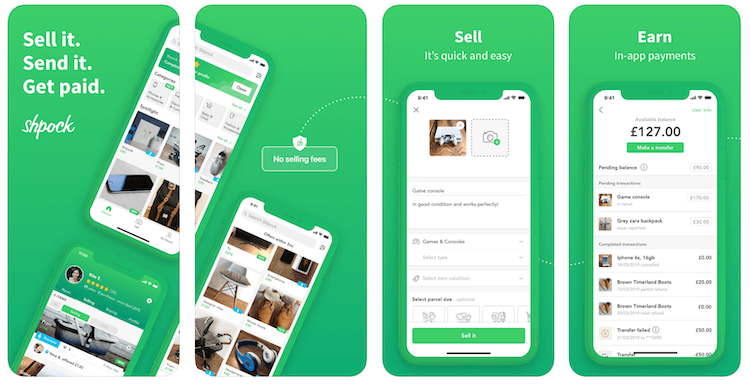 Shpock, a leading shopping app in the UK, grew its seller base by 30%, achieving a CPA reduction of 25% by partnering with Jampp.
A mobile-first leading shop in UK's pockets
📱
Shpock, the SHop in your POCKet, is a mobile marketplace bringing millions of private buyers, sellers, and local businesses together. With over 50M app downloads, Shpock allows users to buy and sell anywhere in the UK, and across a wide variety of categories. 
Recently added as an Android Excellence App🏆by Google, Shpock has focused on making its marketplace faster and safer than ever to meet the demands of a curious and mobile-first user base hitting "millions of active and mobile-first users in the UK" alone. 
The state of Shopping apps in the UK
In the UK, shopping is led by mobile: this year, 2/3s of all UK eCommerce purchases will be made through a mobile device. It seems that mobile-first platforms are here to break the mold: smartphone retail mCommerce sales are booming, and projected to hit a 44.10% growth between 2018-2020📈. 
The UK represents one of the top countries by app store consumer spend at $5B—an increase of 85% in the past three years. And that's not all, on the supply side, ad requests in the UK grew over 12X between Q4 2014 and Q4 2019.
Shopping growth in the UK + app growth in the UK = Shopping app growth in the UK 🤓
According to App Annie, shopping apps in the UK accounted for a growth of 80% between 2016-2018 (that's over 10B app sessions in 2018 👀). 
Shpock rises to supply the high demand in UK shopping
By 2021, it is expected that 75% of Britons will shop online. Within this segment, almost 30M will make purchases using a smartphone (over 64% of UK digital buyers! 😮). But in order to keep these 30M users active and shopping, app marketers like Shpock need to work on growing their seller/supply side.
You might be familiar with the British saying: look after re-engaged users and the sales will look after themselves 🤔. Ok, maybe that's not exactly how it goes, but it doesn't make it any less true. That's why Shpock partnered with Jampp for App Retargeting—to build a robust and solid seller base that increasingly engages with the app, moving sellers to publish more items, more often. 
"Jampp's team has been highly proactive and effective in providing the right tools to scale our reach, while improving our overall CPA. We consider them a key growth partner" – Alexandra Kleemann, Head of Marketing.
Campaign Development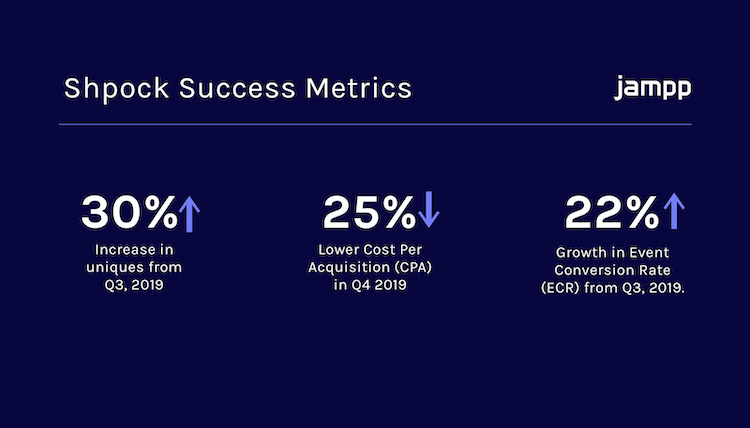 A creative approach for re-activating shopping users 
By combining a strong App Retargeting strategy with advanced creative development features and machine learning technology, Jampp managed to reach 30% more uniques and grow the overall Event Conversion Rate by 22% in Q4, 2019 alone. Having identified dynamic and video ads as effective formats to make the most of Shpock's +15 shopping categories, Jampp leveraged two proprietary features, Dynamic Ads Builder and Video Ads Builder, to scale reach. 
Dynamic Ads: combining design and machine learning 🎨🤖
Displaying Shpock's wide product availability called for ads showing a series of product categories. Using Jampp's Dynamic Ads Builder, Shpock secured multiple ad sets for A/B testing and optimization. Moreover, every design is automatically adjusted to different sizes to ensure the campaign is making the most of all the available inventory.
In a Dynamic Ad, each design asset works as a unique data point that constantly retrieves performance data. By adding machine learning to the mix, Jampp was able to identify Shpock's top performing sizes and designs, optimizing the campaign based on the most successful units.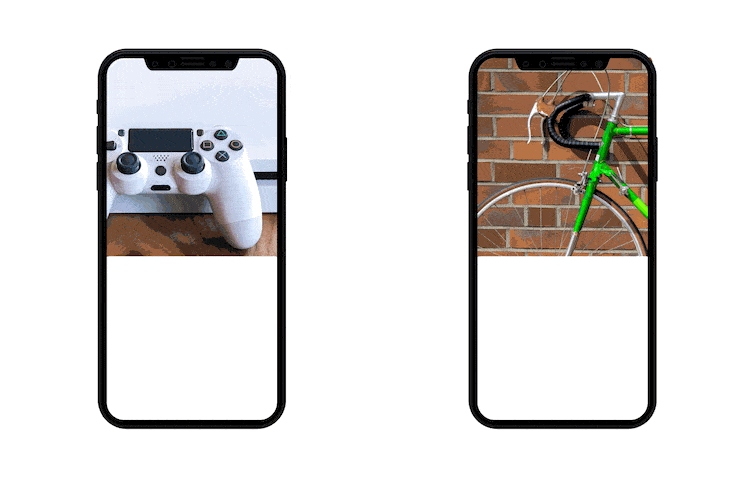 Video Ads: an upward trend in the UK
📈
While the use of banner ads continues to grow, in the UK video ads are now under the spotlight ✨. This year is the year where video is projected to outwin banner ad spend, going over $4M. 
How Shpock leveraged 6 second video ads:
#1 One ad, multiple products
Working with Jampp's Video Ads Builder also gives shopping apps the opportunity of either combining different categories within a single ad set or focusing on a variety of items within that category. 
For example: Shpock generated ads specific to the electronics category and and highlighted items such as speakers, headsets, and computers, keeping them top-of-mind across Shpock's seller base.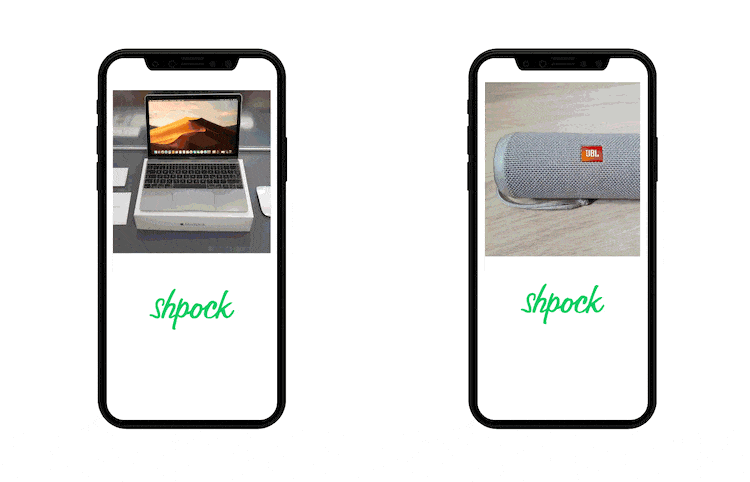 #2 Short, to-the-point & effective
A series of 6-second ads make a greater impression on consumers than 30-second ads or other forms of long-term video content. Short vertical videos allowed Shpock to communicate a powerful and straightforward call-to-action. 
#3 No need for an in-house creative team or video agency
Shpock relied on Jampp's Video Ads Builder to quickly create multiple video ad sets out of tried and tested mobile-first templates specifically designed for Shopping apps. This practical tool gives app marketers flexibility to generate eye-catching visuals without unnecessarily increasing the workload of their own creative teams. 
Jampp's Video Ads Builder was a shortcut to generating impactful ad units without adding extra work for our design team. Their technology gave us full visibility on top performing assets which were of great value for both optimizing campaign results and assessing our marketing efforts. – Alexandra Kleemann, Head of Marketing
Wrapping up
With over 10M active users and 50M app downloads, Shpock keeps asserting its position as one of UK's top shopping apps. After relaunching as a transactional marketplace, increasing buyer protection, and adding a new wallet feature, the SHop in your POCKet is set to expand visits in the UK. 
As part of their continuous growth, Shpock partnered with Jampp to further boost engagement across their seller base. Using an App Retargeting strategy enriched with advanced creative development tools, Shpock secured a 30% increase of engaged sellers converting 22% more between between Q3 and Q4, 2019. 
Want to learn more? To see more case studies or learn more about our features  Schedule a Demo.