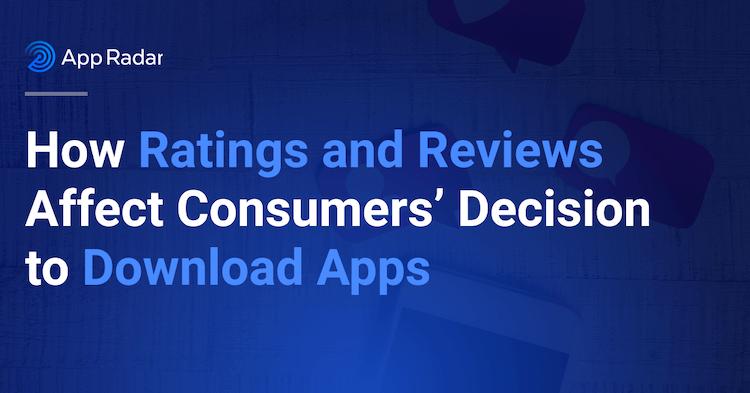 App ratings and reviews have a significant impact on a consumer's decision to download or not download an app. Research by Apptentive shows that 50% of mobile users won't consider an app with a 3-star rating. That number drops to 85% for a 2-star rating. In addition, 77% of people read at least 1 review before downloading a free app. That number jumps to 80% for a paid app. So as an app developer or marketer, you don't have the luxury of ignoring ratings and reviews. They matter quite a lot.
Why Mobile Users Prefer Highly Rated Apps
The reason mobile users prefer to download apps with higher ratings is the same reason people prefer to dine in restaurants with positive reviews. People have a natural tendency to trust the opinion of those around them. In the digital world, this word of mouth marketing extends from the close circle of friends and family to strangers on the internet. Like dining at a restaurant, downloading an app comes with expectations. Just as diners expect their meal to be delicious as advertised, mobile users expect their apps to function as promised.
When app store visitors want to know if an app does what it's supposed to do and works well, they'll check the ratings and reviews. Other users' positive testimonies about the app strengthen the decision to download, whereas negative testimonies weaken it. As stated above, a rating of 3 stars signals a not so great app. On the other hand, a rating of 4 stars indicates a pretty good app. And no one wants to have an app that's not so great.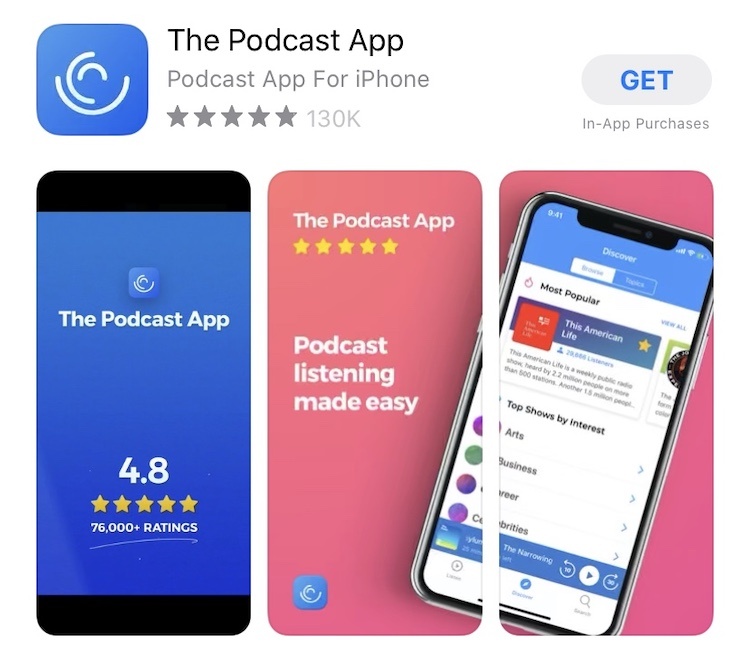 People are also wary of apps with no ratings. They begin to think, does no one use this app? Why does no one use this app? Those are not impressions you want circling your app. So it's as essential to get ratings as it is to keep them positive.
Ratings and Reviews Affect Your Google Play and App Store Ranking
Ratings and reviews largely impact your app store optimization (ASO) and thus, app store ranking. Google and Apple both show a tendency to rank apps with more positive ratings and reviews higher than those with negative ones. In addition, the number of ratings and reviews your app receives also matters. The more your app has, the higher your app will rank.
When looking for an app, users will browse through the first few apps that show up in the search results. If you're not ranking in the top 10 positions for relevant keywords, your app won't be found by app store visitors.
Find out more about ASO and how to increase your app store rank here.
How to Get More App Ratings and Reviews
Gathering more ratings and reviews is all about timing. Think about the last time you had a bad day. Were you annoyed by everyone who asked you something? Probably. Now think about the last time you had a great day. You were most likely happy to help someone out with a task and pleasant to people around you.
When you ask your app users to leave a rating or review, you want to catch them at the right moment, one where they're feeling great. There are several plugins as well as native script you can use to trigger a pop up that asks the user to leave a rating or review. The critical part is the timing of the pop-up.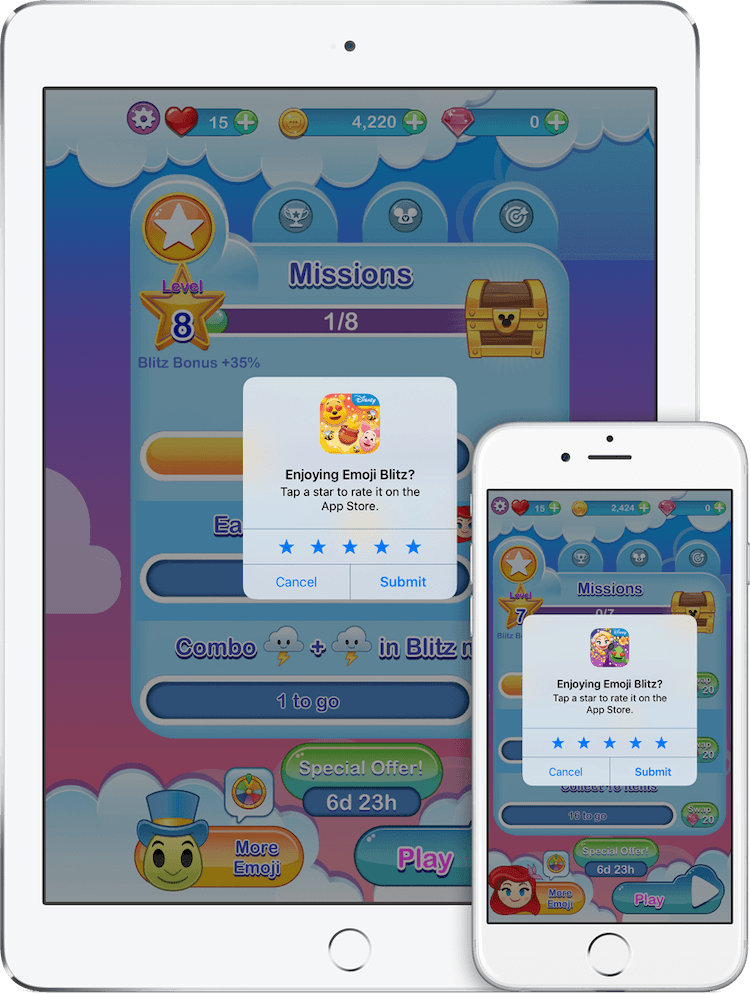 Time these pop-ups to show up when the user achieves something awesome in your app. For example, they just beat five levels of your game, or they have just finished editing a photo in your app. After an accomplishment or receiving a prize, your users are feeling good and happy. As a result, they'll be more likely to leave a positive rating and review.
Furthermore, make leaving a rating and review easy for the user. Keep the clicks between you asking for a rating and them leaving one as little as possible. By removing this friction, users are more likely to leave a rating.
Negative Reviews Can Easily Turn into Positive Ones
What if your app has been receiving negative reviews and low ratings? The situation is not beyond rescue. You still have the chance to turn the situation around. The first step is replying to all the reviews your app gets. App users are likely to change their bad rating to a good one when they get a response from the app developer.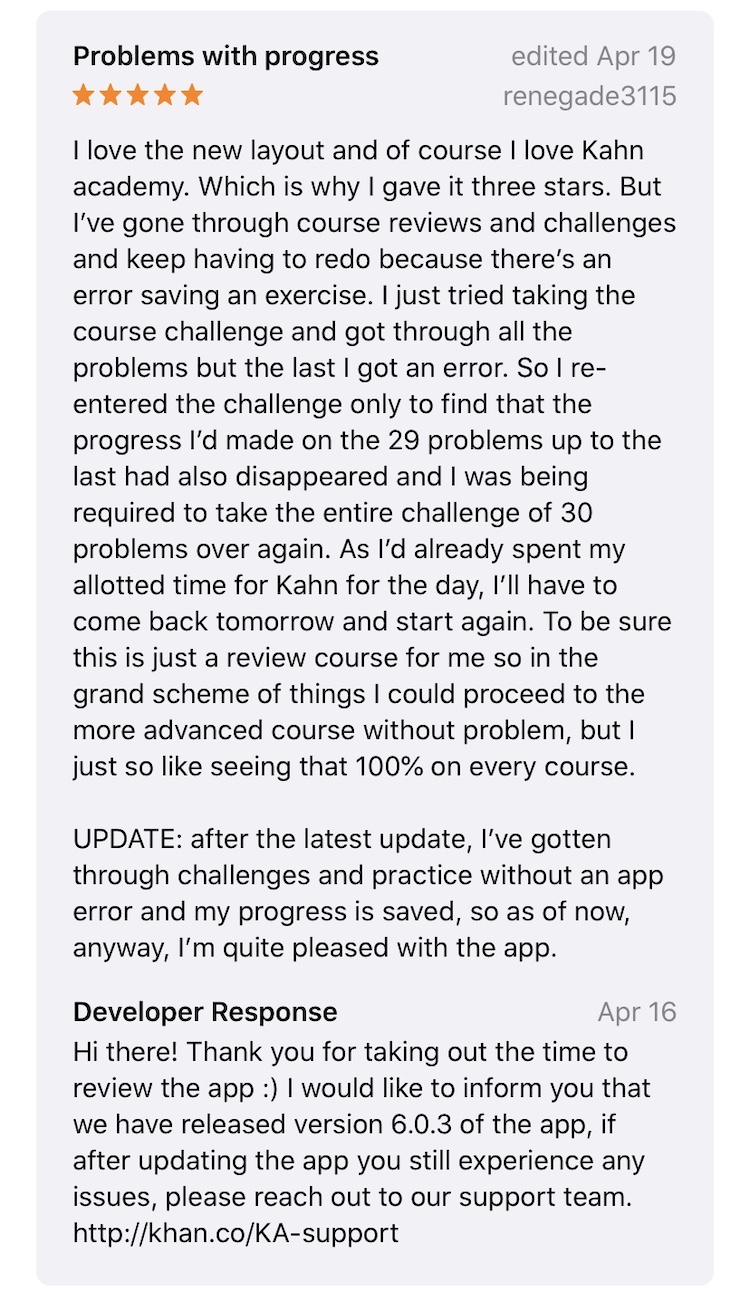 You must respond to both positive and negative reviews. Positive reviews tell you what features users like so that you can keep improving these. Negative reviews tell you what bugs your app has and the features that are missing. There is always value in reading through and replying to your users' reviews.
Responding to your users also lets them know that there are real people behind the app. This is especially true when you can tell users that you've implemented a feature that they've requested or fixed a bug that they experienced. Your users will thank you by continuing to use your app.

On top of that, replying gives you a chance to build up your app brand. Make sure you're responding to every review in a brand voice. That way, people begin to not only recognize your app but the team behind it too. Cultivating a strong brand is foundational when you want to generate a loyal user base. People will keep coming back to your app not only for its functionalities but for your customer service and attentiveness. App Radar's app marketing blog gives you more tips on how to best respond to reviews in the App Store, read more here. 
Tracking Your App Ratings 
Another way to increase your app rating is to watch how they progress over time. If an app update causes your ratings to decrease, you know that your users are not happy with what you changed. But if the ratings increase after an update, then you know you're moving in the right direction. When you can pinpoint what changes affect your ratings, you're able to replicate the effect more easily.  
Tracking app ratings and replying to reviews has never been easier. With an App Radar account you can:
Reply to reviews to increase user sentiment
Use reply templates to save time
Track ratings to pinpoint impactful updates
Get alerts so you never miss a new review
Improve your ratings today: Create a free App Radar account.