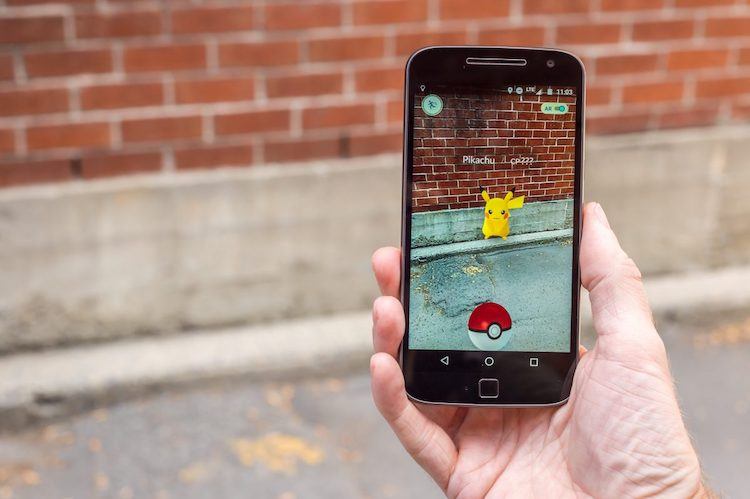 This article was first published on Mintegral blog.
If we take a closer look at the most popular game genres, we can also understand some of the underlying preferences of Chinese gamers.
If you didn't know it already, China is a nation of massive gamers. According to a recent report by China-based Niko Partners, the country has 558 million active mobile gamers (more than double the population of the US). By the end of 2017 China has emerged is by far the world's largest mobile games market, and makes up more than 25% of the total global mobile games revenue.
Niko estimates that China's mobile games market will grow from $16 billion in 2018 to $24.7 billion in domestic revenue by 2022. So it's no wonder that China has become one of the most attractive markets for games developers.
China is the world's largest games market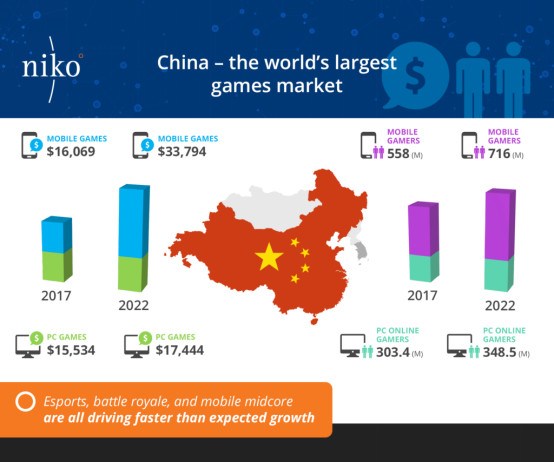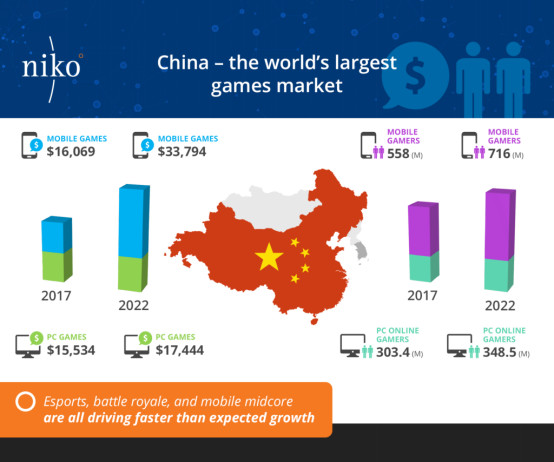 Source: NicoPartnners
Many people believe that the Chinese mobile gaming market is a land of opportunity where developers earn a lot with any kind of game. But the truth is, the 'demographic dividend' – where demand for games massively outstripped supply – has gradually faded. In the past 1-2 years, China has seen the emergence of a number of successful local publishers. A few, including Tencent and NetEase, have become global publishers, with a number of high-profile acquisitions. Today, only high-quality games can succeed in China.
As well as the quality bar, Chinese gamers do express a preference over certain types and genres of games. According to data released by Tencent, the most popular mobile game genres are casual games, chess and poker games, match-, role-playing games and racing games. As for the mobile game genres that attract the highest number of installs, these are role-playing games, RTS and strategy games, action games, simulation games, adventure games and social casino games.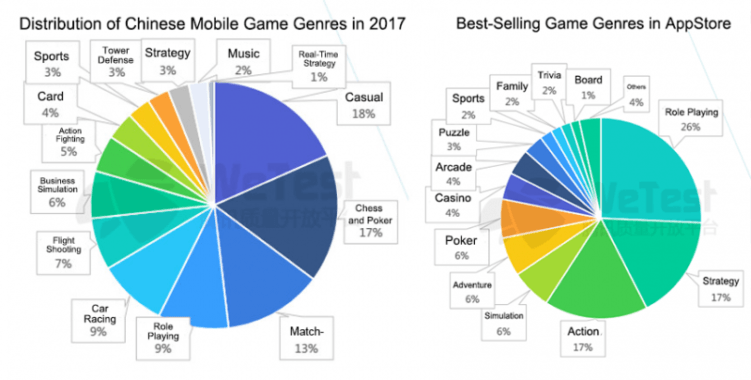 Source: Tencent Games
Research firm Newzoo published rankings of Top Grossing Games on Android and IOS in March this year and action games, RPGs and car racing games make up the majority of the games that generate the most money. As you can see, the list of most downloaded and the list of top-grossing are almost the same.
Top 10 Grossing Games of Android and iOS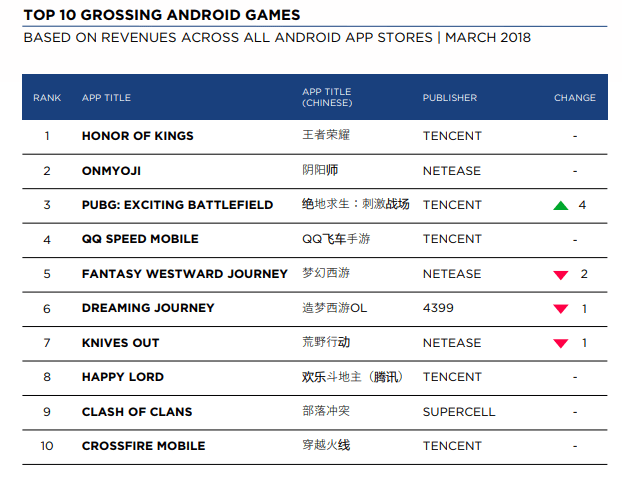 Source: NewZoo
If we take a closer look at the most popular game genres, we can also understand some of the underlying preferences of Chinese gamers.
The no.1 genre: Casual games
The game category that pretty much began with Tetris all those years ago. Casual games seem to be the genre with the longest history in Chinese mobile gaming market. According to iResearch, casual games generated about $USD 3.82 billion in 2017, which is about 17% of the whole mobile gaming market in China. The whole point of casual games is that they have the broadest possible appeal, can be played by anyone regardless of skill, and are suitable for short bursts of gameplay. This makes it a category with high market penetration across different player demographics. Casual games also tend to have the highest proportion of monthly active users, as well as the best retention rates – as you can see from this data from TalkingData.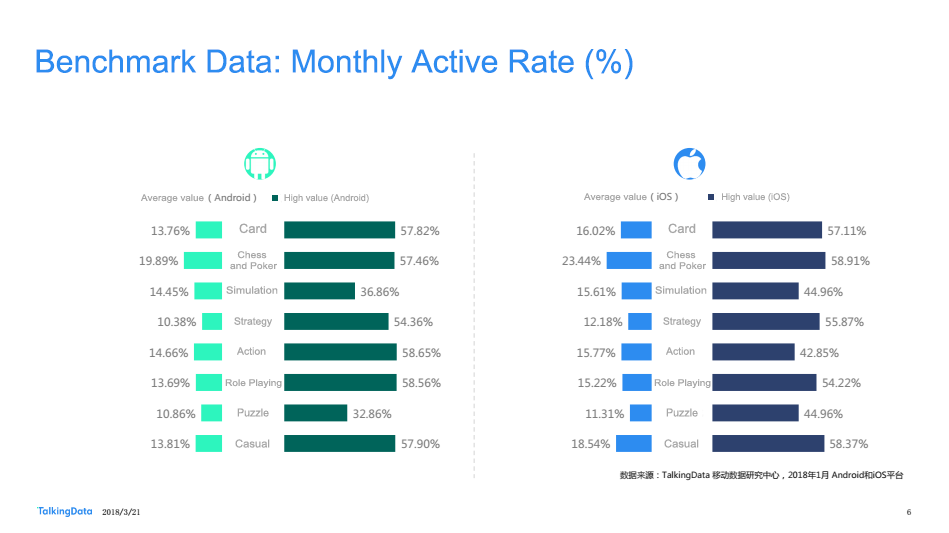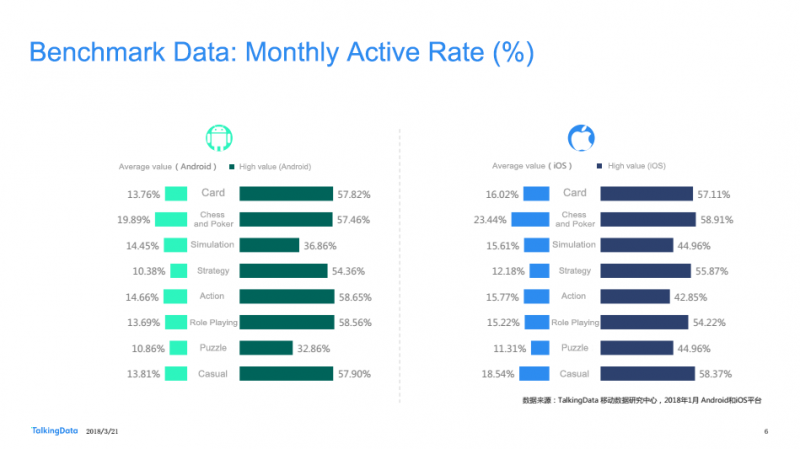 Source: TalkingData
No.2 genre: Role Playing Games
When it comes to games that generate the highest revenues, RPGs dominate the top of the charts. Thanks to a level of depth and complexity that keeps fans engaged over a long time, RPGs attract hugely loyal fanbases. According to data from YiGuan Analysys, turn-based RPG games have the highest 'stickiness' of any game genre.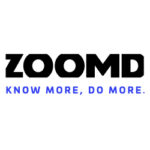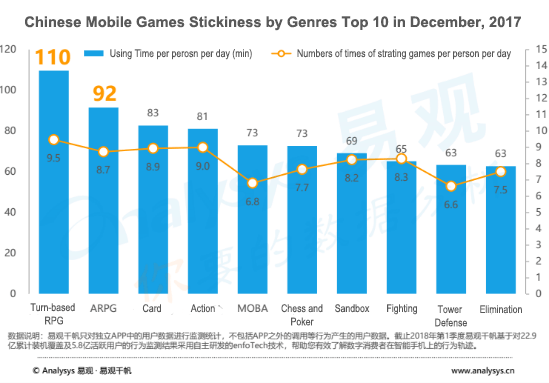 Source: YiGuan Analysis
And as you can see from the latest Monthly Chinese Mobile Gaming Benchmark from TalkingData, RPG games have the highest percentage of paying users across both Android and iOS of 4% and 5% respectively.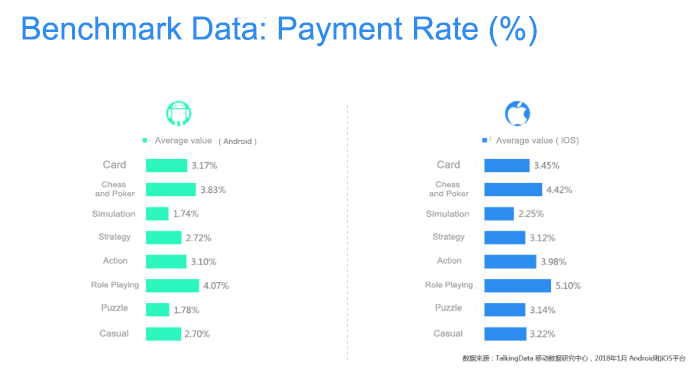 Source: TalkingData
No.3 genre: Action games & FPS
Led by the current global trend for Battle Royale games, the FPS genre has suddenly become one of the most popular on many of the app stores. For a sense of just how popular these games have quickly become, in March this year the mobile version of the hit PC game PlayerUnknown's BattleGrounds (better known by the abbreviation PUBG) entered the top grossing chart on Android at #3, while Knives Out by NetEase and CrossFire by Tencent entered at #7 and #10 respectively – meaning almost a third of the top 10 grossing games were all Battle Royale games.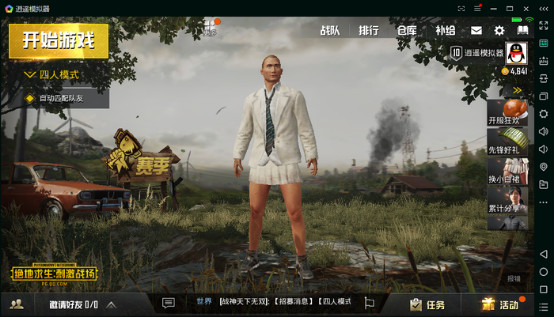 PlayerUnknown's BattleGrounds by Tencent
But putting aside Battle Royale-style hits, the Action genre includes many different types of games, so there is not one specific game style that tends to dominate. This is also a category where you can find many mobile games developed from well-known games and movie tie-ins. I can be a very competitive genre simply because of the number of new games that are constantly launching into the category.
No.4 genre: Chess and Poker Games
You may also know this category in Western markets as social casino games. If you look closely at the app store rankings, there are several countries where specific kinds of traditional card games and logic games consistently rank highly. In China, poker-based games are just such a game genre. Typically, poker and chess games in China are always in or around the top 10 download charts.
A good example is the game Happy Landlord Poker, published by Tencent. This is a poker game designed more around the idea of fun rather than as a gambling game, and is designed to appeal to a broad demographic thanks to its cartoonish art style. Launched all the way back in 2008, it continues to have a loyal player base that is still growing. Tencent has published other similar games under the same brand, including Happy Landlord Majong.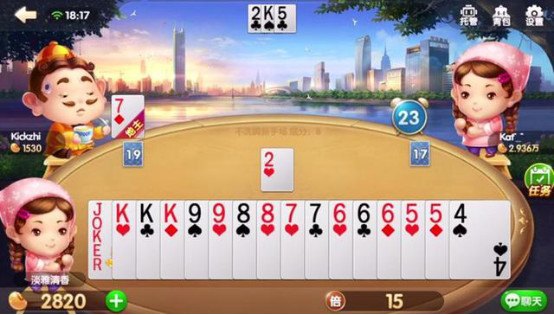 Happy Landlord Poker by Tencent
So what can we learn from the popularity of these genres? Firstly, it's that the time has passed where Chinese gamers were so keen to play something new that publishers could be successful even with low-quality games. Today's market is fiercely competitive, meaning that any new launches need to be high quality and properly researched and planned. Just as with any other mature market, Chinese gamers are looking for great apps that offer something new and exciting.
Secondly, a successful game needs to take into account the specifics of its audience. As we've seen in these examples of the most popular game genres, each attracts different kinds of players who are looking for very different experiences. So it's important to have a deeper understanding of what motivates and interests the gamers you wish to target.
And this leads on to the third, related point; any UA campaign needs to be targeted with a very high level of precision to be successful. That requires a combination of good market knowledge, the right connections to the right inventory, and the technology and data to reach the right users. Therefore, choosing a suitable partner is one of the most important decisions a publisher needs to make – even before their game has launched.