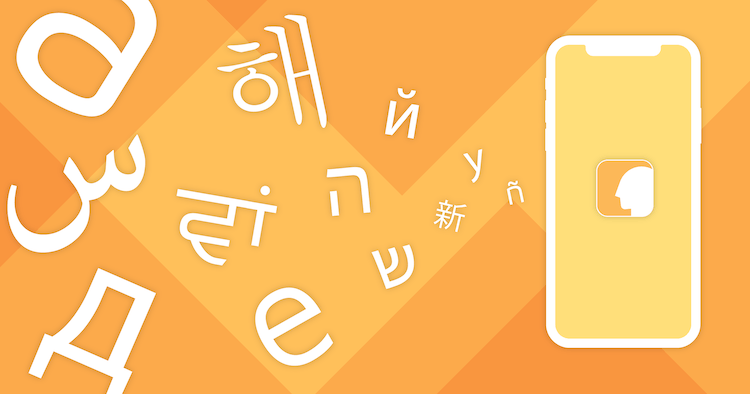 Twenty years ago, language learning was a chore. Without live practice, even the most proactive student would have to rely on books or, even better, cassette tapes (long before CDs and DVDs made it on the scene). Learners needed exceptional motivation, and got little in the way of feedback on their progress in return. Now, from the basics of language learning to tandem programs, there's an app for that. People can approach language learning more casually, giving rise to an industry that is predicted to be worth $10.5 billion by 2025. Innovation has made languages easy to access, but does that mean more people are taking up a new language?
Installs aplenty: But do users stick around?
Language Learning app installs peak at special times of the year, similar to Health Tracking apps. January is the heaviest time, as users take up new resolutions to better themselves. Below, we've analyzed Adjust data to track Language Learning app installs to see by how much the New Year trends up, and to discover if January users retain better. If so, they could be a prime cohort for ongoing, bespoke retargeting campaigns throughout the year.
Adjust data shows that, on average, Language Learning app installs increase 15% in January vs. a year average, based on a sample of ten countries. The rate ranges widely, depending on the country — for instance, Italy sees a 44% increase (the highest of all), while the U.K. receives a 5% boost in the same month. A couple of countries (Germany and Turkey) see a lower rate of installs in January than the average. In fact, both Turkey and Germany see installs trend upwards from June until October, mirroring another period of high activity: Summer travels, and students heading back to school.
Though there are a couple of exceptions, overall installs are higher. But does this lead to better retention?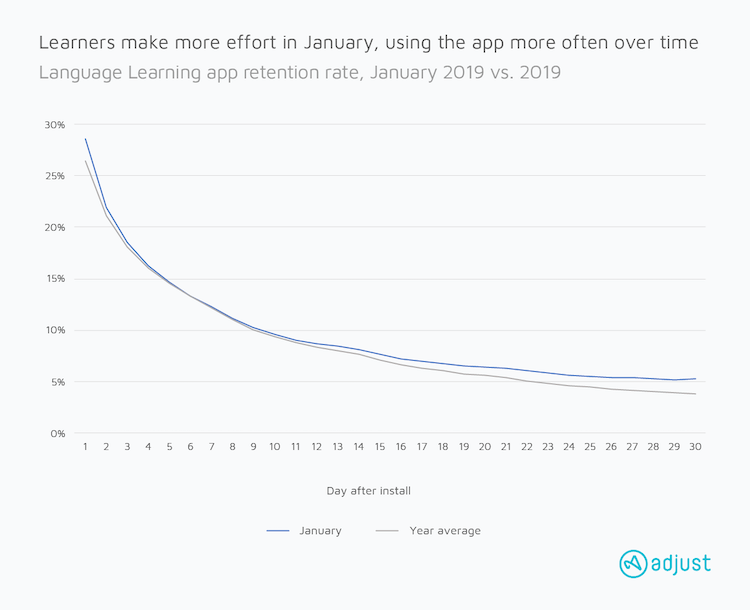 The answer: yes, slightly. Retention rates of users in January is 11% higher on Day 1 after install. By Day 30, the increase is 25%, meaning many more users are maintaining their language learning streaks for longer. That said, overall retention of language learning apps is lower than a handful of categories. Gaming, for example, retains 34% of users on Day 1 (taken across 2019), a 17% difference. For some marketers, January may be a valuable cohort to segment and target with specific in-app messaging, so long as they stay active throughout the year.
Pardon my French
Language Learning app Busuu's co-founder and CEO, Bernhard Niesner, recently said that "one of the biggest barriers facing language learners is motivation." With retention closely linked to an individual's goals, apps need to maintain a user's focus on their original reasons for learning. Onboarding can be a great means of doing so. By identifying a user's goals, then tailoring the in-app experience based on what a user wants to achieve, apps can moderate or increase the number of push notifications or kinds of in-app messaging their user wants to receive, ensuring that users remain reminded and motivated, without feeling bothered by the app itself. Creating an effective onboarding process will not only drive user engagement but enhance the user experience.