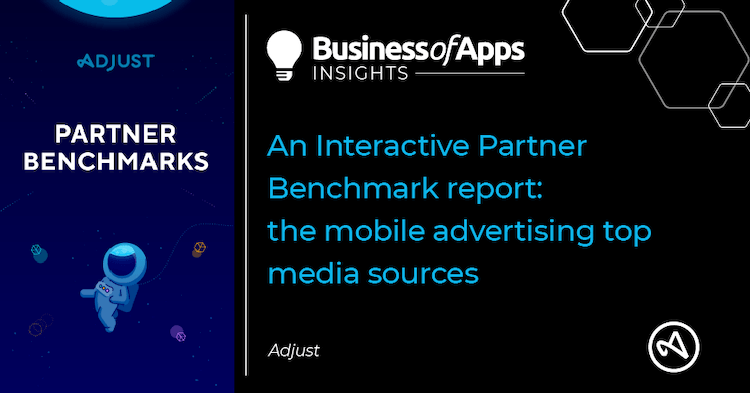 The explosive growth of mobile in 2020 and 2021, alongside the introduction of Apple's user privacy regulation, sent the industry into uncharted territory. Marketers and developers across all regions and verticals have had to adapt their strategies to reflect these changes and more than ever require insights that can inform their buying strategies to help them build out a perfect channel mix.
To help marketers do just this, Adjust's has released its first-ever, interactive Partner Benchmarks tool. Displaying network rankings across regions, platforms and verticals, it is designed to give marketers and app developers an overview of the mobile economy and its health. We've organised our data into an easy-to-navigate, interactive tool that allows you to easily toggle between regions, verticals and platforms. Based on data from the first half of 2021, we've analyzed 272 networks, more than 6 billion paid installs and 160 billion app opens from more than 5,000 apps.
Check out Adjust's interactive Partner Benchmark report to access the top takeaways, predictions and industry-defining topics in 2021, with growth trends split across specific regions and categories.
The key findings from Adjust's Partner Benchmarks shine a light on a range of hot topics, providing a clearer picture of the mobile ecosystem's latest trends so that marketers can make smarter decisions:
The app economy continues to grow worldwide with new markets emerging
The app economy and ecosystem continues to grow and reach new audiences worldwide. From established markets to those where widespread access to mobile internet is a newer phenomenon, users are turning to apps for productivity, daily tasks and entertainment more than ever. The verticals that drive this growth, however, often differ significantly between markets and regions. In the Asia-Pacific Region, gaming continues to be the key focus for developers in the region, this is especially notable in Japan, where revenue in Q1 of 2021 alone reached $5.1 billion.
Conversely the Turkish app market, currently the second biggest in Europe by downloads, is much more diverse and publishers are more focused on non-gaming apps than gaming ones. Currently, 71% of apps released by Turkish publishers on the Play Store are non-gaming. The most predominant and fastest-growing verticals in the market are health and fitness, business and education.
Food delivery apps continue to thrive following huge COVID-19-driven growth.
By providing consumers with safe, socially distanced and convenient services, food and drink is one of the key verticals that has performed exceptionally well globally throughout lockdown periods. But it's a vertical that is also diversifying as the industry evolves to meet consumer needs. Key players like Gopuff, Gorillas, Flink and other "10 minute," on-demand, dark-store grocery delivery services have become more prominent over the past 18 months. Founded in 2020, Gorillas currently operates in 55 cities and nine countries and is valued at $1 billion, making it the fastest-ever startup in Germany to achieve unicorn status. 
Adjust data also indicates that growth for food and drink has been a consistent upward trend, with no signs of stopping. Global installs in 2020 increased 19% compared to 2019, and they have increased by another 20% so far in 2021. Sessions growth is even more impressive, with 2020 up 71% compared to 2019, and 2021 up by another 34% so far.
Gaming has long been the top vertical on mobile and is continuing to solidify its place by constantly evolving and innovating

Gaming is still the biggest mobile vertical in 2021, making up a quarter of all iOS downloads and 21% of all Android downloads. This is supported by Adjust's Global App Trends Report, which showed that sessions, installs, time spent in-app and number of sessions per day all boomed. By 2023, player spending is expected to reach $117 billion across Android and iOS, as reported by GamesIndustry.biz.
One of the key factors driving this growth is hyper casual games. Characterized by their lightweight, instantly playable and infinitely replayable gameplay models, they are expanding the traditional definition of a gamer and have solidified their position as a driver of gaming growth in recent years. Adjust's Global App Trends Report cited install and session increases of 43% and 36% for hyper casual in 2020, which is up another 44% in the first three quarters of 2021. 
The mobile gaming industry, which grew exponentially in 2020, continues to grow in 2021. With a myriad of factors including AAA gaming experiences on the rise, subscription models rolling out and more Chinese developers entering the market, the industry continues to diversify to reach new demographics and types of gamers. As the highest growth vertical on mobile, gaming is continuing to challenge, disrupt and pioneer in the world of apps.
Social media has a new growth driver: short-form video
Short-form video has emerged as a new driving force for social media, with TikTok, Instagram Reels and numerous other players (Snapchat Spotlight, YouTube Shorts, etc.) dominating in the ever-evolving space. As the user base and overall time spent on short-form video increases, so does the power of the format, which has also developed into a large social commerce player. Looking specifically at the U.S., TikTok is the undisputed leader, but Instagram, YouTube and standalone platforms including Triller and Dubsmash are finding their place in the market. 
TikTok, with 800 million active users and 1.5 billion downloads worldwide, is the go-to for marketers looking to enter the short-form space. Like all social media platforms, TikTok presents active opportunities to incorporate shopping into its overall user experience. With users spending an average of 52 minutes per day on the app, and recently overtaking YouTube for average watch time in the U.S. and UK, there's ample opportunity to drive engagement — but it's also extremely competitive. 
Find out more by checking out Adjust's interactive Partner Benchmarks report