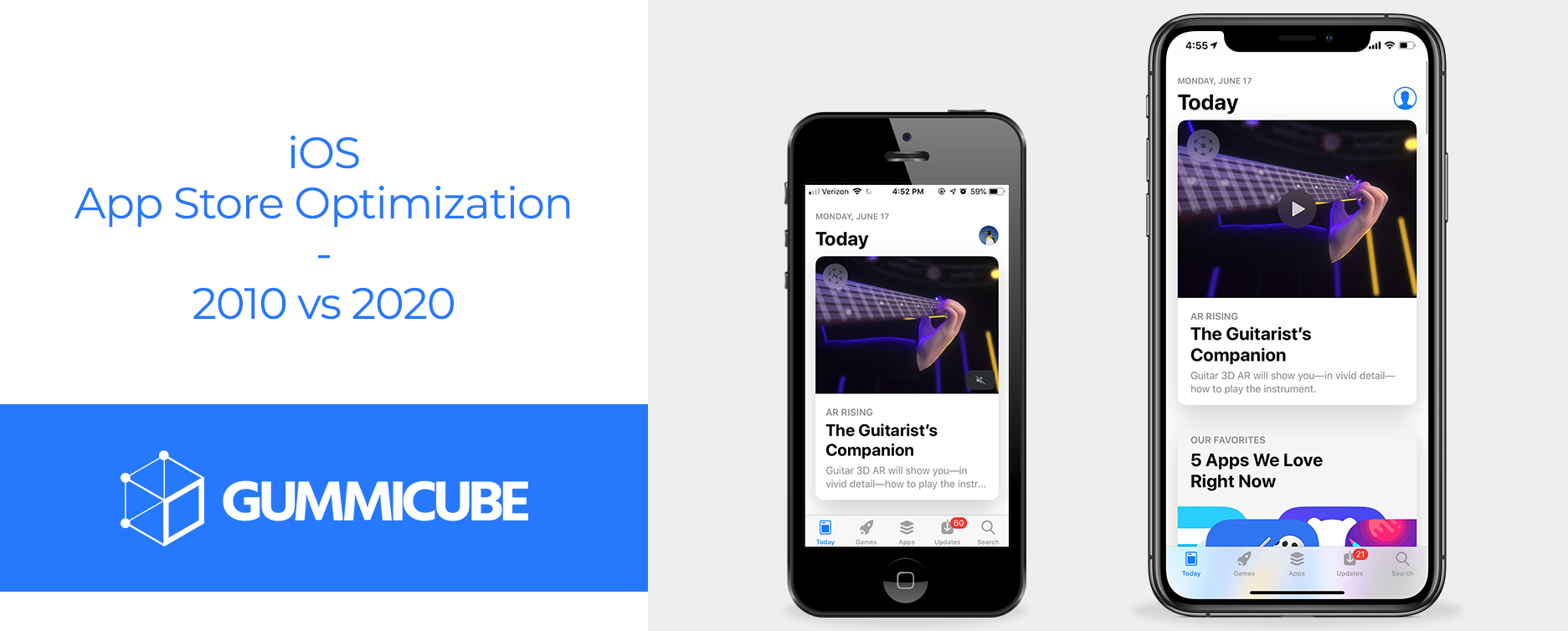 The mobile ecosystem is undergoing big changes. This is especially clear in the wake of WWDC 2019, which introduced several new developments. From iOS 13 to Apple Arcade to changes in attribution policy, where the App Store goes from here will be interesting to see. With all the changes ahead, we wanted to look back and highlight how the App Store – and how apps are optimized within it – has changed over the past decade. 
Category Rankings – Long and Buried
When the App Store was in its infancy, the Category Rankings were important for discovering apps. Developers were (and surprisingly still are) obsessed with finding ways to rise in the categories and ensure their apps received prime traffic.
 As time went by, and more apps began populating the App Store, the competition for ranking positions grew. Developers and marketers began looking for ways to buy traffic in order to boost their category rankings. The more developers competed, the more expensive it became. However, once their budget ran out, so did their rankings. To make matters more difficult, Apple began cracking down on apps that artificially inflated their rankings and pulled them down from the store entirely.
With the release of iOS 11, Apple buried category rankings within the App Store. This was designed to push users towards the curated Today tab and search itself, decreasing the value of Category Rankings.
While it is still possible to generate traffic from ranking in a category, this is not where traffic comes from. Instead, developers need to focus on Search visibility. Search has grown as the primary channel for app discovery, and predictions indicate that it will only grow more competitive.
Subtitles & Apple Search Ads – the Future of ASO
 Apple has stated before that 70% of app discovery within the App Store comes directly from searches. That's where virtually every app is fighting to be discovered.
In the past, though, ranking in searches was a different game. There were no subtitle fields, but rather a 255-character field for titles. Developers could stuff keywords into the title to target a large amount of terms, at the expense of their title being excessively lengthy and not even appearing in its entirety. 
In 2015, the 255-character count was condensed to 50 characters. When subtitles were added in 2016, the limits were changed to 30 for the title and 30 for the subtitle.
As we get closer to 2020, we can see organic search growing even more competitive, thanks to the edge that Apple Search Ads can provide.

Apple Search Ads, released in 2017, letting developers bid on top spots in search results. Winning a bid places the app in front of potential users.
Similar to how developers competed for the top spots for category rankings in the past, so too will the competition for Search Ads continue to grow. As more apps incorporate organic growth by the way of ASO, they'll also invest in Apple's Search Ads. The increased competition can lead to developers bidding more per ad.
No amount of money will guarantee any app will receive the #1 spot for any given keyword – relevance matters a lot, especially in Search Ads. If apps are to grow and compete on the App Store, developers must be savvy about how they approach their organic and paid marketing. The competition is only growing smarter.
App Store Affiliate Program – Closed for Good
Once upon a time, press from sites was a great way to generate buzz around an app. Sites like TouchArcade and AppShopper helped developers place their apps in front of potential users. Not only did this benefit the apps and developers, but the sites themselves gained from it, thanks to the App Store's Affiliate Program. This paid the sites a commission from purchases. 
Developers were eager to get their apps featured, and writers were eager to showcase them. Everybody won.
As time went on, Apple began slowly dissolving this relationship. Initially, Apple removed the App Store from the desktop version of iTunes, making it harder to reach app downloads directly from external websites. Then, it ended the program completely in 2018. 
This made it more difficult for websites to profit from covering apps. Even if they did, desktop users had more difficulty installing the apps once they found them. While it is still possible to gain visibility from press sites, most users will need to search for an app on the App Store to install it.
Curated Content & Personalized Feeds – the Emergence of Social Media Style Content
Rather than putting a few apps on display for all to see, we're moving towards an app ecosystem where curated apps are presented towards users based on their tastes.
In true Apple fashion, the App Store has increased control over what content is displayed for each user's Today tab. Launched with iOS 11, the Today tab presents users with an Instagram-esque feed, including developer interviews, Game of the Day, and list articles. 
Starting with iOS 12, Apple added personalized recommendations. These use past purchase history to find relevant apps to show to users. The recommendations appear alongside keyword search results, which can disrupt the way users find apps.
While search remains the primary method for discovering apps, personalized content will soon be another factor to consider. 
Conclusion
The mobile world is changing rapidly. Gone are the days of chart boosting and generating buzz on indie blogs – now App Store Optimization is the key to succeeding in the stores. 
Even then, changes are occurring within the App Store. Increased competition in searches, particularly with Search Ads, trigger changes in how developers market their apps and attempt to reach users. Meanwhile, curated content such as the Today tab, can impact discoverability.
These are the changes that are making an impact now – there's bound to be more in the future Apple's team has yet to finish. Whatever else the App Store has planned for the future, it's going to impact your optimization.