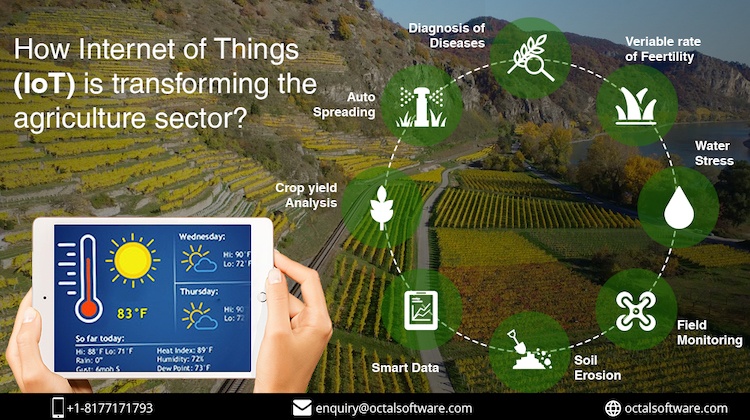 The impact of Internet of Things (IoT) and connected devices in this modern day world is undeniable. Today it has reached almost everywhere, from home, to health sector, smart cities, fitness, to industrial sector. Its presence can be seen in most industries, and the domain of agriculture is no different. In fact, IoT and connected devices can have an incredible impact on farming practices, so the farmers would no longer need relying on the horses and plows. After all, in the times of self-driving cars, and augmented and virtual reality, what is the point of depending on the age-old methods? Hence, the concept of IoT is a much-welcomed in Agriculture and Farming.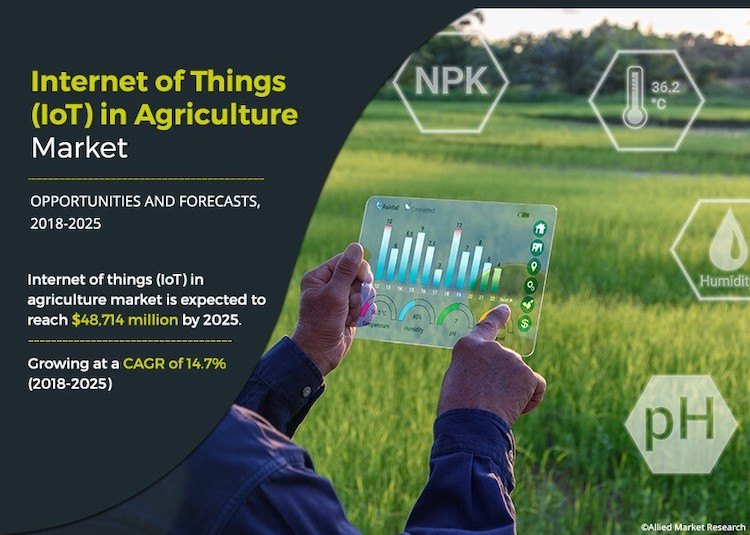 In the past some time, several of technological advancements have taken place in farming, and thus today it is way more industrialized and technology-driven as it was decades before. Today, we can see the farmers successfully utilizing smart farming gadgets, which enable them have better control over this procedure of growing crops and raising livestock. There are cattle tracking systems, agriculture robotics, smart greenhouses, and smart pest management. This makes it more efficient and predictable.  
Related Article : How Much Does It Cost to Develop an IoT App?
Role of IoT in Farming & Agriculture sector is getting bigger and bigger
Even though at the moment smart agriculture IoT is much popular as the consumer connected devices, the market is yet very dynamic. IoT solutions' adoption for agriculture purposes is growing constantly, like there is BI Intelligence that has predicted that number of agriculture IoT device installations will hit 75 million by the year 2020, and it is going to grow 20 percent annually. Also, it is expected that global smart agriculture market size will triple by 2025, and thus it will reach to $15.3 billion, which is bit over $5 billion in the year 2016.  
Also, the ever growing worldwide population will reach around 9.6 billion by the year 2050. Hence in order to feed this massive population, it is vital for agriculture industry to welcome IoT. In order to meet the demand for more food, it will be essential to overcome challenges like extreme weather conditions, environmental impact and rising climate change resulting from the intensive farming practices. 
Integration of Internet of Things technology in the agricultural operations minimizes the requirement for manual labour with automation, accelerates machinery commands with remote & real-time monitoring, and at the same time, it allows the farmers to utilize resources much efficiently with precautionary maintenance & environmental prediction. Once these advancements are implemented in agriculture sector, they are certain to scale up the revenues and will also enable the farmers to manage more acreage.
Needless to mention that with more acreage there will be higher potential for profits and higher yields on upfront investments made by farmers.   
Concept of Smart Farming
Basically, Smart Agricultural Technology enables the farmers to have better control over process of growing crops and rearing livestock. This way it brings massive efficiencies of scale, cuts costs, and helps in saving scarce resources, like water. Farmers and growers are able to reduce the waste and increase the productivity that ranges from quantity of fertilizer utilized to number of journeys made by farm vehicles.
But what exactly is Smart Farming? Well, Smart Farming is a capital intensive and hi-tech system enabling to grow food cleanly & sustainably for masses. Mainly, it is the application of the modern Information & Communication Technologies (ICT) into the agriculture. In the scenario of IoT-based smart farming, a system is built to monitor crop field with use of sensors (soil moisture, temperature, humidity, light, etc.) and to automate irrigation system. This way, farmers will be able to monitor field conditions from just anywhere regardless of their current location. As compared to conventional farming, IoT-based smart farming is way ahead in the game and is highly efficient.   
With the applications of IoT-based smart farming, it will be possible to target conventional, large farming operations as well as there could be new levers to elevate other growing/common trends in the agricultural, such as family farming, organic farming, as well as boost highly transparent farming.  
Speaking of the environmental concerns, IoT-based smart farming will be beneficial to provide immense benefits, like optimization of inputs & treatments, more efficient water usage, and much more. 
Now we know that adoption of IoT solutions in agriculture is growing constantly and global smart agriculture market size is rapidly expanding as well. So, now let's explore that in what ways IoT technology can transform agriculture.
Efficient Scaling: This is made possible via process automation. Multiple processes around production cycle, such as fertilization, pest control, or irrigation, can be automated with the use of smart devices. Among the well-known smart agriculture gadgets that combine several smart farming sensors are weather stations. They can be located all across a farm in order to collect several data from environment and send that to cloud. With the help of provided measurements, climate conditions can be mapped, appropriate crops can be chosen, and necessary measures can be taken to enhance their capacity.  
Better Quality: With an effective IoT solution it is possible to have increased control over production process as well as maintain high standards of growth capacity and crop quality via automation. This way, farmers can expect higher revenues eventually. A specific kind of IoT products that enables precision farming are the crop management devices. Just as weather stations, they also can be placed in field for collecting data specific to crop farming. The factors that can be easily tracked are leaf water potential, temperature, precipitation, and the overall crop health. When crop growth and any other irregularities are monitored, it gets easier to prevent the diseases/infestation that may end up harming crop yield. 
Be in Control: Integrating IoT technology allows to maintain control over internal processes and this way production risks can be decreased. Being able to predict the output of your production will be helpful in planning for enhanced product distribution. Like, when the farmers are aware how much crop they would be harvesting, they can ensure that their product doesn't go unsold.
Data collection: The data which is collected by the smart sensors would be able to track things, like crop's growth progress, soil quality, weather conditions, as well as cattle's health. Farmers can use this data for tracking state of operation and other factors like equipment efficiency and staff performance.  
Manage the Costs: Increased control over the production leads in reduced waste levels and allows to effectively manage the costs. The ability to have an insight into any irregularities in rate of the crop growth of livestock health helps in mitigating risk of diminished yield or complete crop failure.  
Implementing IoT Technology
While creating an IoT solution for the farming and agricultural purposes, it gets essential to choose sensors for the device. This ultimately depends on type of information which you are looking to collect and what you desire to do with the collected data. Ensure that the sensors' quality is great as that is vital for the success of your IoT solution. After all, the success depends on collected data's accuracy and reliability
Also Read : How Internet of Things (IoT) is changing the game of Web development?
The IoT potential is limitless in developing markets, like the Middle East, Southeast Asia, Africa, and Latin America. In fact in 2018, it was predicted by IDC that in Africa & Middle East, IoT will see a growth of 15 percent to $7billion in coming times. And the growth is already evident in South Africa as there the businesses are forced to adapt to new business models brought by IoT. 
Meanwhile, a great IoT solution must be able to operate at three levels, like:
Allowing real-time collection & data presentation.
Offering a solution that is accessible on global level, and not limited to operator or the local networks.
Providing a solution that is easy to install, cost-effective, and low-powered.
When an effective IoT solution is applied in agriculture business, then the farm must be able to optimize labour usage, costs, quality, and yield in following manner:
Water: Accurate management of irrigation, which will result in overall savings in water consumption by farm.
Electricity: Allows to save money by accurate irrigation and less electricity usage. s
Labor: No requirement for a dedicated person to manage data logging. Instead, this person can be efficiently used somewhere else in the farm operations.

 

Reduced stress: With the help of informed & timely decisions, it will be possible to manage the operations efficiently.

 

Better yields: When all the above mentioned aspects are taken care of, it will result in better yields.
When an IoT solution is integrated successfully, it allows for the expansion of global smart agriculture into the remote areas and it offers many other benefits that can be attained using latest technology.  
In case, you are looking for create an IoT solution for your agriculture business, our app experts at Octal IT Solution are ready to help you  to create the ideal solution and get started. You can reach them at the following email.