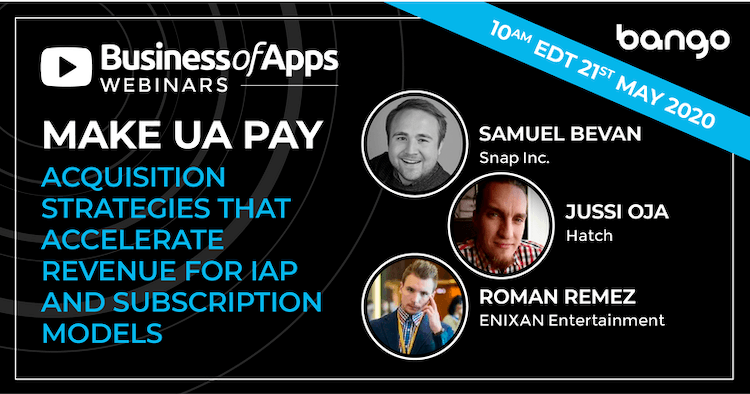 Top 10 takeaways from Bango's webinar 'Make UA Pay: Acquisition strategies that accelerate revenue for IAP and subscription models'
From lockdown trends to LTV and user loyalty, Bango's lively webinar – Make UA Pay – gave valuable insight into user acquisition during these unprecedented times. Hundreds of app developers and marketers from across the globe registered to listen to expert panelists from Snap Inc, TikTok (Bytedance), Hatch (Rovio) and Enixan. You can watch the webinar recording below. It's well worth a listen and full of more ideas on how to increase revenues.
Make UA Pay – Acquisition strategies that accelerate revenue for IAP and subscription models
Here are the key takeaways for app developers who want to make their UA pay.
1) Seize the opportunities from increased online consumption
Lockdown has brought about a spike of online activity, so it's more important than ever to have an agile approach to UA. Jussi Oja, Growth Marketer at Rovio's Hatch Entertainment, explained how they brought forward the launch of a new game, after seeing the vast increase in stay-at-home behavior. This bold move proved to be a great success.
"There was suddenly a huge population of adults with their kids at home. This contributed to our product launch. We tried to get our product to launching shape as soon as possible to benefit."
2) Be prepared to amend your strategy and time frame
Our panelists were in agreement that online consumption during lockdown is like an extended holiday period. With trends and surges mimicking those seen during seasonal spikes. Being proactive to increase your UA, as you would during traditional upsurges, is paramount. Mike Gubman from the Business Development team at Bytedance (TikTok) also sees an opportunity to think 'short term'.
"We often talk about 2 years' time or 5 years' time. For so many of the trends we are talking about, things that might have taken 2 years will now happen in the next few months. If you had a long-term road map, then look at what's further out. Now that things have shifted so dramatically, does it make sense to bring that in and try it in some way?"
3) Aim to reach and engage with paying users from the start
Sam Bevan, Head of Emerging International and Advertising Solutions at Snap Inc, explained how businesses are being more cautious with their budgets. He said it's not about having lots of users and hoping they'll invest in the future. Developers want paying users from day one.
"The businesses that are able to win like fitness apps are increasing their upper funnel awareness, looking to get volume of install and are leaning on platforms like us. For ones that are more cautious they have shifted fully away from any form of upper funnel awareness. They just need to see a return on their ad dollars … and want to see results up front. Those that are winning are looking for maximum scale during this period."
4) Dramatic growth in five key verticals
Sam spoke about how communication between family and friends has become key during lockdown. He said they'd seen their user base grow quarter over quarter to 229m and during Q2 (now) to 239m. The average user is spending 30 minutes in app every day, with chat functions/video/phone calls reaching highs normally only seen over Christmas and holidays. However, he says the success of an app in the current climate really depends on its nature.
"The ones that are winning are streaming apps, gaming apps, shopping apps, in home delivery apps, and lifestyle apps, like fitness and dating. What we've seen across the board is an increase in installs of 36%. That's our largest increase since launch. There's huge momentum in the amount of people downloading apps from our ad units, in particular from those five verticals."
5) Recognize the needs of the current time
Mike offered insight into current and evolving trends. A thirst for entertainment early on in lockdown has led to people now seeking personal growth, through education and information apps.
"At the beginning of the pandemic people wanted to be entertained, they needed something to do, they wanted lighter entertainment. Now that people have been at home for a while they're wanting to go deeper and learn new things. They're thinking now that I'm here, how do I better myself?"
6) Less people advertising. Less people bidding. Get your high LTV users for a lower price
It's an interesting time to be an app marketer, according to Jussi. He's noticed many people are dropping out of the marketplace, which presents an opportunity.
"I think if your product supports these strange times and you are able to operate normally, then performance marketers are going to have a field day with the reduced advertising costs. Think about the LTV of a user, which is essential to revenue. If we are able to get those users with a little less money, then suddenly some of those who might not go in for the whole big whale spending become viable cohorts for us to target."
7) Offering cash conscious consumers free trials can pay dividends
Mike explained how they've adopted a lighter approach to UA, by giving people easy and low friction ways to experience something new.
"No credit card input, with a free trial so they can dip in and try the experience. Understanding that people might be more cash conscious right now or they might be a little more nervous about recurring subscription costs, so it's about letting them try it for free with very little long-term engagement required up front. That's a shift that I think a lot of companies are going to have to undergo."
8) Now is the time to offer real value and push for loyalty and LTV
If you've enjoyed success during lockdown, Sam believes it's important to lean in and provide real value to your customers, getting them to stick. He recommends pushing away from UA.
"I think a lot of businesses get hung up on that first purchase, that first install, that first game play. What we've seen across the industry is a surge in re-engagement and people actually pushing for loyalty, pushing for their users to become more and more frequent on their platforms. I think that's where we're really going to see the winners in this space. The people who are able to provide the service that is to become their new 'norm'."
9) Accept that users will back off as lockdown eases, but they will come back for a quality product
Roman Remez, Partnerships Marketing Manager at Enixan, agreed that the only way to keep users, who have engaged during lockdown, is to have a really compelling app.
"People will change with the ending of quarantine. They'll go back out into nature and have BBQs. After two months of that, they'll come back to the games. We just need to make them high quality and interesting. It's about testing and quality, quality, quality to engage users more! People will come back to the projects that are good."
10) Don't expect normal. Prepare for a new normal
It's likely the pandemic will bring waves of change in the coming months, with restrictions changing to meet the situation at a particular time. Mike thinks it might be time to rethink your strategy.
"It's not going to be equal. If you have a globally distributed app or one that's seen success across multiple regions, you're going to see different behavior in different places. It's about creating habits now and finding ways to re-engage with those people. I think this relates to AR as well. If you have an app that's focused on the mobile experience or the desktop web experience, do you have external touchpoints that, as people start to return to normal life or leave the home, engage them. How are you changing your strategy to meet that?"
---
Bango held this webinar because we want to get app developers to revenue as quickly as possible. It's what we do.
We know who pays in apps because we process $Bn's of payments for Google Play. Bango makes anonymized audiences of these paying users that app developers use to target their Facebook campaigns, increasing conversion to by up to 9X.
Check out the latest Bango Audiences. Seize those opportunities and make your UA pay!