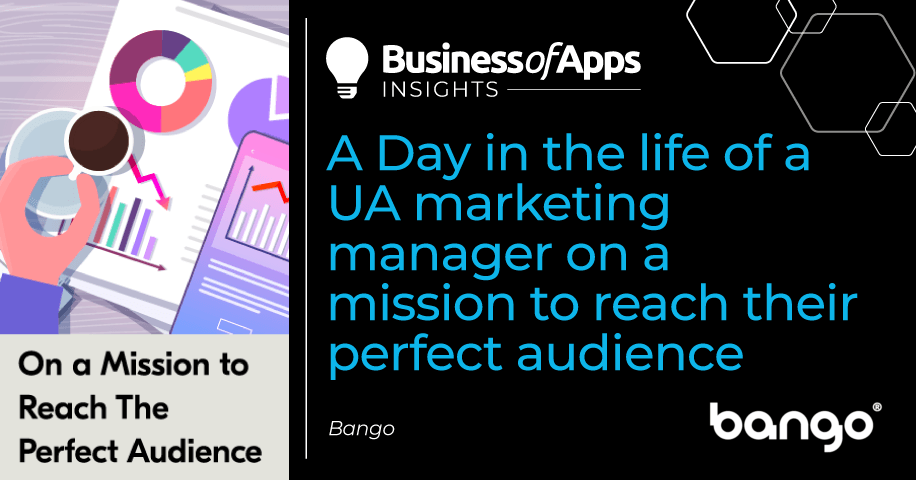 Your role: UA manager
Your mission (should you choose to accept it!): Maximizing return on ad spend (ROAS) from social ad campaigns
Your approach: After fueling up with a much-needed caffeine boost, you dive into Facebook Business Manager. Here, you follow a strategic playbook, meticulously setting up your campaign – selecting ad formats, crafting compelling copy and applying targeting filters.
However, you soon realize that Facebook's targeting capabilities have their limitations. Just because someone fits a demographic profile or 'likes' certain content doesn't mean they will ever pay. On average, only 5% of users convert to payers. Yet it's acquiring this elusive 5% that drives your revenue. Facebook's advice, go broad. Cast a wide net to increase your chances of capturing a whale. But, competitors are aiming for the same audience, and your targeting feels a bit too broad.
You realize there's a solution at hand: Bango Audiences
Step 1: You tap into the most effective data source for increasing conversions from social ad platforms—Bango process payments for some of the world's leading online merchants. By analyzing and segmenting this purchase data to build privacy-compliant custom audiences, you can leverage this vast pool of purchase history to reach the highest-value users. You cast a smaller net to capture more whales with Bango Audiences.
Step 2: You see that Bango Audiences offer a double assurance mechanism. First, you apply Bango Audiences as custom targeting filters in your campaign set-up, ensuring that your campaigns reach proven payers for similar content. And at the same time, you can leverage the capabilities of Facebook's platform, synergizing their tools with Bango's custom audiences to reinforce your targeting strategy.
Step 3: With Bango Audiences as your trusted ad targeting tool, providing invaluable insights and recommendations, you optimize your campaigns, making data-driven decisions to achieve positive ROAS. As you see the results of your efforts, you confidently scale your acquisition budget and smash your KPIs. Time to grab a biscuit and relax with another cup of coffee.
Keeping ahead of the curve in a rapidly evolving industry
You stay current
As a savvy growth marketer, you are aware of the ever-changing nature of the industry. So you keep a watchful eye on emerging data trends, always ready to adopt and incorporate the latest insights into your strategies. By staying ahead of the curve, you ensure your campaigns are consistently impactful and achieve the best results.
You balance performance and testing
After your third coffee, you understand the delicate balance between performance and testing. Setting aside a portion of the budget for experimentation, you continuously explore new avenues and uncover hidden opportunities and untapped potential.
You take advantage of purchase behavior data and the SKAdNetwork 4.0 connection
Bango Audiences reveal unique purchase behavior patterns that provide insights beyond first-party or ad platform data sets. By combining the Bango insights and your SKAdNetwork 4.0 connection, you gain a deeper understanding of attribution dynamics, ensuring accurate measurement and analysis of your campaigns.
As the clock strikes five at the end of another eventful day in the life of a growth marketer, you set down your laptop, feeling a mix of accomplishment and anticipation for the challenges that lie ahead. You take a moment to raise your mug in celebration and toast the remarkable journey of maximizing ROAS, one campaign at a time.
Co-written with our friends at Appvertiser.