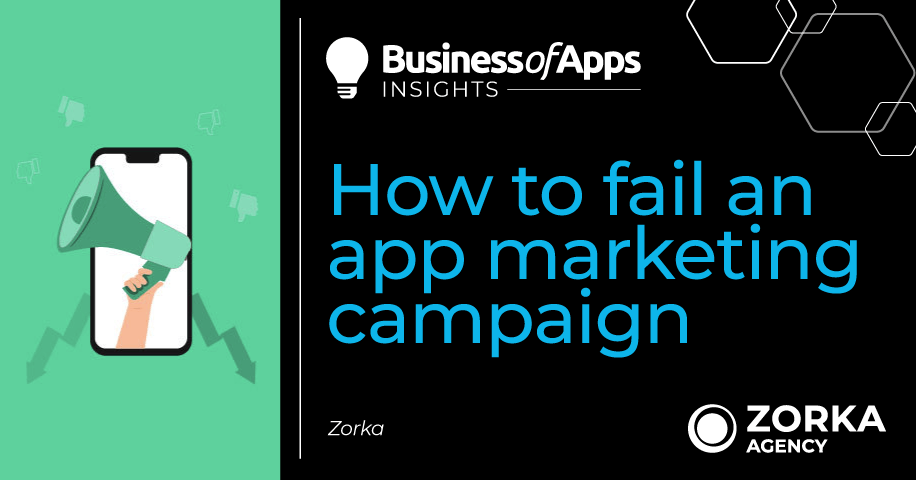 The advertising market is growing and it's becoming increasingly clear that new technologies are changing the rules of the game (check out how AI is replacing staff at Zorka.Agency). That is why it's critical to follow the basic rules of mobile app marketing in order to minimize risks.
So what are some surefire ways for a marketer in 2023 to fail an advertising campaign?
Not calculating unit economics
Starting an advertising campaign without understanding product economics and project payback is nuts. Yet, I've come across people doing this quite a few times in my 7+ years of experience as a Head of UA. A client who has just succeeded for the first time, but did not have time to build processes within the company, rushes to launch new marketing activities to attract even more users. Once the campaign is over, they receive a bunch of numbers and have no idea how to analyze them, nor do they understand which result is considered a success and which isn't.
One should state benchmarks and KPIs before launching any advertising campaign. Benchmarks are set based on existing experience in the market and competitor analysis, while which KPIs you set depends on the current business objectives.
Not testing creatives
Marketing is not about individual taste.
Before you start an advertising campaign, it is necessary to prepare creatives based on specific and measurable indicators, as well as test them in different sources for different audiences. It's only then that you can decide on the "correct" message that your audience responds to, and scale it.
Ignoring trends and new approaches
Even the most conservative brand has to follow trends to remain visible. Where there are trends, there is reach, and with it the potential for a new audience. Here are a few trends to pay attention to today:
Broadcast Channels are a new public, one-to-many messaging tool by Instagram for creators to directly engage with their followers. This tool can be used both as an instrument for building a community around the brand and for advertising around the creator's audience.
Microsoft presented Bing – a new AI-based search engine that has the potential to change the entire SEO marketing.
YouTube has added a new time targeting element to its Masthead Ads, which will enable brands to display their promotions in times leading up to key events.
One of the last cases of MacDonald's on Fifa World Cup 2022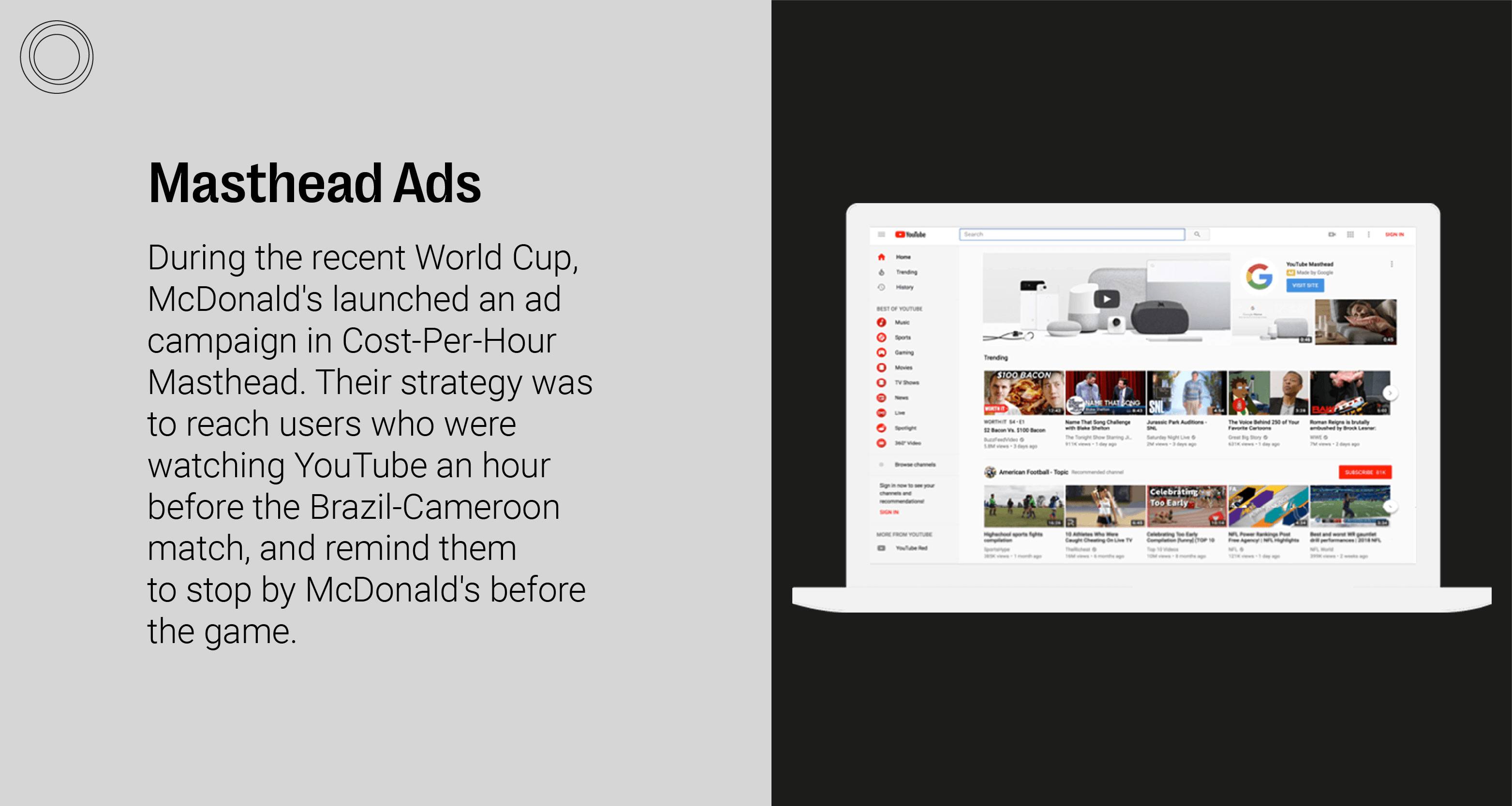 Source: Zorka.Agency
In the US, Reels creators on Instagram can now accept virtual gifts from fans. To do this, Reels viewers can buy stars, Meta's internal currency. The mechanism can be the driving force behind a brand's special projects.
Ignoring new policies and innovations
The modern user acquisition market is designed in such a way that what worked a year ago will no longer work today. It is important to remain flexible and keep up with the latest updates, guides and cases, and test new algorithms.
Understanding the relationship between technology and ad stacking has become the most important skill, especially after the release of SCADNetwork and iOS 14.5 (check out the article for more details). Due to this just knowing about the structure of the site and its algorithms is not enough, you need to understand how attribution and impression tracking work. When launching an advertising campaign, it is important that analysts, developers and the buying team interact closely to meet all the technical requirements of the platform. This applies directly to Meta, but also indirectly to all advertising sources.
Here's another example of Google's influence on the advertising market. After the company bans the use of 3rd party cookies, advertisers may lose their usual optimization mechanisms, building end-to-end chains, and measuring the effectiveness of advertising campaigns. That is, they will not be able to track users directly. Learn more on how to manage it here.
Besides, Google recently launched Google Privacy Sandbox, a mechanism that lets users independently disable ads with irrelevant content. After successful testing on Android devices in selected regions, Google plans to expand the mechanism.
Neglecting view-through attribution
Attribution refers to the analysis of the results of an advertising campaign by attributing conversions to ad impressions and clicks. The attribution (i.e. conversion) window is the time period for this attribution process.
Many advertisers may think that view-through attribution is all about buying organic traffic, but that's actually not the case. As tests show, view-through attribution does not affect how organic traffic behaves in any way. In fact, it is influenced by completely different things.
Let's imagine a typical user flow: a user has logged into a social network and is scrolling their news feed or playing on their smartphone. In both cases, when an ad pops up, the user will not interrupt the session, because they are engaged in the process. Attribution by impressions allows you to find out what actions the user has taken after interacting with an ad for a certain period of time: whether they went to the company's website, visited the brand's Facebook page, etc.
I recommend using view-based attribution as it shows meaningful data and the real results of the campaign.
Ignoring new sources
In recent years, we have seen the growth of the advertising market. New types of sources that are constantly appearing can be split into categories and subcategories.
Do not be afraid of trying something new, you need to test all kinds of sources. When OEM traffic source appeared on the market a year ago, only a few companies started working with it right away. They skimmed the cream off the market: they attracted new users at the lowest rates (like in our e-commerce case). Companies that were less flexible today are forced to catch up.
It's now worth considering recommendations, one of the subcategories of ОЕМ-sources. These sources are Aura and Digital Turbine. The technology stack of the source is designed in such a way that user flows and attribution windows for these platforms are atypical, which can mistakenly cause mistrust towards them. At the same time, the user's intent is formed not due to creatives, but due to the time and place of placement of the advertising message.
OEM advertising, or ads in recommendation blocks on new devices, reaches the user when they onboard their phones (Android) or download applications. Studies show that a timely need and pre-installation of applications, in most cases, minimize the risks of a user switching to a competitor, because they have the necessary app from the first day of launching a mobile device.
Despite the challenges and rapidly changing conditions and rules of the game of the digital advertising market, there are certain principles that marketers should follow to minimize the risks of losing budgets and time. Among the most important ones will be the intention to grow and learn new technologies. Be open to testing new traffic source categories and rely on clear and measurable campaign metrics.