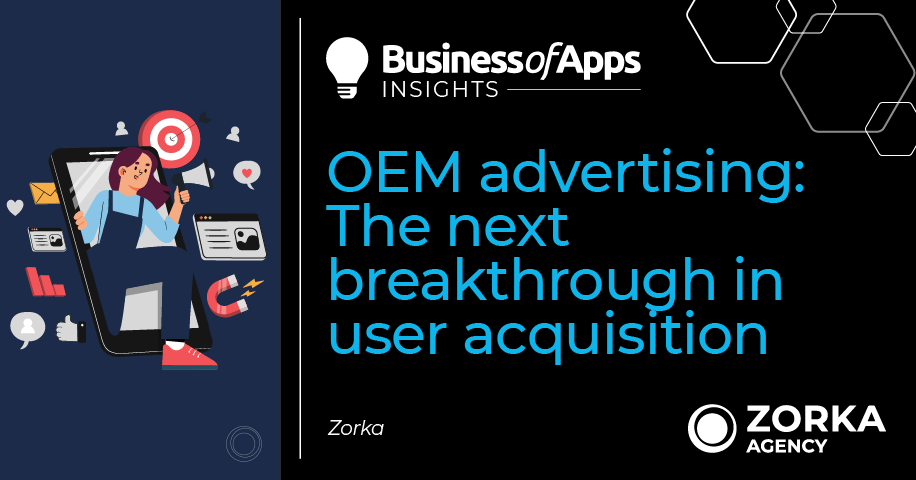 Marketers who are constantly looking for new traffic sources should learn about the Original Equipment Manufacturer (OEMs) advertisement: the next big thing in user acquisition traffic sources.
Mobile phones serve as the first screen when it comes to any kind of an interaction these days. According to the Digital 2022 Global Overview Report, there are 5.31 billion smartphone users to date: 67.1% of the global population. An average user spends 4 hours and 48 minutes daily using a smartphone, and this figure is increasing by 6.7% every year. As the amount of time people spend glued to their smartphone, the number of OEM ads they get exposed to increases accordingly.
What is OEM advertising?
OEM stands for Original Equipment Manufacturer. OEMs are a kind of an advertising platform designed by device manufacturers such as Xiaomi, Oppo, VIVO, Samsung. OEMs help promote products and services by advertising them in pre-installed apps like Weather or Mail, app stores, as well as showing recommendations to users while they are changing the mobile phone settings or using apps.
OEM ads may look like recommendations by the smartphone's manufacturer. Here are some examples from Appnext — a recommendation ad platform.
Source: Zorka.Agency
There are several types of platforms that provide access to OEM traffic. Today they can be divided into three categories. The first category is the original technological solutions created by the manufacturers themselves, i.e. manufacturers of Android mobile devices such as Xiaomi, Huawei, etc.
The second one is ecosystems, which are integrated into the Android operating system through a system application (APK). These platforms are direct intermediaries between manufacturers and advertisers: that is, they are the textbook OEM-channels, providing on-device traffic. The process of integrating an APK into a smartphone operating system is a high-cost process that takes up to 1.5 years. Today there are only two best-known players in this category: IronSource Aura and Digital Turbine.
The third category is advertising platforms, which purchase traffic from manufacturers by integrating it with third-party technology platforms (SSPs). OEM traffic may not be the only type of traffic in these sources, but with proper optimization you can achieve excellent ROI results.
Each category has its own technological features and quality characteristics. Marketers are advised to work with vendors that have direct relationships with representatives from different categories of OEM platforms. They will be able to ensure that business objectives are met since performance forecasts of OEM advertising are quite accurate.
Platforms providing OEM traffic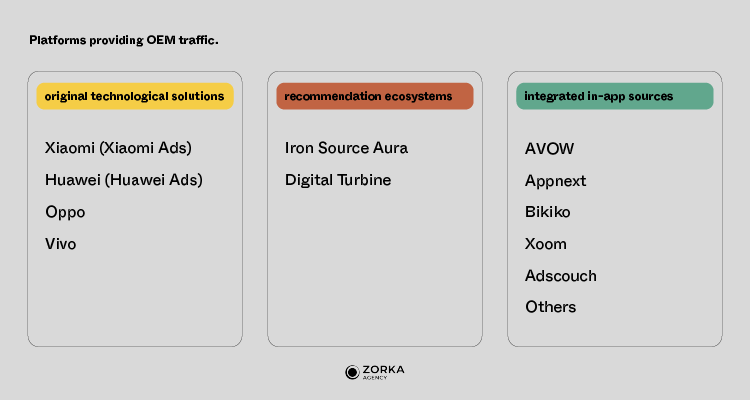 Source: Zorka.Agency
Why use OEM-channels?
OEM ads performance is similar to organic traffic. First of all, this is due to the nature of the ads themselves. They look authentic and therefore do not lose users' trust as they appear to be friendly recommendations. If we compare the data on average CR per installation and CTR, it is obvious that OEM sources have a higher CR than other in-app sources:
For example, the CR to installation of OEM sources can be 10-40%, and in some cases even 85%.
CTR of OEM sources averages 1-6%, with average in-app rates of 0.15% to 1%.
CR from an install to a targeted action is also high and close to organic traffic.
Other advantages of OEM traffic sources are:
No fraud due to high transparency of OEM traffic. Many mistakenly attribute the quality of in-app sources to OEM traffic, including the presence of fraud. That is incorrect because OEM traffic is fraud-free thanks to its design and user experience. The technical stack of an OEM channel is either a direct channel, or an APK solution, or SSP that delivers traffic directly from a manufacturer to a user. The first two OEM channel designs deliver traffic from the manufacturer directly to the user: this means that OEM channel traffic is transparent and easy to track.
High chances of running profitable ad campaigns as the performance forecast is quite accurate is the next advantage of OEM-traffic. The high transparency of OEM traffic and, therefore, the reliability of forecasts help OEM ad campaigns reach their performance goals more easily.
OEM ads are suitable for any budget and business. The global market share of Android is increasing, new players are emerging: OEM advertising platforms – supply and demand for OEM advertising is diversifying. Among our clients, we observe companies large and middle scale, as well as budgets for an advertising campaign can be limited. For example, as it was in one of our e-commerce cases. However, despite budget limits, we have been able to achieve the best results when working with OEM sources: CPA was 2 times lower than other resources, and CR almost 1,5 times bigger.
CR is above average because ads look native. OEM advertising is presented to the user as an on-device experience. OEM-messages are not annoying, but are perceived as a native experience.
OEM advertising contributes to the long-term value of the product thanks to its recommendation style, which leads to a high customer LTV. With the help of OEM advertising and its native, recommendatory nature, user interaction is built continuously. The average validation track for OEM advertising results is at least 30 days due to the nature of user experience.
OEM advertising is trusted among users. Trust in OEM advertising is formed by the trust in the manufacturer Android brand: since the advertising message is perceived natively.
OEM can be used independently or as part of a comprehensive advertising strategy that includes UA, SEO, SMM and/or IM channels.
Moreover… market share of OEMs is continues to grow
Nowadays, OEM advertising is only supported by Android phones. The share of the OEM advertising market depends on the popularity of Android phones and their sales volume in the region. Business of Apps reports that Android has a global market share of 75 percent. Here are some more insights:
2.8 billion active users worldwide
Android holds over 85% market share in Brazil, India, Indonesia, Turkey and Vietnam.
In 2021, Android smartphone shipments exceeded 1 billion units.
Android vs iOS global market share (%)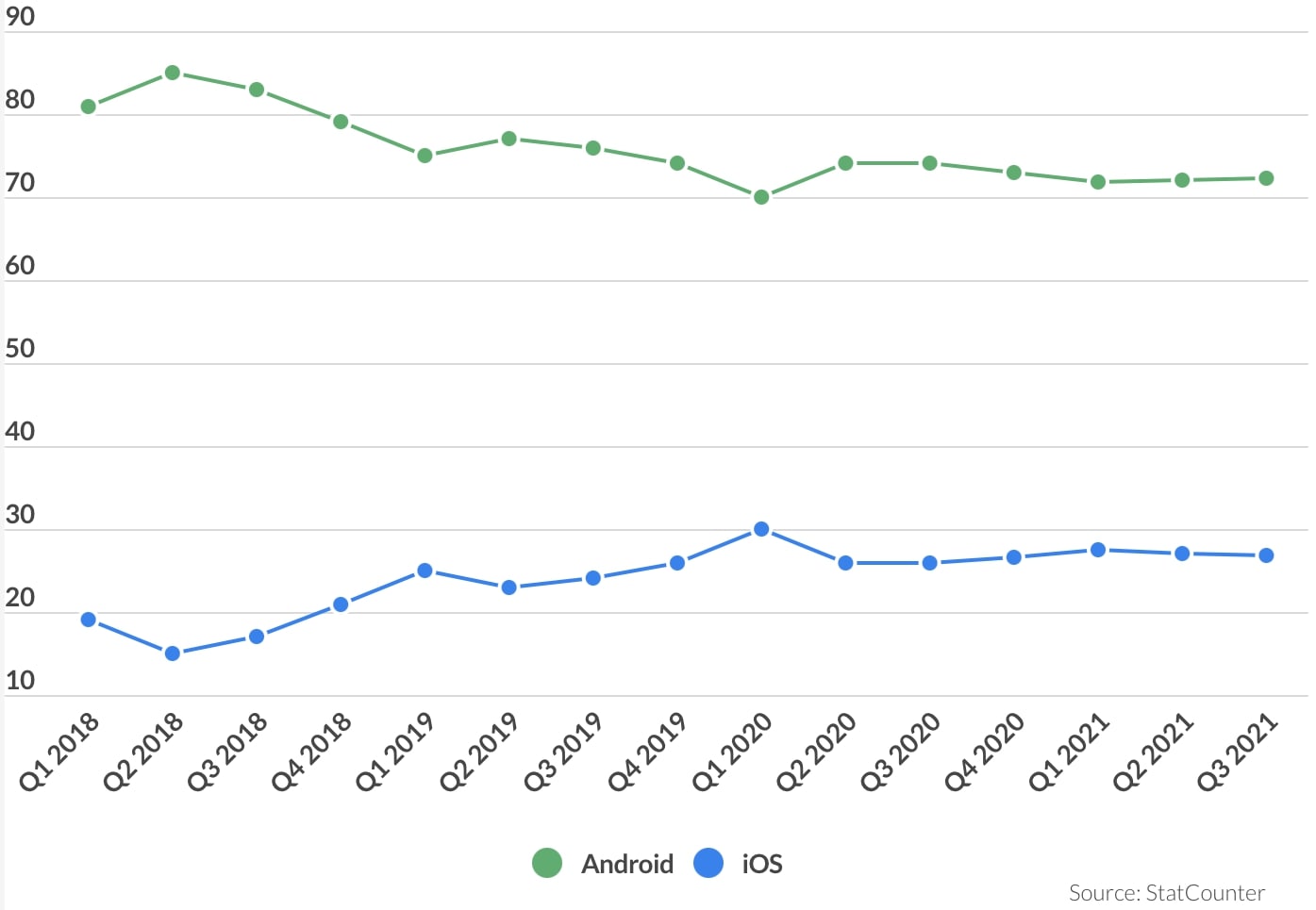 Source: Zorka.Agency
As we know, Android manufacturers are predominantly brands of Asian origin. In the global market of mobile advertising OEMs develop as a response to the monopoly of Facebook and Google, whose reputation has been tainted by, among other things, country-level scandals on GDPR issues. In contrast, OEMs are transparent about traffic attribution and follow GDPR policies, thereby making OEM advertising even more attractive to advertisers in the US and Europe.
As a fact, in Q2 2021 Xiaomi shipped 12.7 million smartphones to Europe, which resulted in becoming the top-selling smartphone brand in Europe with a 25.3% market share. In the meantime, AVOW reports that OEMs already have a 45% market share in Europe and the US and it keeps growing.
Based on the data, the OEM market is growing thanks to Android manufacturers actively expanding into the global market – in particular, in the last two years in the US and Europe, – and visionary vision, we predict the popularity of OEM sources as one of the key channels for attracting users in the very near future.
Conclusions
Marketers should be getting OEMs on their radar as they are rapidly growing and set to become a really promising part of user acquisition marketing.
Android market share increases, as well as an amount of OEM-platforms. OEM-traffic is qualitatively different from the other traffic sources: it is freud-free, provides accurate performance forecasts and by performance results of CR and CPA is very close to organic traffic.
Different OEM-platforms provide different terms of cooperation. Marketers are advised to work with vendors that have direct relationships with representatives from different categories of OEM platforms. They will be able to ensure that business objectives are met since performance forecasts of OEM advertising are quite accurate.