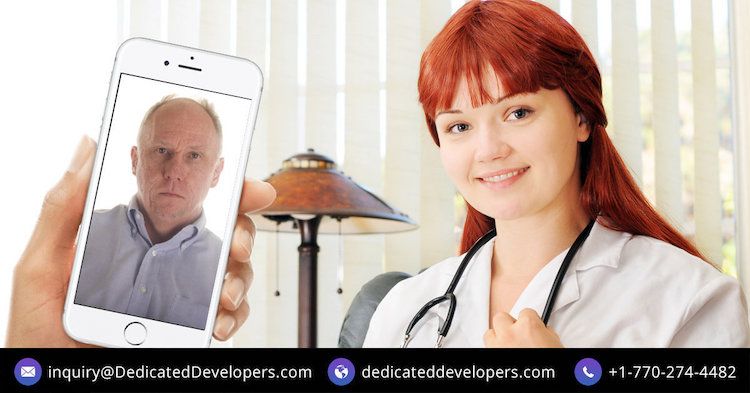 Telemedicine software like Doctor on Demand is growing in popularity, and demand. Both end users (patients) and doctors, clinics and organizations are seeing the potential in apps like this and how they can revolutionize the industry.
What Telemedicine Software Is Doing For Patients And Doctors
Getting care through an app isn't applicable for every kind of situation, but for the many things that DO make sense in that type of environment, Telehealth mobile apps can offer huge advantages.
Easily accessible
Think about the situations you've been in before that require seeing a doctor, but take all but five minutes to diagnose and prescribe: ear infection, UTI, bladder infection, skin condition, just to name a few. You drive or commute to your local clinic and wait in long lines, only to get a simple prescription. With Telehealth software, patients can get the same professional care in way less time, without having to leave the comfort of their own home, during ANY time of the day or night.
Fast results
You get connected with a live doctor or specialist in just minutes. There's no waiting around or having to reschedule. You're able to start treatment right away, which can be crucial in many situations.
Truly portable and mobile medical records
With telemedicine software, you're able to access your own medical records at the touch of your fingertips. It's so much easier to share with your doctors, specialists and even family members.
Much needed flexibility for doctors
Doctors also reap the benefits of telemedicine software. By being able to schedule their own hours and work from anywhere they choose, they can greatly reduce the stress and pressure that the traditional medicine world bombards them with.
Ability to treat more patients and increase revenue
In addition, because doctors are able to reduce their administrative work and see patients much more easily, they are in turn able to see MORE patients and thus increase their revenue while decreasing their stress levels. A win-win situation!
Features Your Telehealth Software Solution Needs To Be Aware Of
For those of you who see the power behind telemedicine apps and want to create your own, there are certain features and requirements you'll want to be aware of to maximize your success. 
Account creation and maintenance
Both patients and healthcare professionals need to be able to create and maintain a user profile on the platform. Here they can store basic information such as their name, address, availability, experience, education, medical history etc.
User friendly dashboards
The area of the software you see when you log in is often referred to as a dashboard. In telemedicine software this needs to be intuitive and practical for both patients and doctors. Doctors for example would want to see appointments (both upcoming and new requests), and be able to drill down into an individual appointment. Patients need to see any confirmed appointments, information about their medication, details on the upcoming appointment etc.
Accessible information
All parties need to be able to quickly and easily access information in the medical software. This can be information about the patient's medical history, their contact information, treatment notes and history of appointments. 
Safe and secure treatment notes
Health providers need the ability to create and track treatment notes in a secure and encrypted database, always keeping patient-doctor confidentiality as top priority.
Appointment scheduling
Users need to be able to easily book appointments with various healthcare providers, view their profiles and availability, and choose from a variety of meeting methods such as video, chat, phone. Appointment reminders are important as well, including the ability to send push notifications.
Types of appointments
A high-quality Telehealth mobile app will provide multiple ways for doctors and patients to connect. Things such as high definition video chat, ability to record sessions, ability to have multiple parties on a chat and voice only calls are important considerations.
Ease of payment
Multiple payment solutions give patients and doctors the most flexibility to get connected. Payment modes like credit/debit card, Paypal, and Stripe are some of the most common.
Improving doctors' workflow
Including features such as allowing doctors to access the Pharmacy Database from within the app and the ability to access medicine data makes treatment smooth and efficient. A CMS for healthcare articles should also be considered.
Ratings and reviews
Patients should have the ability to rate healthcare providers after receiving consultations, treatment or recovery. Star ratings or a scaled rating system helps new users be more informed when choosing doctors within the app.
Challenges With Telehealth Solution Development
Diving into Telehealth software development can be lucrative and promising, but it does not come without its restrictions and challenges. Any reputable software development company will already know of and be ready to combat these:
Importance of security
Patients want to know that their health data is safe and secure, and they want to know who has access to it. Security concerns need to be taken seriously and folded into all areas of the medical software. There are several ways to offer enhanced security such as data encryption and multiple-factor-authentication.
Building up trust
Patients need to know they are getting treatment from qualified professionals, and should be able to see detailed experience of any healthcare provider. This is why it's important to have a solid rating system and also to gather testimonials from patients and doctors.
Determining Costs And Choosing A Telehealth Software Development Company
There are several factors that can affect cost, with these being some primary ones:
Core and additional features
Third party requirements such as database and API needs
Complying with the country's regulations and certifications
Frontend and backend development
UX and UI design and quality assurance
Conclusion
If creating a Telehealth mobile app is the right move for your company and your medical practice then be sure to contact us, and we'll work with you to create an app that can help take you to the next level of patient service and care.