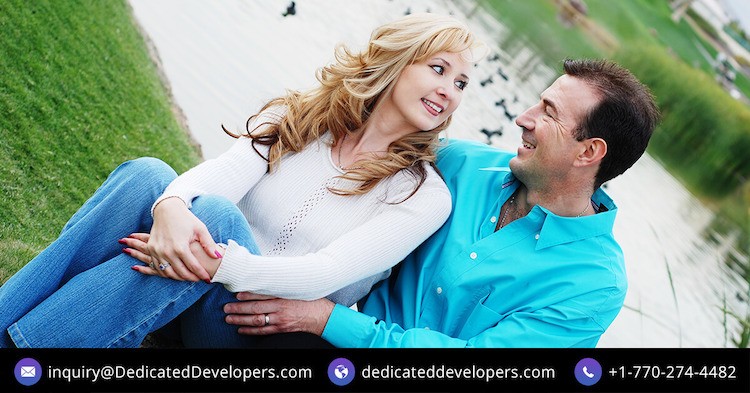 Why are people using dating apps, and is there money to be made with apps like Tinder? The fact is, this industry has been growing steadily for the past 5-7 years, and is a booming $4 billion industry.
Did you know Tinder has over 50 million monthly users? It's incredible when you consider the number of people turning to the internet and mobile apps to connect with others. What are the driving forces behind this? Three primary ones are:
Convenience
The bottom line is the average adult is extremely busy. Dating mobile apps offer a huge convenience for the masses to connect with others, where in their day to day life they just don't have the time to get out and find opportunities to meet potential partners.
Safety
Being able to screen people in a safe and secure environment is a mandatory requirement in any dating app like Tinder. Women primarily appreciate this benefit because they can at least get to know someone virtually before putting themselves in what could be a dangerous encounter meeting a total stranger.
Desire to meet people
Human beings are wired psychologically to want to be with others, to want to be liked and accepted, and to "find their true soul mate". Capturing this desire is key, additionally providing a solution that meets the users' needs. People want to meet and get to know each other, and actually get out there and go on dates! 
One thing is for certain, dating apps are here to stay and have been ever-evolving over time. This multi-billion dollar industry is ripe for the picking, and dating apps that continue to serve the desires and demands of the market will be the ones to survive.
What are the basic features a dating mobile app should consider?
Safe & easy account creation – paid/free member levels, payment providers, authentication, leveraging FB/IG connecting
Diverse & flexible profile creation – private photo albums, surveys/questions that use algorithms to support matching, profile performance analysis
Modes of matching – geolocation, likes/dislikes
Search with filters – credit system, ability to block users
Chat & private messaging – video chat, virtual gifts, conversation starters/ice breakers, text chat, read receipts
Push Notifications
What are some unique features that could help you stand apart from your competition?
Activity Reports: 
Online polls and surveys have revealed that a large percentage of users want to know more about the matches they are presented with. Statistics such as how often they engage with their connections, how likely they are to respond back, how long they've been idle in the app to just name a few.
AI Integration:
When you hear the term "AI" you might be thinking of some far, unreachable technology that's just not possible in today's world. But this simply isn't true. Artificial Intelligence has grown tremendously over the past several years, in many industries. By integrating AI into dating apps, we can make huge advancements on providing the best user experience. Think about how advanced matching algorithms can get, and how well an app can get to know you through AI.
If dating apps can learn naturally through daily usage of what a user's preferences are, apps like this can be more successful by introducing users to higher quality matches.
Virtual Reality (think Dating Lessons courses):
Maybe not as uncommon right now as AI, VR can be seen in apps and software much more frequently today. If a dating app integrated virtual reality, it could really take the online dating experience to another level. Imagine getting to "meet virtually" and sit in a coffee shop with your match? Or dating lessons that can simulate how to approach a woman. The options are endless.
What options do you have to monetize your app?
Ads
This is a frequently used method to monetize mobile apps. It can be tricky getting the right balance between how many and how often ads should be displayed weighed against the profit they return. Ads often irritate users and take away from the experience and solution the app is trying to provide. Depending on your audience size and app functionalities, the ad model may or may not be the most suitable.

Subscription based
This is also known as the Freemium model. Users can stay on the app at the free level (ad-based), and also choose to upgrade to a paid monthly subscription (which typically provides no ads, among a myriad of other advantages). For example Tinder offers premium features such as rewind (undoing the last swipe), increased super likes, unlimited swipes and passport (which allows users to bypass the geolocation matching restriction).
Payment for individual features
Your app can offer individual features for purchase, either with money or credits previously awarded or purchased. Tinder for example allows you to purchase the Boost feature.
How complex is it to develop a dating app? Tinder's technology stack reviewed
When it comes to developing any sophisticated mobile app, there are many moving pieces involved. For example Tinder's backend stack includes Scala, Kubernates, Rundeck and EMR, Node.js, SQS, Kinesis, Kafka and Spark. Database software includes Dynamo, Mongo and Redis. For creating the design you're looking at technologies such as Sketch, Adobe Typekit, Blossom and more. It quickly becomes apparent how complex things get under the hood. That's why working with an experienced dating mobile app developer could make your entire project go smoothly.
How do you determine app development costs to build an app like Tinder?
Determining costs to develop any type of software has to take into consideration multiple factors. Scope, timeline, feature set are all things that can affect costs. When choosing a software development company to work with you should closely examine the types of apps and software they've created in the past, how long they've been in business, what customers have to say about them. 
Conclusion
If creating a dating mobile app is the right move for your business then be sure to contact us, and we'll work with you to create an app that can help you gain traction in this lucrative and ever expanding niche.