If we have to name one thing that changed our lives entirely, well then it has to be smartphones, which allow us to live our life carefree and stress-free as they can manage millions of tasks pretty easily, with numerous service apps available in the app market. Today, each and every service you are looking for is just a tap away all thanks to the invention of smartphones and mobile applications.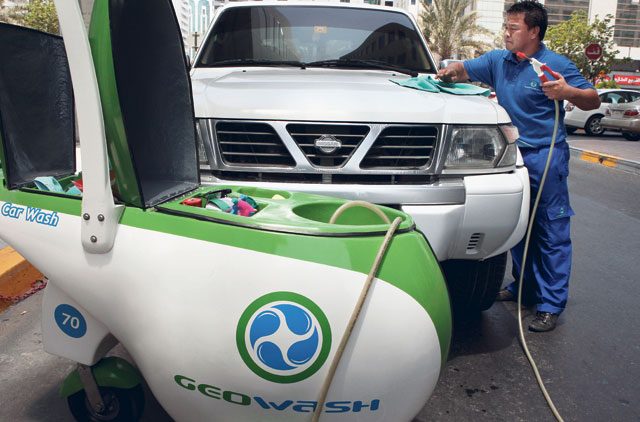 There is a lot of offering as it comes to car wash. In a past, the only time a customer would consider cash washing was when the car was dirty and they would look for nearby services offering car wash service. However, it was a time-consuming process for most people to stand in a queue just to get their car washed. But now with technology progressing, you can have somebody who comes especially to offer this service to you. 
On Demand Car Wash Mobile app
This on-demand economy has opened many horizons for the start-up enthusiasts & individuals offering a lot of services, whether it is taxi-booking, salon service, food ordering, and a lot more. So, this way the on-demand mobile apps tend to be an ideal blend of ease & amenity that not just saves time of people but also opens employment prospects to hidden talents of skilled professionals or artists. Now this trend of On-demand services has successfully led to the commencement of Carwash mobile app development as well, where people arrive at your doorstep or your desired location at any time of the day.  
Growth in UAE Carwash Market
 UAE is the hub of luxury cars and it can be said that the growing number of vehicles in UAE has made it a growing market for car wash and care industry. With growth, we mean there is a rising need for the car wash and maintenance services and products in order to meet the demand. So, as cars are the king in UAE, hence the car wash industry is certainly a lucrative one. No wonder, Middle East is among the fastest growing service market for the automobiles with their being 60% more cars frequently anticipated to ply in this region by the end of year 2020.
Statistics reveal that by the year 2022, the automotive market in UAE will grow twice as fast as North American and Western European markets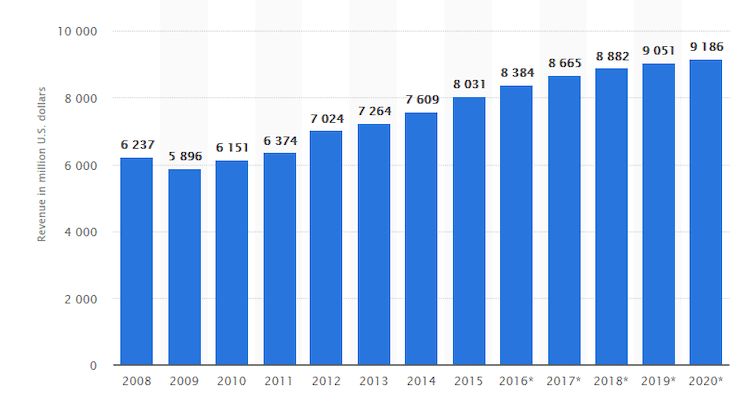 Source: Statista
How waterless car washing is a savior for Dubai water crisis?
Owing to water-crisis in Dubai and environment-unfriendly approach of car washing, it has been strictly prohibited in the community. In fact, there is a possibility of Dh500 fine being slapped on residents living in UAE with they are caught washing cars with water. 
The high-cost indulged in traditional car washing in UAE and region around has spurred the advanced technological alternatives that cuts water consumption. As per the statistics compiled by UAE's Federal Energy & Water Authority (FEWA), the nation has a per capita water consumption of around 550 liters in a way, which is the highest in the globe. This way, the need to wash UAE's 11.87 million vehicles is seen as a major drain on the water resources. 
However, nowadays there is an all-new approach to car-wash, with there being new methods that entirely does away this most obvious ingredient – water.
Related blog : Why Waterless Car-Wash Demands are Rising up in UAE
Which are the top Car Wash mobile apps in UAE?
As discussed above, the on-demand car wash mobile apps trend is rising at great pace in UAE, and there are a number of car wash businesses that now offer their own mobile apps to ease the process of booking for car wash. Thus, customers can directly book a service via the app, and washing person will visit at their desired place to offer the service.  
Keno Car Wash
Clean Car Wash
Camel Car Wash
Q2 Car Wash
Speedli
Kenzie Clean
How much do people spend for Carwash in UAE?
Whoever has been to UAE knows it quite well that that place is all about cleanliness, like shiny marble floors in malls or those reflecting glass façade on the skyscrapers along the ShaikhZayed Road in Dubai. Coming to the roads, well cars are certainly no different. In fact, as per a survey conducted by VIS, who are the organizers of the Middle East Cleaning Technology Week (MECTW), the residents of UAE are known to get their vehicles cleaned professionally at an average of somewhere three-times in a month.
This way, the cost to get a vehicle cleaned professionally ranges from Dh35 to Dh100, hence it is clear that the UAE residents are spending somewhere between Dh105 to Dh300 on their cars.
What are the challenges in UAE car wash industry?
Meanwhile, certainly there are a lot of challenges in this industry, with the biggest one being 'finding right products which matches the weather conditions of this region'. Besides, this market is highly competitive and hence, it is vital to stand out in order to make a mark. In order to tackle these challenges, constant investments are being made in the innovation, testing and new products. 
Apart from that, both in Dubai & the UAE, environmental protection is again an important aspect of the corporate compliance & commercial licensing. Therefore, it's recommended that the construction company or a business entity that operates in this region, must be aware of the several laws & regulations concerning environment. Amidst this hue & cry related to better environmental norms and laws, UAE has hardened its instance on the environmental pollution and draft law that amends Federal Environmental Law will be cracking down on environment crimes. Hearsay has that a person violating air quality and drinking water regulation will be facing fine up to AED 1 million & AED 2 million, respectively, along with the imprisonment.
Related blog : Online Car Wash App – Business Challenges & Solutions
What are the features of a Car Wash Mobile App?
Here, we have mentioned both the basic and advanced features of the Carwash Mobile app.
Features of the Customer Panel:
Sign-up/login
Place Service Request
Select Car Location
Select Package and services
Check Technician availability
Make Payments
View Order History
Give Review & Rating
Multiple Payment Option
Features of the Detailer Panel:
Signup
Add Service Location
Push Notifications
Accept/reject service
View completed job history
Request Payment from Admin
Features of the Admin Panel:
Registering of Technician
Manage Service Time zones
Manage user Payment
Manage Ratings & Feedbacks
Advanced Features:
Cloud Management: Implementing cloud technology is essential to manage all data in a secured way. All of the app related data concerning users, payments, and order details is stored on cloud to make the business workflow seamless. This technology is useful in making business scalable as well as it monitors and secures entire data and information stored on servers. This way, it protects overall business integrity. 
Heat Map Viewing: This new feature raises the standards of On-demand car detailing mobile app. It basically shows the busiest time of the one particular location. Thus, it helps in tracking locations of best service providers and detailers, helping users to make the best choice. Specifically, integration of this technology will allow your app users to choose quality service and it also outlays the most-loved deals. At the same time, the app also allows to keep track of surge pricing within the app only.
Offers & Discounts: Users receive notifications whenever there are any new offers and discounts related to the car-wash services. This way, they are kept attuned with forthcoming deals, which serve as a great medium to keep users engaged with the app and also encourage them to avail your services whenever the need arises. Apart from that, promotional offers increase the visibility of your business; hence it could be instrumental in making your app a big hit among the niche audience.
Payment: Users can make easy payments via Debit/Credit Cards, e-Wallet, Net Banking, etc. Various payment models like Stripe, Braintree, PayPal's Mobile SDK & Apple Pay are available nowadays to the users. Thus, users are not required to visit physical locations of service provider to make payments. And due to the comfort it brings, users have embraced this functionality. They like the hassle-free and convenient approach of this method, which also increases the app visibility. 
In-app Chat/Voice calls: This in-app conference feature allow detailers and users to communicate with one another in a transparent manner. Users will be able to enquire regarding order status or any other query. Besides, they will also be able to discuss regarding other services and businesses will be able to request them to avail them too. This strategy greatly helps in grabbing user attention and it also helps in establishing user loyalty towards the app. 
Push Notifications: This feature is greatly useful in augmenting user acquisition and retention. A car-washing mobile app integrated with push technology is useful to keep users informed regarding latest offers, deals, order details and a lot more. Other than that push notifications are also great to enhance the business visibility and also helps in keeping the clients engaged with your app. Users can thus be notified before order completion and car delivery to keep them alert and attentive. 
Subscription Packages: One just can't miss out on this feature when speaking of the best features of On-demand car-wash mobile app. This feature allows users to check & book advanced services, but premium memberships and also enable them to set the features needed. Thus, users won't need to keep looking for deals time and again. They will be informed automatically on monthly, bi-monthly or half-yearly basis to avail the services. This feature is also very useful to capture user attention as they are constantly reminded of the deals, offers and services that come with the subscription package they are enrolled into.
Location Tracking:  With the given option buyers can see nearby carwash service provider and service provider can track the given location in order to receive the services. Google Maps is the best option till now due to its extreme customization and functionalities.  However, the user can also use or apply MapKit for apple apps and other third party API or SDK if needed.The map also shows a detailed path of each and every small lane of the destination and calculates the shortest path and then suggests various travel options to the service provider within a couple of seconds.
Rating & Review: Rating & Review system not only allows user to give feedback for the services but also help to choose the top service providers. User can also refine the search based on reviews and rating 
Loyalty Program: Loyalty is one of the most important marketing strategy to keep your customer loyal to your app business. There is multiple loyalty programs are in the trend such as cask back, Point system where users can redeem their point and can get discounted services. Having an efficient loyalty program will definitely give a boost to your marketing strategy.

Technology Stack:
UX/UI (User-Experience & User-Interface): Bootstrap & CSS3 for front-end and Ruby, Django, Python, AngularJS, JavaScript for back-end.
Location Tracking: Google Maps for Android and Apple Maps for iOS.
Cloud: Amazon Data Servers or Google Cloud Storage. Azure, Google, AWS are cloud environment.
Real-time Analytics: Google Analytics is used to track user data like number of visitors, bounce rates, number of downloads.
Voice, SMS & Phone Verification: Facebook SDK or Google sign-in for authenticity and keep spam bots at bay.
Payments: e-Wallets, Braintree, Stripe &Paypal
How to choose your Carwash Mobile App Development Partner?
Development of Car wash mobile app can be an easy deal if you succeed in zeroing upon the right Carwash app development company, who can create an amazing feature-rich app at reasonable cost. There are a number of app development firms out there offering great services all across the world. Just ensure that the app development team is well-qualified and highly-experienced and then you are good to go.

Required Team Structure
To develop a Bike-Sharing Mobile app, you will require a set of professionals, like:
Project Manager
Mobile App Developers
Backend Developers
UX UI Designers

 

QA/Testers
Cost of Developing a Car Wash App
It is pretty difficult to calculate exact cost to develop a car-wash app. However, the cost of development of car-wash mobile app depends majorly on three factors, i.e. size and complexity of the app, number of platforms you are keen on run your app on, and the country where the app development firm is, because different countries have different hourly rates, like:
U.S. Based Developers: $50-$250/hour
Eastern Europe Based Developers: $30-$150/hour
India Based developers: $10-$80/hour
Next, let's understand the cost of technical aspects:
Technical Documentation: $1000-$2000
UX/UI Design: $1500-$3000
Front-end & Back-end Development: $9000-$12000
QA & Testing: $2000-$3000 for 80 hours)
Once the overhead expenses are added up the cost of the app will be somewhere around $10000-$20000 for a single platform (either Android or iOS). Meanwhile, if you choose to add on more features, then the cost may go up to $25,000. However; spending that much sum of money ensures that your app stands out.
Related blog – On Demand Car Wash App Development Cost & Features
If you would like to discuss more about car wash mobile app development, our app experts at Octal IT Solution are ready to help you. You can reach them at the following email.