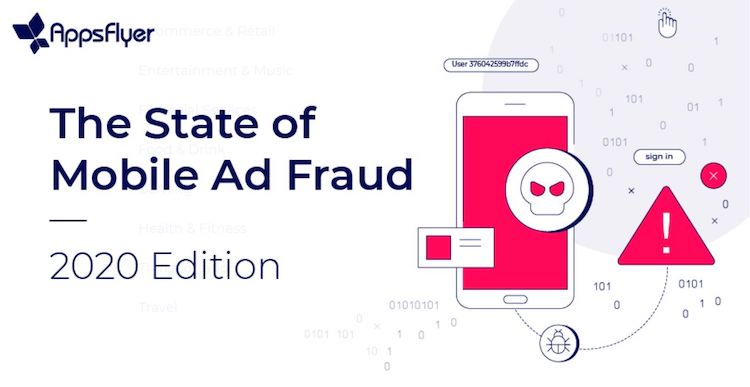 Chances are, mobile app marketers' worlds are slowly starting to return to normal. Marketing and advertising budgets are beginning to creep back up after a tumultuous few months, during which many brands paused or reduced spend. But as we brace for a potential second COVID-19 lockdown, when consumers will likely turn once again to apps for daily tasks and entertainment, it is more critical than ever that this precious ad spend is protected from fraud.
The cost of this could be monumental if bold action isn't taken. Ad fraud has grown very sophisticated at a rapid scale and is fast becoming a multibillion-pound industry. The World Federation of Advertisers forecast that, by 2025, £38 billion will have been wasted in fraudulent activity annually – that equates to millions of advertising spend being flushed away each day.
At a time when marketers are recovering from budget cuts, and are now looking down the barrel of a recession and a potential second lockdown, it is all the more important they safeguard their expenditure and remain one step ahead of fraudsters looking to capitalize on the rise of in-app user activity.
So, how can app marketers stay one step ahead and protect ad spend from malicious fraudsters?
Understand the scale of ad fraud
Before attempting to combat fraud and protect ad spend, marketers must leverage insights and understand the true scale of the ad fraud problem. Only then can marketers roll up their sleeves and start cutting out malicious and fraudulent activity to protect budgets.
Recent research shows global app install ad spend totaled $57.8 billion in 2019, with spend projected to more than double by 2022. In EMEA specifically, overall app install ad spend is predicted to reach $22.9 billion in 2022 — up 116% compared to 2019. With billions being spent annually on app advertising, the mobile app industry is particularly enticing for fraudsters.
It's not all bad news, however. Greater awareness of the dangers of mobile ad fraud mean app marketers and developers now have powerful fraud protection solutions, which are helping to reduce fraud rates and financial exposure to illegitimate activity. This robust protection within the mobile ad industry has driven the app install fraud rate down by 30% compared to 2019.
The decline in the overall fraud rate represents the market's heightened awareness in safeguarding against mobile ad fraud, yet it is vital for marketers to understand that the issue isn't going away anytime soon. While the mobile ad industry has grown exponentially to defend itself against ad fraud, the scale of the issue is severe. App ad fraud cost a phenomenal $1.6 billion in the first half of 2020 alone, according to a recent report on the state of mobile ad fraud.
It is clear that the potential amount of damage fraud can cause is still extremely high, and post-attribution and app fraud remain a growing threat. Marketers need to understand the true scale of fraud and remain aware of the risks it poses to their ad spend and combat the issue head on.
Be aware of the high risk targets
When preparing to combat the threat of mobile fraud, marketers should be aware of which vertical sectors and which type of apps are most at risk.
Research reveals Europe has experienced the highest fraud rate seen this year – at 81.8%. This is mostly attributable to finance apps running campaigns; of these apps alone, 50% of installs in 2020 have been fraudulent. Fraud is definitely on the rise for finance: exposure for apps in this vertical amounts to a staggeringly high $630 million in the first half of 2020. Marketers working in the finance vertical have a lot to lose, so really zeroing in on any early warning signs can pay dividends.
Non-gaming apps face a greater risk of install fraud; a quarter of all non-organic installs globally is fraudulent amongst this sector. Conversely, gaming apps see a much lower rate of 3.8%. This is largely due to gaming advertisers being savvy at avoiding fraud and having the right tools; something all app marketers need to harness to avoid falling foul of fraudsters themselves.
The findings have also uncovered a stark divide in the type of apps that are targeted for fraud. Android is the platform of choice for fraudsters, with ad fraud on Android being over 4.5 times higher than it is on iOS. Android devices dominate worldwide in terms of market share and have fewer restrictions on apps, making them likelier targets.
By narrowing down which verticals and platforms are the key targets for bad actors, marketers can determine where defenses should be increased, in order to more effectively identify fraudulent activity and protect ad spend.
Respond to changes in user behavior
It is crucial for marketers to be familiar with user behavior, and recognize the usual patterns of activity. By leveraging insights and responding to changes in consumer behavior, anomalies within data sets can be detected.
In the midst of the pandemic, consumer in-app spend rose by up to 50%, as mobile app usage surged. Though demand has begun to decrease in recent months, marketers need be aware that a rise in app engagements comes hand in hand with a rise in fraudulent activity. Research shows that although the average annual fraud rate in Europe is nearly 80% lower than the global average, the COVID-19 lockdown saw this gap close by up to 26%, with fraud having risen across entertainment, finance, shopping and social apps during lockdown.
This is largely attributable to usage of entertainment apps jumping during this period, causing fraudsters to attempt to capitalize on the rise of in-app user activity. This lead to aggressive user acquisition activity, and fraudsters were drawn in to try and reap the rewards of lucrative cost per action pay outs on top of cost per install.
The result was stark. There was a notable increase of fraudulent activity in Europe – particularly click flooding in Germany (79%) and France (54%) – causing the fraud rate in March alone to increase by almost 25% compared to the month prior. The substantial increase in in-app ad fraud provides marketers with pertinent lessons to bear in mind as we brace for a second wave of COVID-19.
It is imperative for marketers to learn from these trends in fraudulent behavior to prepare for the very real threat of a rise in fraudulent activity that comes with a second lockdown. Marketers must remain vigilant and leverage these key insights around ad fraud in order to keep fraudsters at bay.
Adapt to evolving threats and act fast
Fraud methods are constantly evolving and adapting to solutions in the market, making fraudulent activity increasingly harder to spot. While fraudsters continue to develop newer, more sophisticated forms of attack, companies must adapt to changing threats and act fast to protect their ad spend.
Bad actors are becoming more advanced, using bots that can mimic typical user behavior on mobile devices, such as clicks, installs and in-app events. The bots and malware produce seemingly legitimate activity reports, making the engagement appear genuine and therefore extremely difficult to detect. For example, if the devices from which a site's traffic comes tend to be static, this could be a tell-tale sign of a device farm. These farms have become very advanced and often go undetected, hosting fake clicks, registrations, installs and engagements to create the illusion of legitimate activity.
As fraudsters continue investing heavily to learn how real users behave, they will continue to scam companies and pocket increasingly large pay outs as a result. These fake clicks and fake installs are interfering with app metrics, which has an adverse impact on mobile ad spend as engagement is not matching up to actual figures and revenues. Getting familiar with common fraud tactics, technological tools, and industry vulnerabilities that allow fraud to thrive could help app businesses slow down and perhaps even block the ever-growing fraud threat to finances.
Yet mobile apps have been faced with another challenge. Fraudsters have become experts at finding loopholes in apps with weak protection. Marketing in this digital age of fraud requires a comprehensive approach to security and fortification, and mobile app businesses must invest in advanced technology to match the increasing superiority of bad actors, to combat ad fraud. By implementing multi-layer security, mobile app businesses can be better placed to spot and counteract the growing threat from the fraudulent activity. Staying protected and applying sophisticated anti-fraud solutions is crucial for mobile apps.
As newer fraud methods appear and mobile app companies need to be ready to adapt. From an awareness of the different threat practices, to the implementation of new technologies to analyze user behavior, businesses can better identify emerging patterns to flag suspicious activity and block attacks.
Adopt a culture of vigilance
Fraud is evolving rapidly, and so it is vital for marketers to react by identifying potential weaknesses in defenses and build a culture of vigilance. Attentiveness is crucial in not only detecting fraudulent activity, but also in limiting the amount of financial exposure to mobile ad fraud.
Marketers need to remain alert by keeping on top of the latest vulnerabilities being exploited and look out for unusual activity. If a new trend is identified that just doesn't tally with historical user behavior, it's crucial to investigate further to determine whether it is fraudulent. For instance, has an app install taking place within seconds of an ad appearing? Despite huge jumps in traffic, do many of these users actually convert? Or, could this new trend in user behavior be a result of click flooding or install hijacking?
These are the questions marketers should be asking, as it is only by questioning behavioral trends that marketers can remain one step ahead and spot aberrant behavior which could be the hallmark of a fraudster. App marketing teams must be equipped to spot the red flags and remain alert about fraudulent activity. By adopting a culture of vigilance, app marketers can more effectively use technology to detect and combat ad fraud.
Final thoughts and recommendations
Mobile ad fraud didn't emerge overnight and so it won't disappear any time soon. The cat-and-mouse dynamics of fraud suggest a new wave of illegitimate activity may well be coming, as fraudsters will always want a piece of the pie.
The longer the threat lingers, the greater the strain on the resources, relationships and trust between brands and their marketing partners. If fraud persists, the entire business model is at risk. Marketers need to leverage data sets and tools to identify threats, to remain one step ahead of fraudsters.
One of the biggest threats to our industry, ad fraud has the potential to do irrevocable damage and failure to meet the ad fraud threat head-on will carry heavy consequences. With billions in stolen revenue on the table, the mobile marketing industry needs to continue to adapt in order to combat fraud.